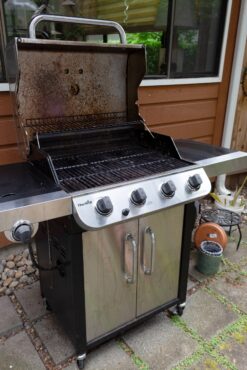 When midsummer temperatures rise, no one wants to heat up the house by turning on the oven, but an enjoyable alternative can be baking on the barbecue grill. With just a little time spent learning how to regulate the temperature on the grill, everything from pies, cobblers and cookies to cakes can be successfully baked in a barbecue grill.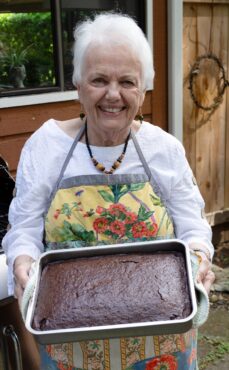 You must follow a few basic rules. First, always use metal baking sheets and pans, as opposed to glass. Glass baking dishes can shatter when exposed to extreme changes in temperature or touched by a flame. Stoneware (such as Pampered Chef stone bakers) can be used successfully and works well in the barbecue.
Next, learn to trust the temperature settings on the grill once you have tested it, to avoid opening the lid during the baking process. Even a quick peek can cause a fall in the rise of a cake or a large drop in temperature that alters the baking time.
And finally, always bake over indirect heat, meaning that once the grill is up to temperature, you must turn off the middle burners where the baking pan will sit and leave only the side burners on to maintain temperature.
Every grill is a little different, but learning to use yours for baking simply takes a bit of testing. If there is a thermometer on the hood, regulating temperature is fairly easy. If there is no thermometer, then purchasing an oven thermometer to install inside is very helpful.
Most grills have variable settings on the burner controls. Begin by lighting the grill and turning all burners to the high setting. Let the grill heat for about 15 minutes and determine the internal temperature. It should be around 450ºF or so.
Next, turn off the center burners and leave the side burners on high. Check the temperature in five to 10 minutes to see how much decrease there is. The goal is to reach a nominal 350 F, which is good for baking most cookies, cakes, etc. If the temperature remains closer to the 400 F, turn the side burners down to the medium setting. Some grills are better insulated than others and a constant 350-375 F temperature can even be maintained with the side burners on a medium-low setting.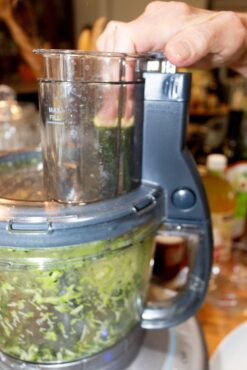 Once you are able to maintain a constant temperature, you're ready to use your grill as an oven. Make a note of the burner settings so when you're ready to bake, you'll be able to repeat them. Do not open grill while baking unless absolutely necessary, as a great deal of heat is lost when you lift the lid.
The two recipes that follow have been tested for grill baking. The rich, moist, amazing chocolate cake has a secret ingredient: zucchini. What can be better in the summer than using up excess zucchini, not turning on the oven and enjoying a luscious dessert, which is perfect for picnics and potlucks. The nutritious camp cookies are another great "on the grill" recipe. Packed with "energy supplying" oats, fruits and nuts, these cookies are great substitutes for breakfast or snacks you can carry in your pocket on a summer hike.
A pizza recipe is not included in this column; however, baking pizza or flatbread on the grill is a snap. See "Our Daily Bread — Time to Light the Grill" in the July-August 2021 issue of WestSound.
Enjoy! It's summer and the livin' should be easy.
---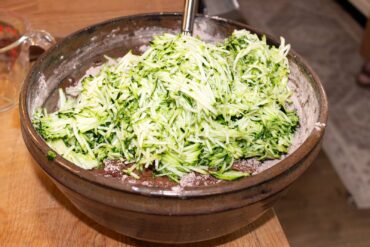 Bourscheidt's Kitchen Crazy Chocolate Zucchini Cake
Ingredients:
3 cups flour
2 cups sugar
2 teaspoons baking soda
3/4 cup cocoa
1 teaspoon salt
1 cup water
3/4 cup vegetable oil
2 tablespoons vinegar
2 teaspoons vanilla
2 cups shredded zucchini
Instructions:
Preheat and stabilize grill temperature to 350ºF. Oil a 9-by-13 metal or stone baking pan.
Measure all dry ingredients into a medium size bowl. Whisk to blend and remove lumps of flour and cocoa.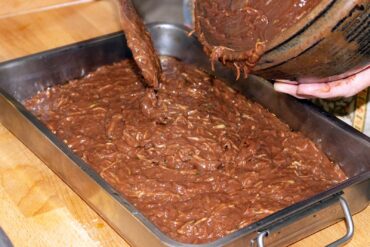 Make a well in the middle of the dry ingredients and add water, oil, vinegar and vanilla — in that order. Whisk with a metal whisk or large fork until all ingredients are well mixed. Add zucchini and mix well.
Spread cake mixture into pan and place in the middle of the grill area. Bake 25 minutes and check for doneness. A skewer inserted in the middle of the cake should come out clean. If not, keep baking and check every five minutes until done.
When cool, dust with powdered sugar or use icing of choice.
---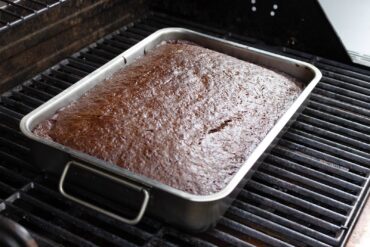 Barb's Breakfast Cookies
Ingredients:
2 cups (170 g) quick oats or old-fashioned whole rolled oats
1/2 teaspoon salt
1 teaspoon ground cinnamon
1 cup (250 g) nut butter (almond, peanut or sunflower seed)
1/4 cup (60 ml) pure maple syrup (or honey)
6 tablespoons apple butter or applesauce
1 large banana, mashed
1/2 cup (75 g) dried fruit, coarsely chopped (cranberries, apricots, prunes, apples, figs)
1/2 cup (70 g) nuts or seeds (pumpkin seeds, sunflower seeds, slivered almonds, pecans, walnuts, etc.)
1/2 cup (75 g) raisins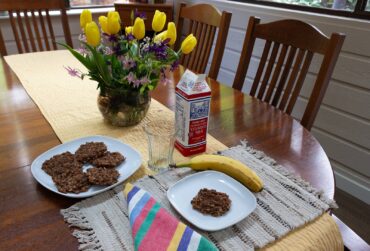 Instructions:
Preheat and stabilize grill temperature to 325ºF. Line 2 standard cookie sheets with a silicone mat or parchment. If using parchment, cut to size so paper is not overhanging the lip of the pan.
Place all ingredients in a medium-size bowl and mix to blend well. (Dough should stick together and you should be able to scoop and drop it onto the baking sheet using a 1/4 cup measure. If it's too crumbly, add a bit more apple butter or applesauce. If it's too wet, add a little more oats.)
Scoop 6 mounds onto one baking sheet with a 1/4 cup measuring cup and drop about 2 1/2 inches apart onto prepared baking sheet. Flatten slightly with the back of a spoon to about 3/8-inch thick.
Place one baking sheet at a time in the preheated grill, close lid and bake 15-20 minutes until edges begin to brown.
Cool on baking sheet. Store cooled cookies in an airtight container up to five days or freeze.
Note: This recipe can be gluten free by using gluten free oats and vegan by using maple syrup as opposed to honey.