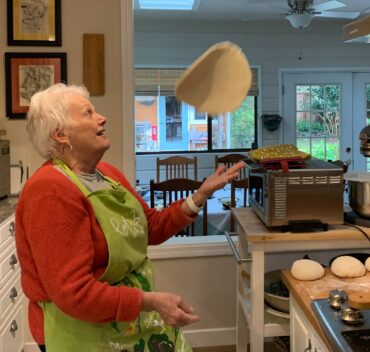 Artisan bread in winter, coming out of an oven heated to 475 degrees, warms the home and gives comfort to long winter nights. But in summer, the last thing you want to do is heat up you kitchen — and a hot oven just doesn't hold the same charm. A lifestyle of lighter appetites and living more out of doors lends itself to cooking outside. Baking bread on the grill is easy, enjoyable and mouthwateringly tasty.
The recipes here explore a traditional pizza, a Middle Eastern-style flatbread and a gluten-free crisp bread or pizza dough. Pizza is a family favorite, and giving the kiddos an opportunity to build their own pie takes some of the pressure off the family cook, and also involves the youngsters in meal preparation.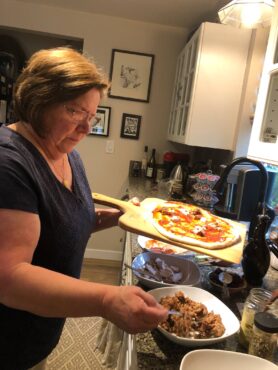 The pizza recipe makes six 8- to 10-inch individual pizzas, and the sky is the limit in terms of toppings. Bowls of prepped meats, cheeses and vegetables according to family preference allow everyone to build their own pizza to suit individual taste.
Garlicky, herb-seasoned flat bread can serve as an accompaniment for any meal. The quick recipe here is ready in one hour, start to finish. It can serve as a wrap for grilled meats or a gyro-style sandwich, as well as an accompaniment to steamed shellfish or simply dipped in hummus or baba ganoush.
Gluten-free bread dough of any sort can be tricky to get the right balance of flours and to obtain the special ingredients needed for the right texture. The easily obtainable mix used here works as a pizza crust or as the flat bread described above. You can prepare any of these doughs a day ahead and store in the refrigerator until ready to grill or bake on a stovetop grill pan.
The recipes using regular flour note that you can use either all-purpose or bread flour. Bread flour produces a more dense and chewy dough, while all-purpose flour will result in a lighter, more tender dough.
Pizza on the grill combines the slightly smoky taste from grilling over flame with the chewy crust reminiscent of a wood-fired pizza oven. Going camping? Mix the dough at home, freeze it, thaw at the campsite and bake over a campfire. Much of the world's population bakes some form of bread dough on an open fire, and when no grill grid is available, the dough is baked on a hot rock at the fire's edge.
---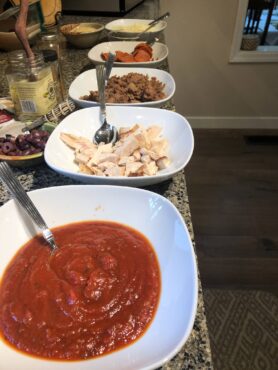 Basic Pizza Dough
Makes two large, 12- to 14-inch pizzas or six individual, 8- to 10-inch pizzas of medium-thick crust
Ingredients:
4 1/2 teaspoons active dry yeast (two 0.25-ounce packets)
2 teaspoons granulated sugar
2 cups warm water
5 cups bread flour (all-purpose is OK)
2 teaspoons salt
2 teaspoons Italian seasoning (optional)
1/4 cup extra virgin olive oil
Topping Suggestions:
Brush entire crust with a little extra virgin olive oil first.
Spread with pasta sauce. (Marinara sauce from a jar is just fine) or mix 1 can tomato sauce with 1 can water. Add 1/2 teaspoon salt and 1 teaspoon Italian seasoning.
Meat toppings: Cooked Italian sausage, cooked chicken (chopped), pepperoni, anchovies, etc.
Vegetable toppings: Sliced mushrooms, bell peppers, olives, tomatoes or sun-dried tomatoes, etc.
Cheeses: Mozzarella, Parmesan, crumbled feta or goat cheese, etc.
Have fun and be creative. Use any kind of toppings your family likes. Anything that is watery or juicy should be drained first, such as wet sliced tomatoes, canned pineapple, etc.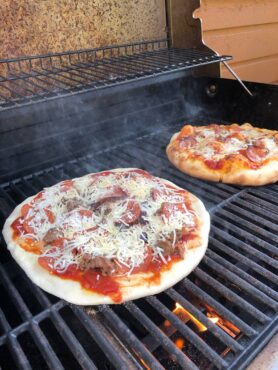 Instructions:
Whisk together yeast, sugar and water. Let stand 10-15 minutes until frothy.
Combine flour, salt and seasoning in a large bowl. Measure oil. Make a well in the center of flour mixture, add yeast mixture and oil.
Mix with a dough hook, wooden spoon or preferably one hand by starting at the side of the bowl, scooping dry ingredients into the center, turning the bowl and repeating until a shaggy mass forms. If dough is too wet, add a little more flour; if too dry, add water, 1 tablespoon at a time, until dough is still shaggy, but not too sticky to handle.
Let dough rest about 10 minutes, then turn it out onto a lightly floured surface and knead lightly until a ball forms. Cover and let rise about 15 minutes.
Prepare toppings and light grill. Heat to 450-500 degrees.
Divide dough into desired number of portions and form each into a smooth round ball.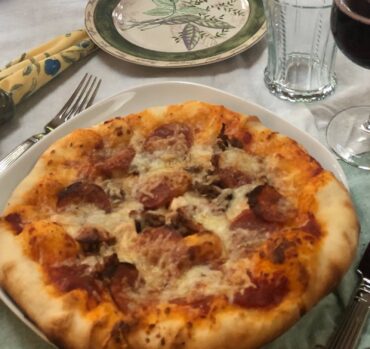 Set dough aside to rest for 5 minutes and then pat or roll each into desired thickness and size round. As each piece is formed, place on parchment paper that has been generously sprinkled with cornmeal to keep it from sticking.
When ready to build the pizza, place the parchment on a cookie sheet (or if available, slide the pizza onto a pizza peel without the paper). Apply toppings as desired.
Carefully slide pizza onto the hot grill grate. Close lid and bake about 5 minutes until crust is brown, crisp on the bottom and cheese is bubbling. Each grill is a little different. Check pizza at 4 minutes to see how it is progressing. Average bake time at 450 degrees should be about 5 minutes.
Carefully remove pizza from grill, place on a board or baking sheet and cut while hot.
---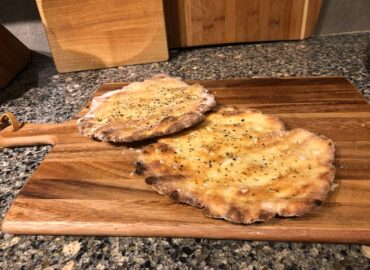 Grilled Flat Bread
This recipe is someplace between a Mediterranean-style flatbread and an Indian naan. To make it softer, roll thicker and to make it crisper, roll thinner.
Ingredients:
1 teaspoon active dry yeast
1 1/4 cups warm water
3 cups bread flour (or all-purpose)
1 1/2 teaspoons kosher salt
1/2 cup extra virgin olive oil, divided
2-4 cloves garlic, minced
Coarse or flaked sea salt
Fresh herbs as desired (oregano, parsley and cilantro are all good choices)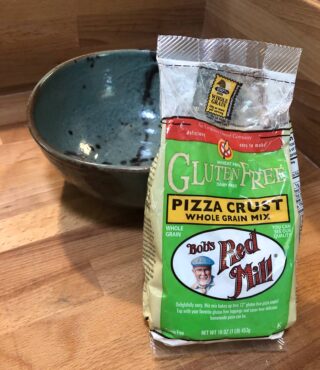 Instructions:
Add warm water to yeast in medium size bowl. Whisk and let stand about 10 minutes until frothy. Add flour, kosher salt and 1/4 cup olive oil. Mix well.
Turn dough out onto a floured board and knead about 5 minutes until smooth.
Grease a clean bowl with 1-2 teaspoons olive oil, put ball of dough into bowl and turn over to oil the entire ball. Cover and let dough sit in a warm place about 1 hour until double in volume.
Turn ball out onto floured board, knead to remove some of the air and divide dough into 4 pieces. Pat or roll each piece into a round or oval disk about 3/8-inches thick.
Heat grill or grill pan to 400-450 degrees. Generously brush one side of each piece with olive oil and place oil-side down on hot grill.
When bread is puffy, beginning to brown around the edges and a golden brown on the bottom, flip over, brush with more olive oil, spread minced garlic over all, and sprinkle with coarse salt and minced herbs. Cook until the underside is golden brown.
Remove from heat and keep warm until ready to serve.
Gluten-Free Version
For those wishing to avoid gluten, Bob's Red Mill Gluten Free Pizza Dough Mix is an easy, foolproof choice to make pizza or flatbread. For pizza, follow the directions on the package, patting the dough out onto a greased pizza pan, but bake in the barbecue grill instead of the oven.
This mix also makes a delicious flatbread. Mix as directed on the package, roll or pat to 1/4-inch thickness for crispier breads or 1/2-inch for a focaccia type bread. Patting out each bread on a piece of parchment paper dusted with rice flour makes it easy to slide onto the grill. Brush with olive oil, sprinkle herbs, coarse or flaked sea salt and crushed garlic. Delicious!