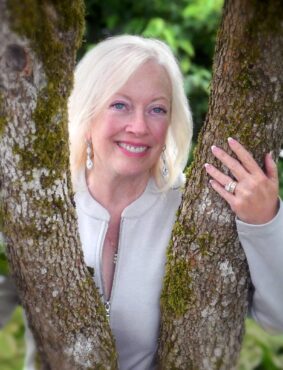 Rites of Spring
As the chill of winter begins to fade and the lush green of spring and warmer weather starts to surface, I am reminded of this quote from William Shakespeare, "April hath put a spirit of youth in everything." These words embody the energy and excitement that spring always brings. It's time to refresh the old and embrace the new. Time to fling the windows wide open and let the winter months wander out. Enjoy the sense of liveliness that comes with the end of hibernation.
Our cover features Bob and Jane Osterichers' garden sanctuary in Canterwood. It's inspired by the peacefulness of Japanese garden design and their love of native plants. See the amazing transformation to the lush, miracle garden in Tracyton by David and Susan Crossland. Susan says, "It was a wonderfully empty palette for a garden."
Read about the iris, one of the oldest cultivated flowers. Roses are perennial shrubs and many modern varieties bloom continuously from May until October — find out which rose plant inspires you. And check out a blip from The Content Scout about pruning, not cutting. Did you know woodpeckers are excavation experts? Read about their purpose.
This issue features the journey of building a home on Bainbridge Island. The title is Slow and Steady Builds a Forever Home. Read about the challenges Jeff and Meisha Rouser overcame with the assistance of their architect and builder.
Our other featured home is a beautiful, traditional-style home on acreage with mountain and water views. Scott and Lyn Scherer lived on the Eastside, but were looking for acreage for their four Doberman pinschers to run and Scott wanted space for his amazing hi-fi system.
Find out how to Prepare Your Home for the Resale Market and Choose Window Treatments. Wondering how to create spaces for your pet's needs? We have ideas for your fur babies!
Historic Downtown Gig Harbor is our area focus. Peruse the feature and make plans to go visit.
The Sip features Bainbridge Organic Distillers, Washington's first organic distillery in our own backyard.
Our Unsung Hero is Harriette Bryant. You may know her from Our GEMS or Kitsap Community Foundation, Bryant-Collins Consulting or a myriad of other purposeful groups.
Always wanted to make rye bread? Barbara Bourscheidt and Jeff Stelmach provide hands-on recipes. Speaking of food, check out a local donut business, Dude's Donuts, from The Content Scout.
On the art scene, Amy's One Painting, a community awareness project, is taking off. Art in Pandemic Times offers retooling ideas for local artists. The Artful Ewe in Port Gamble is a wonderland for fiber artists of all skills and levels. Our young entrepreneur this issue is Naya Patterson of Make Believe Photography. Check out her work. We also feature 5 Tips for Better iPhone Photography.
Lastly, wherever your adventures take you this season, I hope each journey is filled with passion, purpose and an enduring spirit of spring.