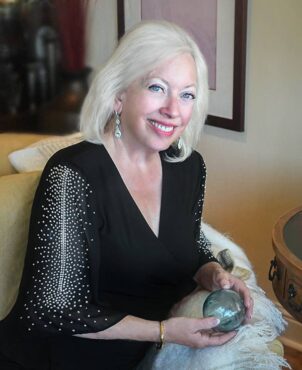 'Tis the Season
The most magical time of the year is fast approaching. As it darkens outside, holiday lights begin to appear — a sparkling welcome to the festivities that occur only in November and December each year.
This issue offers a plethora of ways to celebrate the season: a fun Holiday Gift Guide from the Content Scout, a fabulous Holiday Entertaining feature and even ideas in Gifts for the Gardener. You'll find tips for Hosting a Potluck Dinner and the recipe to make your own delicious Christmas Kringle. Check out Dining Rooms That Dazzle to set the mood for your guests. And learn how to sort through all those stockings, tree skirts, ornaments and candles the season brings.
Our homes and gardens featured this issue: the forever home and lavish garden of Chris Brinton and her husband, Don Thomsen; and Beth Hill's new contemporary home on her family's homestead. Check out the two island gardens — one is like a walk in the forest, the other a walk on the beach.
Our highlighted artist is Heidi Jack, not only a landscape designer, but a versatile artist who creates fantastic pottery with intricate botanical designs, as well as jewelry, silk scarves and so much more.
Celebrate the success of Eleven Winery on Bainbridge as it brings home the gold. Read about the winery's achievements in The Sip.
Contemplating building or rebuilding your deck? Now is the time. Learn what you need to consider for your options.
Conifers, the oldest trees in the world, are abundant in Washington state. Read about some of our local varieties. Also, see the Restoration of Bloedel Reserve's Bird Marsh into Wildlife Haven.
Our Unsung Hero is Derrin Doty, owner of a successful Allstate insurance agency whose dedication to coaching student athletes is truly inspiring.
If you haven't been, you owe it to yourself to take a stroll down to Devoted Kiss on the waterfront in Gig Harbor. Breakfast or lunch — this café is the best.
During the holidays, give what you can to those less fortunate. Sometimes, the gift of yourself is the most valuable. Holiday cheer is always a welcomed gift. Wishing you and yours a warm and wonderful holiday season.
Remember John 3:16.