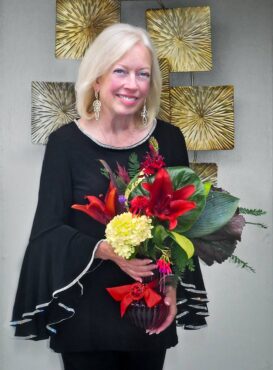 The Season of 'Believe'
We believe everything you need to have a beautiful life can be found in your own community.
The most festive, gracious and celebrated time of the year has arrived! The brisk air is sweeping away all the smokey, gray days — replacing them with crisp, blue skies and stunning fall foliage. Families and friends will gather around the dinner table to celebrate a renewed season of hope and belief in all things good (including the dining menu).
This issue is chock-full of holiday features: an incredible lifetime collection of ornaments, holiday cookies and Christmas lights and, of course, "A Visit with Santa!" Even our rustic cover is from a garden feature. Other good holiday information includes "Easy Ways to Add Luxurious Details to Your Home," "The Importance of Glassware" and a baking feature. We've also included gift ideas here and there.
The feature home, a Fox Island remodel, has an interesting back story — it's not just your run-of-the-mill remodel. "Aloha, Hood Canal" describes a couple moving back to the Northwest and the delightful features they incorporated into their home on Hood Canal. The home office story offers many excellent ideas enabling you to work well from home.
The garden stories included this time are outstanding, including "A Garden of Delight;" a featured rain garden built on a bioswale; and a pollinator's garden, attracting birds, bees, butterflies and more.
Fun items include a new feature called "Young Entrepreneur," as well as another new one titled "Baking." You'll enjoy a review of Cisco Morris' new book; sculptor Gary Johnson's amazing art; and the launch of a new series about area downtowns, beginning with Poulsbo.
Like most of our readers, we've been holed up — which has opened the door to new ideas. Things we put on the back burner are now coming to fruition. Most importantly, we are changing the name and look of the magazine from WestSound Magazine to simply WestSound. The magazine will still include homes, gardens and lots more about our communities. Coming in January, WestSound will have a whole new look and feel, from the paper to the cover to the typefaces, and updated content throughout. Watch for the fun changes.
We are celebrating the upcoming holidays and the fact that 2020 is coming to a close. Enjoy the promise of 2021. We believe.