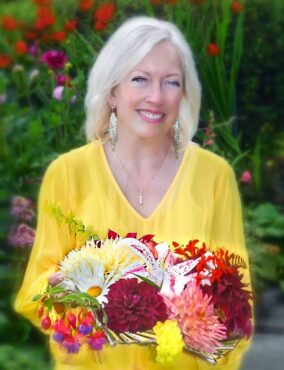 Summertime Charm
Well, here we are, in the best of our summertime season — July and August. Now is a wonderful time to be out of doors, doing anything you enjoy: gardening, grilling, hiking, playing sports, boating or splashing in the water or even taking a day trip — you name it.
It's time to finally feature more Community Scenes again! The first is an event created by Amy Burnett on reinstating arts and museums; the second is a spring flower-arranging workshop.
Our cover features the Poulsbo waterfront home of J and Brooke Huffman. It's an amazing story of tenacity and careful planning to complete a massive remodel, making the couple's dream of "living on the water" come true.
We also feature another remodel in Suquamish, which met Dana and Brenda Boyd's goal of a big family kitchen, and a wine cellar and tasting room.
Find out Brad Moore's (owner at Creekside Cabinet) secret for success.
Get the information you need to choose the right toilet for you and your bathroom, from our well-researched article "Toilets."
And "Learn How to Create an Inviting Master Suite" will have you giving your own bedroom a twice over.
Our feature garden belongs to Don and Denice Heblich, who only reside in Tahuya half the year, spending the other six months in Arizona. How do they do it?
Is there an old, rustic fence on your property? See how it can become a delight for you and your neighbors with a little creativity.
Moss — to grow or not to grow? Find out all the pros and cons about this interesting but problematic plant.
Nothing enhances a home like well-grown trees. However, finding the right ones is a daunting task. Check out our suggestions in "Trees of Merit."
You'll enjoy our exciting focus on "Kitchen Living." We highlight 12 different kitchens from across the West Sound.
Lots of fun ideas for the foodie in this issue: "Our Daily Bread" heads outdoors — time to fire up the grill and make pizza dough.
"Learn How to Grow Culinary Herbs in Your Garden" for beauty, scents and a pantry filled with your own fine seasonings. And speaking of scents, check out "The Smell of Smoke Perfume" — smoking and grilling! The Sip goes to "Wine on the Rock — Reinvented" on Bainbridge Island.
Check out neo-pop artist Cory Bennett Anderson and his unique creations — imagery that creates a story. Amy's One Painting series, "Artist Behind the Glass," showcases a piece called "Restitution." It's currently on display at the Sidney Gallery in Port Orchard.
Discover "Cru Moderne," visionary fashion designer Tamra Fago, who puts the "hat" in haute couture.
The young entrepreneurs this issue are "The Birdhouse Boys" — three young brothers who love animals (birds, too) and power tools. Speaking of birds, read about "The Bird Who Loves to Party."
I hope you enjoy the wide variety of subjects this issue. I'd love to hear your thoughts and suggestions.