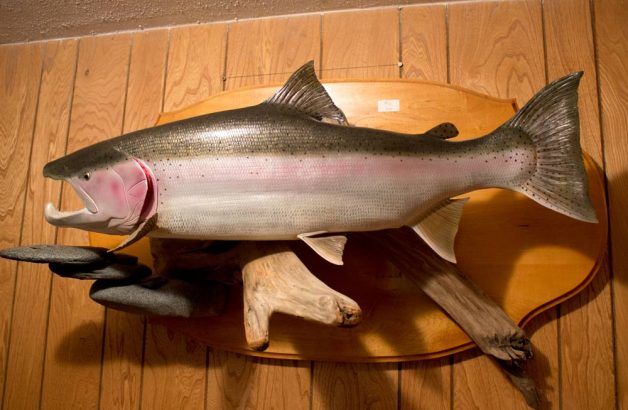 Entering the home of Darrol and Judy Gover, one is struck immediately with the sense that this is where creativity lives, energy thrives, and not a moment of time is to be lost. Darrol, at 82, has a dozen projects going at once. And when he isn't working in his garden, carving and painting a duck decoy or building birdhouses, he is playing his harmonica or jamming with a community musical group.
Visiting with the Govers on a recent wintery afternoon was like peeling an onion, layer after layer revealing a new aspect of each of their lives and talents, which combine to make a perfect whole.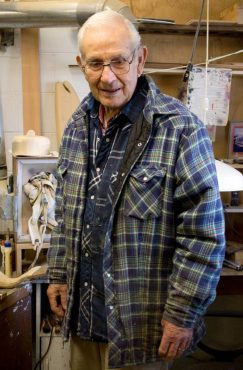 The Govers live atop a hill in Hansville with a sweeping view of the mouth of Hood Canal. They are inspired by the beauty and fullness of natural life around them.
An avid fisherman, Darrol Gover has studied the shapes, colors, habits and lifestyles of Puget Sound's salmon and steelhead populations nearly his whole life. About 23 years ago, Gover started carving salmonids from smooth-grained basswood using wood-carving knives and chisels he sometimes fashions from old screwdrivers.
The initial form is cut from the wood block using a small Foredom power tool, and once the basic parameter of the fish is established, the handwork begins. Giving a carved fish life — making it appear as if there is skeletal and fluid tissue beneath the skin, as if the fins are moving and the gills are breathing — requires a highly developed skill by a keen observer of nature.
Gover began fishing at age 8 and trapped furs from the age of 12 or 14 until he was about 25. During his life, he has pursued many interests and career paths, including working in the meat business and as a mechanic.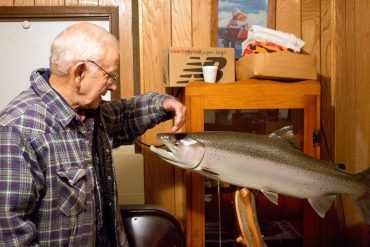 "Regardless of what you work at, integrity is your most important asset," he says.
Since he began carving fish, he has carved 103 salmonids, and sold many of them. Selling his work is not his main objective. He said his goal is "to learn and compete" and his wall of ribbons attests to his achieving the goal of not only competing but excelling among his peers.
The full-sized, luminous fish replicas are mounted on rendered pieces of beach driftwood or juniper and are embellished with pebbles and insects. As required by many woodcarvers associations, the entire assembly must be handmade, so even rocks, cattails and insects are carved and painted to resemble the real thing.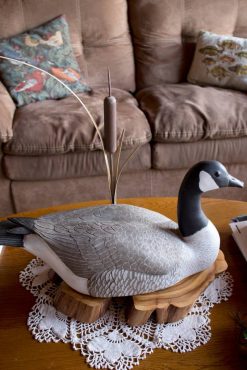 A couple of dozen small, shiny pebbles on one assemblage appear to have been picked up on the nearest beach — but Gover explained he made them himself with drops of hot glue and painted each one when they cooled.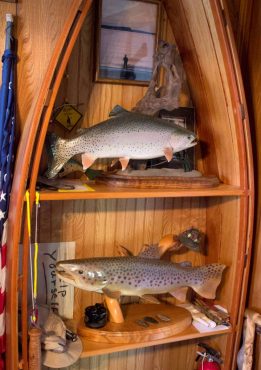 Carving three-dimensional objects follows many years of carving wooden, wall-mounted scenes in bas-relief. The walls of the Gover home display dozens of Darrol's intricately executed scenes taken from famous works of art or his own experience. Carving wooden pictures offered him a creative outlet while raising a family and working full time. His art developed as his time and interest made it possible to try new techniques.
Well-known in Hansville as the artist who painted the mural on the Hansville General Store, Gover smiles while telling the story about how that project evolved.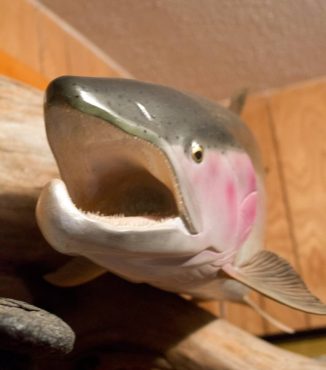 "About 10 years ago, the sweet lady who owned the store said she wanted a few fish to embellish the side of the building," he explains. "I talked to her about it in detail and soon began to understand she wanted something to cover the whole side of the building."
Darrol and Judy worked about four months during the winter that year, executing the mural in four sections on 4-by-8-foot plywood panels. The mural features paintings that depict the life cycles of each of the five species of salmon that are found in Puget Sound, as well as representative drawings of community buildings, vistas and activities.
Judy Gover is an accomplished artist in her own right and enjoys working with her husband on joint projects. Her paintings also adorn the walls of their home, her interest being mostly in landscapes and portraiture. Her portfolio contains beautiful, life-like drawings of many family members.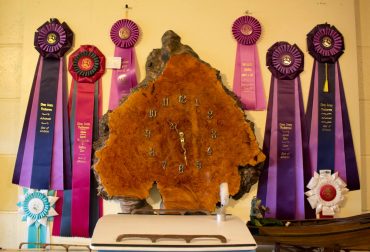 An outstanding work of Judy's is a mural of Ruby Beach that she executed in 2009 on the closet doors in her studio. She wanted a room with a view, and so she painted one. The mural, complete with overhanging branches, driftwood and lapping waves, gives one the feeling of walking right out onto that beautiful place near Kalaloch, Wash. In addition to art supplies, Judy's studio sports a sewing table and machine. Colorful strips of patchwork wait to be sewn into larger pieces, eventually becoming quilts that will be donated to various groups for community needs.
The Govers met in 1998 when Darrol, a widower, attended a yard sale held by Judy, whose husband had recently died. Judy was selling off her late husband's fishing gear, which Darrol bought.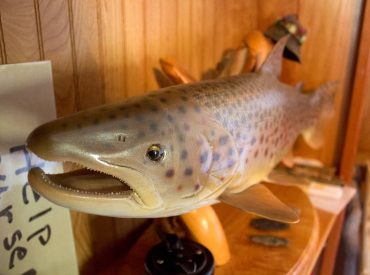 "Then I married him, and got it all back," she says, laughing.
Gover, considering his advancing age when he proposed, promised his bride 20 years of marriage. Because life is uncertain, they celebrate an anniversary every month. sometimes one of them preparing a special meal for the other or they dine out as a treat.
They love making music together in a small gospel group that performs monthly in their church, and occasionally with a group of friends who come together to make music socially, playing old-time country music.
Judy is a pianist but, encouraged by her husband, has learned to play the ukulele. Darrol often accompanies her on the harmonica that he has recently taught himself to play and practices regularly.
He builds "cigar-box" ukuleles, many of which are displayed in the living room. The first one Gover built — because he wanted to know if he could — features a body made from the actual wooden cigar box that his father used to store his fishing lures for years. Others are made from clear cedar, the preferred wood for fine stringed instruments such as violins.
He made one just for his wife and put an inscription to her inside. It can be viewed through the sound hole. For another, which he made from maple wood, he used a rectangular baking pan as a pattern. Although the artist makes the boxes and carves the necks, frets and bridges himself, he purchases the tuning mechanisms ready-made.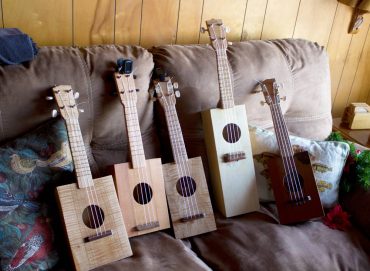 Recycling is a large part of the lifestyle of this creative couple, who are always looking for new ways to use old materials and cast-offs. A real "waste-not, want-not" philosophy is evident in the home and surrounding grounds. Fencing for the front garden is made from lattice being discarded by the community pool facility. Weathered wood scraps become birdhouses, and anything interesting and useful that can be converted into a bird feeder or creative garden décor is pressed into service.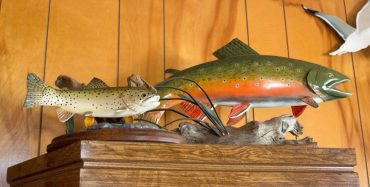 The Govers' lives are filled with friends and family — and purpose. Their purpose is to learn and to explore their God-given talents and interests. Their days are filled in creative activity, whether it is gardening, quilting, painting, woodworking or making music together.
"You can't find out what you can do until you try," Darryl says. "You just have to get started. Most people won't start because they are afraid they will fail."
He has encouraged his wife to try new things too, and they both agree they are living the very best times in their lives.