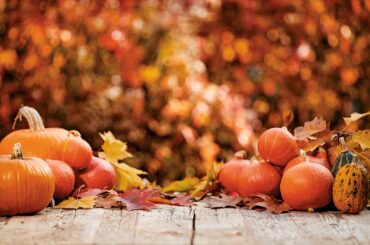 As the temperatures cool and the days shorten, leaves begin to turn from greens to golds, orange and scarlet, and pumpkin season is just around the corner. While most of us consider pumpkins a vehicle for carving scary faces and lighting for Halloween, we overlook the delicious and nutritious aspect of this ubiquitous squash.
Pumpkin is a member of the plant family Cucurbitaceae, which includes all gourds, squash, melons and cucumbers. It's classified as a fruit because it contains seeds.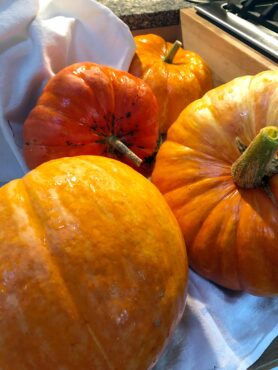 Big, thinned flesh pumpkins are bred mostly for carving, but even those are totally edible. It's a shame to enjoy them for one night and toss them onto the compost pile. When pumpkins and other colorful squash varieties are in peak season, it's time to explore various ways to cook and enjoy them, and even store them for use throughout the cool season months.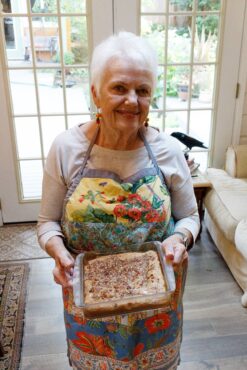 Pumpkin pies, breads and soups fill the kitchen with comforting, warm, spicy fragrance. Roast squash or pumpkin makes an excellent side dish accompaniment to meats. Stuffed with ancient grains and aromatics, it becomes a vegan meal. Versatile squash is filling and satisfying when prepared not just as a dessert, but as an appetizer or main dish and even as a snack.
All sorts of recipes are emerging for pumpkin chips or fries using an air fryer and can be easily found on the internet by the adventurous cook. Pumpkin soup has long been a winter staple in German kitchens, where pumpkin pie is an unusual finding. Roasting has been a popular method of cooking squash probably since humans figured out they could harvest and eat wild gourds.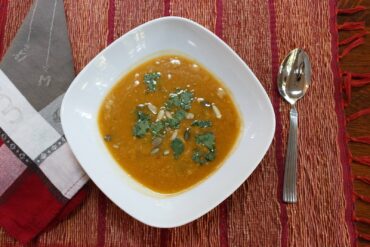 The bright orange color of pumpkin shows it's a great source of the antioxidant beta-carotene, which converts into vitamin A in the body. Other nutrients include iron, magnesium, potassium, zinc, selenium, vitamin C, niacin, folate and vitamin E, according to the University of Illinois Extension.
Although it's tempting to open a can of pumpkin and stir it into a sweet batter or pie filling, why not experiment with cooking a pumpkin from scratch. They are easy to bake in order to soften the flesh for pureeing and storing for later use. And when breaking down your pumpkin for cooking, don't forget those seeds, which are delicious for roasting and snacking.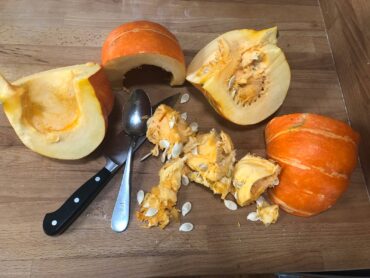 The easiest way to prepare a pumpkin for later use of the flesh is to bake it in the oven:
Cut the pumpkin into portions about 4- to 6-inch-square. Place flesh side down on a baking sheet, and pour about 1/4 inch of water around it.
Bake in a 300ºF oven for about an hour, until the flesh is soft and a fork can be easily inserted.
Remove from oven and cool. Peel or scoop flesh from the skin and place in small batches in a food processor or blender to puree.
Use immediately for recipes calling for canned pumpkin or refrigerate and use within three days. Puree can also be frozen in jars or bags and is best if used within six months.
Two wonderful fall recipes are included here: Gluten-Free Pumpkin Cobbler, which is something everyone can enjoy; and Thai-Style Pumpkin Soup. The warm spices and coconut marry will with the mild taste of pumpkin.
---
Gluten-Free Pumpkin Cobbler
Ingredients for Cobbler:
1 cup + 3 tablespoons all-purpose gluten-free flour (Namaste or Bob's Red Mill recommended)
2 teaspoons baking powder
1/2 teaspoon salt
3/4 cup granulated sugar
1 teaspoon cinnamon
1/2 teaspoon nutmeg
1/2 teaspoon cloves
1/2 cup pumpkin purée
1/4 cup milk
1/4 cup melted butter (or vegan "butter" if desired)
1 1/2 teaspoons vanilla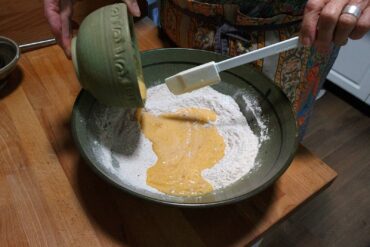 Ingredients for Topping:
1/2 cup granulated sugar
1/2 cup brown sugar
1/2 cup chopped pecans
1 1/2 cups very hot water
Instructions:
Assemble and measure all ingredients before you begin (mis en place). Preheat oven to 350ºF.
Melt butter in a wet measuring cup. Using a pastry brush, lightly butter the baking dish with the melted butter, reserving the rest for the batter.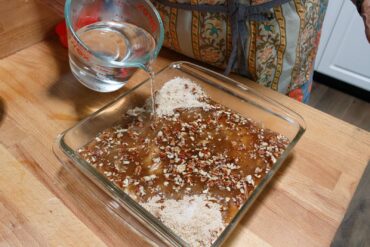 In a medium-sized bowl, whisk together flour, baking powder, salt, sugar and spices. Set aside. In another bowl, whisk pumpkin puree, milk, melted butter and vanilla together until well combined.
Pour the wet ingredients into the dry ingredients and mix to create a thick batter. Place batter in the prepared baking dish and set aside.
Make topping in a separate bowl by stirring sugar, brown sugar and pecans together. Spread topping evenly over the top of the batter without stirring. Pour hot water over the entire dish of batter and topping without stirring.
Bake for 40 minutes or until the middle is set. Let cool to warm before serving.
Notes:
Place a baking sheet underneath the cobbler while baking just in case it bubbles over.
This is a very rich and sweet dessert, great served with a scoop of vanilla ice cream. It has a cake top and a gooey deliciousness underneath.
---
Thai-Style Pumpkin Soup
Ingredients:
3 tablespoons olive oil
1 small white onion, chopped
2 cloves garlic, minced
1 tablespoon freshly grated ginger
1 stalk of lemongrass, bruised
3 tablespoons Thai red curry paste
One can (15-ounce) pure pumpkin puree (or 2 cups home-prepared)
2 cups low-sodium vegetable broth
Kosher salt
One can (14-ounce) unsweetened coconut milk
2 tablespoons lime juice
Fresh cilantro for garnish
Roasted pumpkin seeds for garnish
Instructions:
Assemble all ingredients before you begin (mis en place).
In the inner pot of the Instant Pot cooker, set control to sauté and heat the oil to simmer. Add the onion and sauté for 5 minutes.
Add the garlic, ginger, lemongrass and curry paste and cook for 3 minutes, stirring to keep from sticking. Add the pumpkin puree and broth, stirring to incorporate, then season with salt and bring to a boil.
Set control to slow cook — adjust temperature to high. Fix lid in place, but adjust pressure valve to off. Cook 30 minutes.
Remove lid, stir in the coconut milk and lime juice and let cool for 10 minutes. Remove lemongrass. Using an immersion blender in the pot, puree soup until smooth. If needed, add additional hot water or warmed broth to reach the desired consistency.
Serve warm and garnish with fresh cilantro and roasted pumpkin seeds.