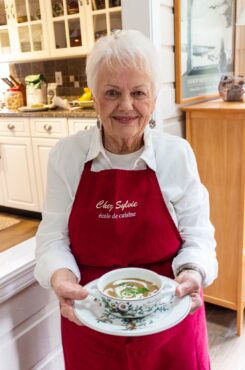 The days are longer, the rain feels a little gentler, the patches of blue sky are bluer and the bird nesting frenzy is in full swing — it must be spring. In our kitchens, we are looking for lighter menus and timesaving dishes that will give us more time to spend gardening or enjoying other outdoor activities as weather permits.
In my kitchen, I look for recipes for dishes to make in bulk and freeze for busy days. This also is the time of year when lots of fresh fruits and vegetables are coming into season and beg to be used in fresh, simple-to-prepare meals. Soups can serve as an appetizer or delicious main course and make a satisfying meal when accompanied by a chunk of crusty bread.
One very refreshing and interesting soup that transitions the season from late winter into spring is rhubarb and strawberry. Served at room temperature or chilled, this versatile recipe can be offered as an appetizer for a Sunday brunch or spring supper. Its sweet-tart taste will open everyone's tastebuds. Rhubarb-strawberry soup is served in Scandinavia as a light dessert with a little dollop of whipped cream or crème fraîche and a sugar cookie on the side.
As a proponent of the "if you can't beat 'em, eat 'em" philosophy, I have learned that stinging nettle soup is a fabulous and delicious way to celebrate spring. This old-fashioned but very gourmet soup will surprise everyone who tastes it. And the color will not be easily forgotten — nettle soup is a very dark green. When paired with a whole grain bread smeared with creamy goat cheese and a fresh, young white wine such as a grüner veltliner, nettle soup makes an irresistible lunch or dinner. As harvesting nettles is an arduous task, I suggest making it worth your while by preparing a big pot of soup. Invite some friends for an unusual dining experience.
To harvest nettles, wear some heavy-duty gardening gloves and cut the youngest new-growth tips you can find. Carefully place cuttings into a clean bucket. (A 2-gallon bucket will yield about 1 pound of nettle leaves and thin stems.) Place about 2-3 inches of water in a large steamer, bring to a boil and carefully add nettles without touching them with your bare hands. Long-handled kitchen tongs work well for this purpose. Steam the nettles for about 10 minutes. They will wilt, reduce in volume and will no longer have any sting.
Another seasonal soup that is always on repeat in my kitchen is mushroom velouté. Combining the earthy, smoky robustness of dried porcini mushrooms and nearly any other kind of fresh mushroom available in the markets this time of year, this soup is easy to make and extremely satisfying. It's creamy on the palate and full of flavor and filling; only a green salad and a slice of bread is needed to complete a meal. We like it with a dollop of crème fraîche swirled into the hot soup, although a sprinkling of grated parmesan or chopped parsley is also a nice finish.
Each of these soups require the use of an immersion blender or regular counter blender. In the case of the nettle soup and the mushroom soup, you will be working with hot liquid and must take adequate precaution to avoid burns.
---
Rhubarb Strawberry Soup
Ingredients:
4 cups 1/2-inch pieces rhubarb, fresh or frozen
3 cups water
1 1/2 cups sliced strawberries
1/4 cup sugar
1/8 teaspoon salt
1/3 cup chopped fresh basil or mint, plus more for garnish
Freshly ground pepper to taste
Instructions:
Bring rhubarb and 3 cups water to a boil in a large saucepan. Cook until the rhubarb is very soft and broken down, about 5 minutes.
Transfer to a medium bowl. Put a couple inches of ice water in a large bowl and set the bowl with the rhubarb in it to help cool it quickly. (If you aren't in a hurry, you can skip the ice-water bath.) Refrigerate, stirring occasionally, until cool, at least 20 minutes.
Transfer the rhubarb to a blender. Add strawberries, sugar and salt; blend until smooth. Return to the bowl and stir in 1/3 cup basil (or mint).
Serve sprinkled with more herbs and a generous grinding of pepper.
---
Spring Green Nettle Soup
Ingredients:
1 pound freshly gathered young nettles, tougher stalks discarded
4 cups young dandelion leaves or arugula
2 cups tender asparagus, chopped
2 tablespoons organic butter (substitute ghee or olive oil if desired)
3 large spring onions with the tender green parts
2 large leeks (trimmed, washed and finely sliced)
2 celery sticks, chopped
4 cloves garlic, minced
4 large sprigs Italian parsley
1/4 cup chopped fennel fronds
8 cups vegetable stock or water (chicken is OK, too)
Sea salt
Freshly ground black pepper
Fresh lemon juice (just a squeeze per bowl)
Instructions:
Wearing gloves or using tongs, carefully wash and trim large tough stalks from nettles. Do not touch the nettles.
Place nettles in a steamer and steam about 10 minutes or until soft. (Once the nettles are steamed, they no longer sting.)
Heat the butter or oil in a large pan over medium low heat. Add the onion, leeks, celery, asparagus and garlic. Cover the pan with a lid and let the vegetables steam for 10 minutes. Make sure you stir them a few times; you want the vegetables soft but not browned.
Add the stock and bring to a simmer; cook for 10 minutes.
Add the nettles, arugula, fennel and parsley, stirring them into the stock as they wilt. Simmer for 3-5 minutes, until tender and just wilted. Season the soup generously with sea salt and pepper.
Purée the soup. If using an immersion blender in a deep pot, do it all at once. If using a standard blender, puree in batches.
Reheat if necessary and check the seasoning. Serve in warmed bowls with a little squeeze of lemon juice.
---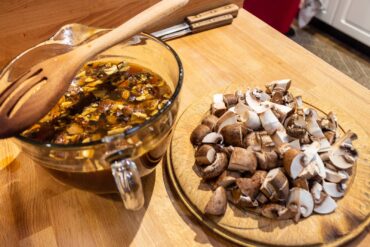 Mushroom Velouté
Ingredients:
1 to 1 1/2 ounces dried porcini mushrooms or other dried mushrooms
7 cups chicken broth, homemade or low-sodium canned
6 tablespoons unsalted butter
5 cloves garlic, minced
10 ounces cultivated mushrooms, chopped
2 leeks (white part only), thinly sliced
2 medium shallots, thinly sliced
7 tablespoons all-purpose flour
3 parsley sprigs
3 sprigs fresh thyme
1 bay leaf
1/2 cup heavy cream or low-fat evaporated milk
1 teaspoon madeira or sherry
1 teaspoon kosher salt
Freshly ground black pepper
Instructions:
Place the dried mushrooms in a large bowl. Bring the broth to a boil and pour over the dried mushrooms. Set aside to re-hydrate for about 20 minutes.
Using a slotted spoon, remove the mushrooms and reserve the broth. Roughly chop all the mushrooms.
Heat the butter in a large pot over medium-high heat. Add the fresh and re-hydrated mushrooms and cook, stirring occasionally, until soft and somewhat dry, about 6 minutes. Add the leeks and shallots and cook, covered, stirring occasionally, until translucent, about 4 minutes. Stir in the flour and cook, stirring, for 2 minutes more.
Pour in the reserved mushroom broth, taking care not to add any grit or dirt that may have fallen to the bottom of the boil, and bring to a boil while whisking constantly.
Tie the parsley sprigs, fresh thyme and bay leaf together with a piece of kitchen twine and add to the soup. Lower the heat and simmer for 10 minutes. Remove from the heat and allow to cool. Remove and discard the herb bundle.
Working in batches, transfer the mixture to a blender and puree until smooth (or use an immersion or stick blender). Using a sieve over a large bowl, strain the mushroom puree. Return the puree to the pot and reheat over medium heat.
Whisk the heavy cream, madeira and salt into the soup and season with pepper to taste. Divide among warm soup bowls and serve immediately.