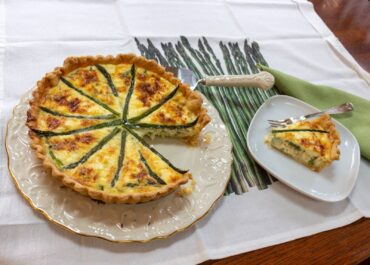 There is no other vegetable that speaks to spring like asparagus. It emerges from the bare ground when soil temperatures reach about 50ºF and grows rapidly for two to three weeks. Gardeners who grow asparagus understand the difference in size of the stalks, with the skinny ones being produced by young plants and the thicker ones coming from older corms.
Asparagus is a very long-lived plant as vegetables go because it's a perennial and can live up to about 20 years. New plants need about three years to establish before harvesting, but as plants mature, they can grow into colonies as large as 5 to 6 feet in diameter. While generally eaten as a green steamed vegetable, sliced raw asparagus is now gaining popularity in salads. In some parts of the world, the plants are blanched and harvested when they are a pale cream color.
The vegetable has been known for its cleansing diuretic properties for centuries. As a spring tonic, it's thought to clean out the "sludge" from heavy winter menus. Once only available in the spring months, it has become a year-round favorite on American tables.
Asparagus quiche is a tasty classic tart comprised of a flaky, rich crust filled with a rich egg-and-milk custard. It's a versatile dish that can be served for breakfast, brunch, lunch or supper. It can be served hot from the oven, chilled or at room temperature. The addition of bacon or sausage makes it a heartier meal and almost any vegetable can be substituted for the asparagus in this recipe.
Original recipes for a classic French quiche call for heavy cream and a buttery crust made with wheat flour. You can substitute evaporated low fat milk for the cream to lessen the fat content. Whole wheat flour or gluten- free flour can be used instead of all-purpose to either increase the nutritional and fiber content or eliminate gluten. This is definitely one of those recipes that allows the home cook to use whatever is in the refrigerator or pantry and produce a delicious meal for friends and family. A store-bought pie crust works just as well as homemade, but the recipe here is the classic, traditional, French pâte brisée.
The success of any quiche is to make sure vegetables are precooked and drained to prevent the quiche from becoming watery and the veggies soggy. The ratio of eggs to dairy should be 1 egg for every 1/2 cup of dairy. (You can also use nondairy milks.) Too much milk-to-egg will result in a runny custard and too many eggs will cause it to be rubbery.
The crust should be par-baked before adding the other ingredients to ensure a nice crisp bottom crust. Placing the quiche near the bottom of the oven will also help with browning. A metal tart pan is highly recommended instead of a glass pie dish to facilitate browning. If you use a tart pan with a removable bottom, it makes a lovely presentation when you remove the quiche from the pan.
---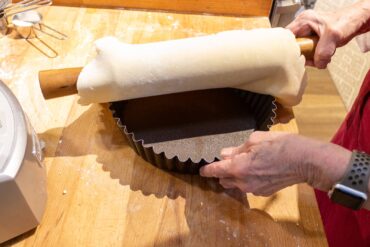 Asparagus Quiche Recipe
Ingredients:
1 prebaked 9- or 10-inch pâte brisée (recipe follows)
1/2 pound fresh asparagus plus 12 spears, 5 inches long
2 tablespoons butter
1 cup shallots, chopped
3 large eggs
1 cup milk
1/2 cup heavy cream (substitute low- fat evaporated milk if desired)
1 teaspoon salt
Freshly ground black pepper to taste
1 cup grated Gruyere cheese, Swiss cheese or Emmentaler, divided
2 ounces feta cheese, crumbled
1/4 cup chives, finely chopped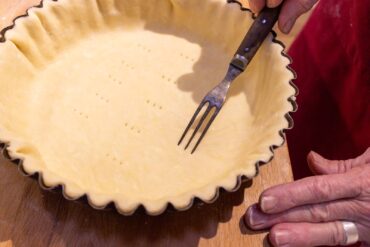 Instructions:
Preheat the oven to 350ºF. In a small stock pot, bring 1 inch of water to a boil.
Clean the asparagus, then trim off the bottoms. Cut the asparagus into 1/2 inch pieces. Place the asparagus in a steamer over boiling water, cooking until slightly tender, which should take about 3–4 minutes. Drain, cool and pat your chopped asparagus dry with a paper towel to remove excess moisture.
Place 5-inch spears in steamer and steam about four minutes until tender. Drain and set aside.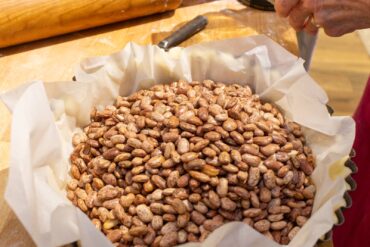 Heat a medium skillet to medium heat and melt the butter in the skillet. Add the shallots to the skillet, with salt and pepper, and sauté about 10 minutes until translucent. Do not allow to brown. Remove from heat and set aside.
In a large bowl, whisk together the eggs, milk and cream until well combined.
Sprinkle 1/2 cup grated cheese over the bottom of the pie crust. Add the steamed chopped asparagus and shallots to the pie crust in an even layer over the cheese. Pour the egg mixture over the filling and top with the remaining grated cheese and feta cheese. Place the asparagus spears in a radial design over the cheese.
Bake until the quiche is golden brown and the custard is set, about 40–50 minutes. Remove from oven when the center is still a little "jiggly;" it will continue to bake a bit after removed from the oven.
Let the quiche cool slightly before serving. Garnish with chives.
---
Pâte Brisée
Ingredients:
1 1/2 cups all-purpose flour (230 gr)
4 ounces cold butter (113 gr)
1 egg
1/4 teaspoon salt (if using unsalted butter)
3-4 tablespoons ice water
Instructions:
Place flour in large bowl of food processor.
Chop butter into 1/2-inch cubes. Place butter in food processor. Add salt if using unsalted butter. Pulse off and on until the butter is the size of beans or peas.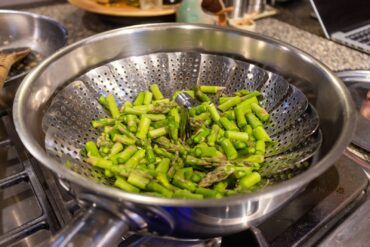 Add egg and pulse just to mix. Add water, 1 tablespoon at a time, until the dough just comes together and has the consistency of large "clods."
Dump contents of processor bowl onto lightly floured board and press gently together into a flattened disc. Wrap airtight and refrigerate about 20 minutes.
Preheat oven to convect 375ºF.
Roll dough into a round, about 11 inches in diameter and 1/8 inches thick. Carefully transfer to a 10-inch tart pan with a removable bottom. Dock (prick with a fine-tined fork) and return to refrigerator for 10 minutes.
Line dough with parchment and fill with baking beans. Bake 10 minutes. Remove from oven and remove beans and parchment. Return to oven for about 10 minutes until crust starts to brown.
Remove crust from oven and reset oven at 350ºF. Continue with tart filling recipe.