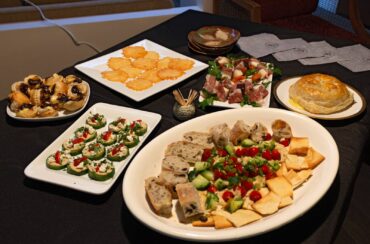 Your phone dings and a favorite friend asks, "Are you home? We thought we would stop by for a few minutes." Or, you look at the clock and think, "It would be so nice to have Dick and Jane stop in for a drink this afternoon." Your brain clicks into entertainment mode, and myriad possibilities of nibbles to accompany drinks starts an automatic inventory of whatever is available in the refrigerator and pantry.
With a little imagination and a few staples on hand, in 15 minutes or less, an appetizer spread can be produced and ready when the guests ring the doorbell. The basics of cheese, fruit, veggies, an acid flavor, olive oil and some flavorful herbs and seasonings can be combined in dozens of ways with just a little imagination.
Here follows a list of basic staples to keep on hand that will serve the host or hostess well in any season or situation. Obviously, not everyone will have all of these ingredients on hand at any one time, so the recipes below are intended to give you ideas on how to quickly prepare a tasty appetizer with ingredients on hand.
Don't be afraid to substitute ingredients and enjoy the imaginative results. The "recipes" below are actually just suggestions on how to put something wonderful together in a hurry. There is no right or wrong, but make it beautiful to look at. We eat with our eyes first.
Be sure to keep a package of seasonal cocktail napkins on hand, unless you are lucky enough to have linen ones. Little appetizer plates are a bonus. Bon appétit!
---
LIST OF BASIC STAPLES
---
Pantry
Dried fruits such as figs, dates or apricots
Nuts: roasted or raw
Dried cranberries, sun dried tomatoes
Artichokes: marinated or packed in olive oil or water
Olive oil: extra virgin
Dried herbs and spices
Dried salami
Olives
Smoked salmon, tuna, sardines
Fruit jam or jelly, chutney
Pita chips, rice crackers, savory crackers, etc.
Fridge
Cheeses such as brie, goat and feta
Olives if not canned
Smoked salmon or room temperature package
Seasonal vegetables according to preference: carrots, celery, radishes, cucumbers, mushrooms, sugar peas, cherry tomatoes, etc.
Italian parsley, cilantro, etc.
Salad greens
Pastry — premade or your own such as pie crust, puff pastry or crescent roll dough
Freezer
Baguette slices or fresh baguette
Shrimp
Pita or naan
Fresh
Baguette (or frozen slices)
Seasonal fruits according to preferences: apples, oranges or clementines, grapes, stone fruits, etc.
Lemon and lime
---
RECIPES
---
Brie or Camembert
Easiest: Baked brie
Unwrap cheese, place in a round dish not much larger than the cheese. Spoon 5 tablespoons of any sort of jam or jelly over the top. Fig, apricot, red pepper jelly, blackberry preserves, etc. Sprinkle with sliced almonds, pistachios or pine nuts for extra pizzazz. Place in 350 F oven for about 10-15 minutes. Nestle baguette slices, toasted or fresh, or crackers around the cheese. Include a little spreading knife.
Easy: Brie en croute
Heat oven to 425 F. Place cheese on one sheet of thawed puff pastry cut into a round about 2 inches wider than the cheese. Spread 4 tablespoons any sort of jam or 1/4 cup chopped dried fruit and nuts over top of cheese. Place a second round of puff pastry on top. Pinch the two layers of pastry together decoratively. Use scraps to make a design on top. Brush with 1 beaten egg and bake 20 minutes until pastry is puffed and brown. Cool slightly before serving.
Amazing: Mini brie bites
Roll choice of pastry into a 12-inch circle and cut into 2-inch rounds with a cookie cutter. Spray mini muffin tins with cooking spray, press each 2-inch circle into the 24 muffin cups. Place 1/2 teaspoon of any sort of jam — apricot, fig, raspberry, cranberry, etc. — in bottom of dough. Cut 1 baby brie or camembert into 24 equal squares and place on top of jam. Garnish with chopped nuts if desired. Slivered almonds, chopped pistachios, hazelnuts or pecans work well. Bake 10-15 minutes in 375 F oven. May be served warm or room temperature. May be made up to two days ahead and baked when guests arrive.
Hummus
Easiest: Hummus schmear plate
Using a large shallow platter, smear 8 to 12 ounces of hummus in an "s-curve" from one corner diagonally to the opposite corner on the other end. Cut 1 cup cherry tomatoes in half, 1/2 cup cucumbers in 1/2-inch cubes, 1/4 cup red onions, scallions or shallots in thin slices and a couple sprigs flat leaf parsley, chopped. Toss vegetables with 2 tablespoons extra virgin olive oil, 2 cloves minced garlic, 1/2 teaspoon salt and a little fresh ground pepper. Spread across hummus and tuck sliced baguette or pita chips into the corners around the schmear to scoop.
Easy: Cucumber bites
Slice an English cucumber into 1/4-inch-thick slices crosswise. Top with hummus, a few crumbles of feta cheese, 1/4 cup cherry tomato wedges and a sprinkle of chopped flat leaf parsley.
Amazing: Mediterranean nachos
Spread a tub of hummus in the bottom of a shallow dish. Top with 1/2 cup Greek yogurt, chopped cucumber, tomatoes, scallions if you wish, kalamata olives and crumbled feta cheese. Sprinkle with chopped flat leaf parsley. Serve with crisp and crunchy pita chips.
---
PICKS
---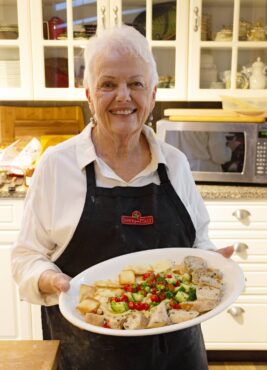 Easiest: "3 ingredients"
Dried fruit, prosciutto and cheese chunks. Combine any three items on a pick on a pretty plate. Apricot, prosciutto and parmesan; fig, prosciutto and goat cheese; apple, prosciutto and cheddar. Use whatever your pantry and fridge have on hand that pleases your taste buds.
Easy: Antipasto picks
Start with a crisp green such as a spinach leaf folded in quarters, then add a piece of marinated artichoke heart, a folded piece of salami and a kalamata or marinated olive.
---
OLD FASHIONED BUT STILL GREAT
---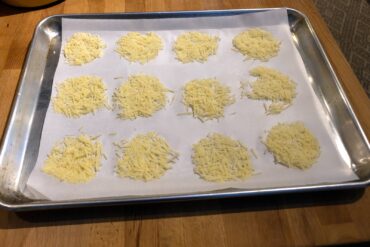 Pumpkin and cream cheese dip
Beat 8-ounce package cream cheese together with 1 cup powdered sugar, add 15-ounce can pumpkin puree, 1 teaspoon vanilla and 1 tablespoon pumpkin pie spice. Beat until smooth. Serve with gingersnaps and apple slices.
Onion soup dip
Mix 16 ounces sour cream, 1/2 cup mayonnaise and 1 envelope French onion soup. Mix together until smooth and creamy. Serve with veggies or chips.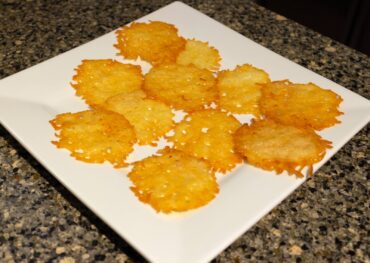 Parmesan crisps
The easiest appetizer of them all! Preheat oven to 400 F. Place 1 tablespoon parmesan cheese onto a silicone or parchment-lined baking sheet. Flatten cheese into a round and continue placing more cheese mounds onto the pan, spacing about 1 1/2 inches apart. Bake 3-5 minutes until crisp and golden.
Mini Reuben sandwiches
Spread cocktail rye slices with thousand island dressing, place a small slice of deli corned beef on each slice. Top with a teaspoon of drained sauerkraut and a teaspoon of Swiss cheese. Broil until cheese is melted and a little bubbly.