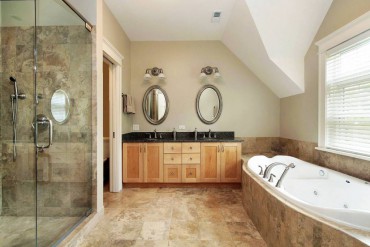 The second most-popular remodeling project is definitely the master bath. And people have very specific ideas.
We do see some common trends. Let's dive right in.
Number one on the list is what we call the party shower. Yep, huge — sometimes as big at 8 by 9 feet.
Trends include showerheads on multiple walls, body jets, a handheld showerhead for washing pets and cleaning the shower, and central, rain-style showerhead, a trench drain and barrier free access. No curb, just flat floor right into the shower to make it work for you as long as you want to live there.
Of late, we've added windows in the shower, tile and glass enclosures to the ceiling, oversized tile, a bench, niches for shower products and special coating for the shower glass to prevent spotting.
Want to get really technical? How about a shower valve that remembers the temperature you like, and that of your spouse. Sound a little far fetched? Maybe, but I promise you will adjust and love it — quickly.
And what about the tub? While some folks have to have one, most are getting rid of their huge, old tub in favor of the large, oversized shower. As long as there is a tub somewhere in the house, you'll be OK for resale.
Counters still utilize stone and quartz, and most often have undermount sinks. Framed mirrors are more popular than the large plate glass mirrors of the past, or utilize the old mirror and frame it with matching materials to the rest of the bathroom.
Comfort-height toilets with self-closing lids are most popular. While a few clients opt for the specialty bidet toilets by manufacturers like TOTO, the cost keeps many folks making other choices.
A new bathroom makes getting ready for your day a joy and people underestimate how much time they spend in their baths. Clients always say they wish they had done the remodel sooner.
Check back next time when we look at trends in the public spaces of your home.
This is part two of a three part series on remodeling trends.
Part One: "Remodeling Trends Part 1: The Kitchen"
Part Three: "Remodeling Trends Part 3: Public Spaces"