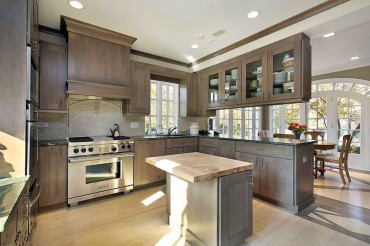 You've made it through the holidays, put all the decorations away and decluttered your space. Still don't have enough room? Or the rooms just don't work for you and your family? Maybe it's time to remodel.
I hear it all the time, "It's too overwhelming." "I don't think I can make all those decisions." It's not that difficult, so let's break it down first by looking at the most popular room to make over — the kitchen, and the trends we see currently.
If you can't make it bigger, no worries. Make it better. A big trend is not in the huge kitchen, but the practical ones.
Cabinet organizers, built right into the cabinets, are very popular and make a small space function like a big one. Using lots of drawers and less cabinets is very common. Deep drawers too, that hold plates and dinnerware, drinking classes, pots and pans, Tupperware and lids and keep them all in their place with organizing peg systems.
Countertop storage areas to hide the commonly used items you don't want on display all the time are making a big comeback. Kind of like the old-time appliance garage with new, modern spin. Drawer organizers are also big; they allow you to see what you have and get to it easily.
Grey cabinets hit the market about three years ago as the "new" neutral, and they are still going strong. Other details include walls of tile to the ceiling (absolutely stunning), microwave drawers that go in the base cabinet, and pet crate or dish areas.
Start by sitting down to make a list of how your kitchen doesn't work for you. Yes, I said "does not" work for you. I can learn a lot about what clients want from what I know they dislike or doesn't function well for them.
List the type of cooking you do most and what appliances you utilize. Is there one cook or two? Do you have special storage issues?
With you list in hand, you are ready to start talking to remodelers to get some great ideas for your new kitchen. Working with a professional remodeler, you'll have the kitchen of your dreams in no time!
This is part one of a three part series on remodeling trends.
Part Two: "Remodeling Trends Part 2: The Master Bath"
Part Three: "Remodeling Trends Part 3: Public Spaces"