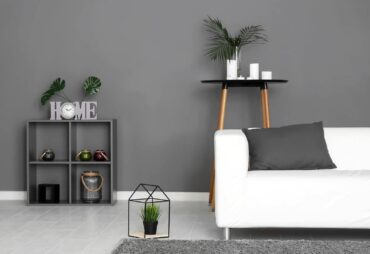 Every year, we gather our panel of design experts to discuss some of the hottest design trends.
In 2023, expect to see natural-looking finishes, natural materials like wood, and more recycled and upcycled choices for the environmentally conscious. Comfort is the key for families. A "must have" is gathering areas, where you can meet and converse — integrated living spaces that allow you to socialize comfortably.
As any good designer will tell you, trends come and go. The best advice for creating a timeless look is to choose based on quality, your personality and your lifestyle.
We've asked 13 designers to weigh in on what new and returning trends they are seeing, and to share some advice on how to use these trends for fresh design ideas.
---
Chelsea Travaglio
The Grey Door Design & Build, Inc.
Silverdale • 206-669-7443
chelsea@thegreydoor.net
thegreydoor.net
Chelsea Travaglio's passion for interior design continues to expand after more than 14 years of professional experience in high- end residential interior design and luxury home staging. Her expertise ranges from color consultations to a complete interior plan and installation and her service base extends beyond Seattle and West Bellevue to include Bainbridge Island, Gig Harbor and the Kitsap Peninsula. Travaglio enjoys contemporary and traditional projects while upholding a design philosophy that each space relates to its consumers and its function. By focusing on client relationships and satisfaction, she is able to develop customized interior plans with a concept of practicality and timelessness.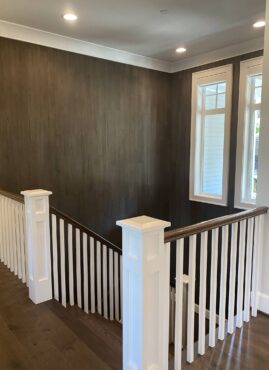 Chelsea Travaglio's general observations include warm wood cabinetry, "incredible" wallcoverings, porcelain slab countertops, full-height backsplash, black hardware, graphic tile, wood beams, plaster textures and muted earth tones in paint colors and textiles.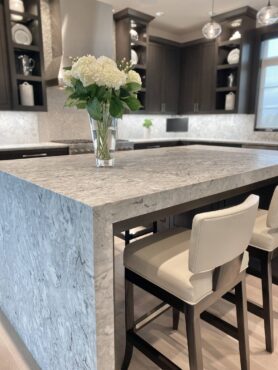 Colors: All shades of green and blue are the most desirable in the Pacific Northwest. "Rich and warm neutrals partner seamlessly with these natural colors to create a comfortable color palette that reflects the beautiful outdoors," she says.
Countersurfaces: Porcelain slab and quartz have been dominating the last several years in new construction. "However, as cabinetry desires are shifting to stained wood versus painted finishes, natural stone like quartzite and marble will be highly sought after if the budget allows," she says.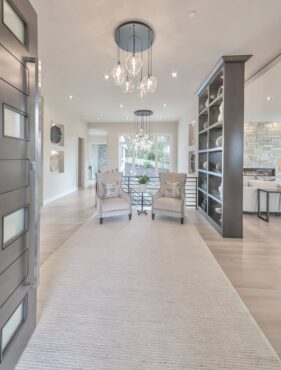 New kitchen features: The range hood has become a major focus in the kitchen, in Travaglio's opinion. "Finishing the hood to blend more as an architectural detail vs. an exposed appliance has created an extra layer of beauty in the kitchen," she says.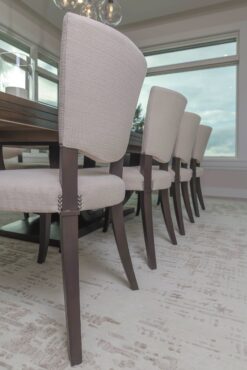 Fabrics: Leather will be moving up in popularity in 2023; however, leather isn't always the best choice for large upholstered pieces like sectionals. "Performance fabrics are constantly becoming more innovative and are available in a variety of textures from linen to plush velvet," Travaglio says.
Furniture: As light oak floors continue in popularity, contrasting dark-brown-stained wood like walnut and oak will be a popular trend in 2023.
"Dining tables, nightstands and large case goods will become more eye-catching in these darker finishes," she says. "Clean lines in upholstery remain the most popular with consumers. I always recommend creating a unique furniture collection by mixing clean lines with antique or traditional accents like a console table or chest."
Lighting: Large-scale hanging shades, whimsical blown glass pendants and chandeliers, backlit mirrors and innovative under- and over-cabinet lighting are all coming into this new year as a hot trend. "Remember that not all fixture finishes need to match, but they should relate," Travaglio says. "Have fun when selecting replacement fixtures for your kitchen or entry. Select styles not necessarily because they are a trend, but because they are something that you like."
Window treatments: "Layer, layer, layer. Don't stop at roman shades or roller shades — combine with drapery side panels and sleek hardware for a complete look," she says. For proper execution, Travaglio recommends reaching out to a professional.
To find advice, Travaglio suggests asking around in your community or your peer group for a designer referral. Review websites, houzz.com or social media for portfolio collections and customer reviews before reaching out to a design professional. "Experience is key and will lead to a more complete, efficient and on-budget project," she says. "I always tell my prospective clients that personality chemistry is very important when hiring a designer."
---
Kae Rosenberg
Kae Rosenberg Design
Seattle • 707-495-5292
kaerosenberg@comcast.net
kaerosenberginteriordesign.com
Kae Rosenberg Design & Consulting collaborates with clients, combining interior design and interior architecture to synthesize beauty and functionality into each project. It is always a bespoken reflection of its occupant. Rosenberg is a member of the local chapter of NKBA.
Kae Rosenberg says one of the fastest-growing trends she currently sees in the Pacific Northwest is what she calls "organic transitional."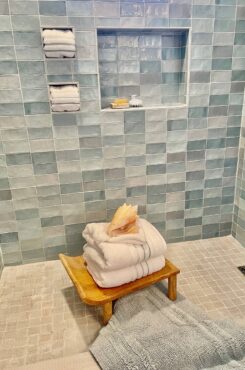 "In the past few years, this trend has been evolving from midcentury-modern — with its neutral tones, clean lines and straight angles — to rooms that meld the built environment with the beauty of the outdoors: live plants, rounded corners, beautiful sustainable fabrics, natural and durable flooring and an abundance of textures and earthy tones," she explains.
Colors: Last year, combinations of whites, gray, beige and taupe were prevalent, creating neutral backdrops, with interesting shapes in furnishings and accessories taking the lead. "2023 is still featuring these neutral shades of white, gray and taupe, but also emerging are rich tones found in nature, such as browns (from beige to burnt umber, sienna) greens (ranging from pale greens to aquas), to the still popular deep intense blues for their kitchen and bath spaces," Rosenberg says.
Countertops: While quartz countertops are still the most requested materials, porcelain countertops are fast gaining popularity, as they are becoming more well-known. Rosenberg says that some of porcelain's most popular features are the extreme durability; resistance to detergent, chemicals, scratches and abrasion; and the hygienic factor.
"Porcelain is nonporous, so it can take high heat without cracking, melting or staining," she says. "In fact, a slab of porcelain can be placed on a cooktop and it will conduct the heat from source through its surface to cook food in a pan that is sitting on it. From a beauty standpoint, it presents a stunning, streamlined look and it comes in a large variety of colors and patterns, mimicking natural materials."
New kitchen features: Kitchens are evolving into more of a sleek, polished environment with cabinets and drawers hidden behind banks of tall doors. Behind those doors is an abundance of new storage solutions, as well as baking and coffee/tea stations that can pulled out for use or tucked away. This essentially makes them invisible so you get finished, clutter-free environment.
"Clients are also leaning toward walls of glass using floor-to-ceiling bi-folds and oversized sliding doors that can be opened in the spring and summer to blend the inside with the outside and create additional living space, maximum sightlines and lush light-filled spaces," she says.
Fabrics and window treatments: In keeping with the organic trend, performance fabrics are still important from a practical standpoint. But also making a resurgence are natural, cozy fabrics such as soft, textural boucle and big, thick chenille in wools; linens; cottons; silks and other natural, sustainable fabrics. This also includes window coverings and shades — reed, grass cloth, woods, bamboo and other sustainable and recyclable materials.
Flooring: Engineered wood flooring is most popular. Rosenberg explains that engineered wood is manufactured from multiple layers of high-density fiberboard, with a stone plastic composite core, and finished with real hardwood veneer. "All are bonded together under heat and pressure, making it not only very durable and dimensionally stable, but also resistant to climate change, moisture and heat. Finally, it is factory finished with multiple layers of aluminum oxide," she says. "Additionally, by using engineered flooring techniques, raw wood can be cut into multiple wider and longer planks than wouldn't be possible using regular hardwood and old techniques. The resulting product wears longer, is stronger and eco-friendly, thus it falls into the sustainable category."
Furniture: While she still sees an overall continuation of the midcentury look, instead of straight, square angles, there is a rise of rounded corners, which adds a feeling of warmth and coziness. "Another trend growing in furnishing popularity is 'made-to-measure furnishings," Rosenberg adds. "Manufacturers are giving clients additional design options and flexibility to help create a custom designed, bespoke look in furnishings."
Additionally, she sees more natural materials, such as wool, cotton, linens, silks and wood products being used, as well as recyclable options made from everyday plastics and reinvented into totally different products.
Lighting: More organic, natural materials, such as woods, raffia, reeds, woven grasses, linen and silk.
Glass is also still popular because of its reflective qualities.
In last year's designer trends issue of WestSound Magazine, Rosenberg noted that with the complicated lives we live, it's important to have a simple, quiet place where we can relax and recharge. "In 2023, this is becoming a trend. People are adding a wellness room or space in their homes or in their workplace, where they can take a few minutes out of their day to meditate or at least close their eyes and relax," she says. "This should be a place of quiet, with calming colors, soft cozy fabrics and furnishings. Lighting that is dimmable and either relaxing views or even no view at all — just as long as it evokes a state of relaxation."
For homeowners looking for inspiration, Rosenberg notes there is a myriad of online websites, such as Pinterest and Etsy, where you can find helpful information on design. "However, I believe the best option is to talk to a professional so that you can obtain the correct advice (not just someone's opinion)," she says. "Interior designers and their websites can be found online or listed in local design magazines, such as WestSound."
---
Alinda Morris
Alinda Morris Interior Design, LLC
Gig Harbor • 253-579-8431
alindamorris@gmail.com
alindamorrisinteriordesign.com
Alinda Morris is a nationally published, award-winning interior design professional, habitual remodeler, adventurous creative, entrepreneur, wife and mom, specializing in full service, luxury residential interior design: Custom furnishings, unique kitchens and artfully designed bathrooms, attention to details, and clean, updated spaces are her specialties. She has the experience, education and talent to provide interior styling that includes furniture procurement and installation. She also offers thoughtful space planning, detailed floor plans, elevations, sketches, finish selections, cabinet drawings and furnishings to take your remodeling project from beginning to magazine-ready completion.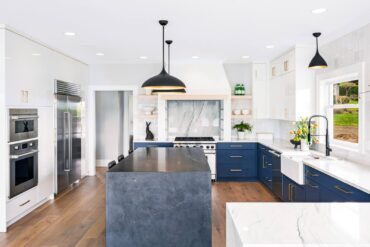 Alinda Morris recommends choosing furniture, decor and finishes that won't look dated next year.
"We encourage clients to focus on quality and investment pieces," she says. "You can layer in the latest trending color scheme with pillows or vintage and statement pieces and art."
Colors: She anticipates a rise of deep and bold colors like mauve pink, crème and black and any variation of green. Although the loves color, she prefers high-contrast neutrals.
"These color schemes are gender neutral and sometimes more masculine spaces, but you can easily layer in bolder pops of color for contrast without overwhelming the space, and the room remains flexible and easy to live with," she says.
She recommends choosing three colors (any three colors) and repeating them consistently throughout the entire space. "This will create a cohesive look that is polished and pulled together," she says. "You might be tempted to add that fourth color, but it will make the room look chaotic and may create tension in the space."
Countersurfaces: The three that stand out to Morris are:
Engineered stone: The most popular countertop choice by far. "But one drawback is that engineered stone is not as heat resistant as a natural stone like granite or quartzite," she notes. "Occasionally, the uniformity and color of engineered stone appears to be a little too perfect, creating an unnatural appearance, but a big plus is it does not need to be sealed — the sample you see is most exactly what will be installed."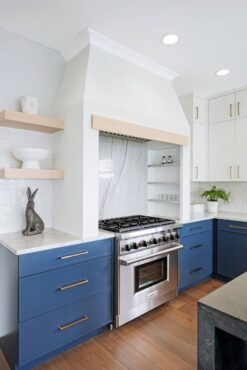 Natural stone: Morris says that marble and calming quartzite never go out of style. "If you like the depth and variation of natural stone, it may be the perfect choice for you," she says. "Each natural stone is a piece of art. The finish on the stone completely changes the look and feel of the stone. We are seeing lots of satin and leather finishes but polished continues to be the most popular."
Porcelain: High-quality porcelain countertop is a versatile and durable product that gives you high performance and it can mimic natural stone like no other. It's resistant to UV light and heat, as well as daily wear and tear. Another advantage is that porcelain comes in various colors and patterns. If price a major consideration, Morris says porcelain is best for fireplace applications because it's very lightweight and available in different thicknesses with several installation options. It's a less cost-effective option for countertops because "the countertop fabrication process is a lot trickier when you're working with high-density materials."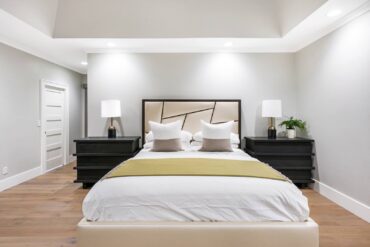 New kitchen features: Although white is still the most requested cabinet color, Morris is doing "fun things" with color and sophisticated darker wood tones. "Stylistically, we are seeing an eclectic feel of mixed textures and materials," she says.
Her pro tip is to begin every kitchen design based on function. Choose appliances and accessories that align with how you use the space. Consider how often you cook and what organization would save you time and money. "Custom pantry storage, kitchen accessories like trash pullout/recycling center, spice storage, cutlery organizers and appliance lifts are great if you will use them," she recommends.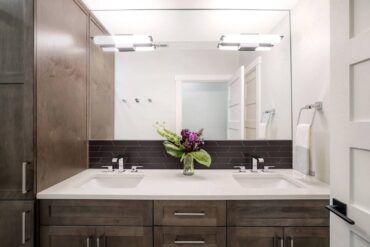 Fabrics: High-performance and family-friendly fabrics in soothing neutrals and tactile textiles. For example, bouclé (which refers to "curled" or "ringed," which could be yarn made from a series of looped fiber, or the fabric made from it), twill, chenille and faux sheepskin.
Floor coverings: Large-format porcelain tiles inspired by natural stone like marble, limestone and buff sandstone. "We are also seeing this on floors and walls," Morris says. She adds that trends for wood flooring products include wide-plank engineered wood in specialty finishes such as wire-brushed, reclaimed flooring and gray washes.
Furniture: Curved silhouettes and rounded edges are popular, as well as maximalist pattern and the color green in all shades.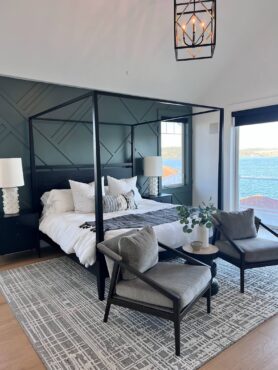 Lighting: For statement lighting, architectural forms and geometric shapes, woven and natural elements like rattan. Black finishes and delicate fixtures with a light and ethereal feel. Midcentury lines and integrated LEDs are also trending, along with mixed metals and backlit alabaster and brass metal. An emerging finish is silver leaf, but brass, champagne bronze or burnished brass.
Window treatments: Automated roller shades. Custom valances that blend into the existing environment.
Green options: "We are seeing a lot of interest in biophilic design. This is a concept used within the interior design industry to increase occupant connectivity to the natural environment by utilizing direct nature, indirect nature and space and place conditions," Morris says. She adds that biophilic design is not just about bringing the outdoors in — the focus is on nature, sustainability and wellness.
Morris' advice to homeowners for incorporating trends is to start with the envelope of your space and build on the pieces you already own. "Have fun with trends, surround yourself with furnishings that you love and try not to take it too seriously," she says. "If you need help, don't be afraid to enlist the help of a professional, but do your research and be honest about what you need."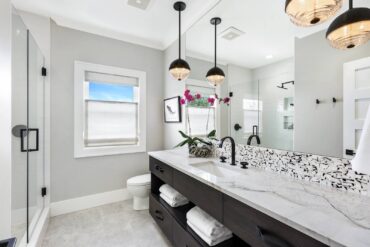 She notes that interior decorators and designers are not the same function. "One is not better than the other, but it is helpful to identify which one will work best for you," she says.
She explains that interior decorators can help you decide on a style, assist with paint colors and window coverings. "They can make magic, using your existing pieces with a few new purchases and accessories," she says.
In contrast, interior designers typically have a degree and credentials. "The education usually includes studying color and fabric, drafting computer-aided design (CAD), space planning, furniture design, architecture and often an apprentice program or internship," she says. "They provide drawings: floor plans, elevations and 3D models. They can assist you with a large remodel or new construction and provide custom furnishings, wall coverings and artwork down to the last prefect detail."
---
Sylvia Stanchina
Sylvia Stanchina Interior Design
Gig Harbor • 253-432-0855
sylviakstanchina@gmail.com
Sylvia Stanchina is passionate about creating designs that will bring a sense of enjoyment and inspiration to her clients. The pursuit of producing a great space by capturing the imagination of the client combined with functionality and aesthetics is very important in her design work. Her travels around the world have afforded her a sense of appreciation of the possibilities of design from different cultures. She resides in Gig Harbor. As a board member of the NKBA Olympic West Sound Chapter for two years, Stanchina has enjoyed continually learning from peers in the kitchen and bath design industry.
Sylvia Stanchina sees the return to color, which makes her ecstatic. "Especially in this part of the country, we need to add colors that bring warmth to our interior spaces and make us feel cozy and comfortable in our homes," she says. Warmer colors in the interior and darker colors on the exterior are especially trending. For countersurfaces, she sees a trend away from cool grays to warmer grays and browns.
For new kitchen features, she recommends the addition of a butler's pantry, if possible, and connecting the kitchen to the outdoors in some way. Other trends she notes include:
Bolder fabrics with print and warmer colors
Wood floor refinishing with warmer tones
Midcentury-modern leading the trend for furniture — with clean lines still popular
The important statement lighting becoming more prevalent
More wood finishes mixed with painted warmer colored cabinets in kitchens
Motorized automatic blinds for clean lines
Boucle and leather in warmer brown tones for fabrics
For remodeling, she sees durability as the key. "Homeowners are refinishing instead of replacing," she says.
Stanchina recommends to homeowners to work with an interior designer who can educate them and steer them in the right direction, especially since there are infinite product choices available for the home.
---
Connie LaMont
LaMont Design, Inc.
Poulsbo • 360-779-7227
connie@lamontdesigninc.com
lamontdesigninc.com
Connie LaMont has been an interior designer and colorist in the Pacific Northwest since 1993. She holds a bachelor's degree in arts from the University of California in Irvine and a second bachelor's from the Interior Designers Institute in Newport Beach, Calif. LaMont and her architect husband, Wayne, own LaMont Design Inc. in Poulsbo. Some of their joint projects include Austin Towers in Poulsbo and Elkhorn Place in Sequim.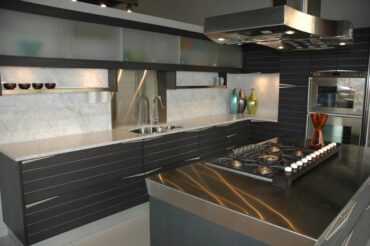 Connie LaMont emphasizes that the design world in general is very subjective, and interior design, in particular, is very personal. And trends are even more individualized.
"Since the world-changing year of 2020, I've noticed that my clients, like my own family, have tried to simplify their lives and have found a new appreciation of what they already have and for their homes," she notes. "Even among big or small projects, I've discussed repurposing items to bring new life to them, re-creating rooms to become multifunctional — like guest bedrooms doing double duty of being an office or a meditation space — and bringing a freshening with a few cans of paint to add some new layers of color."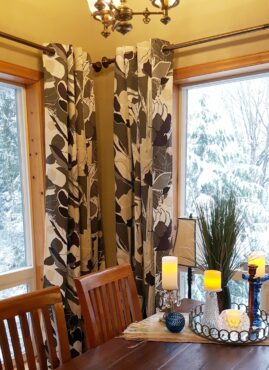 Styles are merging with each new day. There's a modern farmhouse design or a modern lodge design. "Old meets new — and then some. Sleek and tailored design merges with vintage and found details to create (or re-create) something delicious and extraordinary," she says. "What I've been seeing and what's caught my eye is the play on black and white for the last few years. It can be very modern, or the extreme opposite and be very vintage inspired."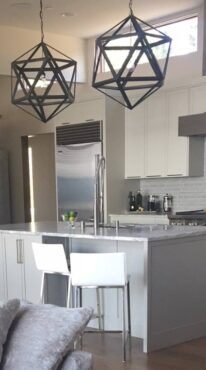 For example, black windows have sprung new life into homes (both modern and traditional) while people thought only white vinyl windows could do that. "I've always thought to bring black into the mix of each room, whether it be in cabinetry, fabric or art," she says. "Black gives 'structure' to a space and helps to elevate interiors quite simply."
Timeless beauty is the theme that comes to mind when LaMont thinks about trends. "Most of my clients who are in the midst of reinventing their home want the end results to be something beautiful, for sure. But, they have felt like they've been in a 'waiting pattern' for so long these last few years that they are craving a look that will not only improve with time but will also not become dated," she says.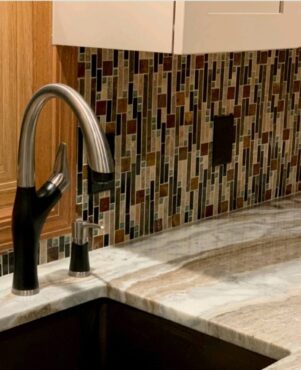 Other overall trends she has observed include functional art. "Whether you're looking for a light fixture, a plumbing fixture or an interior finish like tile for your walls or floor, it should — and can — be a piece of art," she says. "If you see the object as a piece of art first and it also has a specific purpose that fulfills the need of illumination, etc., this object then becomes timeless — and is a winner, in my opinion."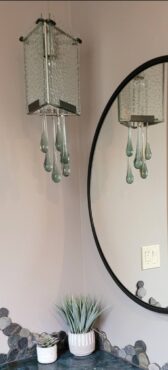 Colors: Black-and-white is still trending, while it's mixed up in all different ways. White and off-white walls have been more popular in the last couple of years. "Black windows, doors and trim, tile, cabinetry and stair railings have been trending and look absolutely amazing," LaMont says. "They bring a structural and architectural feeling to both interiors and exteriors."
By bringing black into the mix in accessories like light fixtures, plumbing fixtures, tiles and fabrics, you can complete a very sophisticated look. "And then, any and all colors can be invited to the party," she says.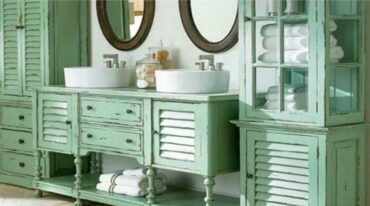 Since 2020, when the world learned how to "shelter in place," people started walking outside for exercise and to safely cope through the time of isolation. "I found that 'natural' colors were what I was drawn to, and so were my clients," she says. "I see gray tones leaving and warming up a bit to soft sandy tones as our backdrops, thus allowing almost any color palette to grace the walls of our homes."
She also thinks bursts of deep Douglas fir green, saturated wet terra cotta colors, vibrant sky blues, clear sea glass greens and murky sage tones easily can brighten interiors and bring the immeasurable outdoors inside.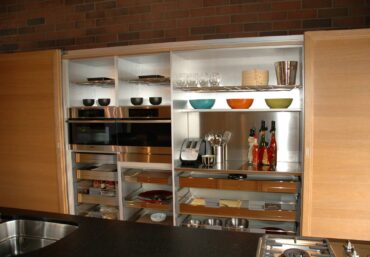 Countersurfaces: Quartz and granite are still the go-to choices for kitchens and bathroom countertops. "I can see them staying around for another decade or so. They bring such an artistic styling to every area of our lives," LaMont says. "Depending on your personal style, you can find a slab that you fall in love with. The sleek surface has such a user-friendly appeal, not to mention the durability of the material."
New kitchen features: It's not a new item, but farm sinks, often times referred to as apron sinks, are quite appealing. "Mixing a bit of a vintage flair into a clean and tailored kitchen gives that 'homey' feeling to the space," she says.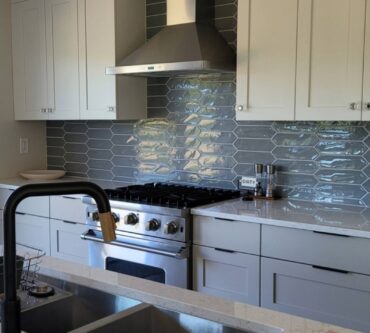 Fabrics: Performance fabrics, like Sunbrella and Perennials Fabric. Plus, you can never have enough texture.
Floor coverings: LaMont has been recommending luxury vinyl plank (LVP) for years, and thinks that with all of the beautiful looks of LVP, you just can't go wrong. "It used to be called commercial grade vinyl, and I love that it got rebranded a few years back," she says.
Furniture: Statement pieces are trendy. "Whether it's a black leather Eames chair of a Stickley dining room table, the thought of each piece of furniture becoming functional art is a positive that won't go out of style," she says.
Lighting: Light fixtures can be statement pieces that also give illumination. Integrated LED fixtures, graphic geometric fixtures or ones that have stylized detailing are trending everywhere.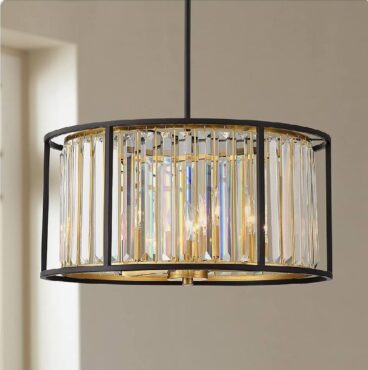 Finishes: Luxe gold, tumbled brass and matte black finishes have caught attention. "Mixing things up is the best way to go. Rules don't apply to us anymore in the design world," LaMont says. "Whatever you like, you should bring into your home, whether it's a cabinet pull, faucet or light fixture."
She adds that wallpaper and murals for wall finishes are really hot, especially large scales to command a space.
Windows and doors: Elongated geometry seems to be everywhere. "I think people are tired of sitting down all the time and want the feeling of good posture," she says. "It's amazing how that can be seen in little things like the geometry of window and door placement, not to mention the sizing of these elements — 8- to 9-foot-tall doors that are still only 30- to 36-inch widths give us the elongation we seem to be craving."
Window treatments: Large-scale fabric panels can give a simple room some impact, or textural roller (sun) shades if controlling light is an issue.
To find inspiration and advice, LaMont suggests pouring through magazines like WestSound. "But bringing in the aid of a design professional would alleviate the undue stress that often accompanies the design process," she adds. "I would want to encourage people to think outside of the box, and realize that rules are controlling and unnecessary. Living within an artistic vision is invigorating. My goal for every client is for them to feel like 'there's no place like home.'"
---
Michele Doyle
Bluefoot Architecture & Design
Poulsbo • 360-689-4156
michele@bluefootdesign.com
bluefootdesign.com
Michele Doyle founded Michele Interiors, Inc. in 2005 after completing her interior design training at the Seattle Art Institute. She has been successfully serving Kitsap, Jefferson, Pierce and King counties ever since. Fast forward to today she is now partnered with an extraordinarily talented architect, Jay Volz and an amazing, supportive team to form Bluefoot Architecture & Design. Michele enjoys helping clients improve their lives through beautiful and functional designs.
Photography courtesy Joseph Oliphint
Design by Len Williams, Williams Architecture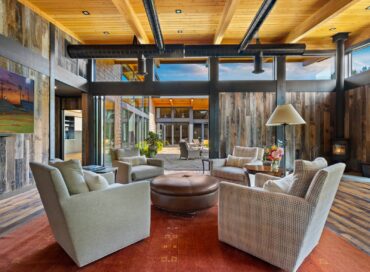 Michele Doyle says that her team at Bluefoot Architecture & Design doesn't design with trends in mind, but they do take notice and advantage of all that the building and design industry has to offer to make their clients' lives easier, safer and more beautiful.
"Design is personal and, above all else, needs to meet the needs and reflect the values of those existing within its walls," she says. "Great design transcends trends but that doesn't mean it ignores them." However, she discourages anyone from making expensive decisions because something is trending.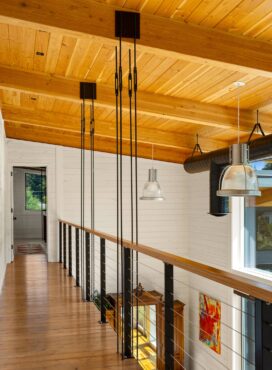 Pacific Northwesterners are generally lovers of Mother Nature and during the pandemic, many people took to the outdoors all year round. "So we saw a lot of investment in improving outdoor spaces, creating new and larger places to entertain or creating better flow from inside to the outside no matter the weather," she says. "Expansive doors and windows, outdoor fireplaces and firepits and even infrared or radiant heating systems incorporated into eaves and soffits created cozy atmospheres that allowed people to enjoy breathing fresh air without freezing."
She believes this trend will continue as homeowners have learned to appreciate dining al fresco, sipping wine under the stars and around a fire or drinking their morning coffee on their new deck or balcony while enjoying a beautiful sunrise on a crisp morning.
"We also saw an insurgence of growing our families not necessarily by having children, but by adopting fur babies. In design, we strive to accommodate how a family lives and moves throughout their spaces and now more than ever, we're considering our pets in that equation," she says.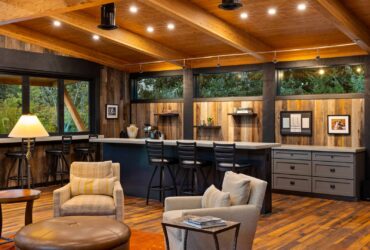 That means that where to bathe or feed pets or store the abundance of supplies are important questions — and solutions abound. "From large sinks in laundry rooms to open showers in wet rooms, we want to make sure that we can preserve our homes and take care of our pets," she says. "Dog washes have become nearly a standard in most remodels we've been involved in and even if not considered, once brought up is a must on the wish-list."
Doyle also says that texture is key when it comes to finishes and details. "Whether you're a maximalist or minimalist, texture brings depth and richness to any space," she says. "Whether through architectural details like wood clad walls or dimensional tile or bringing in accessories like a shag rug or boucle pillows, texture creates warmth and interest whenever it's used."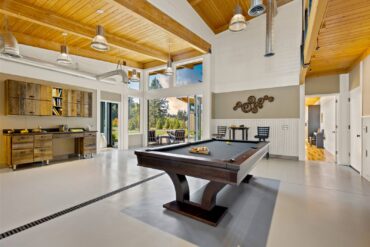 Colors: While the natural and artificial light in any home varies, as do individual preferences, one thing Doyle has observed is less gray. "Like white, gray will always have a place in design as a beautiful neutral. But we are using color to help spur creativity and create a sense of aliveness and wellbeing," she says. "We're also using color to create mystery and drama."
While monochromatic color schemes are classic and will likely never go out of style, you can also be fearless and start venturing into bolder choices. "In cabinets, we're seeing more saturated colors in blues, greens and blacks," Doyle says.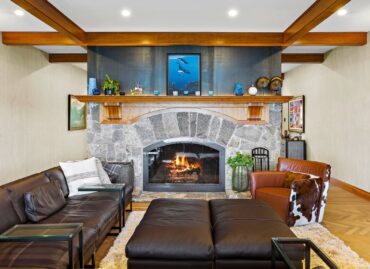 Doors are also getting the same treatment — you don't have to paint your doors white. "In fact, we would say go bold! Redefine what it means to be neutral," she says. "Bring out the earth tones or jewel tones or be more subtle with flesh tones and soft whites."
Countersurfaces: Quartz will continue to be king in this space and we'll likely continue to see more innovation as well. "In the past year or two, we're seeing many manufacturers incorporate honed and textured finishes in some of their products. Again, adding another area where texture can play a part in our overall design scheme," she says. "But there's also a strong penchant for natural stone."
Quartzite is especially a popular material because of its strength and endless beauty and depth. "If quartz is king, then quartzite is the goddess," she says.
One other material that's getting more use is soapstone. Doyle believes soapstone has many redeeming qualities and fits in a multitude of design aesthetics, so it can be used in a multitude of ways.
New kitchen features: Clever storage solutions are in constant innovation. Pantry pull-outs, for example, will continue to help with kitchen organization.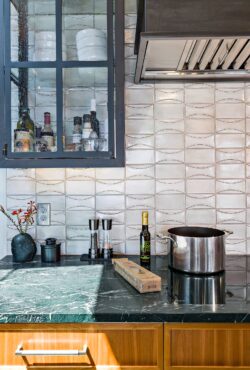 "When there's room, we love the idea of designing butlers' pantries to separate some of the functions of the kitchen and create some separation between the busy work areas and the entertainment areas of the home," she says. "We also love to see a beautiful hood take center stage in a chef's kitchen. Whether that's set off with unique cabinetry or fantastic tile work, the cooking area, while it is a work-horse, will look beautiful and draw awe-inspiring attention."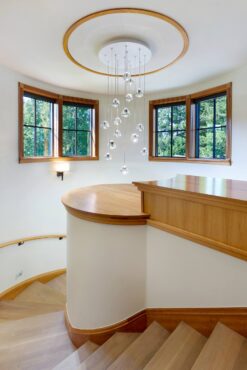 Lighting: The light bulb has come a long way. LED is the preferred lamp source and is being integrated into everything from recessed cans to bathroom fixtures. Doyle notes there are even bulbs today that can mimic how light changes throughout the day from warm, to cool, to warm. "Right now, this technology is expensive, but over time it will be more attainable," she says.
The advancement of LED technology has also allowed lighting designers to be more creative with their fixture designs, weaving lighting into ribbons of architectural metal or artistic glass rather than finding a way to creatively present a light bulb. "Beyond the light source, lighting controls are also ever evolving and it's easier now than ever to transform your home into a smart, energy-efficient space, whether you want to retrofit an old system with smart bulbs and switches or smartphone apps, or completely integrate all your systems including your lighting, heating, security, audio/visual and window coverings."
Finishes: Doyle loves wall coverings. "While there's absolutely nothing wrong with a painted wall, adding any type of wall cladding, and in particular, wall paper, adds so much depth, texture and character to a space," she explains. "Whether you do an entire room or focus on one wall as a feature, don't be afraid to push yourself out of your comfort zone — a little or even a lot."
To find good advice or inspiration, Doyle recommends asking other homeowners for referrals. "When you see a space that you love, one that really resonates with you, ask the homeowner who they worked with. If you see a space that's really well done — even if it's different than what you might want — ask who they worked with," she says. "Great design is a collaboration and getting a referral from a trusted source that not only enjoyed the process but is delighted with the results is a great place to find your design person. You'll want a designer who will listen to you, push you a little and ask the questions that you never thought to ask yourself."
---
Cheryl Bloom
Bloom Design Group
Seabeck • 360-571-1377
cheryl@bloomdesigngroup.com
bloomdesigngroup.com
Bloom Design Group was founded upon the idea that your space should speak your language, not ours. Creating homes that are more personal than perfect and more loved than simply lived in offices that reveal core branding and attract the right target market. Cheryl Bloom is an award-winning, trained expert in interior planning and a Certified Aging-in-Place Specialist (CAPS) whose talents have earned a reputation within her industry for innovative design in both residential and commercial projects.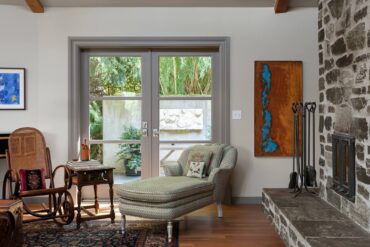 Cheryl Bloom says she has seen an increase in the past year in the number of clients who are gravitating away from the urge to live in the large, open-area floor plans everyone once craved to preserving smaller, more intimate spaces where family and friends feel connected with one another and the space they are in.
"One trick to keeping lighting levels and visual connections up in a more cocooned space, such as the family room where games and television viewing takes place, is by using an interior window to borrow light and allowing a visual connection to the neighboring room — or, in the case of taller ceilings, adding a transom window above the door," she says. "This also works well if a child's bedroom is just off, say, the kitchen, where mom can keep an eye on what's happening in the child's room without disturbing their feeling of privacy."
Colors: Color is one of the purest expressions of our personality, according to Bloom. "For us, drawing influence from the natural world is an important element of what we do for our clients and is the most constant source of our color palettes," she says. "The way the sky changes color, seeing a glowing maple tree in the fall, the cool or warm glow of the Olympic Mountains and Hood Canal at sunrise or sunset, or the plethora of blue greens of the surrounding woodlands through a window are all opportunities to direct our process of creating the design direction."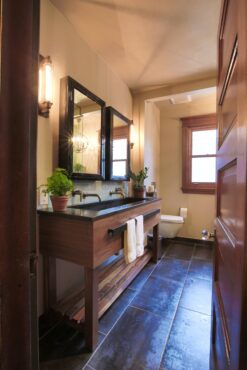 There is also an important rhythm that should take place with all the visual elements. Establishing a moodiness to a subdued palette by adding a dash of dark inky blue, for example, creates a contrast both visually and emotionally. "It's the same between interior and exterior elements," she says. "It's a dance and selecting the right spectrum of colors for a project is much like the process of painting a landscape — each layer building upon one another for the best outcome for the family's goals for the space."
Countersurfaces: Much of Bloom's work is around combining elements of nature with classic details, with a goal of creating history. "Selecting the right countertop material is such an important element in that process, both functionally and aesthetically," she says. "Although quartz is prized for its ease of care and we do use it often, we are also seeing a resurgence of the natural materials, such as soapstone. Creating a layered and multifunctional space, we often combine natural surfacing materials together, like butcherblock and granite or quartzite. With the right care routine, these materials withstand the test of time." Natural materials add an element of history that cannot be achieved with quartz, and many of Bloom's clients prefer the look and feel of the movement and patina they can add to a space.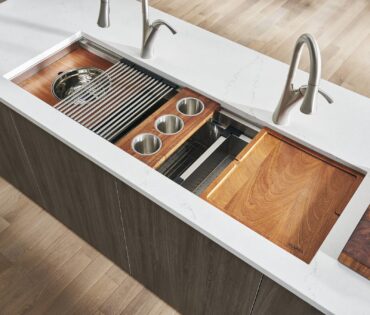 New kitchen features: As people spend more time at home, the kitchen has become a multifunction zone like never before. "To aid in the flow of many users at once, we love the concept of using a dual-tiered workspace sink, converting the kitchen sink into a full-fledged workspace," Bloom says. "With two tiers of tracks on top of one another, a dual-tier workstation sink allows for more accessories, more function and more space for shared moments, creating memories and history in the kitchen as families and friends cook and prepare together."
Fabrics: Performance-driven textiles have advanced so much over the years that they now can be in the luxury fabric arena. "We don't hesitate to use them any longer because they can provide a sense of luxury at a reasonable price," she says. "With a huge range of visuals and content, we can achieve the desired look and feel to suit any environment's language that we are designing. Whether it's to provide a modern, fun and exciting visual, or by turning down the noise from our often busy and chaotic schedules."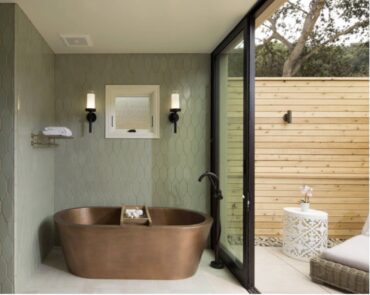 Bloom adds that her team relies on a carefully curated mix of earthy hues and energetic prints to bridge the gap between a classic and contemporary scheme. "Wallpapers and fabrics that nod to the natural world and have a sense of tradition or whimsy are among our favorites to do that. Nothing too serious," she says. "By mixing tradition with contemporary and natural elements, a layered and collected look can be achieved."
Floor coverings: Hardwood floors are always a consideration, if appropriate for the project.
"We often look outside the residential flooring products box to some of the many amazing commercial type flooring products. Materials such as cork or recycled rubber can definitely have a place in a home, if selected appropriately to the application," Bloom says.
Furniture: Bloom's clients typically have acquired many beautiful pieces of furniture through time, travel or inheritance, so she often suggests augmenting with quality vintage, unusual new items and special pieces of furnishings that provide a layering of history she strives to create.
Lighting: Bloom sees the use of large statement chandeliers and pendants and less recessed can lighting, although she doesn't necessarily follow the marketplace. "Lighting a space is an art and we believe in building spaces that speak to our client's distinct interest, tastes and needs," she says. "Many families that we design for are in a more mature season of their lives and the lighting is super important to feeling comfortable in their homes."
Finishes: Bloom is always in search of products made in the USA, with a focus on reducing impact to the environment. One example of a manufacturer that meets those requirements is Fireclay Tile. "As well as making a tile product that is stronger than the average porcelain tile, we will always find the perfect color from their 100-plus glaze colors to choose from," she says. "In our designs, an interesting mix of materials is always on our radar, and we like the organic feeling of a handmade (or made to look handmade) tile used with other finish elements such as concrete, copper, oil-rubbed bronze and a beautiful wood species. We also enjoy creating character by mixing in items built by local artisans, all with an eye to create that richness and feeling of history we are after."
Windows and doors: Folding and sliding glass wall systems, such as NanaWall products, are gaining popularity again. "Living and playing in the Pacific Northwest is fantastic and during the summer months, we all want to be outdoors as much as possible. A folding door system really works to make an indoor space integrate into a larger expanse of space by utilizing the patio, pool or deck it opens onto," she says. "This type of door and window system make entertaining loads of fun, too."
Window treatments: Old-style, heavy window treatments with lots of trim are out of favor, for the benefit of preserving the view, keeping the space open and airy, and allowing precious light to come through. "Sometimes, just a sheer, nonoperating panel will frame the window and the view beyond beautifully and simply," Bloom says. "If privacy is needed, we like to use discrete honeycomb-style blinds or roller shades that pull up tight to the window header. A roller shade can offer the ability to still see through the shade while cutting glare."
New green options: Sustainability is no longer just a buzzword, but careful research is required to be certain of that claim's authenticity. "We often and more frequently source eco-friendly and sustainable products from brands with third-party certifications — the official and legitimate certifications that help us make selections for our clients' homes that won't compromise their wellbeing or the wellbeing of the future generations," Bloom says. She recommends looking for these certifications while sourcing quality sustainable products: ISO, OEKO-TEX, GREENGUARD, GoodWeave, FSC and SFC.
Natural materials: Burl wood has been a favorite for Bloom in years past and lately is back on her radar. It has an easy way of working with most interiors and across all color families, and if used correctly, can add a very grounding effect to a room. "We love using this uniquely patterned wood in conjunction with a solid-colored striped fabric, such as black and white, to neutralize and ground an otherwise harsher color scheme," she says. " A burl is caused by some type of stress to the tree and is harvested and salvaged for use, making it a sustainable product, which, of course, we love."
Bloom's advice to those looking for inspiration is to check with your local building association, such as the Kitsap Building Association (kitsapbuild.com). "They are the local chapter for the state and national building associations and are a wealth of information for anyone uncertain where to start or need specific advice on building or remodeling a home," she says.
---
Cate Adams
Arnold's Home Furnishings
Bremerton • 360-377-5582
arnoldshomefurnishings.com
Cate Adams has a degree in art and design from the University of London and has worked in London, Paris and Spain. Adams eventually settled in the Pacific Northwest. She currently serves as an interior designer with Arnold's Home Furnishings. She lives with her husband, Jack, in Silverdale.
Cate Adams says there are many fun things to look forward to in the furniture business this year. "For one thing, those crazy 9- to 12-month wait times for special orders are finally coming down," she says. "The plants are recovering, but unfortunately the actual delivery times may not be so reliable due to trucking issues."
Trends that are emerging include multipurpose furniture, such as sofa tables that can be used as a dining table, a bar or a desk. Open floor plans are also back.
"During COVID, when people were stuck at home, we noticed that customers were looking to create private, specialized spaces, especially for work and study. That trend didn't stick," she says. "Now clients overwhelmingly want open floor plans with furnishings that are coordinated and flow together. We are really seeing a return to normal in that regard."
While sleeker, more contemporary designs have gained momentum over the past decade, most younger consumers are choosing comfortable, cozy, deeper pieces the whole family can enjoy. "That is until Mom and Dad come to visit! The more mature demographic prefers a firmer cushion and a shallower seat, preferably not a sectional," Adams says. "A sofa and a loveseat will give them more chance to fan arms and help them get up, and they will also find it easier to put down a drink and to have a lamp nearby."
While attending the Hi Point market recently, other notable trends included lush, plush fabrics such as velvets, along with the nubby tweeds of recent years.
"Modern fabrics are delightfully easy to clean, so velvet isn't so daunting as in years past," she says. "There are also a lot of curvaceous frames in everything from sofas to mirrors. The straight, clean lines on arms and backs are softening to gentler, amorphous, more organic shapes highlighted in a palette of terracotta tones, dusty blue hues and glowing golds." She notes this is a nod to vintage designs, but updated for 21st-century consumers.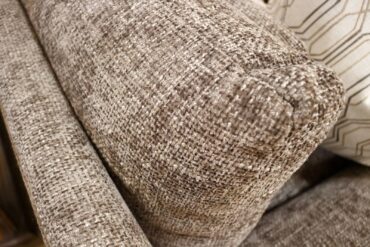 Neutrals are turning up the temperature, inviting in toasty tans and creamy whites. "Grays are still with us, but are morphing to taupe paired with blues, teals and soft brownish pinks," Adams says. "Greens are finally on the rebound and we will see shades from olive to celery to emerald."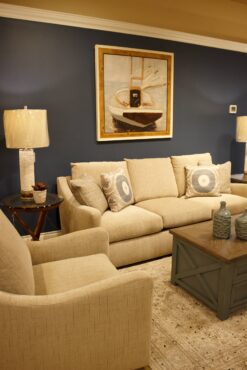 Area rugs create an ideal place to add color, pattern and texture to a room, as do pillows and window treatments. "Lighting is a key design feature, and we are seeing a lot of brushed gold, oiled bronze and black," she adds.
One invaluable piece of advice for the new decorator is to not forget the walls. "Artwork is hung at eye level and is therefore the first thing noticed upon entering a room," Adams says. "If you aren't sure of the size needed, go big rather than small or medium."
When you need to make decisions and have questions, don't hesitate to call a designer, Adams advises. "Designers can save you from expensive mistakes," she says. "Have fun and be colorful."
---
Bethany Reilly
Bethany Reilly Interior Design
Indianola • 360-908-5519
bethanyreilly4@gmail.com
brinteriordesign.com
Bethany Reilly graduated from CIDA-accredited Bellevue College and started her career specializing in dental office design. She eventually moved to Kitsap County and founded Bethany Reilly Interior Design in 2003. Reilly strongly believes in the importance of creating a space for her clients that is aesthetically pleasing as well as functional. She prides herself on being an integral part of the process by staying involved with vendors, subcontractors and the client every step of the way. She continues to expand her expertise by regularly attending webinars, product launches and trade shows and is a member of the Olympic-West Sound NKBA chapter.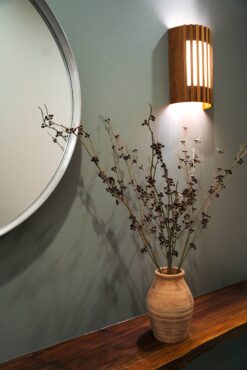 Photography courtesy Zander Grey
Bethany Reilly says interior design is constantly evolving based on how people live and work. "Now that we are learning to live with COVID, many are still spending more time at home. Based on this, we are still lending to a natural, relaxed aesthetic," she says. "However, I'm seeing a more modern and traditional twist. Blending traditional furnishings with more modern to create an eclectic space are on trend."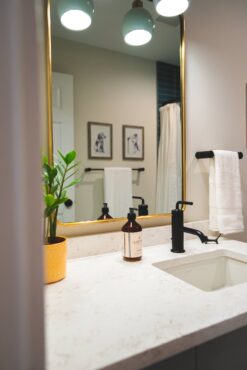 Colors: Dark and moody interiors are trending, especially in home offices, laundry rooms and powder baths. "On the more modern side, we're seeing a lot of bright and bold colors stepping up," she says.
Countersurfaces: Quartz is still very popular, although soapstone is gaining more interest, especially in outdoor kitchens. "Solid surfaces can be cold to the touch, but there is talk of a new technique that allows for a radiant heating element to be installed under the countertop," she says.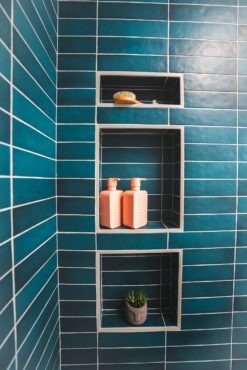 New kitchen features: Because more homeowners are entertaining at home, back pantries are requested when remodeling their kitchens, according to Reilly. A bar sink in addition to the standard sink is a must if the space allows. "Touch faucets are quite luxurious, as are smart appliances," Reilly says. "Microwave drawers are a very common request and a great use of space. When available, I like to incorporate a beverage station, out of the way of the primary cook."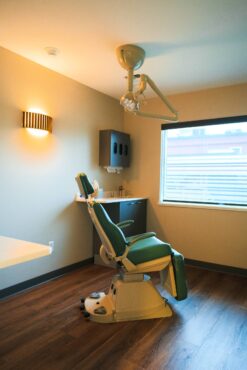 Fabrics: Reilly thinks texture will be big for 2023. Velvet and organic patterns are at the forefront, as is plaid. "Layering texture, while in the same color family, can give a lot of interest and depth," she says.
Floor coverings: Luxury vinyl plank is still used often because of its durability, water resistance and reasonable cost. "However, I am seeing a number of higher-end projects going for porcelain tile with radiant heat or hardwood engineered flooring," she notes.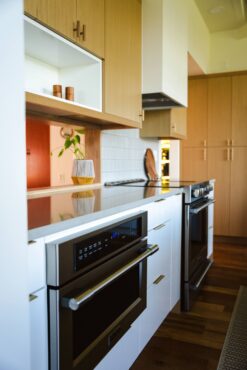 Furniture: Vintage furniture is extremely popular — blending traditional items with more modern furnishings to create a unique and personal space.
Lighting: Traditional, somewhat ornate fixtures for the kitchen and dining space are prevalent. Clients almost always request LED vanity mirrors. "Layered lighting is a good technique for the kitchen and bath for multi-functional use," she adds. "For example, warm lighting can be dimmed in the evening to help with our natural circadian rhythms."
Finishes: Gold and brass are making a comeback, taking the place of matte black in popularity. For more of a transitional, vintage look, homeowners are going for polished nickel.
Windows and doors: Arched doorways, windows and wall paneling are showing they are here to stay. Black window frames are still highly requested.
Window treatments: Reilly recommends soft, sheer fabrics for an airier, traditional space and dark-colored velvets in studies and dining rooms. Thin black hardware for curtain panels that go floor to ceiling.
New green options: Beko is a leading brand in carbon neutral operations that offers new technology with EverFresh+ to help produce last longer and retain essential vitamins. "Many other appliance manufacturers are starting to be aware of the interest in a more sustainable approach by consumers, so it is only a matter of time before this is the norm," Reilly says.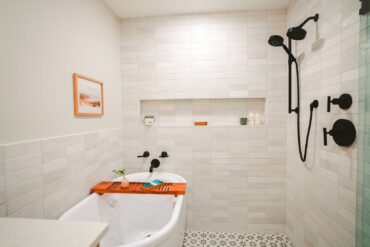 Natural materials: Natural fur rugs, handwoven baskets and greenery are great for styling. This also gives the space a relaxing, biophilic feel.
Reilly also notes that bathrooms are treated as more of a retreat to escape and relax right in the comfort of your own home. "Many homeowners are opting for a European style 'wet room' where their bathtub is located within the shower."
For homeowners looking for advice, Reilly recommends the local NKBA chapter as a great resource, or any other association that focuses on your specific needs. "Local real estate agents should also be able to give some great resources," she adds.
---
Janet Weber
Janet Weber Interior Design
Poulsbo • 360-626-4484
janet.jwid@comcast.net
janetweberid.com
Janet Weber owns and operates her own interior design business with the goal of creating atmospheres that are unique and well-suited to each client's values, lifestyle and personality. She assists clients in realizing the vision for their homes and commercial spaces by guiding them through each phase of the design process, from the initial space planning to the final selection and placement of accessories. Weber received her bachelor of arts degree from Washington State University and has been working in the industry since 1986. Her professional involvements include Design on Broadway in Everett, Markie Nelson Interior Design in Seattle and Fine Home on Bainbridge Island.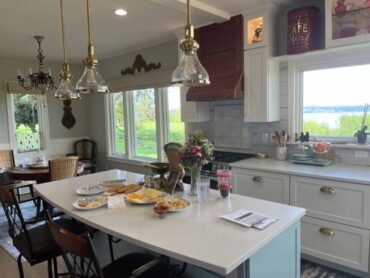 Janet Weber notes a continued focus on wellness throughout the industry. Wellness design strives to improve the health and wellbeing of those who dwell in the building. Some techniques include:
Improved ventilation: healthy air flow and greenery
Water use: cleansing water filters and water-wise faucets
Healthy dining: tranquil and calm eating areas, with no clutter and minimalistic furniture and décor
Lighting: using circadian lighting methods to help get in tune with your circadian rhythm
Balanced temperature: area rugs, windows, wood paneling and operable windows
Good acoustics: softer sound using Thermowood (heat-treated timber), rugs and paneling
Environmentally friendly products: sustainable organic materials
Places for restoration: a sanctuary space, spa-like for meditation or a spiritual space
Sustainable design practices: restoring worn items and enhancing old ones instead of buying new
Nudge architecture: design cues to encourage healthy behavior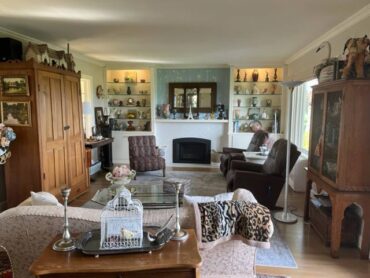 Another trend Weber notes is the art deco styling making a comeback, with ornate details, brighter colors and geometric patterns.
Colors: Weber has been saying this for years, but she finally sees gray becoming less important and warmer colors emerging. She notes the following colors of the year: Raspberry Blush from Benjamin Moore, Vining Ivy from Glidden, Redend Point (blush beige) from Sherwin Williams, Everglade Deck (midnight blue) from Valsper
Additionally, sage green and gentle gold are becoming important colors, jewel tones are coming on strong, and many rooms are being entirely painted in deep moody colors (including the ceiling) like navy blue or deep purple. White and neutral wall colors are going away.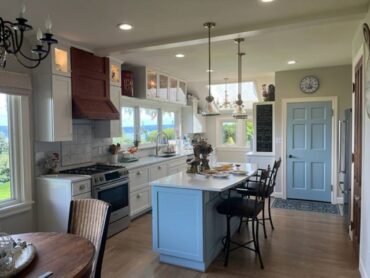 Countersurfaces: Quartz countertops will still be the top choice for 2023. "That being said, I am seeing more interest in natural countertop materials and I love it," she says. "I am a big fan of natural material in general."
Quartzite countertops are one of her favorite choices — like a natural stone countertop with beautiful veining and beautiful colors. "It also comes in lots of nice finishes including leather, honed, brushed and polished," she adds. "It is very durable and stain resistant, but it still needs to be sealed annually."
Marble is still (and always will be) a top choice for a countertop material. It is a natural stone that comes in lighter shades of gray, white, beige and cream-and-black with white veining. It is more porous and softer than some other options but it is timeless.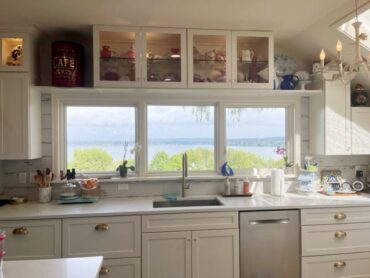 "I recently went to Carrara, Italy, and toured a marble quarry. What an amazing experience," Weber says. "It made me fall in love with marble all over again."
Butcher block is also a great countertop choice for beauty and budget. "It lends itself best to farmhouse and rustic style interiors but it can work in any situation. It's durable and easy to refinish if stained and will look great for years," she says. "I have had a butcher block section of countertop for 15 years and it looks as good as the day I installed it. I personally don't suggest using it next to a sink but it is done often."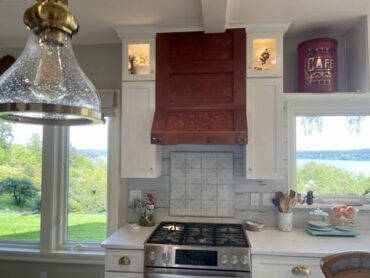 Another beautiful countertop that she's used regularly 15-20 years ago is now making a comeback: soapstone. "It has always been one of my favorite countertops," Weber says. "It has a lovely hand and it can be oiled to bring out the colors. It can scratch and dent and is usually a dark color like black or dark green."
New kitchen features: Kitchens are getting bigger and more multifunctional to meet the needs of work, education and entertaining. "I see more vibrant finishes coming into vogue and combinations of styles including modern farmhouse, organic modern, classic contemporary and nature inspired," she says.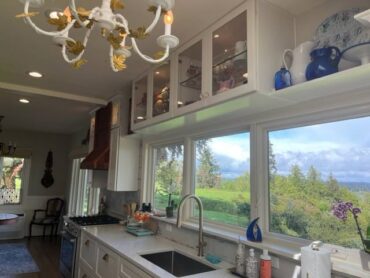 Notable trends in the kitchen are sustainability (including consideration given to manufacturers that practice sustainable design), complete LED lighting, energy-efficient appliances, low-VOC paints and increased natural light.
"My space planning still includes opening up the kitchen to the adjoining rooms by removing walls, but I keep reading that this is slowly changing," she says. "The island is still important and is becoming bigger and more flexible."
Walk-in pantries are popular and Weber sees increased interest in butler's pantries. There's also more interest in integrating steam cooking and air frying into the oven, as well as induction cooktops, voice control for appliances and a dedicated space for charging devices.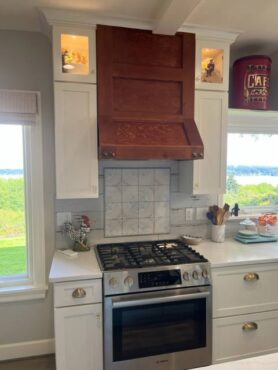 Fabrics: Sustainability is driving the industry — natural fibers including linen, hemp, nettle and cellulosic fibers form recycled garments. Textile production is using orange peels, banana and pineapple leaves to create fabrics.
Exotic floral and earth-inspired prints are in style. Animal prints and heritage prints are also in vogue. Large-scale prints such as checks, block prints are coming on strong. Mixed prints are being seen more and more, like polka dots and floral in one print. "Pattern clashing is also something that I have been seeing," she says.
Floor coverings: Real hardwood floors are back on trend and rustic floors with large and long planks are popular; along with oiled, matte and low-sheen finishes. White oak and walnut flooring is in demand, mid- to dark-brown tones are prevalent and classic parquet is making a statement.
"Luxury vinyl planks are still very popular and a great floor for families," Weber says. "They come in a myriad of colors and styles to fit any budget or desired look. Additionally, carpet tiles are a great way to create area rugs or use as wall-to-wall carpeting to create an individual look that is easily cleaned.
Miscellaneous other flooring trends that Weber notes:
Tile flooring, with lots of different varieties coming on board
Terracotta tones
Warm, bold hues shifting away from neutrals into reds, yellows and blues
The square tile making a comeback
Large-scale terrazzo tiles
Wood-look tiles that look like parquet
Floral and geometric patterns
Classic tile from centuries past, with weathered edges, classic glazing techniques and traditional patterns
Tile with glossy finishes for a modern look
Artisan tiles coming back in smaller sizes
Extra-large porcelain tiles, from 32-by-32 inches up to 39-by-118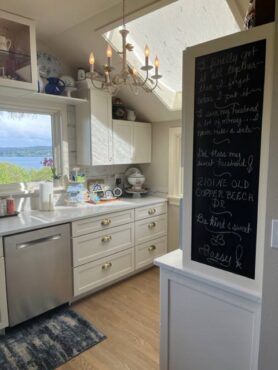 Furniture: Weber notes these popular choices:
Sustainability, natural wood finishes and clean refined designs
Seating with comfort in mind
Curved and rounded pieces of furniture
Swivel chairs
Vintage pieces
The ottoman as the most requested piece of furniture
Rattan and jute, still popular but starting to wain
Fold-out wall beds
Colorful patterns on furniture — homeowners are not afraid to go bold
Lighting: Sustainability is also big in lighting, including LED bulbs and fixtures, and so is natural light (with big widows). Mix-and-match metallic finishes are also big. Brass and gold, for example, are still on trend, but are mixed with any metal. Sliver finishes are starting to come back as well, including chrome, white bronze and polished nickel.
Other trends Weber observes:
Bubble lights
Milky and textured glass to replace the naked Edison bulbs that hurt the eyes
Natural finishes like rattan and wood on light fixtures
Lighting over an island evolving into one large pendant light
Lighting over a dining table evolving into two large pendant lights
Space-saving sconces that have adjustable and overreaching styles
Backlit mirrors
Art deco shapes and scalloped edges
Colorful lanterns
Matching the pendant light to the wall color
Finishes: Prevalent trends include:
The square tile coming back
Terracotta colored tiles
Large-scale terrazzo tiles
Unique wood-look tiles in parquet, herringbone and chevron
Moroccan themes
Handmade tiles in smaller designs
Extra-large tiles
Wallpaper in large floral and geometric patterns
Patterned tiles in all shapes, sizes and colors
Windows and doors: Large-scale windows to bring the outside in are in demand. Black-framed windows are still popular but other colors are emerging like brown, dark gray, bronze and blue. Black interior doors, however, are still going strong.
Noteworthy choices for doors:
Arches coming back
High doors, including door-to-ceiling or doors with transoms
Wide doors
Art glass doors
Dutch doors
Folding glass doors
Pet doors
Window treatments: Automated blinds are popular and can be controlled with a smart phone of tablet. Simple, timeless roller shades are a good option. Roman shades seem to be coming back. Woven wood shads are still popular. Also trendy are black curtain rods, recessed curtain tracks, tassels and dark curtain colors like mustard, orange, deep green and burgundy
New green options: Weber likes products from Bio Glass, which makes slabs and flooring out of glass byproducts. "It has a satin like luster and is very durable and beautiful," she says.
Fireclay tile manufacturing is another emerging trend and it's beautiful in a wonderful array of styles and colors, plus it's made in California with sustainable practices.
Another new product she's watching is bioethanol fueled fireplaces — fireplaces that require no electricity or gas to run. "I am considering purchasing one of these," Weber says.
Natural materials: Marble, dolomite, quartzite, veined granite, soapstone, limestone and wood are all good choices.
---
Natalie Collins Shaw
Kitsap Kitchen & Bath Co.
Poulsbo • 360-697-5616
kitsapkitchenandbath.com
Natalie Collins Shaw was born and raised on Bainbridge Island and has known her path in the kitchen and bath industry from a very young age. Growing up on jobsites with her father, Jim Collins, who was a custom home builder in the Kitsap area, made her fall in love with not only the beautiful finished products, but every phase of the project and everyone involved to make the client's dreams become a reality. Shaw has been working at Kitsap Kitchen & Bath Co., her family business, since 2015 and is the company's lead designer. Whether the project is big or small, balancing aesthetically pleasing elements with functionality is the key to good design. Her style stems around timeless design, creating a look that will last decades. Her goal is to provide each and every one of her clients with an experience that is comfortable, energizing and ultimately a newfound love for their home.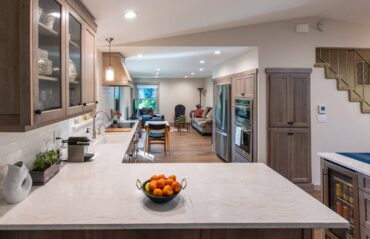 Natalie Collins says there is always the need for the light, bright and airy neutrals when it comes to color. "You just can't go wrong here," she says. "However, I've been seeing the deep, rich jewel tones inviting their way into the homes once again and I must say, I'm here for it."
Countersurfaces: Quartz always seems to dominate the countertop industry with its beauty and durability. Collins' go-to is Cambria quartz, made in the USA, which has more than a hundred different design options. "That being said, there are also some gorgeous porcelain slabs that capture a tremendous amount of depth you hope to see when emulating the look of natural stone," she says. "Porcelain is a wonderful option for outdoor kitchen spaces due to its durability in the elements. I also love to use porcelain slabs in the bathroom as shower walls. A perfect option for those who want a statement and less maintenance."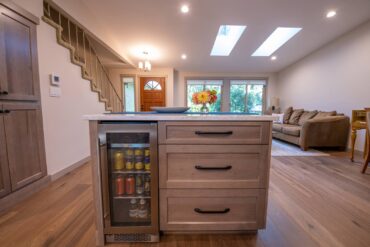 New kitchen features: As the heart of the home, the kitchen not only needs to be a comfortable space, but it also needs to function well. "We're seeing a lot of color being played with in both the cabinetry and backsplashes, which is refreshing now climbing out of the last five years or so where everything seemed to be white and gray. We have enough grey around these parts with our long winter months," she says.
"Homeowners are starting to have some real fun expressing themselves in their homes and not afraid to take the leap to add that splash of colorful detail," Collins adds. "There is also a need to utilize every inch possible, meaning accessories galore and no room for 'dead space.' As a designer, I have a lot of fun incorporating accessories into the layout of my clients' kitchens. The possibilities are almost endless."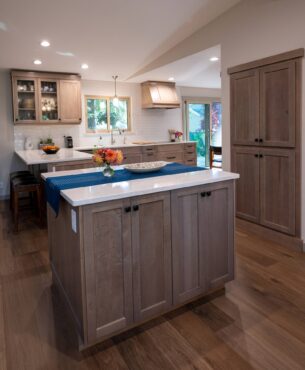 Floor coverings: Large-format porcelain tiles allow for less grout lines to deal with and help expand the space. Luxury vinyl continues to impress her with its cost effectiveness, durability and styling. Hardwood (engineered and solid) in wide planks also adds a rustic charm and warmth.
Lighting: Collins always recommends lots of layering. "This is the use of ambient, accent and task lighting to create the best quality of lighting in any space," she says.
For fixtures, you have wide spectrum of options to fit your design style. "This is an area where you as the homeowner can really make a statement or select options that may not stand out quite as much," she says. "The beauty is, your space can be designed to perfectly match your needs and styling with the array of options we are blessed with today in the industry."
Finishes: Matte black is here to stay, in Collins' opinion. "I'm loving the mixture of matte black and vibrant brushed gold in lighting and plumbing fixtures. Such a rich pairing," she says.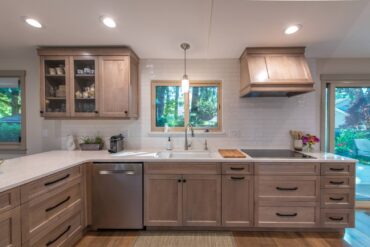 Windows and doors: Barn doors have continued to stick around; however, she sees an increase in different patterns, materials and hardware choices available. "You can almost treat a barn door like a movable piece of art," she says. "Recently, I have also seen charming Dutch doors make a stunning appearance, with a wide variety of options available as well. Rustica Hardware really impresses me and I love that they are also an American-made company."
Green options: The leading manufacturers are implementing and adhering to green procedures and guidelines, according to Collins. "This allows trade professionals and consumers to have more options available with 'thinking green' in mind," she says.
For homeowners who want advice, Collins recommends contacting the local National Kitchen & Bath Association chapter or home builders association. "There are directories for any professional in the industry you may be seeking," she says. "Make sure to do your research and read reviews."
---
Catherine Shively
Designs By Envision
Gig Harbor • 253-225-3180
designsbycs@hotmail.com
As an interior designer, Catherine Shively is passionate about the interior spaces of residential, commercial and even exteriors. Her love of design started as a very young girl and continues today. Being creative and working with clients to see their desire happen is exciting and satisfying. Her background and education is ongoing so she can provide the latest trends and products to her clients.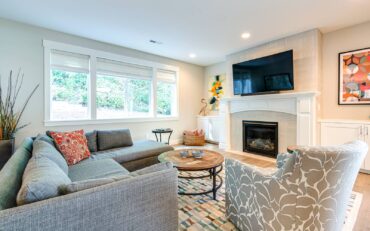 Catherine Shively notes that more professionals are working from home and looking for an interior that's comfortable and functions best for their professional and personal lifestyle. Consequently, home offices are becoming a key space to operate and need privacy to be productive and creative. To create that space that's productive and positive, she says it's important to understand how you work best and what your habits are.
Other general trends she's seeing include:
Moving slowly from a minimalist interior to one with a bit more color and interest
Larger tiles, such as 24-by-48 inches, being used for flooring and shower walls to create a bolder, larger look
Home vintage and artistic tiles being incorporated into kitchen and bathroom areas and even the floor, going back to a time when there were interesting colors and patterns — and even linoleum has flooring with these patterns
Organic and natural fabrics remaining on trend and here to stay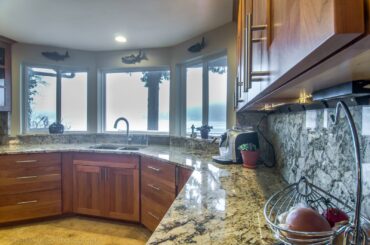 Colors: Using blues and greens along with neutrals is easily done when you work in artwork and accessories with colors.
Countersurfaces: Less dramatic and easier on the eyes, such as surfaces with fewer lines and colors throughout the surface area that don't dominate the kitchen or bathroom area. The interiors should be about the space as a whole and not focused on the solid surface.
New kitchen features: Sinks come in different depths and designs and are personal for the kitchen user, such as one sink bowl vs. two sinks or a prep sink.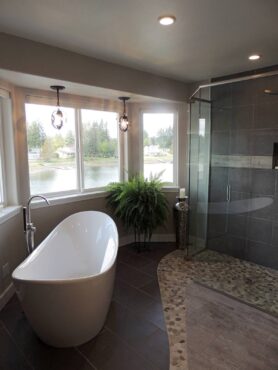 "When making choices, set up the kitchen that works for you," she advises. "Even though 18 inches is the standard height between the countertop and bottom of cabinet, you can build in extra height such as 20 or 24 inches." For a homeowner who loves to cook and is in there quite a bit, the extra height allows for more light and room for countertop appliances.
Shively adds that wood floors in the kitchen are becoming popular, especially with luxury vinyl flooring, which requires minimal maintenance and is water resilient. "This continuity between the kitchen floor and the dining room floor provides for a transition between rooms without feeling like there is a separation," she says.
Fabrics: Organic fabrics such as linen, cotton with texture and color, along with patterns that add a richness to the room.
Floor coverings: Luxury vinyl is popular and here to stay. "There are so many colors, grain variations and widths to choose from to create the right feeling in your interior," she says. "It is amazing what is out there and also pet-friendly and limited maintenance."
Furniture: Swivel chairs seem to be popular in homes today. They're convenient when part of a seating area and especially if you have a view — you can swivel to the view or back to the conversation area. "Even in a bedroom, it is nice when you can swivel around to a part of the room to use for dressing, watching TV or looking at view window. Very convenient," she says.
Sectionals are still popular, especially when you purchase the right size for the scale of the space. They're convenient for providing plenty of seating to entertain friends and family.
Lighting: Trends are leaning toward a modern-day midcentury look with an array of whites, brushed gold and black finishes. "They provide an elegant yet casual look," Shively says. "It is the jewelry in the room."
Finishes: Wall coverings have made a comeback beyond the grasscloth. Shively sees more patterned wallcoverings that provide color, interesting patterns and a fun flair to an interior, especially in a powder room. "Think about changing your powder room up," she advises.
Windows and doors: Windows that are free of obstruction, so your view is clean and clear, are on trend. "You can use window treatments to add privacy and style to the interior," she says.
Window treatments: Shades are becoming very popular, especially since you have so many choices in how they operate, including by remote control. You're also able to get them manufactured to go bottom/up, bottom/down or both to create the lighting and privacy you desire for the space. "Along with this, you have several materials and colors to choose from that create warmth in the room," Shively says. "In addition, you have blackout options for your preferred darkness in the bedroom."
New green options: Green options include repurposing items you may already own in your kitchen.
"It is a matter of how you can reuse this vs. buying new or even replacing what you have with the newest gadget," she says. "Clients are looking for easier ways to recycle. Years ago, it was creating built-in cabinets for a recycling receptacle. Now, we are looking how to discard food waste better through recycling programs and separating glass and cans for proper disposal."
Also popular is using low-VOC materials, such as paint that's safe and adds to a better environmental interior. "This includes linen towels, fabrics and other textiles with less chemicals to produce the product," she says.
Natural materials: Linen is a mainstay, along with cotton, but velvet has made a comeback. "It is soft and has a cozy look, whether on an upholstered chair or pillows," Shively says. "Velvet is a nice addition to any interior space except bathrooms."
Shively says details can be overwhelming for a homeowner who's making choices and decisions. "Reaching out to a professional such as an interior designer for their expertise can definitely be very helpful and provide the right direction in selection of products, colors, space planning and even with new construction," she says. "The time you spend with an interior designer will save you time and narrow your selections quickly, which is well worth your time spent together."
---
Nancy Finneson
DeMane DESIGN, LLC
Gig Harbor • 253-973-8442
nancy@demanedesign.com
demanedesign.com
Nancy Finneson, CKBD, CAPS, CLIPP, Allied ASID, is an award-winning interior designer and kitchen and bath designer. She attended the Art Institute of Chicago and later received a degree in interior design. She is a certified kitchen and bath designer with the National Kitchen & Bath Association, a certified aging-in-place specialist, a certified living-in-place professional and an allied member of the American Society of Interior Designers. After spending many years in the San Francisco Bay area, Finneson now makes her home on the beautiful Puget Sound. She loves working with people and enriching their lives by helping create spaces that inspire, entertain and function brilliantly. One of her favorite projects was adopting and creating a room for the YMCA Domestic Violence Shelter in Tacoma. Recently she was honored with awards for design from the prestigious American Society of Interior Designers, REX Award "Design of Excellence" from Pierce County Master Builders and first place for bath design from the National Kitchen and Bath Association.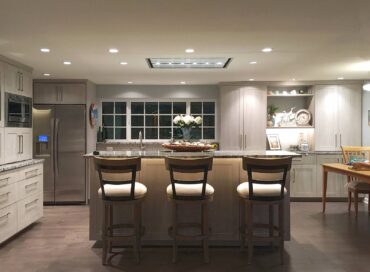 Nancy Finneson says that the challenge of designing the modern home has evolved due to new trends such as work-from-home and focus on wellness.
"The work-from-home lifestyle is here to stay and it has changed homeowners' process of what they want," she says. "Wellness has been a key consideration when homeowners are seeking a change in their homes. It's driving design in the bath — they desire spa-like experiences, materials and products." Requests that she sees for the primary suite include large walk-in showers with steam that have a curbless entry, soaking tubs with light therapy, heated floors, towel warmers, handsfree faucets and an adjacent walk-in closet have become standard requests for the primary suite.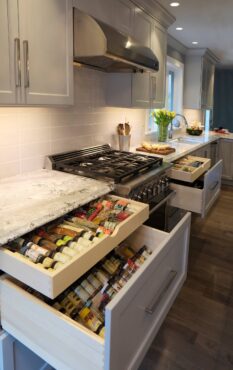 Finneson also notes that kitchens are larger and open because they are being used as the hub where everything happens. "The design needs to include space for work and inspiration, space for food prep for today's sophisticated cooks and storage while socializing with family and friends," she says. "Seating in the kitchen can be a banquette, a table or stools at the counter. Outdoor kitchens are also requested more."
Countersurfaces: Engineered quartz is still the favored countertop material, with many mimicking natural veining. Sintered stone and ultracompact stone such as Dekton have increased in popularity for hard surfaces. Finneson says this material is versatile for use indoors or outdoors, and it's resistant to abrasive scratching and water. It's available in different thicknesses and in large slabs, making it a beautiful option for a seamless shower wall.
"A beautiful natural stone that is harder than granite is quartzite and is more available," she adds. "When selecting, no matter what material you use, always try to see a full-size slab for the best representation."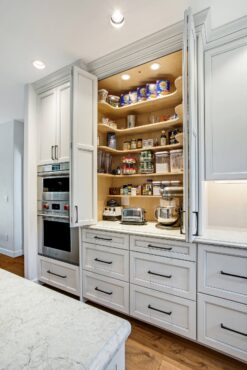 New kitchen features: Technology is making life easier and this trend is expanding into the kitchen. "Many appliances are linked to our phones — they are smart and can signal to us, for example, that the fridge isn't working and needs service," she says.
For hood options, if you have a great view, she recommends a ceiling-mounted, flush hood for ventilation. "You get function with beauty while keeping your view unobstructed," Finneson says.
Open shelving will continue to be popular — it's great for fast access to frequently used items and perfect for stylizing objects. "Consider if it fits your lifestyle and is practical for your needs," she says.
Storage is always a high priority for homeowners and each year, manufacturers present new options for consideration. Some examples include drawers with spices lined up and visible with double slide-outs, and knives in a slotted divider or in a knife block pull-out. "For bakers, put your mixer on a pop-up — when it's not in use, it's tucked away," she says. "With all the small appliances available now, counters can become cluttered. The solution is to keep them handy, but out of sight in an appliance garage or in a scullery pantry."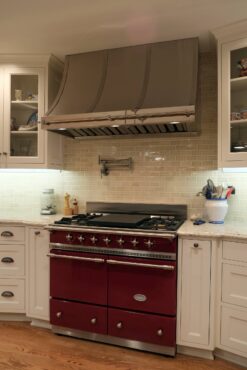 Uncluttered looks are also popular in bathrooms, where you can have grooming drawers with power inside for a hairdryer or shaver.
Fabrics: High-performance fabrics are durable and used in all areas of the home, such as sofas, benches and chairs. Lush fabrics like velvet in vibrant colors add luxe to any piece of furniture.
"Wall coverings with great textures and bold patterns are prevalent — the options are endless and amazing," Finneson says. "If you fancy seeing a wooded scene in your powder room, we can do a fabulous mural. Classics, such as grass cloth, can now be tinted in colorways like deep blue or pewter. Materials have improved and are more durable, allowing us to use them in any room in your home.
Floor coverings: When considering new flooring, Finneson often recommends engineered woods. "Elongated wide planks are in demand and popular because their stability is greater than solid wood flooring. Patterns in flooring are lovely with chevron and herringbone, but be aware that the latter is less expensive to install," she says. "Floor color tones are trending toward lighter hues; darker hues tend to be more formal."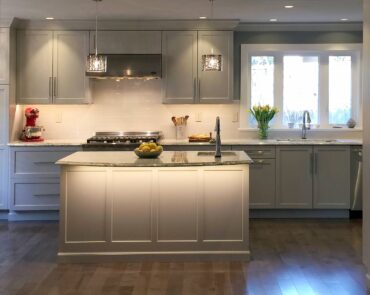 A carefully selected carpet will add luxury. "Area rugs and carpets in natural materials like wool, jute and silks are key to finishing off a beautiful floor or anchoring furniture in a space," Finneson says. "Look for bold patterns, not necessarily bold colors. Low-pile heights are popular, as they are easier to clean and you don't see marks when moving furniture such as dining chairs. Statement area rugs set the tone for the home." Size matters, so make sure the carpet fits the area you want to place it in.
Furniture: Soft lines and curves in sofas, chairs and tables are a growing trend. Textured fabrics, "furry, nubby or cozy" like boucle add warmth and an inviting feel to a space. "We want to be comfortable, not sacrificing style, but the formal living room is not as popular as in the past," she says.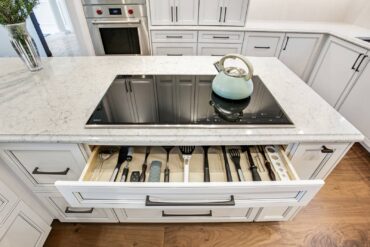 Finneson recommends mixing things up. "A space that looks curated and unique looks natural and very pleasing. Make sure you blend new with old and introduce different styles that complement each other," she says. "To achieve that natural, curated look, the trained eye and experience of a designer are helpful."
Many homeowners also desire a clean, more minimalistic environment. "Large artwork or black-and-white photography is timeless and accents well with any paint color," she says.
Lighting: She says that lighting is sometimes the last thing people consider, but it should be high on the list when you're planning any remodeling or new project. "Lighting is an important part of any space; it can be dramatic or simple, but no matter what, we need it," she says. "Pieces add aesthetic to a room and also draw attention to certain elements. Choose bold lighting and make it the focus of a room."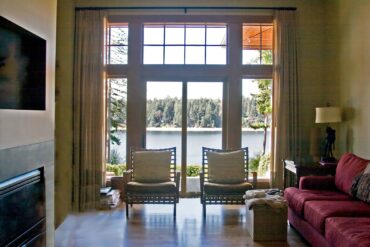 This year, pendants and chandeliers are simple, and not fussy in style. Organic shapes can look like hand-blown glass with mixed metal accents.
LED light strips, most commonly used as undercabinet lighting in kitchens, are being used more all over the home inside and out. "We see it in toe kicks, under wall-hung cabinetry (like a vanity in a bath), the edge of countertops, steps on a staircase, in bookcases and shelving, cove ceiling moldings, incorporated in the railing on decks and interiors," Finneson says.
The use of a combination of lighting — natural, ambient, task, accent and task lighting — make a space livable, comfortable and pleasing to be in.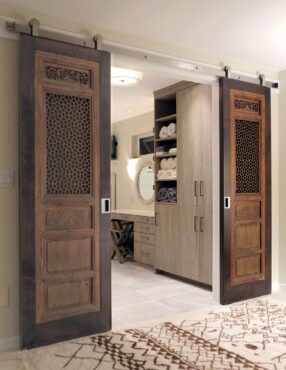 Finishes: Matte finishes in black and soft brushed gold tones continue to entice homeowners and have a refined look. "Mixing metal can have a designer look," she says. "Pick a primary finish and stick with two metals. Balance is key — just remember to not overdo it."
Windows and doors: Let the light in with windows, doors and skylights, Finneson recommends. "Any space where you can add natural light makes Northwesterners with our gray days happy and joyful," she says.
In kitchens, many homeowners are replacing wall cabinets with windows. The lost storage is replaced with better, more accessible and organized storage.
For doors, 36-inch width is becoming the new standard on new builds and in remodels when space allows. Heights have increased as well, ranging from 8 to 9 feet. Arched doors and doorways are also seeing a comeback in popularity.
Window treatments: High-tech roller shades with different light filtering levels are in demand. "They are functional and minimal in design and look great in both modern and traditional homes," she says. "Roman shades in soft linen tones or bold patterns can give privacy and style. For bedrooms, a bottom-up, top-down shade is popular with a black-out and filtered light combination."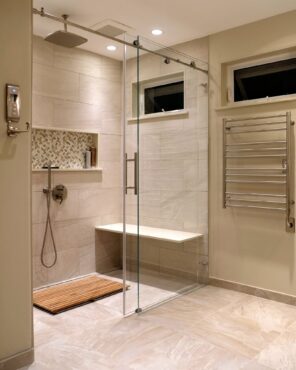 Motorization is increasingly popular for raising and lowering shades, blinds and drapes through a remote or smart phone. Power for this function can be supplied with batteries, but if you're planning a remodel, talk with your professional about the option of shades that have hard-wired power.
New green options: The industry and consumers are more aware and concerned with keeping an "earth-friendly" profile. Finneson notes there is a lot of interest in better ways to heat, cool and ventilate homes. "Even though we live in the Northwest, with many gray days, solar energy options have improved and are more affordable, making it a viable option for energy efficiency," she says.
Biophilia has also come forward in discussions — just adding live plants can make a big difference. Additionally, ENERGY STAR — certified appliances are now standard.
Natural materials: Unique and handmade natural materials are found in many design elements. "Consumers are drawn to objects with a history or pieces that have a patina or worn look," she says.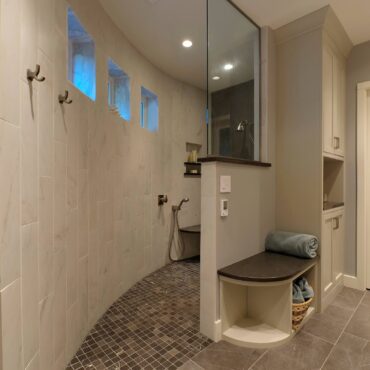 Found objects — rocks, driftwood, shells or colored sand from a beach or dunes — can be used as accents throughout the home. Tree branches, pressed flowers, pine combs and berry pods are used more in displays, arrangements and table settings. Rattan and woven grasses are available widely and are appearing in furniture, lighting and basketry.
Natural materials like grasses, seeds, and even kelp pressed between a transparent material are being used for cabinet panels, room dividers or stair panels instead of clear glass.
More natural woods and shapes are used in furniture like a branch or log table base. Basketry and wicker are fresh and alive. Bamboo, which is a quickly renewable resource, is being used more in fabrics, especially linens and towels.
To create a "sense of place," Finneson recommends to first determine what makes you feel good when you walk into a space. For example, think what excites you in terms of color, then try to incorporate it in small doses throughout your home, giving it a connected flow. Another tip is to pay attention to scale in regard to furniture.
"Check with friends, architects or trusted contractors for referrals. Product showrooms are also a great place for referrals, as they know local design professionals in the area and their work," NKBA.org also lists local professionals.
Don't be afraid to seek assistance, she says. Start with a consultation. "Collaborating with a designer can help make your design dreams come to reality," Finneson says. "My design theory is to enrich lives by creating uniquely personal spaces that inspire, entertain and function brilliantly."