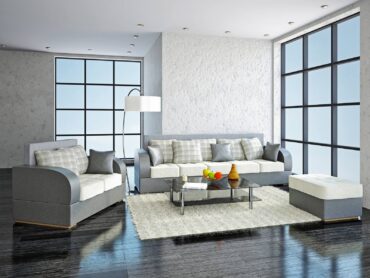 Every year, we gather our panel of design experts to discuss some of the hottest design trends.
In 2022, expect to see natural-looking finishes, natural materials like wood, and more recycled and upcycled choices for the environmentally conscious. Comfort is the key for families. A "must have" is gathering areas, where you can meet and converse — integrated living spaces that allow you to socialize comfortably.
As any good designer will tell you, trends come and go. The best advice for creating a timeless look is to choose based on quality, your personality and your lifestyle.
We've asked 11 designers to weigh in on what new and returning trends they are seeing, and to share some advice on how to use these trends for fresh design ideas.
---
Alinda Morris
Alinda Morris Interior Design, LLC
Gig Harbor • 253-579-8431
alindamorrisinteriordesign.com
alindamorris@gmail.com
Alinda Morris is a nationally published, award-winning interior design professional, habitual remodeler, adventurous creative, entrepreneur, wife and mom, specializing in full service, luxury residential interior design: Custom furnishings, unique kitchens and artfully designed bathrooms, attention to details, and clean, updated spaces are her specialties. She has the experience, education and talent to provide interior styling that includes furniture procurement and installation. She also offers thoughtful space planning, detailed floor plans, elevations, sketches, finish selections, cabinet drawings and furnishings to take your remodeling project from beginning to magazine-ready completion.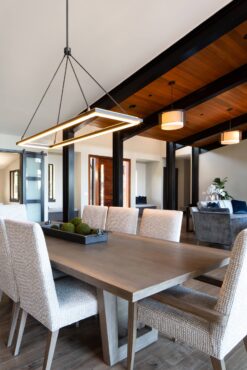 Alinda Morris says single-use spaces are becoming a thing of the past. The newest trends are around multifunctional, comfortable spaces. "We are all craving warmth and comfort. Don't be afraid to embrace moody hues and cozy layers," she says.
Colors: Retro influences of the '70s such as terra cotta, burnt orange, all shades of green and especially moss green are going to be a standout. Benjamin Moore selected October Mist 1495 as its color of the year for 2022. "These earth tones will add some much-needed color and warm to the white-on-white interiors that are everywhere," she says. "This works great here in the Pacific Northwest because these colors already exist in our environment."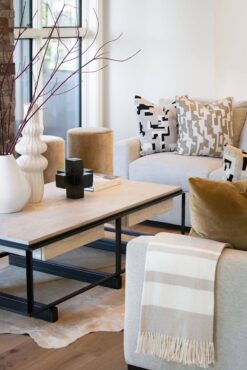 Countersurfaces: Porcelain, granite and engineered stone are still the most popular for those who love a two-dimensional look. "But if you love depth and movement, just go for natural stone instead of a manmade interpretation," she says.
Kitchen features: The kitchen should really be designed around how you want the space function. Start with appliances, Morris recommends. "We are seeing innovation and smart features that are intuitive and purposeful," she says.
Stainless steel continues to be popular, but there are many unique finishes available. "There are many options so this is a great area to do the research because it will really pay off," she advises.
In a world of white shaker cabinets, look for ways to incorporate elements and raw materials to create visual depth and interest. "These elements are also easier to live with," Morris says.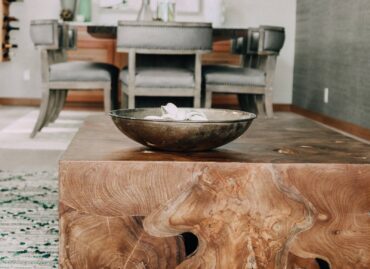 Fabrics: High-performance fabrics — soft yet durable, pet- and family-friendly — allow you to go a little lighter. "But remember, this is not the same as a washable slipcover, so make sure you know how to clean your furniture before you commit," she advises.
Furniture: Curves, organic forms and off-white textures or boucle fabric.
Lighting: Bold statement fixtures; brass, black and glass.
Windows and doors: Black windows have recently gained popularity and become a common trend in many modern homes. "They look great because black window frames create high contrast," she says. "If replacing all your windows is not in your budget, consider painting the interior mullions black."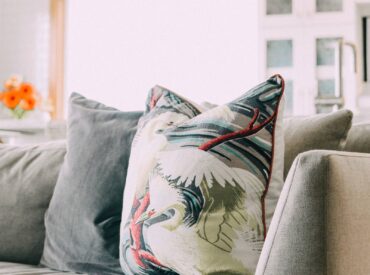 Window treatments: Functional, high-tech roller shades or minimal window coverings work great in modern homes. "For the homeowner with more traditional taste, we still use drapery panels, but it's not the focal point. We're not missing the visual weight of the heavy drapery we have seen in the past. We want the window treatments to add to the aesthetic of the space, not distract from it," she says.
Green options: The industry has really responded to mindful buying habits, so consumers have more choices. Sustainability is just smart but it can mean a lot of different things. These are some areas to consider, according to Morris:
Waste management: There are more recycled and postconsumer-recycled materials available than ever before (think engineered countertops or recycled glass tile). In manufacturing, there are environmental considerations to help reduce energy consumption, pollution and waste.
Indoor air quality: Consider low-VOC paint, glues and adhesives. This is an easy way to limit the chemicals you are bringing into your home. Choose water-based instead of solvent-based finishes.
Water conservation: Cutting down on water use starts at the source, and EnergyStar certified appliances are a no-brainer.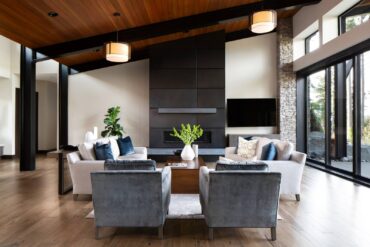 Natural materials: Rattan and quality ecological wicker are emerging in lighting and curated outdoor furniture.
Morris highly recommends starting any project with a plan. "Start with the layout and consider how you want the space to function. How will it look and feel in different lighting? Once you've considered all the foundational aspects, move on to the colors and decorative finishes," she advises.
Although trends are fun, Morris says good quality is the best investment you can make. "Less is more. Choose a trend or two that fit your interior style. Invest in quality pieces with clean lines but that are comfortable for you," she says. "Remember that the lifecycle of a trend is 10 years. Have fun with trends, surround yourself with furnishings that you enjoy and try not to take it too seriously."
---
Kae Rosenberg
Kae Rosenberg Design
Seattle • 707-495-5292
kaerosenberginteriordesign.com
kaerosenberg@comcast.net
Kae Rosenberg Design & Consulting collaborates with clients, combining interior design and interior architecture to synthesize beauty and functionality into each project. It is always a bespoken reflection of its occupant. Rosenberg is a member of the local chapter of NKBA.
Kae Rosenberg sees two areas at the forefront of 2022 trends: organic modern design and the growing demand for green, sustainable products. These areas have been slowly evolving over the past few years and are now taking center stage.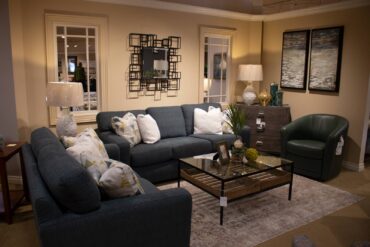 "My clients across the board are asking for products that are sustainable and locally sourced," she says. "This is a huge change from six or seven years ago, when I was working in the San Francisco area. At that time, the firm I worked for was almost afraid to mention the importance of using green and sustainable products. My Washington clients now request products that are made from local or sustainably grown materials."
Organic modern design uses a pristine palette of whites and neutrals, such as pale gray, taupe and beige, as the foundation to create clean, contemporary walls and straight-edged furnishings, punctuated with soft organic shapes, textures and sustainably sourced materials in rich shades taken from nature. "This harmonious combination weaves together functionality with a modern aesthetic to create a built environment that is chic, yet comfortable, and focuses on the individual's insights and personal style," Rosenberg says.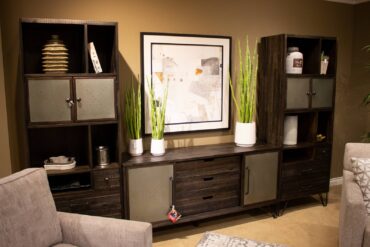 Furnishings: This sensibility easily dovetails with still popular mid-century and Danish furnishings. "The unpretentious forms and clean lines are a perfect juxtaposition for accessories and clients' objects d' art with rounded structures and interesting textures," she says. "Using accents of rich colors found in nature — such as cool greens and blues, vibrant aubergines and warm pumpkins — balance the space's structural simplicity, adding sparkle and keeping the built environment from looking staid or dated."
Other colors that have strong interest are aquas, grays and neutrals in a wide range of values.
Fabrics: Lush fabrics such as cottons, linens wools and silks, to name a few, add warmth and luxury to the space. High-performance fabrics are also in great demand for their practicality and durability. Many of those that have a polypropylene base are created from recycled petroleum products. "However, it should be noted that the downside to using these recycled materials is that they do not breakdown, like natural, sustainable fabrics and can be around for 20 to 30 or more years," Rosenberg says.
Windows: While white and wood tones are still being used to frame windows, black has become quite popular, especially when paired with smart glass technology. "This smart glass technology allows the glass in windows to change from clear to opaque with the flip of a switch. It eliminates the practical need for curtain and shades — although they can still be used in a decorative sense to add coziness to the space," Rosenberg says.
Flooring: When considering new flooring, she continues to recommend engineered flooring to her clients because of its practicality, durability, sustainability and cost. Engineered flooring is available in a wide range of textures and finishes, although wide planks in natural shades are currently sought after.
"Topping floors are area rugs in materials found in nature, such as bamboo, seagrass, jute and, of course, wool," she adds. "As far as patterns, geometrics are favored, but just about anything goes. Remember, the rug, flooring and walls set the stage for the overall room and add warmth to the space."
Countersurfaces: In kitchens and baths, quartz and quartzite are still important to Rosenberg's clients, but porcelain is gaining in popularity, with Dekton at the top of her list. Extremely popular in Europe, Dekton is a specific, proprietary countertop product that is comprised of similar raw materials as porcelain, but uses a unique fabrication process that makes it almost indestructible.
"It's unbelievably dense and almost completely impervious to heat, stains, UV rays, scratches and chips," she says. "It can literally act as a cooktop with the heating element beneath it and used for cooking with pots above. Being a clay-based product, it can ultimately be recycled."
Cabinetry: Shaker-style cabinets in whites or wood tones are still popular, especially using contrasting colors and materials to highlight designated workspaces. Frameless cabinet construction is growing as well. Upper cabinet boxes built to the ceiling eliminate the need for crown molding. "By streamlining the space, it adds a fresh, unpretentious, but contemporary look to the kitchen," she says.
Lighting: LED kitchen lighting is extremely important for practicality, sustainability and design, according to Rosenberg. It's not enough to place downward lighting from the ceiling, but additionally you can add it beneath the upper cabinets, along the baseboards or even along the crown molding. It can also be installed inside glass-paned cabinets to feature the contents of the cabinets. Pendant and decorative lighting used to highlight specific work areas of the kitchen are practical and popular.
If you need advice, Rosenberg notes that there are excellent design professionals in the West Sound area. Even if you are a dedicated DYI-er, you might consider an hour's consultation with an interior designer. "You may ask the designer specific questions about your particular project, or present ideas on your wish list and ask for advice," she says. "It's well worth the time and the cost to prevent yourself from making more expensive errors down the road."
The internet is another great source of ideas and examples. Just type in "organic modern design" into a search engine, and a plethora of websites with information and examples pop up.
"I subscribe to both online and print magazines for ideas as well. Interior Design, Dwell, Elle Décor, Lux and Veranda are some of the ones I especially like," she says. "I keep a reference file of examples and ideas that I might want to revisit sometime in the future. I suggest you give it a try. It will help to keep you from being overwhelmed when you're bombarded with so many design options."
---
Bethany Reilly
Bethany Reilly Interior Design
Indianola • 360-908-5519
brinteriordesign.com
bethanyreilly4@gmail.com
Bethany Reilly graduated from CIDA-accredited Bellevue College and started her career specializing in dental office design. She eventually moved to Kitsap County and founded Bethany Reilly Interior Design in 2003.
Reilly strongly believes in the importance of creating a space for her clients that is aesthetically pleasing as well as functional. She prides herself on being an integral part of the process by staying involved with vendors, subcontractors and the client every step of the way. She continues to expand her expertise by regularly attending webinars, product launches and trade shows and is a member of the Olympic-West Sound NKBA chapter.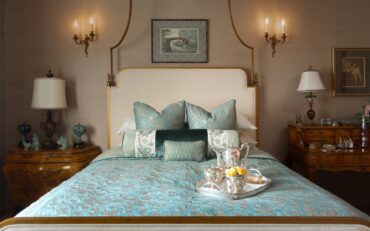 Bethany Reilly believes that last year's movement toward comfort and nature is still on trend, with a strong influence on layering, whether it's a monochromatic scheme with layered textures or a more traditional space with layered patterns. A bit of a 1980s influence is also making an appearance in a more subtle, natural way.
Colors: Neutral tones are still in, as well as black and dark tones. "Intense colors are making a statement with not just a feature wall, but an entire room including the ceiling," she says. Soft pinks and browns, also influenced from the 1980s, are making an appearance.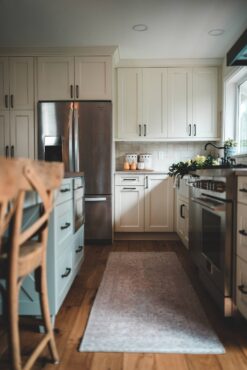 Countersurfaces: Soapstone is showing some popularity in kitchens and laundry rooms. "Quartz is still a workhorse and most commonly used; however, large-scale veining on a waterfall island or backsplash is often requested," Reilly says.
Kitchen features: Maximizing storage is of high importance to homeowners. Many cabinet manufacturers are now partnering with companies like Rev-A-Shelf to create built-in features such as utensil drawers in kitchens and grooming drawers in bathrooms.
Fabrics: With a layering technique, you can play with textures and patterns in a more playful way. Linen is still on trend as well as sisal and grasscloth wallcoverings. Silk and velvet in more traditional spaces is recommended. "And, we are now seeing an increase in small-print Scandinavian fabrics," she adds.
Floor coverings: Hardwood engineered flooring, tile and luxury vinyl plank (LVP) are popular. "LVP has made a strong impact on design this year in both commercial and residential spaces," Reilly says. Most LVP manufacturers are producing waterproof products and homeowners are feeling much more comfortable with installing it in their kitchens and baths."
Tile floors are still used in the bath, but LVP is making a strong presence with its lower cost factor. Brick in a herringbone pattern with large grout joints is also making a statement.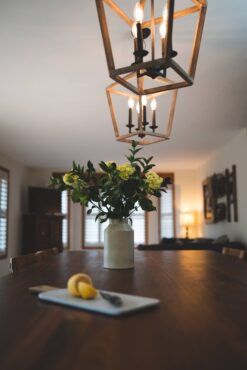 Furniture: With the '80s influence, Reilly's clients are requesting large, overstuffed pieces in luxurious fabrics. They can make a statement, but still be comfortable enough for daily use.
Lighting: Homeowners love incorporating at least one large fixture in their space — the "showstopper," as Reilly likes to call it. "Often, this is the feature they regard with the most thought. Then, we add the functional lighting to fill in the space," she says. "LED has a better color rendering now and most homeowners appreciate the energy efficiency and long life."
Finishes: Brass is big, and mixing it with matte black in one product such as the kitchen faucet is on trend. This is helpful in tying together two finishes within one space.
Windows and doors: Arched doorways have been commonly used this past year, as well as floor-to-ceiling, steel-framed windows.
Window treatments: Linen roman shades with accent tape are a great way to soften a space while giving privacy. In areas with a view, Reilly recommends bottom-up, top-down shades.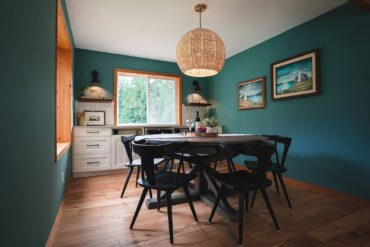 Green options: Reilly believes that climate change is something all homeowners need to start taking responsibility for and is one of the first questions she asks new clients. "I ask them how they would like to make an environmental impact with their remodel. Most of my clients want to make an effort and appreciate doing their part," she says. "Induction cooktops are a great way to start, as well as using reclaimed materials wherever possible."
Natural materials: Grasscloth and sisal wallcoverings; leather and linen furniture; chunky wool rugs, pillows and throw blankets.
If you have a trusted source such as a contractor, Reilly recommends asking for a referral to a qualified interior designer. "Most contractors have at least a few in their contact list," she says. "If you are new to an area or don't have a licensed contractor, check with your local NKBA chapter."
---
Cate Adams
Arnold's Home Furnishings
Bremerton • 360-377-5582
arnoldshomefurnishings.com
Cate Adams has a degree in art and design from the University of London and has worked in London, Paris and Spain. Adams eventually settled in the Pacific Northwest. She currently serves as an interior designer with Arnold's Home Furnishings. She lives with her husband, Jack, in Silverdale.
Cate Adams notes that 2021 was quite the year for the furniture industry. "The huge demand during COVID, paired with ongoing delivery delays, has caused frustration for everyone: consumers, manufacturers and retailers alike," she says. "With average wait times for custom pieces now over six months, a lot of patience is required, but many home decorators are adjusting and deciding the perfect piece is worth the wait."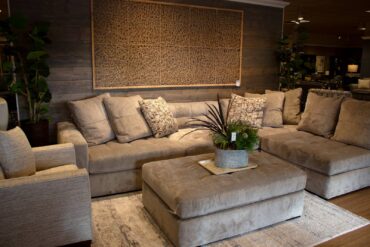 She says that if you're working with a responsible retailer, your long- dreamed-of furniture will get to you without a doubt. "And it will be a big surprise as you've probably forgotten what it looked like," she says.
Trends she's seeing include increased demand for durability and comfort. Luckily, performance fabrics and other easily cleanable materials, such as synthetic rugs, are available. "Many case goods (or wooden pieces) are coming from overseas, and we see acacia wood, rubber tree wood and other Asian hardwoods that are very appealing to young families," Adams says. "Of course, beautiful pieces made in the USA, principally by the Amish, can be ordered in many wood species and a variety of stains." Styles vary from industrial to traditional and from farmhouse to contemporary.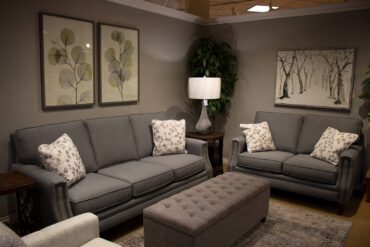 Reclining pieces are in high demand for family rooms. "The features of power recline and power headrest offer infinite positions for personalized comfort," she says.
The beautiful buttery leathers are ideal where there's a lot of action from children and pets. Lift chairs are also very much sought after, not only for the elderly or infirm but younger consumers who are discovering the benefits, even if they don't intend to use the lift mechanism. "The chairs have many more functions than a regular power recliner and they're unbelievably comfortable," Adams notes.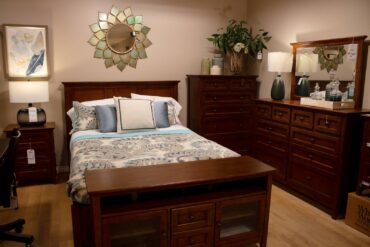 The options for the living room are endless, including beautiful fabrics and many styles. "Customers can design their own seating pieces, choosing arm, leg, back, cushion and pillow style," she says. "They then add rivets, fringe and cord as desired."
End tables and coffee tables are going through fun times — gone are the days when two matching end tables and lamps were mandatory. "Some customers still prefer them but now there are many other options," Adams says. Gold metal finishes are very trendy, but stone, glass, iron and concrete are only some of the other choices.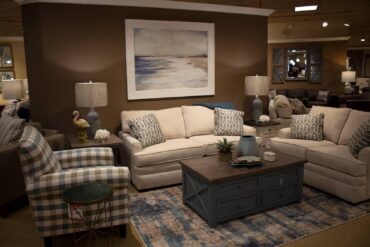 Colors: Every shade of gray is still prevalent, but it's gradually warming to taupe and tans. With the new fabrics, customers no longer need be afraid of light colors," Adams says. "A spill of red wine can simply be blotted up. The fabrics are resilient, yet still so soft to the touch."
You can also choose from many fun patterns. "If the customer uses solids for large areas such as walls, sofas and floors, we do suggest some bold patterns for area rugs, art or accent chairs," Adams says. "A room tends to die without pattern, even if the color scheme is monochromatic."
Whichever choices you make, Adams says it's always a good idea to run them by an interior designer. "The designer may be able to suggest new ideas and improvements to your plan," she says. "Your new look is going to be around for a while, and home furnishings shouldn't be inexpensive. Make sure you're investing wisely, but have fun with your project."
---
Connie LaMont
LaMont Design, Inc.
Poulsbo • 360-779-7227
lamontdesigninc.com
connie@lamontdesigninc.com
Connie LaMont has been an interior designer and colorist in the Pacific Northwest since 1993. She holds a bachelor's degree in arts from the University of California in Irvine and a second bachelor's from the Interior Designers Institute in Newport Beach, Calif. LaMont and her architect husband, Wayne, own LaMont Design Inc. in Poulsbo. Some of their joint projects include Austin Towers in Poulsbo and Elkhorn Place in Sequim.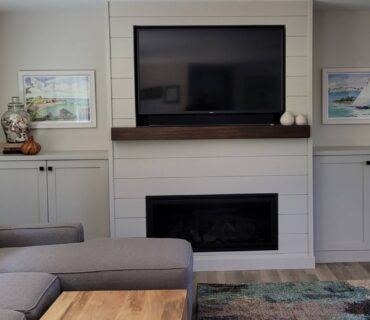 Connie LaMont says when someone asks her about trends, what comes to mind is timeless beauty. "Most of my clients who are in the midst of reinventing their home want the end results to be something beautiful, for sure. But they have felt like they've been in a 'waiting pattern' for so long these last few years that they are craving a look that will not only improve with time but will also not become dated," she explains.
One trend she's observing is functional art. "Whether you're looking for a light fixture, a plumbing fixture or an interior finish like tile that will protect your walls in your kitchen or bathrooms, I see a beautiful object first that can accommodate the need in our homes," she says. "If you see the object as a piece of art first — and it also has a specific purpose that fulfills a need — that object then becomes timeless and is winner."
Colors: Black and white is still trending and it's mixed up in all different ways. White and off-white walls have become more popular in the last couple of years. "Black windows, doors, trim, tile, cabinetry and stair railings have also been trending and look absolutely amazing," she says. "They bring a structural and architectural feeling to both interiors and exteriors of homes and other buildings. Then with accessories like light fixtures, plumbing fixtures, tiles, fabrics and more, you can complete a very sophisticated look just by bringing black into the mix. And then, any and all colors can be invited to the party."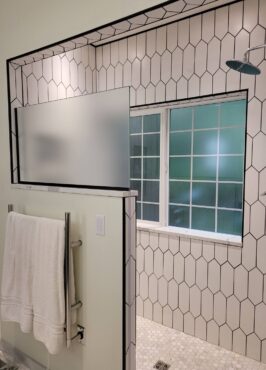 Countersurfaces: Quartz and granite are still go-to choices for kitchens and bathroom countertops. "I can see them staying around for another decade or so. They bring such an artistic styling to every area of our lives," LaMont says. "Depending on your personal style, you can find a slab that you fall in love with. The sleek surface has such a user-friendly appeal, not to mention the durability of the material."
Kitchen features: LaMont loves hiding outlets within a beautiful kitchen. "We can spend hours searching for the perfect backsplash tile in our design layouts — just to have them assaulted with outlet placements. Sometimes we can camouflage them, but it's wonderful if they can be completely hidden from view," she says. "You can install outlet strips underneath the upper cabinets in your kitchen or inside cabinetry in your bathrooms. You can even have push-button, concealed outlets installed on the countertops, which can add a bit of structure to a tailored environment."
While not new, farm sinks, often times referred to as apron sinks, are quite appealing these days. "Mixing a bit of a vintage flair into a clean and tailored kitchen gives that 'homey' feeling to the space," she says.
Fabrics: Performance fabrics like Sunbrella and Perennials. And you can never have enough texture.
Floor coverings: Whether it's the look of natural wood, concrete or tile, luxury plank vinyl is still a forerunner for its durability factor.
Furniture: Everything is about comfort. "Electric recliners are all the rage, whether it's a chair, sofa or sectional," she says. "And, with the worldwide predicament we all are trying to navigate through, we are lucky if we can even find furniture that we like and is available right away. Most custom-ordered furniture has been taking between six and 12 months to receive, so if we have to wait that long, we should have it fabricated in a high-grade leather or in a performance fabric, making it worth the wait."
Lighting: Integrated LED fixtures are an emerging trend. "I love the presence of a piece of art that give us illumination in our homes," she says.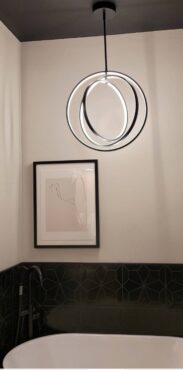 Finishes: Matte finishes have caught homeowners' attention. "And although shiny brass or shiny fake gold will hopefully never have a comeback, their cousins luxe gold and luxe brass have — in a big and beautiful way," LaMont says.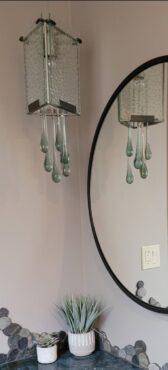 Windows and doors: Elongated geometry seems to be everywhere. "I think people are tired of sitting down all the time and want the feeling of good posture. It's amazing how that can be seen in little things like the geometry of window and door placement, not to mention the sizing of these elements," she says. "Doors that are 8 to 9 feet tall and are still only 30- to 36-inch-wide give us the elongation we seem to be craving."
Window treatments: LaMont recommends simple and textural, like roller (sun) shades or simple fabric panels drawn back on "Euro tracks" for nonfussy, tailored detailing.
LaMont's advice to the homeowner is to take time and have fun with the process. Everything will take a bit longer to accomplish these days. "Interior materials and finishes will take longer to get, items will be back-ordered for months on end, and tradesmen will be booked out a bit farther than in years past," she says. "But the process will teach you how flexible your heart, mind and soul can ultimately be. Creating something — anything — is a very fluid process that can be quite fulfilling, so don't let the waiting cause you undue stress. Embrace the slower pace of the process and enjoy yourself."
---
Catherine Shively
Designs By Envision
Gig Harbor • 253-225-3180
designsbycs@hotmail.com
As an interior designer, Catherine Shively is passionate about the interior spaces of residential, commercial and even exteriors. Her love of design started as a very young girl and continues today. Being creative and working with clients to see their desire happen is exciting and satisfying. Her background and education is ongoing so she can provide the latest trends and products to her clients.
Catherine Shively says one of the main trends is an interior that functions easily and is low maintenance for easy living. Think of simple, clean lines for interior spaces such as the kitchen.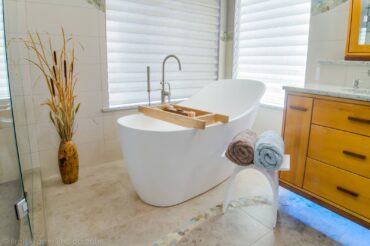 "Individuals, couples and families are spending more time outside or traveling and would like a home that's low maintenance, especially if they have a busy family life. There are many ways an interior designer can make this happen," she says.
Other notable overall trends include pet-friendly homes and less cluttered looks.
Colors: Use interior colors that are calming but neutral, warm with a hint of color. "There are many colors that have warmth but are neutral, so you can introduce brighter colors with accessories and artwork," she says. One example is light beiges with a hint of gray.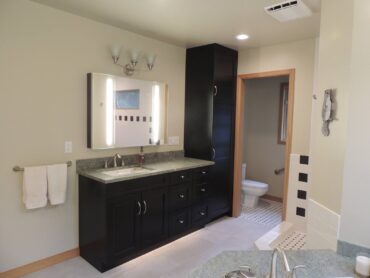 Other trendy colors are steely blues, greens and beiges; and dusty colors such as dusty pinks, greens and blues. She also recommends adding a splash of black where it works.
Countersurfaces: Natural surfaces such as granite cement and wood; and colors that contrast with the cabinets, such as a light-colored countertop with dark chocolate cabinets.
Kitchen features: Shively recommends cabinets designed to hold countertop appliances for easy access and use — keeping the counters clean for cooking and baking. Other things to consider include:
A cabinet drawer designed as a docking station for phones and tablets.
More outlets built into the cabinets, especially in the bathroom vanities.
Cabinets with less trim detail for easy cleaning and less dust collecting.
Fabrics: Natural woven fabrics such as cotton and wool with texture and patterns.
Floor coverings: Engineered and luxury vinyl that offer low maintenance, easy care and pet friendly are still popular, as well as porcelain tile with wood patterns and marmoleum for utility and laundry rooms.
Furniture: Shively says sectionals that provide plenty of seating for family and friends when entertaining are trending, along with entertainment centers built to look as furniture piece for TVs and music entertainment.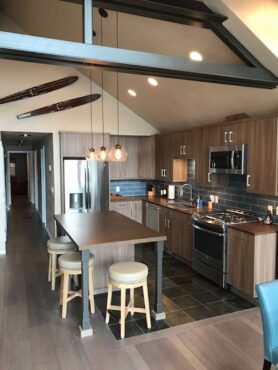 Lighting: Consider less ornate lighting fixtures, lighting that provides ambient along with task lighting as needed, and lighting on dimmers for setting the mood in the room.
Finishes: Wall covering is making a comeback and has been for the last few years. There are natural grass styles that provide color and texture, as well as wall coverings with graphic designs that enhance spaces like powder rooms. She recommends using darker floor finishes for a richer look and providing a base for other colors used in the varying spaces.
Windows and doors: Slab- or panel-style doors, depending on the overall interior concept; and modern-style windows that provide unobstructed views.
Window treatments: Shively recommends shades installed within the window frame and cornices to cover those shades; as well as casual drapes in large rooms to provide softness, color and texture.
Green options: Ideas Shively suggests include solar energy, improved insulation, energy-efficient lighting products and a mix of new furnishings with vintage furniture.
Natural materials: Cotton, linens and wool that are more comfortable and offer a natural look for a more organic interior. Wood and bamboo also lend to a softer and organic feel in the home.
Shively advises homeowner to reach out to a professional regarding the products they're interested in. "For example, if you need more details about luxury vinyl flooring, visit a flooring showroom and discuss the details of the products," she says. "Other resources to consider are an architect, interior designer or contractor. Ask them about a product and what would they recommend and why."
---
Janet Weber
Janet Weber Interior Design
Poulsbo • 360-626-4484
janetweberid.com
janet.jwid@comcast.net
Janet Weber owns and operates her own interior design business with the goal of creating atmospheres that are unique and well-suited to each client's values, lifestyle and personality. She assists clients in realizing the vision for their homes and commercial spaces by guiding them through each phase of the design process, from the initial space planning to the final selection and placement of accessories. Weber received her bachelor of arts degree from Washington State University and has been working in the industry since 1986. Her professional involvements include Design on Broadway in Everett, Markie Nelson Interior Design in Seattle and Fine Home on Bainbridge Island.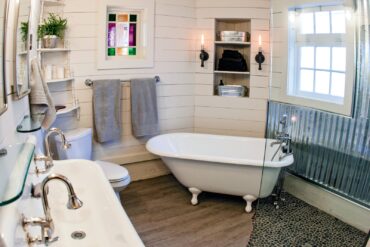 Janet Weber sees two similar trends taking interior design by storm: biophilia and frilufsliv (pronounced free-loves-liv). "Both embrace the concept of bringing the outdoors in and connecting humans with nature," she says. "The result has been shown to have a profound impact on our overall well-being, both physically and emotionally."
Other trends worth noting:
Minimalism — the concept of limiting ornamentation to help you feel relaxed in your home
Creating a home office space that works for you
Brighter colors in general
Colors: Many color choices reflect the biophilic trend. Several paint companies chose different forms of green as their color of the year for 2022:
Benjamin Moore — October Mist, a sage green with silvery highlights
Sherwin Williams — Evergreen Fog, a midtone, calming gray-green
Better Homes and Gardens — Laurel Leaf, a dusty green
PPG — Olive Sprig, a soothing green that makes you think of aloe vera leaves
Other paint companies went with blue options that are still very in tune with the bioliphic trend.
"I have also noticed bolder, warmer colors coming into style," she adds. "The colors of autumn are popular. Reds, terra cottas and especially ocher are on trend, along with '70s colors like burnt orange and moss green."
Countersurfaces: Quartz is still the most popular countertop but due to the biophilia craze, natural granite and marble are on trend. Since granite and marble are natural materials, they bring the outdoors in.
"One of my favorite countertop choices is quartzite," Weber says. "This is a natural material that comes in lots of colors and finishes. I especially like the textured finishes."
The newer option is porcelain slab countertops that have the look of quartz but are more durable and less expensive.
Kitchen features: Weber recommends a variety of trendy options:
More drawers and less doors
Large single sink instead of a divided sink
Compost and recycle bins
Glazed, full-height tile backsplashes instead of matte finishes
A larder cupboard or pantry cabinet addition
Statement hoods in metal, wood and even using old doors
Natural elements including wood cabinets, shelving and rattan lights
Windows instead of upper cabinets
Pops of color, especially on the island
Double islands
She also sees butler's pantries coming back in to popularity, along with appliance garages for clutter-free countertops.
Fabrics: Natural materials are front and center in harmony with the bioliphic trend. Weber recently did a beautiful mohair sofa that will last forever and is very comfortable. She sees homeowners rediscovering the classics, with corduroy and boucle both back in style and velvet also having a resurgence. Other fabrics include:
Organic patterns including leafy designs and floral patterns
Geometric patterns
Organic camouflage in warm earth tones and pastel colors
Bold, colorful patterns
Sustainable materials
Fabrics made from recycled polyester, hemp, cork, cotton and vegan leather
Floor coverings: The most popular option is still hardwood flooring, solid or engineered. Low-maintenance oil finishes in matte or low sheen are also popular. "There is a new option available in this category called hybrid flooring, with a 1 mm real wood top layer and a solid core backing. It has the benefits of luxury vinyl plank mixed with real wood," she says. "I have not specified this yet but I am intrigued. LVP wood-look flooring is almost as popular. In fact, I personally have specified more LVP than hardwood flooring this past year. Laminate wood look flooring comes next on the list but I have only specified it a few times this past year."
All of these wood-look floors can be installed in parquet patterns, which will be very popular in 2022, according to Weber. Other interesting trends she's seeing:
Patterns like herringbone, chevron and even diagonal
Lighter colored floors like bleached, natural and blonde colors
Vintage looking flooring — weathered looks in rustic, hand scrapped and brushed varieties
Porcelain tile, which comes in an endless array or shapes, sizes and colors; the latest are large-format tiles in natural looking finishes like marble, granite, limestone and travertine
Faux wood tile, which is one of the most durable floors but has the look of real hardwood and is waterproof
Artisan tile work with patterned tile, especially on bathroom floors; they're called encaustic tiles or mimic the look of Old World encaustic tiles
Stone such as granite, limestone, slate, travertine and marble, which are timeless although they do require more maintenance
Concrete flooring in many settings including loft style, contemporary farmhouse, modern and industrial styles
Terrazzo, an offshoot of concrete flooring now available in tiles
Carpeting, especially for bedrooms and multi-colored frieze style with patterns
Weber also loves carpet tile and has used it throughout her own house. "It's not inexpensive but it's so nice to be able to clean it easily and it has a very nice look and lots of beautiful patterns to choose from," she says.
Furniture: Rounded furniture shapes are very popular, and curves are taking the market by storm. "These curved chairs seem to almost hug you and we all need a hug after the last couple of years," she notes.
Other trends in furniture include:
Asymmetrical pieces
Leather accents in detailing
Antique, which are more readily available and not affected with supply issues; they bring a sense of time and space to a project
Biophilic materials like rattan, cane and iron
Swivel chairs, a staple item that will never go out of style
Multipurpose furniture to fit new lifestyles
Tables with tucked-in stools
High-low desks for on-the-go workspaces
Locally made and sourced furniture and accessories
Lighting: Here too, Weber notes a variety of trendy choices, such as:
Lighting fixtures using leather, brass, wood and rounded shapes
Rattan lights
Metal lamps and shades
Oversized glass pendants
Alabaster fixtures
Vintage finds
LED sculpture lights
Sconces
Ceiling-mounted lighting instead of recessed can lights
Finishes: Mixed metals are the theme of the year. "I would try and stay with two to three metals in one location, but have fun with your metal mixing," Weber suggests. Also consider these popular choices:
Brushed and antique brass
Champagne
Matte bronze
Antique pewter
Brushed black nickel
Satin chrome
Matte, flat and antiqued finishes
Windows and doors: Classic black windows are still popular and beautiful. Large, full-glass sliding doors opening up to the outdoors are on trend. Tall interior and exterior doors are also on point. "You can create this look by taking a door up to the ceiling or adding a transom over the door," she says.
Wide doors are popular, and there are pivot doors for wide locations. Also consider these ideas:
Interior glass sliding doors to close off a work space instead of using a wall
Painting interior doors the same color and texture as the wall so it disappears
Stained glass doors
Crittall-style doors (black steel and glass)
Swing doors that rotate 360 degrees
Pocket doors
Window treatments: Weber prefers windows free of window treatments whenever possible. "I like bringing the outdoors in by full exposure of the windows," she says. "Where window covering is needed, neutral tones and natural hues are best." She also recommends minimalistic designs with nature-inspired colors, Japanese blinds for privacy and roman shades for aesthetics.
Green options: While these are not new choices, Weber says they're great options for the green-minded consumer:
Lots of interior plants
Antiques and vintage finds
Reclaimed wood
Bamboo
Cork
Jute, wool, linen and hemp
Tile or terrazzo that has pre- or post-consumer recycled content
Low- or no-VOC paint
Natural materials: Weber sees a trend toward natural stone coming back in a big way: granite, quartzite, marble, limestone, travertine and soapstone. "These are the most beautiful material ever," she says. Also popular are brick (natural and painted); cork flooring and wallpaper; natural wood accents like beams, posts, shelving and furniture; leather; iron; cane, seagrass and rattan.
Weber suggests asking friends and family members for recommendations for a good interior designer to help. "Pick up a WestSound magazine for inspiration," she adds. "There are countless websites that can help you hone in on your style — but only purchase items that you love."
---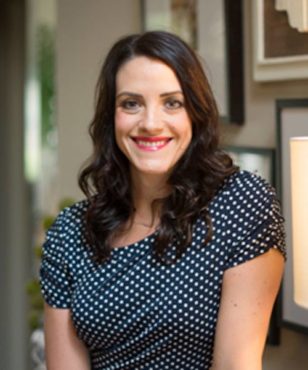 Stefanie Brooks
SB Interior Design
Tacoma • 253-225-6545
sbinteriordesign.com
info@sbinteriordesign.com
With a keen eye for design, thoughtful attention to detail and fabulous style, Stefanie Brooks brings creativity and enthusiasm that enhances your design experience. In her 14-year career, she has served as lead designer or team player on a wide variety of projects from custom homes and remodels for kitchens, baths, whole houses and commercial projects, to providing many homes in Western Washington with carefully selected furnishings and adornments. Brooks strongly believes that the most essential hallmarks of a designer are impeccable communication skills and the ability to be a great listener. She truly heeds her clients' preferences and concerns throughout the entire design process. Brooks' commitment to community is reflected in her many business relationships and active involvement with the Master Builders Association, Remodelers Council and Design Professionals Council.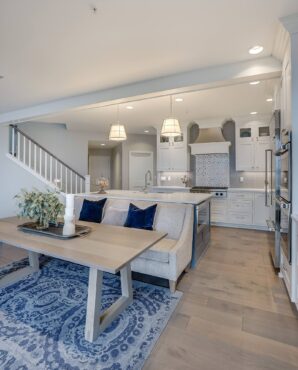 Stefanie Brooks says more often, her clients are leaning toward a clean and simplified look with their overall aesthetics. For example, they opt for painted or rift-sawn, white oak cabinetry in simple shaker or flat panel door styles.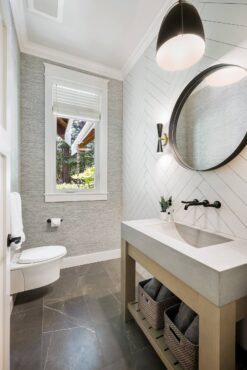 "The kitchen still remains the top place to do it all. Working pantries have replaced the old butler's pantry and are often tucked just off the main kitchen," she says. "Inside these fun spaces you may have coffee stations, wine bar areas, full ice makers, refrigerator drawers, extra counter space and a unique way to display some of your individual treasures."
Colors: Choose warmer neutrals for the win. "The cool grays still exist for some; however, I think most are done with the gray days. Not to say that it's not relevant or won't return in another cycle of trends — the leaders in fashion and furniture are the ones who guide us on what is popular and trending, and we have a choice to follow or not," she says.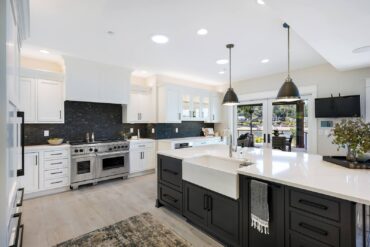 Main wall color choices desire to be light and bright overall. "Accents in paint are still not a thing, so fun, bold or textural wallcoverings have been my go-to accent wall for many years," she says.
Countersurfaces: Quartz seems to still be in the lead after many years. "All manufacturers have joined in on the quartz bandwagon and are benefitting due to the high demand," Brooks says.
Polished finishes tend to be easier to maintain but most people prefer honed finishes. Sometimes looks outweigh the amount of maintenance, while this varies from person to person. Another very desirable countertop selection is quartzite, a natural stone with stunning patterns and color, although on the higher end.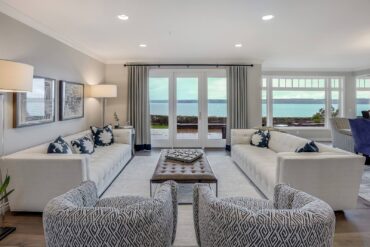 Kitchen features: Not necessarily new, but features cycling through again include open shelving, which gives the space a little reprieve from feeling too enclosed and boxed in. Hidden outlets, hands-free faucets, cabinet organizers and a large single basin sink are a few of the top requests from her clients.
Fabrics: Durable yet comfortable and desirable to touch fabrics seem to fit the bill for seating pieces, with soft and cozy accents and textural cable-knit soft goods for more of the visual finishing touch.
Floor coverings: With most people having dogs or kids, the top request in flooring throughout the home is durability. "The other common scenario are waterfront homes specifically seeking a product that is waterproof and will withstand that sort of outdoor foot traffic," Brooks says. "I am sure we are all well aware of LVP (luxury vinyl plank). Years later, it still remains the No. 1 request. You can achieve the look and warmth of wood without sacrificing scratching and marring up your solid wood floor."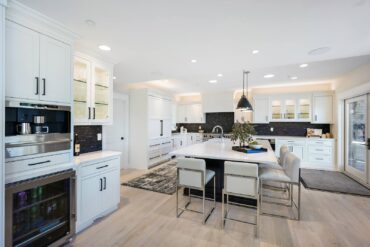 Furniture: Clean lines, comfortable sitting, mix of leather and upholstery, caning and organic materials, midcentury style (although not right for everyone). Swivel chairs, ottomans and deep large sofas with plenty of space to lounge.
Lighting: Very few actual hanging light fixtures and mostly recessed can lighting seem to be the way to go. "The light fixtures that are used tend to be thought out in function, form and look," she says. "We refer to these pieces as 'the jewelry.' Larger-scale pendant lighting has also become desirable over the original small-scaled pendants hanging over your kitchen island."
Finishes: Black fixtures are trending but Brooks thinks of them as classic. Chrome and brushed nickel still remain safe and timeless options for those who prefer less risky options. "The classic French brass is scary to most, but they want a splash of it somewhere in their home, whether it be a faucet in the powder room, cabinet hardware in the kitchen or a light fixture," she adds.
Windows and doors: Without a doubt, black-on-black (exterior/interior), as well as a split between a white interior, black interior or wood-clad interior window package — it really depends on the overall style and look of each home.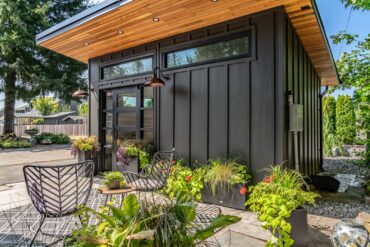 Window treatments: This really is based on the home and what your needs are in terms of privacy, which way the house is facing and if you're getting morning or afternoon sun. "Solar shades are a great option for view and waterfront homes," she says. "Wood or faux wood blinds or shutters also provide a nice look and feel."
Green options: The only green things Brooks' clients tend to be interested in are related to heating, cooling and the construction process rather than aesthetics. Solar panels are also something they tend to inquire about.
Natural materials: Wood, stone and raw organic textiles will always find a place in design. Rattan and bamboo also find their way into the design world — all you need is a touch of it here and there to achieve the organic vibe.
Brooks' recommendation to homeowners is to ask for advice from local installers, product representatives, contractors, interior designers and showroom professionals who are carrying and selling the materials and products. "I often go back to a client once the project is complete and they have had time to live in the home, and ask what if anything would they change or do differently. I think the best person to know is the one who has experience with it," she says. "With some of that feedback, I may change my suggestion for the next client."
---
Cheryl Bloom
Bloom Design Group
Seabeck • 360-571-1377
bloomdesigngroup.com
cheryl@bloomdesigngroup.com
Bloom Design Group was founded upon the idea that your space should speak your language, not ours. Creating homes that are more personal than perfect and more loved than simply lived in offices that reveal core branding and attract the right target market. Cheryl Bloom is an award-winning, trained expert in interior planning and a Certified Aging-in-Place Specialist (CAPS) whose talents have earned a reputation within her industry for innovative design in both residential and commercial projects.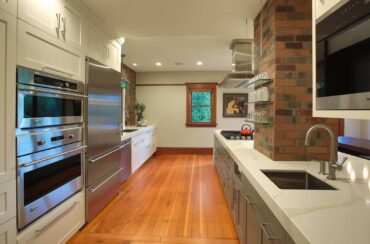 Cheryl Bloom says that many of her clients want to turn their homes into more multifunctioning spaces or want to expand their footprint to accommodate their family needs so they can stay in their home for the long haul. "We also see more newly empty nesters who desire to reframe the function and flow of their home to suit their current and long-term needs, rather than leaving the home they raised their family in to downsize," she says.
Colors: Bloom recommends bringing a festive touch to a room that will look classic all year long. "We are loving an emerald-hued piece used somewhere in the design," she says. "Bold and earthy, the rich-green jewel tone can make a colorful statement while ushering forest vibes into a space. We design with the surrounding nature in mind, so the forest colors are important to the overall scheme, if even in small amounts." She adds that classic and timeless colors prevail for a very long time, without the fear of trending out in a few years.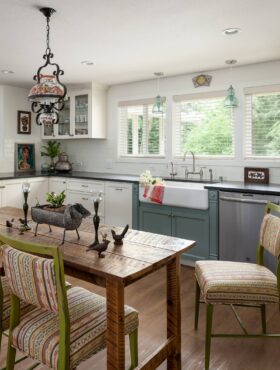 Countersurfaces: Bloom says her clients look for durability but with an earthy, natural appeal. She often recommends products that work from indoors to outdoors because the outdoor kitchen has become very important in today's work-and-play-at-home world. "Living in the Pacific Northwest, we want to be outdoors as often as we can, weather permitting, and using a countertop material in the outdoor kitchen that will withstand our environment yet communicate and translate to the main interior kitchen is a principal rule for us. There are only a few products that can bridge that gap," she says.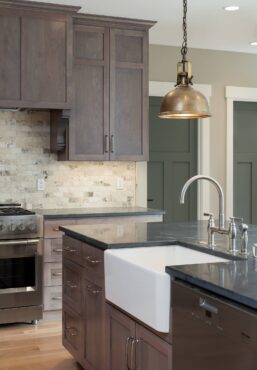 Kitchen features: She recommends large-capacity refrigerators, such as a 60- to 65-inch, side-by-side freezer/refrigerator. "We all want to shop fewer times and keep a larger stock of supplies on hand, and these refrigerators handle that requirement," she says. Selecting the appliance package early in the planning stage is crucial — it is an important part of the planning.
Fabrics: Patterned fabrics and wallcovering are moving to the forefront. "Pattern can be scary, so we start with choosing a design that really excites our clients, in a simple colorway that pulls together with the main piece in the room. A room can be completely transformed with patterned wallpaper, a wall of drapes or even a couple of custom-made pillows," she says.
Floor coverings: Bloom has seen a renewed interest in high-quality, low-pile carpeting for the private areas of the home. And — if the project calls for it — hardwood is often considered for the main living areas. "The use of a natural material such as hardwood flooring just can't be reproduced in quality and character, which adds so much depth and history to a home. It really is the only way to get the perfect foundation for a home's interior and it has a much higher acoustic value than the more common luxury vinyl planks (LVP) that are so commonly being used," she notes. If chosen correctly for the use, hardwoods can be quite durable and are most visually and acoustically appealing.
Furniture: There's been an enormous surge of online furniture ordering in the last 18 months and buyers are finding themselves surprised and dismayed by the lack of quality in the furniture they are receiving. "Weird product sizing that is uncomfortable to sit in, 'wood' that is questionably wood and bad finishes are leaving people frustrated in the online ordering process," Bloom says. "People will want to continue to order furniture online but want assurance that they will receive what they expect."
Lighting: Lighting at eye level is much more flattering than harsh lighting coming from the ceiling in can or pot lights. Flattering light is on eye level with lamps and filtered with shades. "Layered lighting from several sources including lamps with shades, sconces and task lights will give you several options to light the room to perfection — whether the goal is to wind down, entertain or have a family game night," she says.
Finishes: A finish is prevalent when it suits the situation, Bloom explains. "We never follow the trends but rather look for finishes that work with the environment of the home, its surroundings and the owner's enjoyment. It's important to bring the outdoors into our living spaces, and one way to do that is elementally: iron, bronze, brass, metal, marble, slate, concrete etc.," she says. A mix of materials brings about a classic unity that stands the test of time and will be relevant for years to come.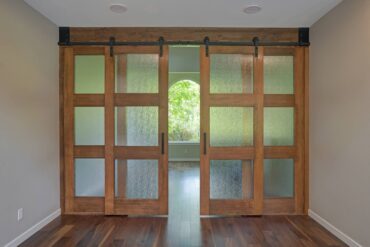 Windows and doors: Every home calls for its own window and door style and they're instrumental in setting the stage in the design of the home. "We are seeing an interest in folding-style glass doors and windows with a goal of enlarging the interior to include the exterior deck or patio," she says. "We also have designed interior doors with upleveled character, which divide large, open spaces to make more intimate areas."
Window treatments: Each situation has its own requirements for window coverings and is always based upon location, privacy and exposure. "Frequently, we are using sheers as a simple softening of a space while still allowing light through to the inside. Other times, we use window treatments in unexpected places, like a kitchen eating nook," Bloom says.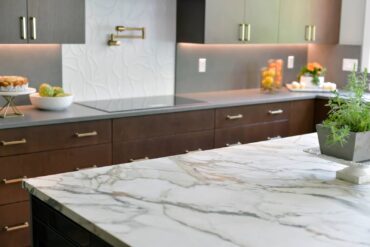 Green options: Bloom recommends choosing biophilia materials that improve quality of life and enhance healing, recovery and cognitive improvement. She's always watching for materials that do no harm so they contribute to the homeowner's well-being and the health of our environment. "Fortunately, there are more choices than ever available," she says.
Natural materials: She prefers wood, rattan, bamboo, cork and natural fibers if they work in the specific home. "Sometimes they won't, so we reach for materials that nod to the natural. High-durability cement tiles continue to be popular and can have longevity if chosen correctly for the space," she says.
If you're planning a remodel or new build, Bloom recommends seeking to work with a professional who has the experience that aligns with your goals and dreams. Check with the Kitsap Building Association to find those professionals (kitsapbuilds.com).
---
Natalie Collins Shaw
Kitsap Kitchen & Bath Co.
Poulsbo • 360-697-5616
kitsapkitchenandbath.com
Natalie Collins Shaw was born and raised on Bainbridge Island and has known her path in the kitchen and bath industry from a very young age. Growing up on jobsites with her father, Jim Collins, who was a custom home builder in the Kitsap area, made her fall in love with not only the beautiful finished products, but every phase of the project and everyone involved to make the client's dreams become a reality. Shaw has been working at Kitsap Kitchen & Bath Co., her family business, since 2015 and is the company's lead designer. Whether the project is big or small, balancing aesthetically pleasing elements with functionality is the key to good design. Her style stems around timeless design, creating a look that will last decades. Her goal is to provide each and every one of her clients with an experience that is comfortable, energizing and ultimately a newfound love for their home.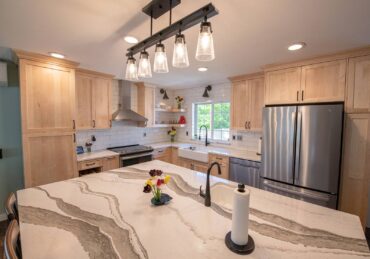 Natalie Collins Shaw says the biggest trends for 2022 include painted cabinetry, light- and medium-toned wood furniture and accents, simplistic lines, earthy paint tones, texture walls and natural materials.
Colors: Sage green has been really appealing to the masses as of late and the blues with a dash of teal have also been quite desirable.
Countersurfaces: America's Cambria Quartz will always hold a top position in the countertop game, but Shaw has had her eye on many of the porcelain options available as well. "There are some fabulous designs and color palettes," she says.
Kitchen features: Larger, workstation-style sinks complete with all sorts of highly functional accessories: cutting boards, colanders, soaking bins, drying racks — and even the addition of a second faucet.
Fabrics: Moving to the forefront are wools and linens — warm, inviting and natural.
Floor coverings: She's still a huge fan of the luxury vinyl tiles and planks. There's quite a selection when it comes to natural stone, concrete or wood looks, and it's durable and cost-effective.
Furniture: Second-hand or recycled furniture that is either perfectly distressed or refurbished, depending on the style at hand, offers both detail and texture.
Lighting: Many of Shaw's clients are opting for a vanity halo mirror rather than the traditional light overhead or even wall sconces. "It really cleans up and simplifies the vanity area while providing all the necessary light you need to get ready for the day," she says.
Windows and doors: The most desired doors seem to be classic paneled shaker doors (three or five panels) but the crittall style also has swept the industry with its comeback for windows and doors. "We see the crittall style also used as room dividers and shower screens," she says. "It's become very desirable as it provides a sleek and sturdy profile that fits well with an edgy industrial style."
Green options: While not new, reusing and upcycling are seriously trending. Many homeowners want to take old vintage pieces and bring new life to them. "I believe we will see an increase in upcycling over the next decade, with the focus on reducing waste and sustainability," Shaw says.
Natural materials: Lots of use with warmer elements: natural pebbles, wood accents and beams, wool, rattan furniture and linens. These are beautiful and comfortable and age well.
Her advice is to seek out information from associations such as local Home Builders or National Kitchen and Bath chapters. "Those professionals are dedicated to continuing their education and being up to date on the latest industry information," she says. "They will most certainly provide you with solid advice."
---
Nancy Finneson
DeMane DESIGN, LLC
Gig Harbor • 253-973-8442
demanedesign.com
nancy@demanedesign.com
Nancy Finneson, AKBD, CAPS, CLIPP, Allied ASID, is an award-winning interior designer and kitchen and bath designer. She attended the Art Institute of Chicago and later received a degree in interior design. She is a certified associate kitchen and bath designer with the National Kitchen & Bath Association, a certified aging in place specialist, certified living in place professional and an allied member of the American Society of Interior Designers. After spending many years in the San Francisco Bay area, Finneson now makes her home on the beautiful Puget Sound. She loves working with people and enriching their lives by helping create spaces that inspire, entertain and function brilliantly. One of her favorite projects has been adopting and creating a room for the new YMCA domestic violence shelter in Tacoma. Recently she was honored with three first-place and one second-place awards for design from the prestigious American Society of Interior Designers.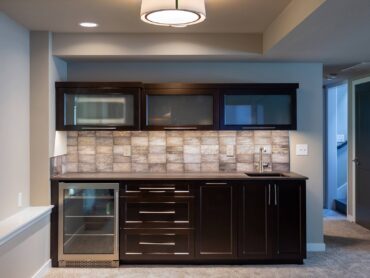 Photography courtesy Tammy Dwight Photography
Nancy Finneson says that the challenge of designing the modern home has evolved. The large mini-mansions are few and far between and homeowners consider how much space they really need and want rather than being wasteful or extravert at environment's expense.
"The balance is a happy medium that I discuss with clients and requires creative design solutions," she says. "Our homes are a place to rest, entertain and handle our daily activities. The design needs to include space for work and inspirations."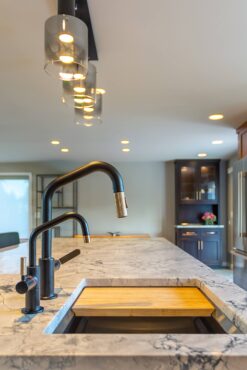 This year is about geometric balance and not overdoing it. "We are on overload; patterns in design are everywhere: tiles, wallpaper, flooring, fixtures, bedding, dishware and more," she says. "Be strategic and selective on how much works in a room."
Colors: A splash of paint can make or break a room. Color forecasts for 2022 range from soothing to bold. For a soothing look, she recommends trying Benjamin Moore Crystalline (AF-485) and First Light (2102-70), and Sherwin Williams Misty (SW-6232). More dramatic hues are Sherwin Williams' rich Granite Peak (SW-6250) and Benjamin Moore's Cushing Green (HC-125).
"Most of my clients gravitate toward neutral palettes for walls, seeking out color with accents such as pillows, window treatments and accessories," she says. "To offset quiet paint colors, highlight with a different color — think shades of charcoal, deep blues or greens. If you're not afraid of color, give it an edge with deep tones; they can give a cozy secure feel to a room."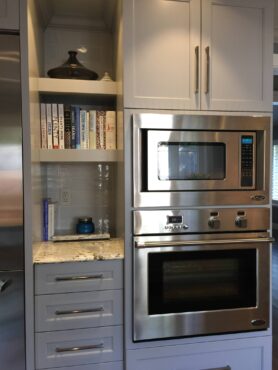 Countersurfaces: Engineered quartz is still the preferred countertop material over granite and stone. Many engineered quartz options mimic natural veining seen organically in certain marbles and granites. Veining patterns are dominating the market and will continue next year. They range from striking dramatic to subtle, most often in whites with veining in gray, tan or black. For a more dramatic look, white veining on black is also popular.
"Don't rule out natural stones to consider," Finneson adds. "I'm excited to see that quartzite, a natural stone that's harder than granite, is available. It has a natural beauty and depth, but don't confuse it with manufactured quartz surfacing or marble." Another countertop surface made by Mother Nature that's growing popular is soapstone, which has a nice feel and is naturally heat-resistant and chemical-free.
"When selecting, no matter what material you use, always try to see a full-size slab; small 4-by-4 samples don't always represent what your countertop may look like," Finneson recommends.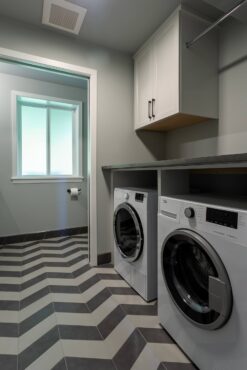 Kitchen features: Function and fabulous go hand in hand. Consumers are eating and cooking at home more than ever, and everything needs to be very organized and accessible.
Built-in coffee and espresso machines that are plumbed for water are very popular. Steam ovens are also becoming more common for everyday cooking. Drawers have spices lined up and visible with double slide-outs. Knives can be displayed on a magnetic strip, in drawers in a slotted divider or in a knife block pull-out. If you're a baker, put your mixer on a pop-up. When it's not in use, it's tucked away.
"With all the small appliances available now, counters can become cluttered. The solution is to keep them handy, but out of sight in an appliance garage or in a scullery pantry," Finneson says. "Open shelving has been popular and will continue next year. Items are easy to grab and they allow you to show off pretty dishes, glassware or decorative favorites."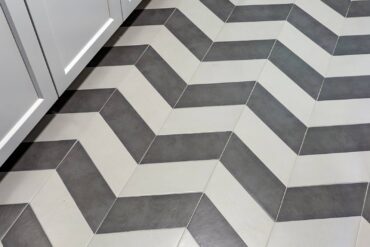 Fabrics: Textures in fabrics with a focus on velvet and boucle are coming in 2022. Boucle is not flat but instead is a raised curled or looped yarn. "Many may associate the fabric with Coco Chanel's iconic boucle tweet jacket. However, 2022 will update that look with new colorways and uses," she says.
Velvets and velvet textures in living room on sofas and in the bedroom with bedding are trendy. Velvets are vibrant in blues, burnt orange and shades of taupe.
Wall coverings have made a comeback with great textures and bold patterns, and options are endless and amazing. Three-dimensional wall coverings are seen across the globe with detailed patterns in bold colors. "There are the classic materials like grass cloth, but now they are stained it lovely colorways like deep blue or pewter," Finneson says.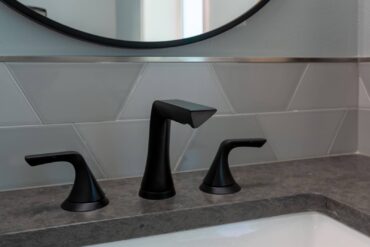 Floor coverings: Finneson looks for flooring trends that she believes will have longevity in the marketplace. Elongated planks made a big splash a few years back and are here to stay. For a comfortable presentation with wood, go with 6- to 8-inch-wide and 24- to 48-inch-long planking.
Matte and satin have replaced high-gloss finishes. "With color directions, we are extreme these days — dark floors have become less popular and light flooring is in," Finneson says. "The gray tones are in their own grouping, still on trend and widespread."
Lighter woods, with wide planks, tend to make a room feel larger and more open and casual. Darker woods, on the other hand, make a space feel more traditional and formal. "In both cases, it all depends how you dress the space with furnishings and the architecture of a home," she says.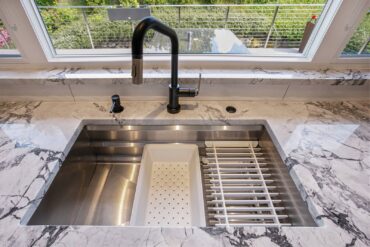 Patterns in flooring is a huge hit. Chevron and herringbone patterns are similar, with the latter being less expensive to install. Laying flooring in diagonally will modernize your home, but does cost a bit more with material and labor. Wire-brushed and distressed finishes are also current. They have the benefit that they don't show dust and dirt as readily as a flat finish, making it popular for busy lifestyles.
Carpets and area rugs with character are still strong in the design corner. "Character is the key. Think bold patterns, not necessarily bold colors," Finneson advises.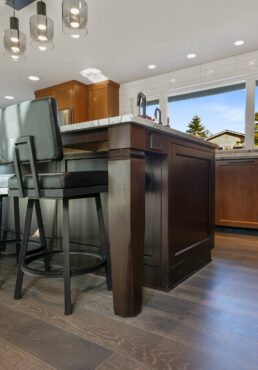 Low-pile heights are popular as they're easier to clean and you don't see marks when moving furniture such as dining chairs. Statement area rugs set the tone for the home. "Size matters, so make sure the carpet fits the area you want to place it in — bigger is always better," she advises. "A carefully selected carpet will add luxury and is an investment to be enjoyed."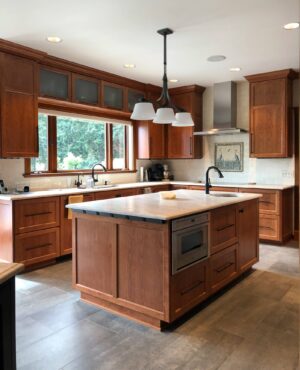 Furniture: Grouped sets of furniture are out. If you want a space to look curated and unique, make sure you blend new with old and introduce different styles that complement each other. The key is to not be afraid.
In the bedroom, four-poster and canopy beds are coming back, but more modern and simpler with slender framing. Large artwork and mirrors are also everywhere. For a relaxed look, lean it against the wall or a mantel. Black-and-white photography is timeless and accents well with any paint color.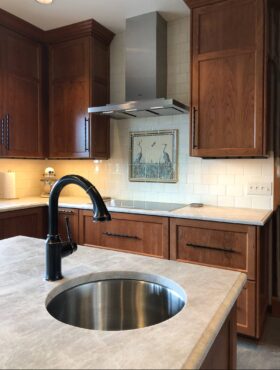 Lighting: Lighting can be dramatic or simple, and pieces add aesthetic to a room but also draw attention to certain elements. Choose bold lighting and make it the focus of a room, Finneson suggests.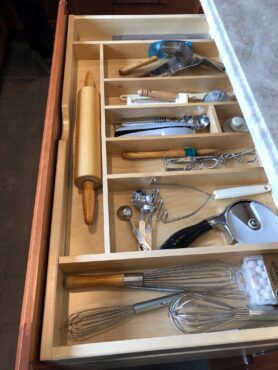 This year, pendants and chandeliers in organic and geometric shapes are present. Geometric shapes have a modern flare with circles, spheres and squares in glass or framed in metals. Organics can look like hand-blown droplets of water in varied sizes and color.
Shade materials are going natural with burlap, basket weaves and tree bark. Sconces with swing arms are also proving useful and add style in bedrooms, casual rooms and kitchen nooks where directional lighting is a plus. Recessed lighting is still a favorite because of its diversity of function. It can accent art or illuminate a room with a minimalistic look that is uncluttered.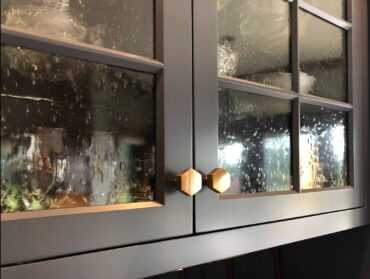 "The use of a combination of lighting — natural, ambient, task, accent and task lighting — make a space livable, comfortable and pleasing to be in," Finneson says. "Avoid using a single ceiling light. Instead, combine recessed cans, cove lighting close to the room's edge or table lamps."
Light strips, most commonly used as undercabinet lighting in kitchens, are moving to the rest of the home, inside and out. "We see it in toe kicks, under wall-hung cabinetry (like a vanity in a bath), the edge of countertops, steps on a staircase, in bookcases and shelving, cove ceiling moldings, incorporated in the railing on decks and interiors. These are just a few locations and uses explored with lighting strips. All offer functional and decorative elements," she says.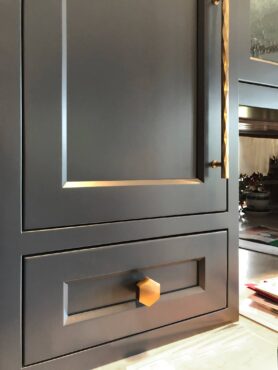 Finishes: In metals, gold tones are trending — not brassy gold, but brushed and refined. For example, gold hardware can accent well with most wood tones and is wonderful with painted hues of blue, charcoal and black. Black as an accent color in hardware and fixtures is very much a part of the new standard. It can accent cabinets and tile wonderfully as long as you don't overdo it.
Windows and doors: Let the light in with windows, doors and skylights, Finneson advises. "Any space where you can add natural light makes Northwesterners with our gray days happy and joyful," she says.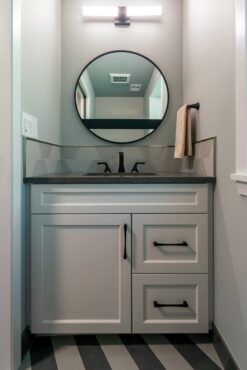 In kitchens, many are forging wall cabinets and replacing them with windows. The lost storage is replaced with better, more accessible and organized storage.
Skylights and light tunnels are high on desired home improvements. They can also make a small space feel larger and not closed-in, and give ventilation without compromising privacy. They're being added in entries, hallways, small bathrooms, stairwells, offices — the list is endless. "One consideration with skylights is determining if you may require a shade. If so, I advise you do it at installation," she says.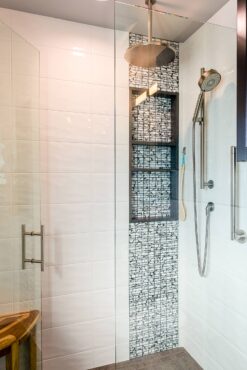 The barn-style door is still being embraced in remodeling today. It can be used in many places — closets, bedrooms, pantries — and to divide spaces like the dining room from a family room. Door hardware ranges from modern to rustic. The door panels range just as much as hardware styles, with decorative panels such as carved wood or metal grillwork. If used in a space that would enjoy light, defused glass panels work well.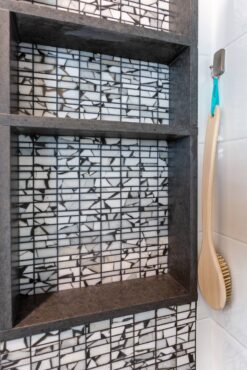 Window treatments: This year, window treatments are all about motorization. Technology with the ability to raise and lower shades, blinds and drapes through a remote, your phone or tablet is here to stay. Power can be supplied with batteries. But if you're remodeling, talk about the option of shades in the planning stage as hard-wired power is most efficient. Child-safe products is not a trend, but each year there are more cordless offerings to keep children safe.
Green options: Leather floor tiles can be very green and some manufacturers are making them with leftover scraps from furniture and shoes retrieved from tanneries. Bio-glass, another green product, is 100 percent postconsumer-recycled glass made into countertops. Coco decorative tiles, new to the market, are made from the leftover coco bean shells.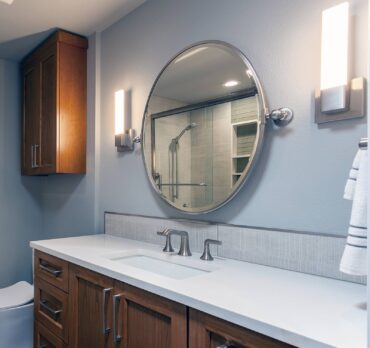 "Homeowners are more aware of the environment and willing to take the extra step to ensure how they live reflects their beliefs," Finneson says. "We now can recycle in style in the kitchen. There are many recycling centers/drawers that pull out with the touch of your knee or finger, allowing for easy access. Composting kitchen waste can now be directly swept away into a recessed sealed bin in your countertop."
Natural materials: The trend for natural materials is found objects: rocks, driftwood, shells and sand from the beach or a lake. Tree branches, pressed flowers, pine combs and berry pods are used more in displays, arrangements and table settings. Rattan and woven grasses are all the rage and are appearing in furniture, lighting and basketry.
More natural woods and shapes are used in furniture — like a branch/log table base. Basketry and wicker are fresh and alive, and it's not painted white as in the past. Bamboo, which is a quickly renewable resource, is being used more in fabrics, especially linens and towels. It can be amazingly refined and soft when processed.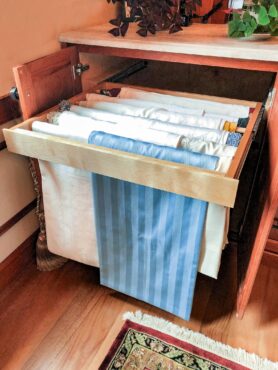 Finneson recommends creating "a sense of place" when you're working on your project. "Determine what makes you feel good when you walk into a space — for example, what excites you in terms of color — then try to incorporate it in small doses throughout your home, giving it a connected flow," she says. Another tip is to pay attention to scale in regards to furniture.
Make your space cohesive. Collect pieces that complement each other without being "matchy" and don't be afraid to pare a modern sofa with a vintage table to create some variety. "Less is more. A cluttered space doesn't generate calm," she says. "Be selective with what you display. Layer contrasts with texture in a room. Look at things not just by color or size, but by how they feel (rough and soft)."
Accent pillows in a variety of fabrics and shades can add depth to a room. Consider using different materials such as metals, wood, glass, woven goods or soft fabrics.
Finneson also recommends seeking assistance, collaborating with a designer to make your design dreams come to reality.