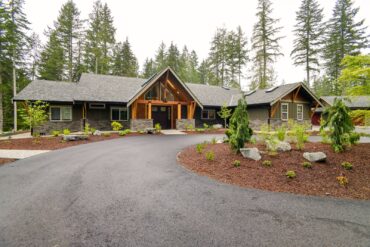 When is a dream home not a dream home? This sounds like a rhetorical question but in the case of Bob and Heyjin Disney, it's relevant. Their company, Disney and Associates, builds approximately 25 luxurious, semicustom houses a year. So for Bob Disney, this project could be another day at the office. But perhaps the truth is, as a culmination of his extensive experience, their house comes with a dream-home pedigree.
Disney took an early retirement from Boeing when his division moved to St. Louis. As a single dad, he moved to Kitsap and its wonderful environment to raise his three growing kids. Meanwhile, he tried his hand at whatever came along as he waited for his new path to appear.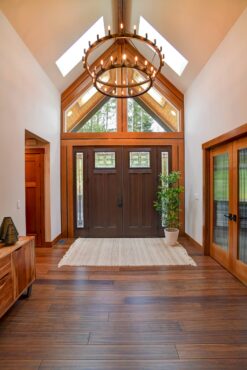 At one point, Disney was hired to remodel and sell houses, known as flipping houses. This construction experience inspired him to buy properties and work for himself. Bought during the economic distress of 2008, a few properties were more about the land than the residences on them, which lead him to developing communities. This evolving focus of his company was far more complex than simply remodeling homes in terms of permits and financing, which take a while to coordinate.
During that lengthy phase, previous owners lived in the home until he and they were ready to move forward. Partnering with people and working together furthered Disney's driving desire to be a catalyst for people and the community. To his delight, his emerging path encompassed both.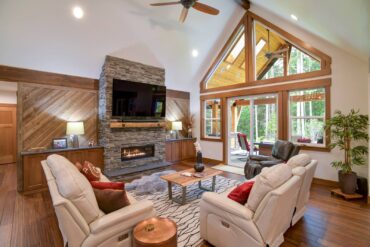 Bob and Heyjin Disney have what romantic comedies call a "cute meet" story.
Heyjin was dressed up for a party on a pontoon boat out on Long Lake. The small craft that delivered her to the pontoon headed back toward shore before she was fully aboard the floating boat. She landed in the lake, unnoticed by other guests, and had to make her way around the bulbous pontoons to a ladder. Dragging herself aboard, she didn't make the party entrance she had imagined.
She was mad (wait for it) as a wet hen. Bob owned the boat and as such, became the focus of her indignation. Overcoming their splashy beginning took finesse but his charm and perseverance — and her sense of fair play — led to courtship and marriage.
The new couple moved into the 6,000-square-foot home that Disney built, alone, in the broadest sense of that statement. Beyond remodeling an existing building, he took on site prep, foundation, framing, wiring, plumbing, drywall, finishing. He did it all — without a single subcontractor. This was an in-depth, hands-on building experience. His solitary efforts were recognized by friends who came to check out the home's progress. Impressed by Disney's detailed work, some asked him to do work for them.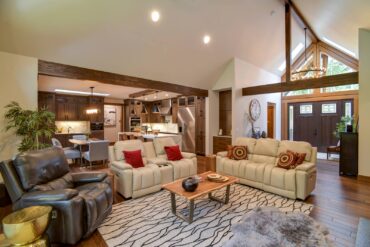 Between the five-year permitting process, creating a business so he could work for others and the building process, the home took seven years to finish. By then, the couple were married and although their blended family has five children with three out on their own, they and their preteens didn't need that much house.
Disney, in a rather romantic comment, says he built this home for his wife. Heyjin, who is petite and demure, can hold her own when necessary. Her main interest was a smaller home. Maybe 2,000 square feet. He said no, 4,000 square feet. They settled on 3,000.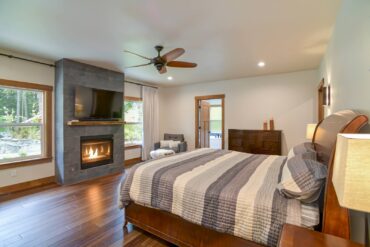 But the sloping land led Disney to the idea of a full basement, bringing the house to 6,000 square feet — back to the size of the home they were moving out of. His wife wouldn't have it. Who knows, she may have played the "but-you-are-building-this-home-for-me" card. Disney settled back down to 3,000 square feet.
Any couple who has built a home or done an extensive remodel knows that in all good bargains, everyone must come out feeling like a winner. Disney's win came in the form of a separate garage — and not just any garage. It's an enormous, gigantic garage for his car collection, which he himself maintains and happily drives daily. This inludes a 1931 Model A, a 1965 Mustang, a Firebird TransAm, Chevy Camaros and Lotus.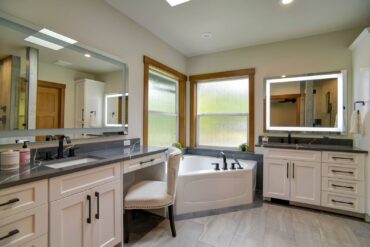 Heyjin Disney approved the home's floor plan and picked the beautiful finishes. A highlight is the deep, rich, warm and wonderful, fossilized bamboo flooring, a foundation for the honey wood trim with black metal reveals and creamy walls. Diagonal barnwood abuts the horizontal rocks of the fireplace, with cracked-edge, granite-topped cabinetry flanking the sides. A rough, square timber from a 200-year-old barn forms the mantle. In the home office, a coffered wood ceiling has a black metal reveal that makes it appear quite deep. Square inset lights twinkle in each section.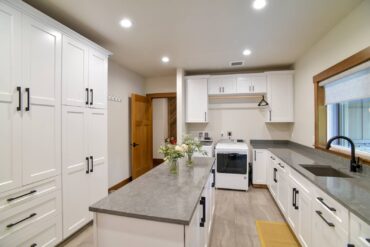 Heyjin also wanted to walk directly onto the back patio and yard with no steps and she wanted a walkway around the entire house. Both requests were fulfilled. Check and check.
She selected Miele appliances for the kitchen. The side-by-side freezer and refrigerator are two separate units with their own compressors, and a mere touch opens their doors. The ceramic stovetop uses induction to boil water in 30 seconds. In addition to a wall oven and warming drawer, there is a steam oven that does everything a microwave and air fryer does.
Miele in Seattle offers a full-day training by chefs cooking on these appliances and the couple look forward to attending it when pandemic restrictions lift. Until they are trained on the steam oven, a lone, sad microwave sits on the counter. Disney chose a built-in espresso machine that does everything: heats water, grinds the beans, steams, pours and rinses itself. The only thing it doesn't do is walk the finished drink to him.
The master bedroom is outfitted for relaxation. A fireplace flickers and the waterfall off the patio splashes its refreshing sound. Windows overlook an expansive lawn, the gazebo and an evergreen forest of deep shadows. The paraphernalia of a closet is hidden behind floor-to-ceiling lighted wardrobe doors in the dressing area. Tres elegant.
The bathroom is as luxurious as they come. Two useful features are magnetic faucet handles that pop off for cleaning and the shower floor that is heated so it dries out moisture, killing any possibility of mold in the grout.
Deep eaves on the patio protect two seating areas. Both have quartz heaters at hand and one gathers around a fire table with a pop-up, big-screen television and weather screens for protection. A large gazebo sits near the forest's edge, waiting for summer entertainment. The Disneys moved to their beautiful home in November 2020 and the gardens of native vegetation installed in the summer of 2021 are set to fill in and soften the waterfalls, patio and drive.
Now that they have downsized and settled into the home, Heyjin, who retired from Fred Meyer's accounting department, has joined Disney and Co. Their daughter, May, shadowed Bob for a few years, learning the construction industry inside out and now is the chief financial officer. In other words, Heyjin will be working for her daughter.
During the day, this team builds dream homes for others. But as we all know, there's no place like home. Especially when it's your dream home.