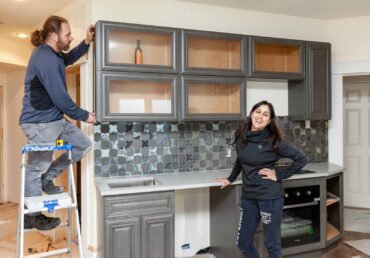 Sitting on nearly 300 feet of Fox Island beach waterfront, a large, bright, gracious home awaits its new inhabitants. Built in 2001, the home underwent a total renovation that was completed this year. The sprawling, three-level home is over 5,000 square feet and opens to the light on each floor, bringing a sense of airy peacefulness into each room.
Monica Gujral and Terrence Wallace are the artist, designer and renovator team behind the project. Not only have they redesigned the home from the ground up, but they have done nearly all of the work of the renovation with their own hands.
"Monica comes up with the ideas, works them into the overall design, and I try to make them happen," Wallace said.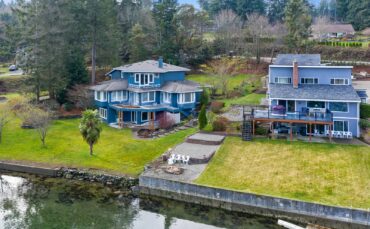 Gujral is the youngest of four daughters and her parents emigrated to California from India by way of Canada just before she was born. She dreamed of becoming an actress but instead became a professional dancer. As a teenager, she was featured as a longtime regular on American Bandstand.
Wallace is one of 12 children raised in Iowa and grew up learning how to do "just about everything." He went from trade to trade working with his hands and eventually served as an Army Ranger. A love of music also took him into the entertainment industry, where he joined a band and traveled around the country.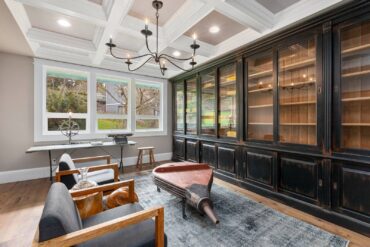 The pair began their journey into home renovation while working in southern California. Their first project was a 1,900-square-foot loft in Long Beach, California, built in 1928.
Gujral's father was an architect, so she may have home design in her genes.
"She just has a knack," said Wallace of Gujral's talents and insights.
Wallace was working at the time as a project manager for a large builder and understood the "order of things."
"I always loved the hands-on work the best," he said.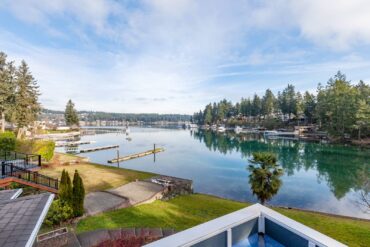 The pair worked on the loft evenings and weekends while keeping their day jobs, and eventually moved into it. Gujral also took on the redesign of her insurance office space in California. When she was invited to manage an office in the Northgate area, they sold the loft and moved to the Pacific Northwest. They bought a residential property in Ballard, totally renovated it, sold it and decided they were ready to step into the renovation and restoration trade full time.
A self-described "real estate fanatic," Gujral said she is always shopping — looking for that perfect dream home. She also stays abreast of the trends in home decor, furnishings, appliances and surfaces.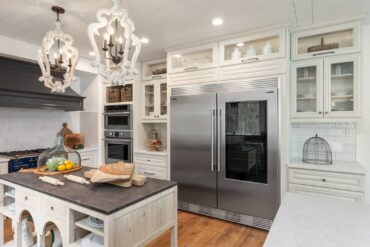 When they found the Fox Island house, they knew they could launch a project that would satisfy their ambitions and talents. The pair do almost all of the work themselves, from demolition to finishing, with the exception of those jobs that require permitted tradesmen, such as plumbing and electrical, or those requiring special skills and equipment, such as metal fabrication.
Wallace and Gujral acquired the home on Honeymoon Bay, not far from the Fox Island bridge, in February 2018. Studying the location, light, size of the rooms and possibilities as to how to reimagine the space, Gujral invented a story.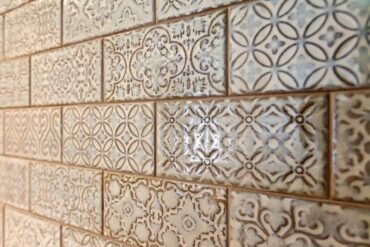 "I always conjure up a story about who might live in a space before we begin to work," she explains, "and in this case, I have imagined two separate scenarios. I can see a family with children playing on the beach or an executive couple who would enjoy entertaining guests and business acquaintances."
With these two scenarios in mind, she began to create spaces that would offer comfortable living, easy maintenance and long-lasting style.
Most of the home was taken down to the studs and a few walls were relocated to reconfigure spaces, but fireplaces were left and plumbed for gas. Fireplace facings were replaced for aesthetic purposes, bringing them up to date and to reflect the style of the home.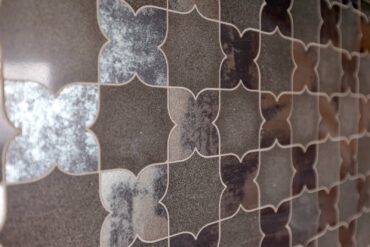 Large, double-paned windows on each level allow the natural light that reflects off the water to flood the rooms and bounce off the soft, white walls. Nine-foot ceilings throughout give the rooms an airy and spacious feel. As most rooms face the water, large windows offer an unobstructed view from the kitchen, dining and living areas and both master bedrooms.
A basically neutral color scheme is accented and enhanced where appropriate with shades of indigo and cobalt blues. The grand Italian range in the kitchen is dark blue, and the island counter is leathered blue stone, which makes it a true, cold-stone baker's island.
Imported solid mahogany vanities and storage cabinets, combined with polished stone countertops in the bathrooms, lend the feeling of timelessness. Embossed shower tiles in most of the bathrooms invoke a sense of ancient spas, while the multicolored tiles in the upstairs family bath are reminiscent of an Italian tapestry. Custom-designed, mahogany armoires and bookshelves that are permanent fixtures enhance other living spaces.
Designed for gracious living on every level, the thoughtful placement of rooms allows for ease of flow from one activity to another. The executive library on the main level is entered through double, 8-foot-high, glass-and-wood doors originally intended for an office building in Philadelphia. The wall-to-wall, ceiling-to-floor, built-in bookcase and storage wall was custom-designed for the space, which could also comfortably be used as an office, a study or "after dinner drinks" parlor. Wallace designed and built the library's coffered ceiling.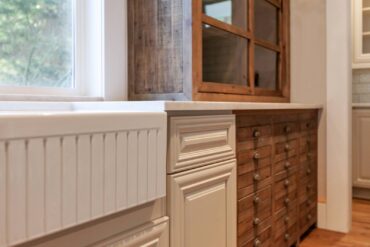 Each level of this imaginatively designed home holds creative surprises. A dumb waiter originates in the kitchen and has stations on each of the other two levels. Gujral's design on the glass access doors on each level mimic old elevator clockwork gears, with an arrow pointing toward a marker to indicate the appropriate level.
A windowless storage room below grade stays a cool 50-something degrees year-round, and has been converted to a wine vault. The barrel ceiling gives one the sense of actually being inside a barrel. There is even a chilling space below the cellar for beer kegs, should it be needed.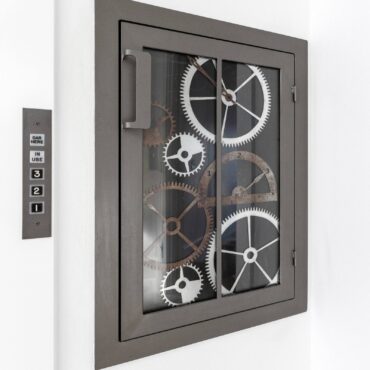 Another windowless room is intended to be used as a quiet room for yoga or music. Additionally, there is a home theater, wired for an overhead projector, complete with theater lights and blackout curtains.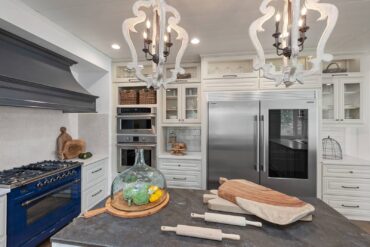 No detail has been forgotten in this beautifully planned home. An expansive butler's pantry is conveniently located behind the kitchen. A ground-floor side entrance opens into a mudroom complete with a raised dog bath that would be the envy of any pet owner. Even a sandy child could be happily rinsed off in this tiled tub.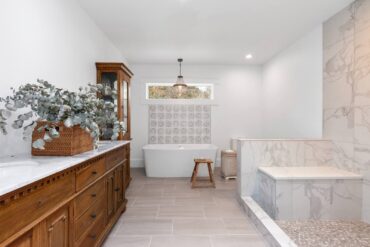 Adjacent to the mudroom is the laundry. A downstairs kitchen and party space opens out onto the lower patio located under the upper deck. And the upper deck has a waterproof floor that keeps the lower patio dry in inclement weather.
An interesting side note about this home is its geothermal-powered heating-and-cooling system. Because the system is so efficient, electric bills average less than $100 per month. Due to this nearly silent system and double-glazed windows that also open to the fresh air, this large home stays comfortable all year long.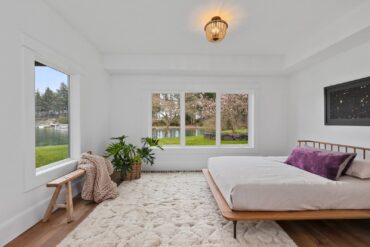 When Gujral and Wallace acquired the property, the exterior of the home was a tired white stucco with aqua trim. The front door was attached nearly at the top of the steps with very little overhang. Wallace removed the front wall, pushed the front door into the house by several feet and created a large porch that protects arriving guests from the weather.
They refaced the house with cedar shingle to give it a timeless Northwest air and added board-and-batten trim to areas on the back exterior. The addition of hefty wooden posts and a stone planter to the front of the house gave it a fresh, contemporary feel. Dark, wooden garage doors and deep-sky-blue paint updated the entire structure.
"It brings us great joy to be able to establish relationships with artisans and craftsmen who understand our philosophy and our love of quality workmanship," Gujral said.
Two such people are Lisbeth and Angel Arrece of Lisbeth's Porch. They are artisan woodworkers who built the innovative floating shelves in the kitchen and pantry. Another shout-out goes to Jeremy Loerch of Monkey Wrench Fabrication for his impeccable, high-quality workmanship on the steel railings throughout the home.
They also worked closely with Nicole Wakly, who owns Tree in Tacoma. Wakly and her staff staged the beautiful Fox Island home when the design/build team was ready to put it on the market. Every room is tastefully furnished with ecologically sound and artisan-crafted pieces, from rugs to beds to one-of-a-kind vintage accessories.