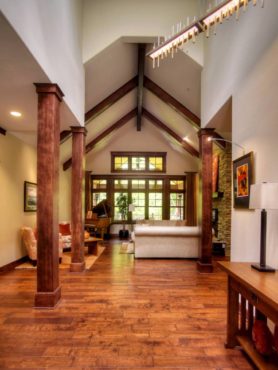 In 2006, the couple knew they needed a life change to a place where summertime enjoyment out of doors in the evening was possible. Visiting friends in Gig Harbor, they discovered a climate and community that attracted them, and eventually started making an annual trek to the area. As they became more and more interested in the area as a potential place to make a home, they began visiting builders' open houses and got a feel for housing styles and property prices.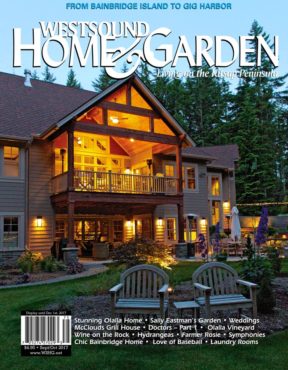 They visited a newly developed area near Olalla in 2008 and selected a secluded, 5-acre parcel on which to build their new home, and the design process began. Studying a dozen or so home-design books, they selected a couple of suitable floor plans.
A sister, Cheryl Beaver of Prairie Village, Kansas, is an architectural designer and was engaged to work on the plans. Knowing about the personal likes and dislikes of the pair, Beaver was able to toss in some aspects she knew they would appreciate and enjoy.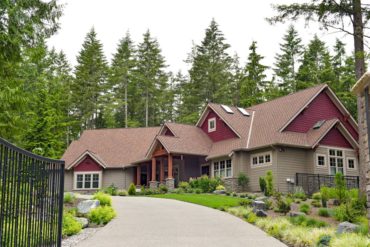 Finally, groundbreaking took place in April 2015 and the couple moved into their new home in May of 2016. Each of the two men retired from their respective jobs, sold a Bay Area home and moved their possessions into a rental in Gig Harbor.
Relocating about the same time the building was taking place afforded them an opportunity to be close at hand to oversee the building process, select finishes and make minor design changes as needed. Mike Paul Construction, Inc. of Gig Harbor executed the building process and proved to be an "excellent choice," according to the homeowners.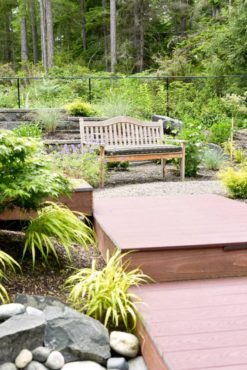 Having the design in place before relocating gave the couple the luxury of disposing before the move of those furniture and decor items they knew they would not use in their new home. Watching the process unfold also gave them the opportunity to shop locally and develop relationships with nurseries, landscape designers and furniture suppliers.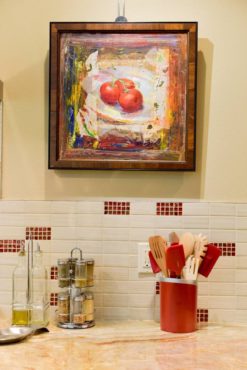 The overall design of the 4,850-square-foot house is a modified, modernized version of a Mission-style bungalow with beautiful Craftsman-style touches throughout. The front entrance welcomes visitors under a large portico, flanked on each side by a stone-footed post. Stone work by Masonry Associates of Belfair graces the front of the house as well as other interior and exterior surfaces.
After a visitor steps into the foyer, the eye is immediately drawn upward into the lofty, sky-lit ceiling, from which two elongated Hubbardton Forge lighting fixtures drop. The "compression and release" of the transition from lowered, or compressed, porch overhang into the release of the towering foyer ceiling nearly emits an "ahhhh" from the soul of the visitor. Architect Frank Lloyd Wright, whose intent was to offer a visceral transition between spaces, often used this effect.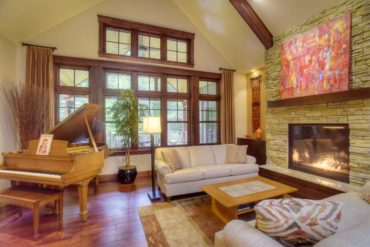 Adjoining the foyer and immediately to the left is an inviting dining room, complete with a niche that comfortably embraces the antique china cabinet. Popping a space into a wall for housing a large piece of furniture affords more space in the room without taking up additional floor. The couple love to entertain and designed the dining room to seat 10 in comfort.
An extensive art collection adorns the walls throughout the home. Accent colors throughout lean to warm tones of reds, oranges and yellows, offset by cool greens and lush neutrals. Striking artwork by San Francisco artist Dominique Caron serves as a focal point in many of the rooms. The couple thoughtfully installed custom art lighting in each room to highlight their large collection.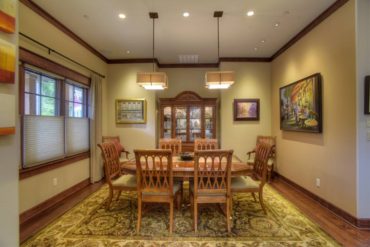 The living room provides seating for 10-12 guests and sports a lovely grand piano. The two linen sofas opposite the soaring, stone-faced fireplace appear to be a matched pair, but in fact one is newly purchased from Selden's Furnishings and the other was reupholstered to match.
A short hallway leads right from the join between foyer and living room to an office/library and then to the master suite, where a king-size bed takes center stage in the large room. The master bath, containing an oversized, jetted tub and double raised sinks, is warmly decorated in glass and stone tile. Showcase Cabinetry of Gig Harbor provided the richly dark, stained kitchen and bathroom cabinetry and built-ins, while GNL Construction of Gig Harbor installed matching millwork.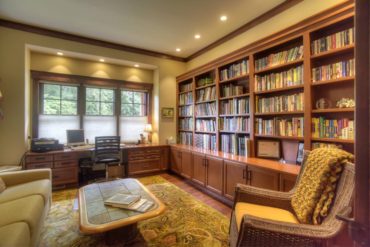 Transitioning from the living room and dining area into the kitchen provides a secondary "compression and release" experience. While the ceiling in the dining room is a standard 8 feet, the kitchen ceiling soars upward. Flanked by large windows, the kitchen and family room seating offer a lofty view overlooking the back of the property.
As cooking and entertaining friends is a major source of enjoyment for the couple, they designed a kitchen with multiple workstations and adequate storage for tableware, cookware and cookbooks.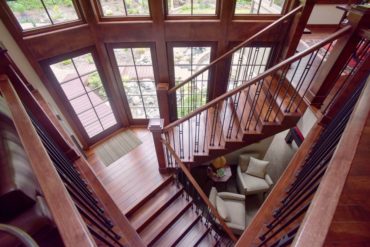 "Michael Northover [of Showcase Cabinetry] was genius at helping to customize and use the space to its best advantage," one of homeowners said. Tiny, red accent tiles in the backsplash accent the red swirl in the granite counters, while LED lighting under the cabinet toe-kicks can be controlled to change color at will. An outdoor dining area is adjacent.
A wide, open stairwell descends to the lower level and opens into a day-lit room containing a pool table and theater space, bar and mini-kitchen. Two additional en-suite bedrooms offer cozy and secluded accommodations for guests. There is a large wine cellar and an unfinished, neatly arranged storage area hidden behind double doors.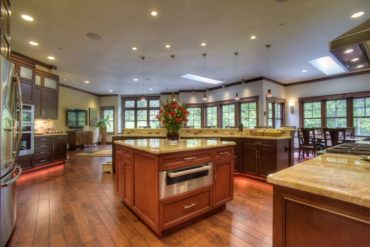 "The only thing bad about a lot of storage is that it encourages you to keep stuff," one of the men said.
As one steps out of the downstairs area at ground level, wide pathways lead up and around the bubbling water feature, through garden beds and to multiple seating areas. Reikow Landscape Design of Gig Harbor and Island Rock & Water of Fox Island installed the landscape and hardscape designs, respectively.
There are chairs and a sun-drenched, large dining table in one area, fire-pit seating in another and benches for taking a rest and contemplating nature. A gazebo offers seating under shelter to protect from sun or rain.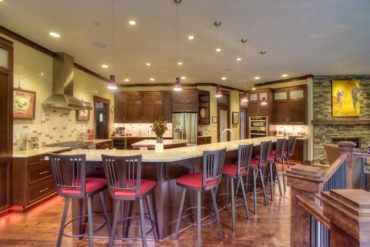 In planning the landscape and hardscape designs, the couple wanted to make sure there were plenty of spaces for guests and themselves to spread out and enjoy the outdoor spaces. One of the homeowners said, "We ate on the deck more times last summer than in all the years we lived in San Francisco."
The couple are enjoying their retirement in their lovely home and new community. Each has become involved in community affairs in his own way, and through organizations and other friends, they are building a social network of new friends with whom they share common interests.
When asked about retirement and relocating from their previous home, one said, "The only thing we miss are our friends, San Francisco restaurants and maybe a little shopping." His partner added, "Our retirement has been terrific. It's great if you have something to do."