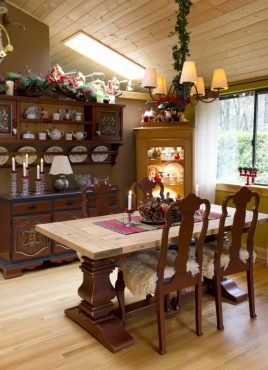 Laila Caspersen and John Hansen were each raised in families who had observed Norwegian traditions and cultural values for generations. When they met in college and discovered their similar backgrounds, it seemed natural to marry and continue those traditions. Their home is a reflection of their love and appreciation for their cultural history, abundant with handcrafted furniture and tasteful Scandinavian decor.
"I was raised in a traditional Norwegian home, and I knew it would not have worked for me to have married anyone who was not a part of that culture," Hansen said.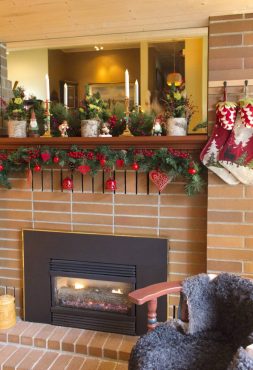 Laila Caspersen Hansen grew up in Wisconsin. Her father was an engineer who brought his wife to the United States, looking toward life in the land of opportunity. Eventually settling in the Northwest, Eva and Robert Caspersen found a beautiful place to live that reminded them of their homeland in Norway.
The elder Caspersens retained their cultural traditions and moral values, teaching their three daughters the arts, the skills and self-discipline they themselves practiced. Eva passed the age-old customs of knitting and hand-weaving and her love of music to Laila and her sisters, and each learned to play and perform traditional folk music.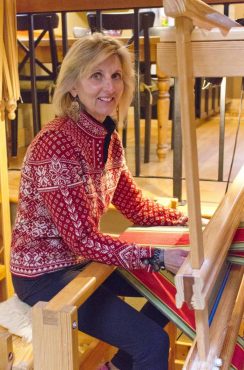 John Hansen's four grandparents immigrated from Norway. His parents met and married in Tacoma, where they lived and raised their family. Beatrice and Ralph Hansen also loved their heritage and imbued John with his love of Norwegian baked goods and appreciation for folk art.
Hansen now excels in Norwegian rosemaling, a style of painting used on furniture and other wooden home accessories. Nearly every direction one looks in this sweet home, the eyes may rest on a piece of his beautiful, tasteful handiwork.
Laila recognized her husband had an "amazing sense of design" and encouraged him to take a rosemaling class several years ago. Receiving great praise from his teacher for his natural talent in painting, the first project Hansen tackled was a large armoire, which now serves as a focal point for the living and dining rooms. He is essentially a self-taught folk artist who has discovered a satisfying, long-term hobby.
The Hansens have lived at the same Gig Harbor address for the past 33 years. Laila remembers being concerned with finding a home with a style and architecture that would lend it to their love of Scandinavian style and living. They have successfully transformed a small, semi-custom home into a charming, quaint, comfortable and interesting — but not outdated — space.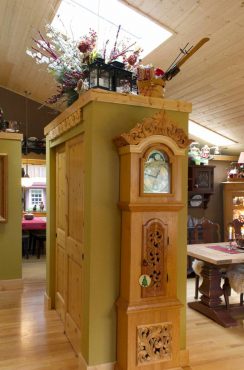 At one time, in the not-too-distant past, when time and careers allowed, the couple maintained a Norwegian design business featuring hand-painted furniture and hand-woven textiles. They still retain an active business license and would like to return to that endeavor one day.
When approached from the street, the house appears as if it simply grew in the spot it sits. The Hansens have carefully integrated the landscape into the mature Douglas fir forest, using alpine fir, mountain hemlock, rhododendrons, grasses and low-growing perennials to enhance the natural Northwest environment. Inspired by their love of Mount Rainier National Park, where they frequently hike, they have created river-rock beds that appear as if the landscape were designed and planted by Mother Nature and is simply tended by the homeowners.
Stepping over the threshold and into the entry, one has the feeling of having been suddenly transported to Scandinavia. Gleaming oak floors; lofty, pine-clad ceilings; wooden furniture and accessories; and the clean, straight lines and uncluttered orderliness of the home provide a warm welcome.
Several pieces of the furniture in the home were carved by Laila's father, who began a full-time carving vocation when he retired in his mid '50s. A "kubbestol" — a very traditional, ornately carved chair from a single log of wood — sits proudly in the living room. Other pieces — including grandfather clocks, mirror frames and a bench in the entryway — can be seen throughout the Hansen home.
"My father carved four of everything," Laila said. "One for my mother and one for each of us, girls. We asked him not to sell his work, but rather leave these gifts to us to be enjoyed and eventually passed down to our children."
A long, red bench with an ornately carved and painted back graces the entry. Carved by Robert Caspersen and painted by John Hansen, it serves as a lesson in Norwegian furniture history. Until the 1920s, all furniture was painted, but then the fashion turned to the preference of leaving carved furnishings in the natural wood finish.
Upstairs is a lovingly carved, natural finish "Viking bed" that Hansen carved for their son, Stein. The bed so perfectly fits the room, it is almost as if it were built when the house was erected.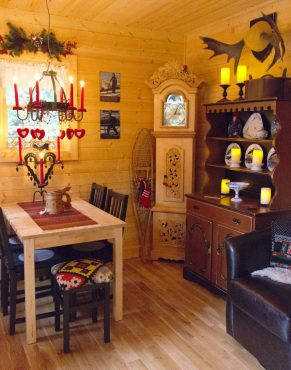 In the summertime, the home is fresh, light and airy. Potted red geraniums and white-flowing bacopa fill window boxes and pots out of doors. The lofty ceilings and sunlit skylights evoke the feeling of a mountain cottage. A large, natural-type floral arrangement sits atop a high wall that divides the entryway from the living and dining area.
In winter, this charming home takes on a magical, Old World flavor. The fragrance of buttery baked goods fills the air. Hand-embroidered stockings and a collection of "julenisse" (Christmas elf) are carefully placed throughout. White candles grace the mantle, while a garland of Bonderød red apples, bells and hearts dangle below. The traditional tree is trimmed in red and white, while twinkling white lights and greenery deck the stairwell.
Laila loves to keep the traditions going by baking age-old recipes, the sights and tastes of cakes and cookies engendering connections to the past and memories of previous generations and holiday celebrations. Cardamom braid is a favorite bread, baked all year and a staple for breakfast and lunches. Holiday specialties include Fyrstekake, a royal almond tart; Krumkake, a thin, crisp, imprinted cookie rolled into a cone shape; Sanbakkel, a small shortbread cookie baked in a mini-fluted tin; and Fattigmann, a thin dough tied in a knot and deep fried.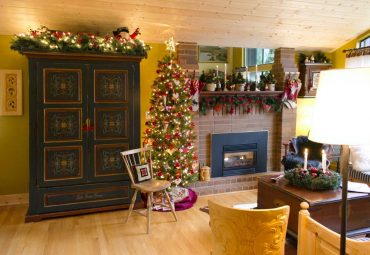 In the dining area, the beautifully polished pine table holds an impressive apple-and-greenery centerpiece and opulent candles anchored by one of Hansen's hand-woven seasonal table runners. Lovely blue-and-white porcelain tableware fills the corner china cabinet and ornately painted plate rack on the wall. White, luxurious mountain-goat hides cover the seats of the dining room chairs, as the head of a massive ram reigns supreme over the room.
The immaculate, well-appointed kitchen is framed by a large window overlooking the back of the property and flanked on the left by a step-down studio space that sports a massive loom. The tradition and love of weaving was passed down to the Caspersen daughters through their paternal grandmother. In 1998, Laila attended a summer workshop in Denmark in order to refine her skills. She takes great pleasure in creating historically correct Norwegian textile weavings. Her specialties include table linens and small rugs.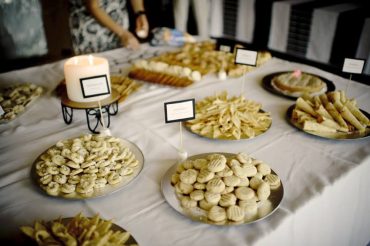 Sitting quietly on an antique trunk draped with a piece of reindeer hide is an exquisite Hardanger fiddle, commissioned by the Hansens to be built for their children, Tova and Stein. The family has stayed true to its roots in playing traditional musical instruments. Built by Lynn Berg of Eugene, Oregon, the fiddle is an authentic Norwegian design, incorporating mother-of-pearl embellishments and the traditional lion's head scroll.
Stein played this fiddle in a 2015 performance with the Harding Quartet at Pacific Lutheran University in honor of the visit of His Majesty King Harald V of Norway. Joining Stein was his aunt, Linda Caspersen-Andresen; Svend Rønning and Janis Upshall. Each member played an instrument built by Berg: two fiddles, a cello and a viola. The cello, commissioned by Caspersen-Andresen, and the viola are believed to be the only two of their kind in existence. Recordings of the Harding Quartet — which is based in Gig Harbor and is the only Hardanger quartet in the world — are available online.
Just outside the back door, a pathway leads to a delightful little cabin. Most families in Norway have a summer cabin they go to in order to escape the city and enjoy the country air. The Hansens built theirs in their own backyard. It provides a sanctuary for reading and relaxing and serves as a bunkhouse when family members visit.
At Christmastime, this warm and inviting artistic home twinkles, shines and glimmers with the joys and warmth of the season. The couple who have created this little piece of Norway revel in their family's stories and traditions.
"John and I have always felt our legacy to our children is to give them a sense of place. Roots, family, cultural traditions," Laila Hansen said.
A visit to this lovely home is evidence they have succeeded in building that legacy.
---
Cardamom Bread
(Adapted by Barb Bourscheidt)
Ingredients:
1 package dry yeast
1/2 cup milk
1/4 cup butter
1/3 cup granulated sugar
1 egg
1/2 tsp salt
3/4 tsp cardamom
3 cups all-purpose flour, sifted
2 tbsp milk
Instructions:
Warm milk to about 100 degrees. Add yeast; let sit to dissolve.
Cream butter and sugar until fluffy. Beat in egg, then add yeast mixture. Gradually add flour and mix to a soft dough.
Turn out onto a floured board and knead until smooth and elastic (about 6-7 minutes).
Place in a greased bowl, turn dough over to grease underside, cover with plastic wrap and let rise in a warm place until double (about an hour).
Turn out onto lightly floured board, divide into three equal balls and let rest for about 10 minutes.
Form each ball into a rope about 16 inches long. Line up ropes on a parchment-lined baking sheet. Loosely braid from the center to the ends, pinching and tucking in ends neatly at each end of the braid.
Cover and let rise until double. Brush with the 2 tablespoons of milk. Sprinkle with coarse sugar and bake in 375-degree oven 20-25 minutes until golden brown.
Cool before slicing.