Trends in home design for 2016 run the gamut from simple and strong to bold and reclaimed. Tranquil baths, bold flooring and attention to reusable materials top the list.
Trends in home design are similar to trends in fashion. There are always hot new colors and styles — and it's tempting to feel like you need to revolutionize your home every year to keep up.
But as any good designer will tell you, trends are simply a guideline for possibilities.
The best trend is the one that suits your personality and lifestyle.
We've asked our designers what they see as some returning and emerging trends this year — and for advice on how you can incorporate some of the fresh ideas into your home.
---
Alinda Morris
Alinda Morris Interior Design
Gig Harbor • 253-579-8431
alindamorrisinteriordesign.com
Alinda Morris opened her firm, Alinda Morris Interior Design, in 2006. After working out of her home for several years, she opened an office in downtown Gig Harbor. Morris is a nationally published, award-winning design professional, with an accredited degree in interior design. In addition to Morris' versatility — ranging from minimalist restraint to traditional chic — clients find her passion for design an exciting process. According to a local builder, one aspect that sets Morris apart is her ability to "value-engineer" extremely well, effectively achieving the "million-dollar look" on a budget.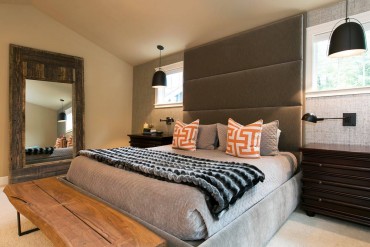 Alinda Morris believes that interior design trends are just modern reflections of interior design principles. In 2016, texture is the hottest trend throughout the interior design industry.
"Mixed metallics and metals started to be introduced to the market last year but this year, gold and brass will be an inescapable design trend," she says. "Mixing metals is also a popular way to incorporate this into your home without everything feeling matchy-matchy."
Soft, muted neutrals are still popular wall colors; however, dark, dramatic colors are going to be strong in a more sophisticated way than in the past.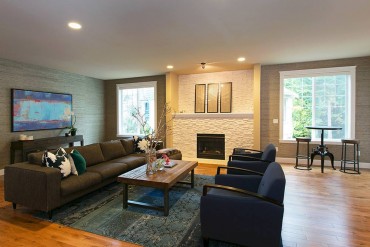 "Painting a room black might sound like it would be claustrophobic but it can be glamorous and modern if executed correctly," Morris says. "A room should have abundant light for this to be successful."
In sharp contrast to this, Benjamin Moore revealed its 2016 color of the year as Simply White. Both trends can be incorporated into kitchen design by implementing two-tone cabinets in a simple color palette of black, white and/or gray as a timeless combination.
"Adding a pop of color to the space helps to add personality," she says.
Materials: Sofas and chairs are covered in plush, highly tailored fabrics. Tables are made with richly grained and colored woods. There will be new, sophisticated patterns for engineered stone. Laminate flooring has come a long way in mimicking wood and even woven cotton.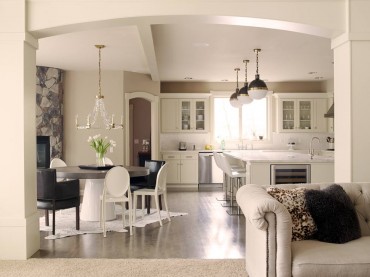 Patterns: Geometric shapes in lighting fixtures, cabinet hardware and fabric prints. Brass and gold complement this trend.
Tile that is patterned to look like linen or plaster, as well as ceramic tile with a global perspective and patterns, such as Moroccan Articima Zementfliesen patchwork concrete tiles.
Flooring: Wider planks and reclaimed-wood, distressed-pattern imperfections are embraced. An example is brushed-oak flooring exposing and celebrating the grain.
Technology: Advancements in home appliances, security and sound systems continue to make people's lives easier.
"Remember that technology moves fast — incorporating a sound system and chroma therapy lighting into your steam shower might not be the best investment. That technology will be outdated long before your next remodel," she advises.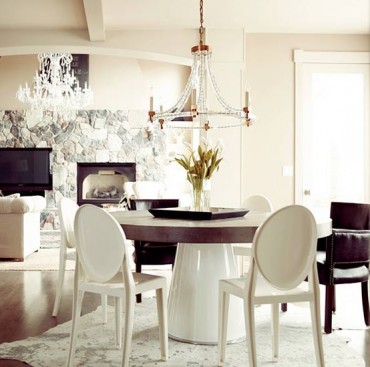 Advice for the novice: Start with the end in mind — what is your goal?
"Clients often need my assistance with creating continuity. Pulling everything together can be overwhelming," Morris says.
It's important to remember that your selections are working together to create a story. Collect images for inspiration and keep them in one place, such as a notebook, a pin board or even taped to a wall. A Pinterest board or idea book from Houzz are also wonderful tools to keep your ideas in one place. Be flexible because your ideas may change over time. As you select potential color schemes, surface materials and furnishings, look at them in groups to make sure that they all work together.
All your decisions should be well thought out and finalized before any construction begins or any furniture is ordered. This is also very helpful when interviewing and selecting a contractor because the contractor can give you an accurate bid and projected schedule.
"Design should be fun," Morris says. "If you are feeling stressed or exhausted by the endless possibilities, it might be time to enlist the help of an industry professional."
---
Connie LaMont
LaMont Design, Inc.
Poulsbo • 360-779-7227
lamontdesigninc.com
connie [at] lamontdesigninc [dot] com
Connie LaMont has been an interior designer and colorist in the Pacific Northwest since 1993. She holds a bachelor's degree in arts from the University of California in Irvine and a second bachelor's from the Interior Designers Institute in Newport Beach, Calif. LaMont and her architect husband, Wayne, own LaMont Design Inc. in Poulsbo. Some of their joint projects include Austin Towers in Poulsbo and Elkhorn Place in Sequim.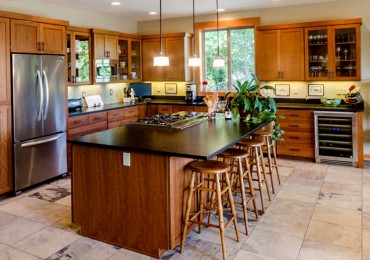 Connie Lamont sees a new trend in clean lines, paired with intriguing form and texture that draw the eye into a space. It's the counterbalance of new and old, within the same space, to create the perfect scenery.
"Pairing a contemporary, white-leather sectional with artwork adorned in elaborate, gold-leaf frames makes me happy. A vintage davenport coupled with sleek end tables and Lucite table lamps, makes me want more," she says. "Who we are starts with who we once were, and who we are hoping to become. So, within my interior design philosophy, I want to embrace all of these parts of our lives, and create spaces for us to accomplish our dreams.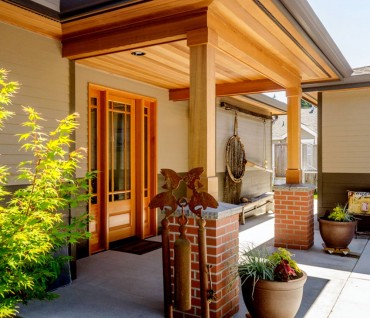 New materials: She is seeing more and more brick used both on interior and exterior applications.
"I love the look of a New York loft, with used brick walls and exposed timbers," she says.
Also a lot of wire details, sometimes very structural in construction, like 4-by-4 welded wire used for stair railings.
"There are many styles of light fixtures that are using wire mesh or birdcage wire details, for a more post, modern industrial feel," she says.
Patterns: Brick patterns are everywhere in homes and offices, either with the use of real bricks or in the form of brick-shaped tiles. They can be installed in a standard horizontal fashion, vertically, or a little of both, with or without staggering the joints. If you can figure it out mathematically, it can be done.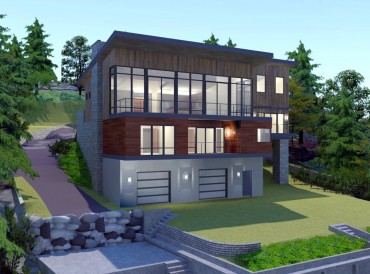 Flooring: In-floor radiant heat has helped bring tile flooring back in a big way.
"I love the look of a wood floor, but installed with durable porcelain tiles instead of real wood," she says.
When installed over a radiant-heat floor, it's not only luxurious, but almost maintenance free.
New technology: Smart phones are connected to pretty much everything within our homes now — lighting, security systems, stereo surround sound, TVs, appliances, window coverings, heating, etc.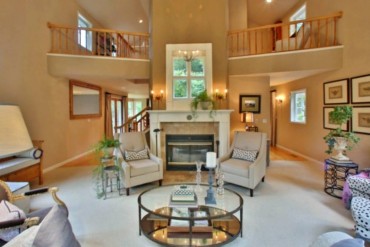 Advice for the novice: Have fun and play with your ideas."We all want to have a home that we are proud of, that is warm and inviting to our friends and family — and a home that is a reflection of the things (and people) we love," she says.Simple Designs and strong lines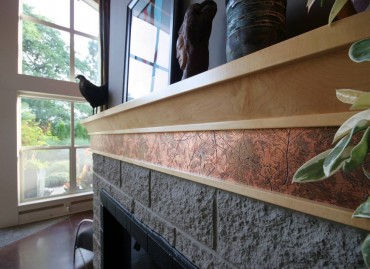 Connie LaMont says the trend she sees for 2015 is strength with simple designs, strong lines and bold statements, as well as embracing your personal history.
"Our homes can tell the story of who we are and who we are becoming, as well as where we are from and where we are wanting to go. If you surround yourselves with the things that you love and things that give you joy, I believe then that you've accomplished creating the most nourishing and empowering home possible," she says.
---
Laurajean Welch
Harrison Street Design
Poulsbo • 360-697-7366
harrisonstdesign.com
Laurajean Welch opened Harrison Street Design in 1996 and has helped hundreds of clients find the right in-home decorating solutions that suit their color and style preferences, existing furnishings, budgets and lifestyles. Prior to starting her own business, Welch worked at a design firm in Bellevue. She also has lent her expertise to two Street of Dreams homes and has managed a design store. Welch currently lives with her husband, Alan, in Old Town Poulsbo and works out of her on-premises design studio.
Laurajean Welch expects to see locally made artisan goods infused into many interiors this year.
"Browse your local design shops and see what is new in your neighborhood," she suggests.
An interesting trend is "inside out, outside in": Consumers are buying furniture, rugs and outdoor accessories and enjoying them inside.
Sustainability — recycling and repurposing — is still a strong consideration when choosing design elements.
"So be creative and reuse a found object," she says.
Materials: Minerals are showing up in the most unlikely places, from semiprecious doorknob pulls to big chunks of quartz on a sofa table.
Patterns: Once again, tropical motifs in fabrics are a standout.
"The design world is enamored with all things roaming the lush tropics," Welch says.
Vibrant patterns with a nautical twist are quite popular with beachfront and oceanside homes.
Flooring: Beautiful floors with geometric patterns; intricate, colorful patterns; gypsy caravan to soft, spa-like tones — think fluid grays and milky whites.
Technology: Today's tech-driven consumers are choosing remotely controlled window shades and skylights with the touch of a button. Keyless front-door entry is a safe and secure trend. Smart-control panels can adjust everything from the temperature, lighting to ceiling fans, audio, video and more.
"New homes are full of high-tech amenities," she says.
Advice for the novice: Think smart, stay focused.
"Tackle your latest design project in bite-size steps," she suggests.
For example, choose wall color, then select drapery fabric or window shades and blinds. Next, decide on hardwood flooring, carpet or area rugs. Then decide whether you'll be keeping your furniture or purchasing new.
Your final step is to accessorize the room — pictures, plants, end tables, candlesticks, books, pillows, lamps, vases, pottery and more.
---
Tamara Rosenbloom
Tamara Rosenbloom Design
Gig Harbor • 253-278-5401
tamararosenbloomdesign.com
Growing up in the beautiful Napa Valley and moving to Gig Harbor via Seattle and San Francisco exposed Tamara Rosenbloom to nature's beauty and the urban scene. These environments helped to shape her love of design and her design aesthetic. After attending UC Davis and starting her career in Seattle, she opened her own design firm, Tamara Rosenbloom Design LLC, in 2000 and relocated to Gig Harbor in 2001.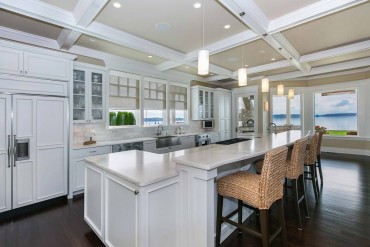 Tamara Rosenbloom says the new top trends include muted tones with bold, colorful accessories and fabrics; and soft tones (think pink and coral) offset by deep colors such as deep indigo and jewel tones. Grays will continue to be the neutral of choice in 2016.
Texture is also hot. Replacing "flatter" materials such as cotton with textural options such as linen, jute and bamboo fibers gives a neutral palette the texture and contrast it needs to be successful, she says.
Gold and the mixing of metal finishes are both back, and old-gold and antique brass finishes are especially big.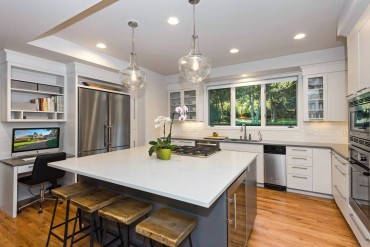 "Mixing these finishes with bronze, gunmetal and silver will trend in 2016. Gone are the days of using the same metal finish throughout your entire house," she says. "It's time to mix it up."
New materials: In tile, supersized tiles and 3-D tiles have become more popular and available. 3-D tiles made from porcelain, stone, reclaimed wood and even leather give movement to a design. Oversized tiles are an option for those who want a contemporary look in their kitchen, fireplace or bath.
"Just make sure your surface is completely flat and level, as the larger size has less flex than smaller tiles," she advises.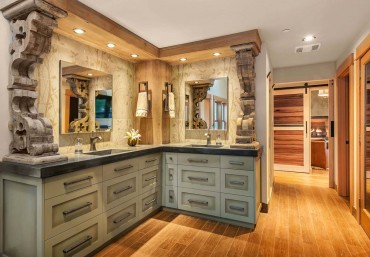 Quartz will continue to replace granite as the countertop of choice for kitchens and bathrooms.
"Quartz manufacturers have come a long way with pattern and texture, allowing these nearly indestructible counters to better resemble marble, limestone and concrete," she says.
Wall coverings continue their popularity, but the materials from which they are made continue to evolve. 2016 has exciting leather, wood and even metal wall coverings that will transform a room.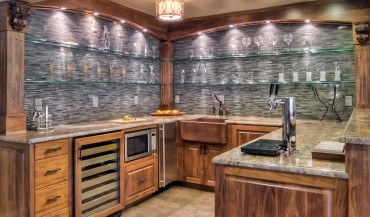 Patterns: Taking a cue from vintage floral patterns, bold floral patterns are emerging with modern interpretation. And like their floral counterparts, botanical fabrics are making a strong return. Also popular: bold patterns from tribal cultures, especially Indonesian; and woven fabrics with lots of texture and some metallic.
Flooring: Wood flooring continues its dominance over carpet, linoleum and tile floors in our region. In wood, the prefinished options have multiplied exponentially. Wider planks, reclaimed wood and extra matte finish will remain popular in 2016.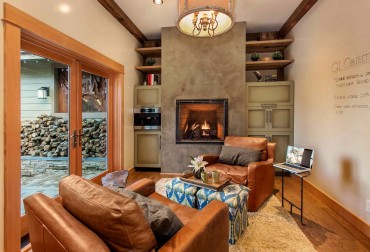 New technology: Lots of interior design apps! From Houzz, which has transformed the design industry and the designer/client relationship, to Benjamin Moore's Color Capture, apps give clients more communication options over the design process.
Lutron's HomeWorks continues to be the gold standard for home automation and control. Lighting, security, HVAC and audio are all consolidated into easy-to-control keypads and an iPad app.
Advice for the novice: Start with something you love — a rug, a piece of art, a pillow — and pull inspiration from this.
"Don't try to overly match colors but use complementary tones and textures," she suggests. "And don't be afraid — design is personal and can be trial and error. Enjoy the journey!"
---
Janet Weber
Janet Weber Interior Design
Poulsbo • 360-626-4484
janetweberid.com
Janet Weber owns and operates her own interior design business with the goal of creating atmospheres that are unique and well-suited to each client's values, lifestyle and personality. She assists clients in realizing the vision for their homes and commercial spaces by guiding them through each phase of the design process, from the initial space planning to the final selection and placement of accessories. Weber received her bachelor of arts degree from Washington State University and has been working in the industry since 1986. Her professional involvements include Design on Broadway in Everett, Markie Nelson Interior Design in Seattle and Fine Home on Bainbridge Island.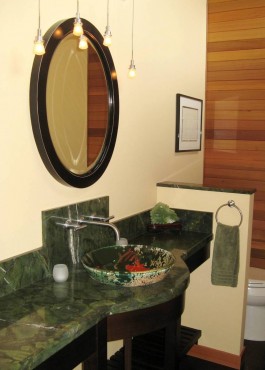 Janet Weber sees trends for the new year as a mix of new and old products re-imagined to work for today's consumer. The emphasis on the environment and nature are still going strong, as it has been for many years. This idea is incorporated into the home with the use of urban gardens both inside and out.
"As a society, we find ourselves wanting to get back to nature and to have a safe haven away from the technology we deal with every day," she says.
Other interesting trends:
The new look in windows and doors is black steel/metal. It is a commercial look that works well with the industrial craze of the last couple of years, and it's also reminiscent of an old French farmhouse.
Lighting pendants over kitchen islands have gotten bigger in scale and function better. Where there would have been three of these lights over an island in the past there are now two.
Bold colors are making a big comeback. Pink, red and peach are at the top of the list. Blue will be very prevalent in saturated shades of indigo, denim and navy.
The trend in metal finishes is leaning toward brass and copper. Warm finishes are in. It is perfectly acceptable and even encouraged to mix your metal finishes — gold, bronze, gunmetal and silver can all work well together in the same space.
The brick shape will be popular in 2016, as it has been for years. Linear tile designs will be back as well as tactile effects such as sandblasted marble and stripped wood. 3-D tile options with folds, wavy ridges and raised geometry will become more popular.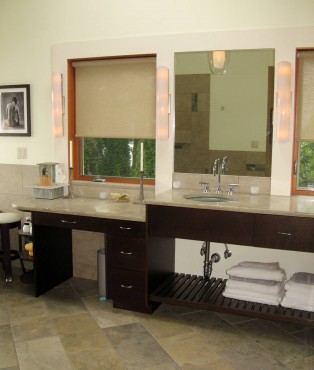 New materials: Most new materials being proposed and used today are developed around the concept of sustainability. A material for countertops that will see more use in 2016 is Alkemy. It is a solid-surface, recycled-aluminum countertop from aluminum dust and scraps salvaged from the manufacturing process. The countertop looks somewhat like stone but the metal reflects light and gives it a unique look. These countertops are easy to clean and come in many colors and several textures.
Patterns: The chevron pattern will be popular in 2016 in tiles and fabrics.
"Use the chevron pattern to lay out ordinary plank tiles for an extraordinary look," she recommends.
Floral patterns for fabrics and artwork are coming back into vogue.
"We will begin to see large-scale, floral designs in bold and contrasting colors," Weber says.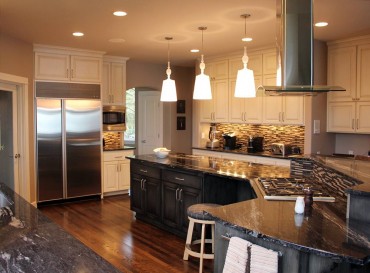 Flooring: Hardwood flooring is still the most popular for residential projects. The hardwood flooring look can be achieved quite successfully by installing tile that mimics the look of wood. Luxury vinyl tile that has the appearance of wood is also making a place for itself in the market. Reclaimed hardwood flooring is popular for its natural, environmentally friendly qualities.
Technology: has a new Wi-Fi enabled wall oven. This smart oven includes an app for iOS and Android devices. Along with diagnostic and maintenance functions, the app provides remote visibility and control. Users can see when the oven is preheated and how much cooking time is remaining. The culinary center provides interactive guidance for more than 30 cooking programs.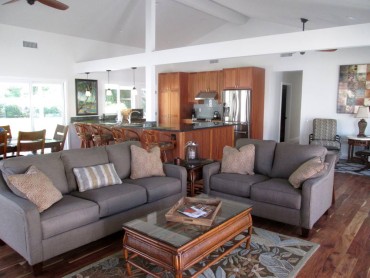 The TOUCH20 faucet from Delta is new this year. Tap anywhere on the spout or handle to start and stop the water flow. There is a kitchen faucet available and two styles for the bathroom.
Advice for the novice: Don't go into a furniture store and purchase everything that matches. Your home should look like you accumulated items over time. Only purchase things that you love.
"If you are embarking on a remodel project, don't just go to Home Depot and select everything that everyone else has. Try and think outside of the box (store)," she says. "There are hundreds of resources at your disposal, including hiring an interior designer to help."
---
Cate Adams
Arnold's Home Furnishings
Bremerton • 360-377-5582
arnoldshomefurnishings.com
Cate Adams has a degree in art and design from the University of London and has worked in London, Paris and Spain. Adams eventually settled in the Pacific Northwest and approximately 25 years ago founded The Decorating Source, a design service in Kitsap County offering consultations as well as products. She also has worked at Hood Canal Interiors in Belfair. Adams currently serves as an interior designer with Arnold's Home Furnishings. She lives with her husband, Jack, in Silverdale.
Cate Adams sees the following top trends in furnishings for 2016:
Upholstery: Medium-large and extra-large, casual sofas and sectionals with different arm styles, some with nails and many without. Midcentury modern sofas and chairs in medium and smaller scale, usually with a firmer seat.
"Most recliners and reclining sofas come with push-button, power-reclining mechanisms that provide a multitude of positions," she says.
Colors: Neutrals, grays, all shades of blue and green including navy and aqua. Splashes of orange, red and yellow gold.
Finishes: Age-worn reclaimed, espresso, whitewash, antique brass, gold leaf, brushed silver, copper tones. Bluestone, zinc and copper tops on dining and occasional tables.
"With so much to choose from, there is truly something for everyone and my suggestion is always to buy what you love, regardless of the trends," she says.
---
Nancy Finneson
DeMane DESIGN, LLC
Gig Harbor • 253-973-8442
demanedesign.com
nancy [at] demanedesign [dot] com
Nancy Finneson, AKBD, CAPS, Allied ASID, is an interior designer and kitchen and bath designer. She recently received three first-place and one second-place awards for design with the prestigious ASID (American Society of Interior Design) Association. She attended the Art Institute of Chicago and later received a degree in interior design. After spending many years in the San Francisco Bay area, Finneson mow makes her home on the beautiful Puget Sound. She loves working with people and enriching their lives by helping create spaces that inspire, entertain and function brilliantly.
Nancy Finneson thinks the theme for 2016 is "living big in small spaces," as more homeowners are embracing the compact concept.
"Design has always used this practice when we design challenged spaces that have restrictions to size, but require a lot of function, such as a bathroom or kitchen. Today, we have taken that design process and are designing more compact spaces, whether it's a condo, vacation, retirement or new home," she says.
Other trends this year include bringing the outdoors in, sourcing local goods and mixing metals.
"Get inspired by local artists and craftsmen," she advises. "Whether you're looking for a cozy throw for your favorite reading chair or a bench for your entry, buying local can be fun. Meet artisans and see their work at local art fairs or an open house at their studio, a great way to connect with community and add something special to your home."
New materials: Plain, painted walls are no longer the norm. There is a mix of media on the walls. Large graphics and geometric shapes and patterns are very prevalent, popular and look fabulous. You'll also see beautiful, handcrafted wallpapers and reclaimed wood.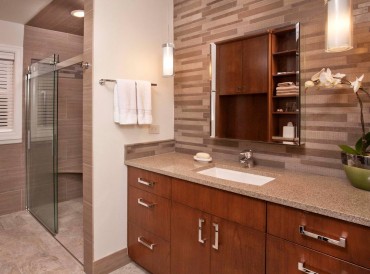 "Full-sized montages, a city scape, forest view or playful fantasy artworks are seen in children's rooms, the laundry or even the home office; it's all about having fun," Finneson says.
Flooring: Cork flooring has been around for years, but with new patterns and colorways it can be a wonderful choice. It's naturally water-resistant, soft on your feet and should be considered for many rooms in your home.
"Think of all the plates that may live a longer life when they fall on a cork floor in the kitchen to see another day of use," she says.
Technology: It has become the norm in our homes. We've come a long way from lights with dimmers.
"One of the biggest trends I continue to see grow is technology in the family media room and sound systems," Finneson says. "Planning is important and strategic in these rooms."
A homeowner wants a place to sit down and enjoy a movie or listen to music. Considerations encompass sound reflection, as well as speaker placement and lighting, to name a few. A professional designer is a good place to begin making decisions for a room that will fit your lifestyle.
Advice for the novice: Old, new, eclectic — it's your space, so don't be afraid to mix things up, Finneson suggests.
"I do caution my clients to have fun but take a step back and look at your space," she says. "Being eclectic can be very stylish, but you don't want hodgepodge. When you need assistance to get your desired look, call a designer to help you pull it together."