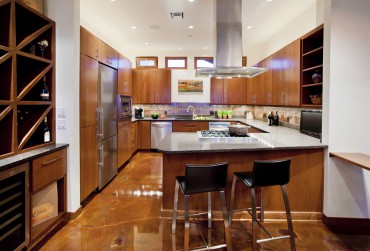 After a fresh coat of paint, the second best way to quickly transform a room is with new flooring. Stunned by today's residential flooring options? You are not alone. So many choices, so many colors and textures too.
It is easy to get overwhelmed but selecting the right flooring may be simpler than you think.
Start your decision process by establishing your flooring budget. Then estimate the area that you need to cover and increase that number by approximately 10 percent (for cutting waste).
For example, if you have a room that is 10-by-10 feet, you should budget for 110 square feet of material and labor costs. There is a big difference between the various flooring options — $2,530 or 1,150 percent if you consider the spread between low-end vinyl and high-end carpet. So simplify things by letting your budget dictate your first round of decisions.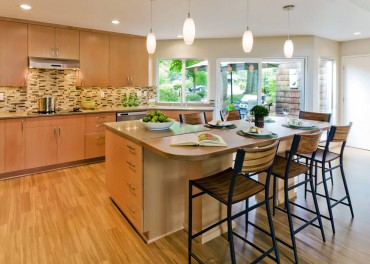 Next, consider the use and traffic patterns of the room. At an entry, it is important to have something durable and low-maintenance that can withstand dirt, grit and moisture — the materials that best fit these criteria are tile and concrete.
The third decision criterion is how the flooring option dovetails with your lifestyle. If one of your favorite forms of relaxation is cooking and you often find yourself standing in your kitchen for hours at a time, you will quickly conclude that tile is a poor choice due to the fact that it is hard and cold, it accentuates noise reverberation and the grout can be difficult to clean and maintain in an area where food and cooking oils will naturally hit the floor.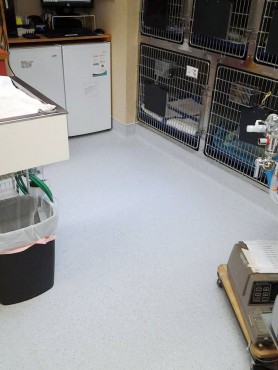 Two options that are easy on the body, easy on the ears and easy to maintain are linoleum (especially if you use a sound-absorbing underlayment) and cork.
The following is an overview of the most common flooring choices on the market today and their general characteristics.
Vinyl: Comes in lots of colors and patterns, with many styles providing amazing stone and wood look-a-like options; it is easy on the wallet too. Vinyl flooring is typically comprised of four layers of material — the top or wear layer, the printed or decorative layer, a core of either foam or vinyl and a backing.
Together, the thickness of the four layers may range from 10 mils (a mil is equal to 1/1,000 inches) up to 75 mils. Overall, the thicker the material the better, but the wear layer thickness is the most important feature to look for, along with a long-term warranty.
A few of the downsides to vinyl flooring: It is difficult to repair, it is not as durable as many other options (requiring more frequent replacements) and the raw materials and the glues required for installation are toxic to many people. The various components of vinyl flooring include polyvinyl chloride resins, plasticizers, pigments and a backing material such as felt of wood pulp, making it the least desirable product for homeowners with health issues.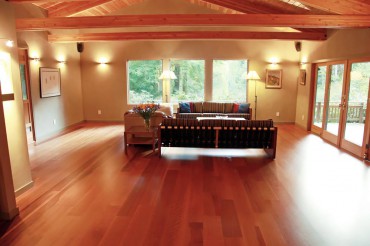 Laminate: Similar to vinyl, it comes in a wide range of styles and colors, including wood, tile and stone patterns, which are hard to discern from the "real thing." Laminate is more durable than vinyl and easier to clean and maintain, which is reflected in the higher price point. Like vinyl, it is difficult to repair. You can replace damaged pieces; however, it may be hard to uninstall the existing floor to access the damaged tile and the dye lots may be off.
The installation of laminate floors does not require any glues, tape, nails or staples, as they are designed to float, which makes this a good candidate for DIYers. Some homeowners object to the "hollow" sound when walking across the floor. Laminates require a good, smooth and level subfloor and/or underlayment. Many laminate products have patented "click lock" edges for fast, easy and nearly seamless installation.
Laminate floors are also comprised of four distinct layers with a typical total thickness of 1/4-1/2 inches. The top, or wear layer, is generally made of aluminum oxide and melamine resin, which gives laminate its enhanced durability.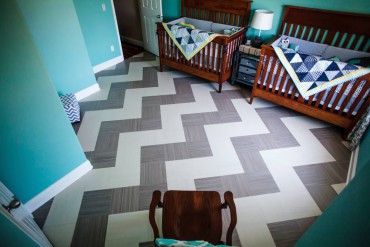 It is followed by the decorative layer, which is essentially a printed, high-resolution photograph of wood grain, natural stone or ceramic tile. The decorative layer is adhered to a high-density fiberboard or particle-board core (containing melamine plastic resins to provide moisture resistance), which is backed with another layer of melamine plastic. Similar to vinyl, laminate flooring may not be a good choice for individuals with health issues.
Two of the most important features to look for in a laminate flooring is the AC rating and the warranty. An AC rating runs from 1 to 5 (the higher the number the more durable), with 1 and 2 being most applicable to residential applications and 5 being most applicable to public spaces such as airports and other high-traffic, commercial areas.
The AC rating is comprised of a tabor abrasion test, impact resistance, stain resistance, burn resistance and swelling resistance. Not all manufacturers undergo the rating tests, but all of the better quality manufacturers do. Like with many flooring products, compare warranties before purchasing.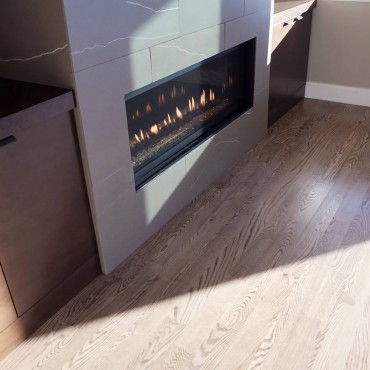 Luxury vinyl tile and plank (LVT/LVP): One of the hottest flooring products on the market. Similar to vinyl and laminate, LVT/LVP is made to mimic either tile or wood and is comprised of four layers that are primarily made of polyvinyl chloride (LVP) or polyvinyl chloride and limestone (LVT). Similar to laminate, individual tiles or planks can be replaced if damaged but, again, it can be challenging if the damaged one is in the middle of the room and the dye lot can be off. In addition, the raw materials comprising LVT/LVP may not be suitable for homeowners with health issues.
The primary difference between LVT/LVP and its cousins, vinyl and laminate, are: LVT/LVP comes in thicknesses ranging from 1/8 to 13/16 inches thick; it can be glued down or floated, which minimizes the "hollow" sound characteristic of laminate; it has superior moisture resistance; it has a generally more realistic look, especially the LVT; the price point is generally slightly higher than laminate, as is the comprehensiveness of the warranty.
Linoleum: Has been a popular, low-maintenance and environmentally friendly option for almost 100 years and is commonly found in both residential and commercial applications. It comes in numerous colors and can be comprised of 1-foot by 1-foot squares or full sheets. Many manufacturers offer decorative borders that can be inset in a variety of decorative patterns.
Typically a 1/16-inch-thick linoleum will not create threshold issues on its own; however, it does require a perfectly smooth underlayment such as 1/4-inch Baltic plywood for a quality installation. Made from a combination of linseed oil, pine rosin, ground cork dust, wood flour and mineral fillers such as calcium carbonate, with a backing made of either burlap or canvas and pigments added to create a wide color palate.
Installing linoleum squares is relatively simple for the DIYer but sheet linoleum is hard to handle, especially by a novice, and is best installed by professionals. Caring for linoleum is even easier — damp mop with a solution of water and vinegar.
This material has a bit of give to it and is good for a multitude of applications, from children's nurseries to bathrooms (linoleum tiles are not recommended for full bathrooms due to the seams). One application where linoleum is not a good choice is over electric resistant radiant floor heat where the outline of the wires will telegraph through the material.
Engineered hardwood: It is real wood flooring and comes in a wide variety of species. It is typically comprised of three layers, the wear layer or finish, the decorative layer of a specific species and a plywood substrate that can range from 1/4 to 3/4 inches thick, depending on product quality.
This type of flooring is intended to float and therefore is neither glued nor nailed down, making it a better candidate for hydronic or electric resistant heated floors (although wood acts as a thermal barrier). Engineered hardwood is typically cleaned and maintained in the same manner as solid hardwood.
Engineered hardwood is resource-efficient because you can derive more decorative layers from a single tree than you can with solid hardwood, which also means it costs less. It typically comes prefinished from the factory so installation is quicker and nearly dust-free, unlike solid hardwood.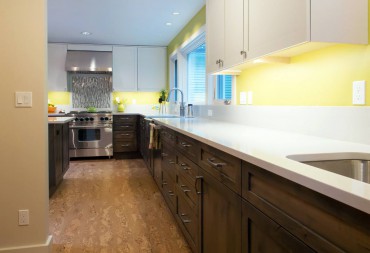 A few drawbacks to engineered wood floor products are: limited species and stain options; beveled edges that come with most products, so you can't get the coveted "ice rink" smooth look; and the limited life since it can only be refinished one to three times, depending on the quality and thickness of the wear layer. If you want to extend the coverage of your engineered hardwood floors in the future, you may have a difficult time finding material and if you do, the dye lot may be off. As with other flooring products, compare warranties before purchasing.
Solid hardwood: A coveted feature of many homes. Its timeless beauty, ease of maintenance, durability and hygienic attributes make it a good choice for many different styles of homes as well as homes in all geographic regions.
Hardwood flooring is typically manufactured in 3/4-inch-thick boards that run anywhere from 2 1/4 inches wide to 8 inches, in varying lengths. They are typically nailed down then sanded and finished in place, which makes for a longer and dustier installation than engineered wood. Although DIYers can rent the requisite equipment for laying hardwood floors, installation is best left to the professionals.
Hardwood floors come in a variety of species, with red and white oak being the most popular in the United States due to its availability (and related price point), durability and aesthetic flexibility. However, hardwood floors are not as physically forgiving (glassware breaks if dropped on them and standing on hardwood for extended periods can be fatiguing) or as good at muffling sound as carpet or cork.
They are not ideal for wet environments such as bathrooms (although powder rooms are just fine) or entries where high moisture from bathing or wet shoes is persistent. Similar to engineered wood floors, hardwood floors are easy to maintain and a great choice for anyone with health issues.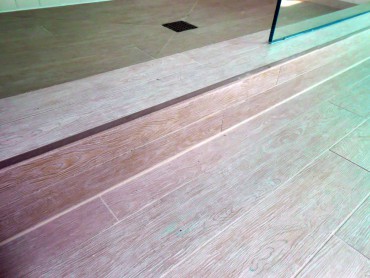 Bamboo: A durable, low-maintenance, sustainably harvested flooring product. Technically a grass, not a wood product, the vast majority of bamboo flooring is produced in China either as a sandwich of layers of vertical grain (the stalks are sliced lengthwise and laminated together) or strands (the bamboo is shredded and then compressed).
It can be manufactured as an engineered flooring product (and will be installed as a floating floor) or a solid product (typically 1/2 to 5/8-inches thick and nailed down), often times with tongue-and-grove edge locks. Installation of bamboo floors is best done by a professional flooring installer.
Quality bamboo is very hard, making it a good flooring choice for homeowners with pets as well as homes in damp climates. It is cleaned and maintained much the same as hardwood flooring but has much fewer color/stain options, compared to wood products. There is a lot of variation in the quality of bamboo flooring so qualify that your selection is a mature Moso bamboo product before you purchase.
Cork: In its many forms including flooring is comprised of the bark of the cork oak tree, which is harvested by hand every nine years as a renewable resource. Today's cork flooring products are typically manufactured into 1-foot-by-1-foot tiles or in 1-foot-by-3-foot planks that have interlocking edges, a decorative wear layer (typically prefinished at the factory with urethane) and a fiberboard substrate, and are typically 3/16-7/16 inches in thickness.
Cork floors can be glued down or floated. The many attributes include easy and speedy installation (the tiles/planks come factory finished), sound absorption, thermal barrier (cold will not transfer up through the cork from a subfloor or concrete foundation), ease on the body, warmth, natural beauty and durability — and if you drop a wine glass on it, you just might be able to retrieve it intact.
Drawbacks include the somewhat limited color options and the seams between tiles/planks because they can be compromised by excess moisture (thus it is not a great flooring material for full bathrooms). Dogs in need of manicures and stiletto heels would need to be banished.
Tile: Versatile, cost-effective and durable, and can be a low-maintenance flooring option if done right. Installation can be done by a do-it-yourselfer but is best left to the professionals who know how to "float" a floor and deal with discrepancies in wall dimensions as well as manufacturing flaws in the tile. Tiles can be ceramic, porcelain, natural stone, glass or metal, and come in a wide variety of shapes, sizes, colors and finishes, which can make selecting challenging for some. Not all tiles are suitable for a floor installation.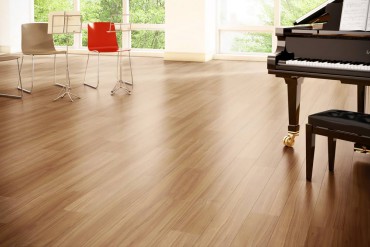 One unique characteristic of tile is its color variation. Tiles are typically graded from V1 to V6, with the V representing variation in color. A V1 tile is completely uniform in color, with each tile being exactly the same color, while a V6 has a wide variation in color. A good example of this is natural slate tiles, which can be red, brown, green, black and gray all in the same box.
Tile also comes in a variety of thicknesses, which is important to consider with relation to door thresholds. It is great in wet areas, provided the tile is properly grouted and the grout is sealed (only natural stone tiles require sealing).
This is the perfect material for homeowners to express their decorating flair. Some shortcomings: It is difficult to repair (if cracks or chips occur), it is hard on the body, it is cold (if no in-floor heat is incorporated), it makes sound bounce around a room and barware, and dishes will not survive if dropped on tile.
Concrete: Decorative concrete floors are durable, easy to maintain with regular vacuuming with a soft brush head but hard to fix. By nature, they are contemporary in style and lend themselves to an "open palette" of artistic expression. Attributes include limitless color combinations and ease of maintenance (however, never take any kind of abrasive brush or cleanser to a concrete floor and periodic resealing is required). It is also ideal for hydronic heated floors.
The downsides include the fact that it can be cold on the feet, it is hard on the body and anything dropped on it, and it makes sound reverberate around a room. Concrete could be a DIY project if you are going for an "organic" look but ask yourself upfront, "Do I have the patience to work with this product?"
Carpet: Wall to wall is colorful, cozy and, often times, downright luxurious. Carpet comes in many textures, patterns, colors and materials (nylon, polyester, wool, silk or cotton). It also comes in many price points depending on material and style.
Carpet installation is not a do-it-yourself product and is best left to the professionals. One of the many benefits of carpet is its sound-deadening quality.
However, carpet does have some drawbacks: It is challenging to clean (some carpets have built-in stain inhibitors but these chemical treatments can be hard on both humans and pets) and it can harbor allergens, dirt and fleas, as well as musty odors.
Just like most things in life, you get what you pay for with carpet. Quality carpet, installed with a quality carpet pad, can provide years of service but low-grade carpet with a thin pad may last as little as five years. In order to understand a carpet's durability factors, it is best to consult with a knowledgeable carpet sales person.
Carpet tiles are relatively new to the residential market. They come in a variety of sizes but 18-by-18-inch (or the metric approximation) is the most common size. You will find a wide variety of colors and patterns, all will a low-pile profile.
They are easy to install (cut and typically taped together with adhesive strips provided by the manufacturer), making it a great flooring option for DIYers and renters because they can easily be picked up and taken to a new location. They can also be picked up and cleaned or if they don't come clean, exchange the stained tile for one that is currently under the couch or bed.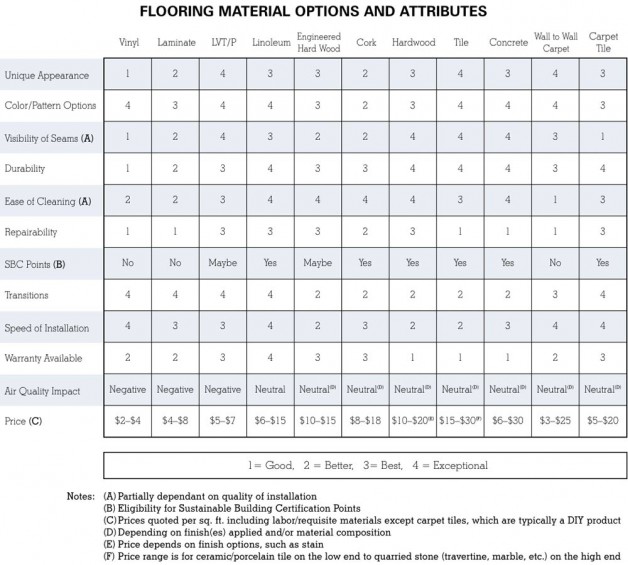 Here are a few more details that you will want to consider before making your final flooring selections:
1. One aspect of flooring that typically eludes people is the requisite underlayment or pad. Would you put good-quality paint on dented and bubbling sheet rock? Probably not. The same goes for flooring.
With tile, you need a very level, smooth surface that does not bounce or flex when walked on in order to render a crack-free installation. This often requires "floating" the floor and using a crack-suppression membrane at any joints in the floor.
Vinyl, linoleum, laminate and cork also require a completely smooth substrate, which is most easily accomplished with a glued-down or nailed down 1/4-inch or 1/2-inch Baltic plywood underlayment.
Last but not least, the quality of the carpet pad you choose is every bit as important as the quality of the carpet. A good-quality carpet pad can extend the life of a low- to mid-priced carpet by years, not to mention provide comfort and sound absorption. Bottom line — don't skimp on underlayments and pads.
2. Moisture barriers are often overlooked by do-it-yourselfers and unseasoned professionals, which is unfortunate because a new flooring job can be ruined in a short amount of time by inadequate installation preparation. Read the manufacturers' installation requirements and question your flooring contractor about this simple but important step.
3. The impact of new flooring on door thresholds and stairs is often overlooked, as it can create tripping hazards and additional labor if there is a need to cut doors down to accommodate thicker flooring. Make sure you take into consideration the height of your new flooring and how it may impact the materials around it.
4. Warranties for flooring products are easy to come by but not all are created equally. Read and compare warranties carefully before purchasing.
5. As noted above, some flooring materials are made from known carcinogens and may contain chemical components that off-gas and have a negative impact on the health of the home's occupants, especially those who suffer from chemical sensitivities, respiratory issues and immune disorders, or are battling serious issues such as cancer.
Know what your flooring material is made of and the glues/adhesives required to install the material before you buy and determine whether the material is right for you and your family's health.