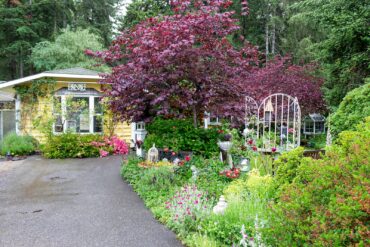 Stepping into the garden surrounding the happy yellow house on a quiet cul-de-sac, you are entering a wonderland of vignettes — a secret garden full of treasures at every turn. Blousy, full, flowering plants; miniature glass houses; displays of birdhouses; and even a real vintage bed in the garden elicit oohs and ahhhhs. Debbie's (last name omitted for privacy concerns) "she-shed" is the envy of all who enter, and her Mary Engelbreit-inspired tool shed is just pure delight.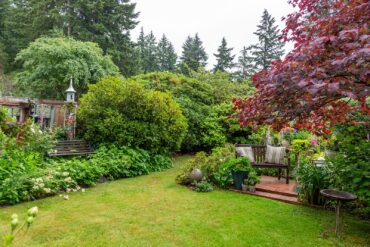 More than 30 years ago, a young couple with limited income applied for a program that would enable them to build a home. On their street, five families built their own homes, lending labor to each other under the guidance of a building supervisor. The basic, small home served their needs at the time. As their family grew, the house expanded and Debbie learned to grow a magnificent garden. Originally, the house was battleship gray, but when she saw a yellow house one day on a road trip, she fell in love with the color and the couple painted their house. Yellow just seems to offer the perfect backdrop for the surrounding gardens and porch decor.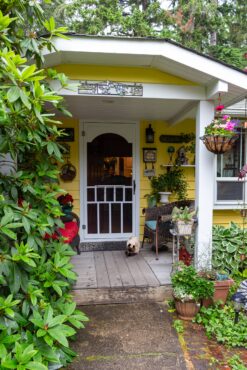 This quiet, unassuming gardener is self-taught, as she wasn't raised in a home where gardening was a focus, although her grandmother loved gardening and served as mentor and influencer. When she was a little girl, Debbie read "The Secret Garden" and always dreamed of having a garden of her own that would serve as a place of solace and healing.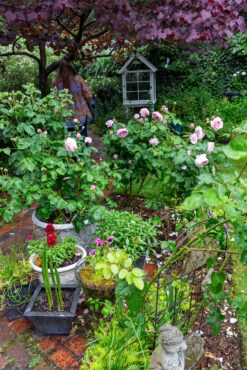 When the land was cleared for building, all of the rich forest humus topsoil was scraped off and piled at the back of the lot. A lawn surrounded the house originally and the $50 budget for landscape was spent on two azaleas and a magnolia tree. This novice gardener wondered why plants struggled to grow until she learned the secrets of good soil. Slowly, all that forest soil was hauled back onto the property and was augmented with lots of compost and mulch. Today, the garden beds are a foot or more deep with rich, organic soil that supports healthy plant life.
In the ensuing years, as her six children were coming along and growing up, parts of the yard were used for play structures, half pipe ramps, a trampoline, a swimming pool and a playhouse. Eventually, the half pipe was replaced with raised garden beds for vegetables. The playhouse was turned around on its foundation and became a "she-shed," which doubles now as a guest room.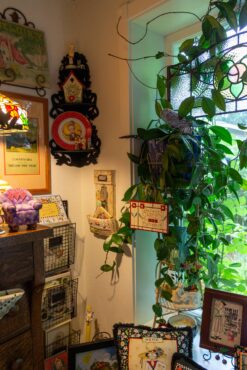 Planting beds were dug out around the edges of the house and fence, and the lush borders were established as plants became available through sales and sharing with neighbors. Debbie's mother-in-law loved gardening and coached her along, teaching her about which plants were good companions to others, along with light requirements and water needs.
An Evolving Garden
This continually changing garden has truly become a "secret garden" under the watchful eye of its dedicated garden maker. Starting in the very early morning, she wanders outside in her bathrobe to greet the new day and visit her lovingly tended plants. She pulls a weed here or there, offers a drink to a thirsty plant, sniffs a newly opened rose and photographs the progression of the seasons with her smart phone.
Debbie subscribes to several online garden groups and shares her photos almost daily with thousands of garden enthusiasts around the globe. She has made the online acquaintance with many like-minded gardeners, who enjoy each other's gardens vicariously through the sharing of photographs.
"At some point when I was growing up, I visualized an old lady in a large garden hat, happily just puttering around in her garden. I always wanted to be that old lady, and now I guess I am," she says.
When you approach the seasonally decorated front porch from the driveway, a huge contorted hazel nearly hides the wall of the house, while an elegant redbud anchors the front garden. Mirrors set in old window frames on the fence — which divides the property from the next- door neighbors — appear to be see-through windows, when in fact they are reflecting the lovely plants in the front garden.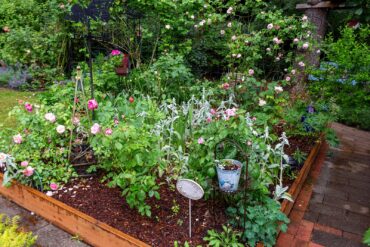 Myriad bird cages filled with plants and collectibles peek from between shrubs and hang from porches and trees. A miniature glass house, about 2 feet square in size, sits on an antique table stand. Debbi's husband, Rod, who has worked in the window business for years, built the tiny greenhouse from a photo she showed him. The base itself utilizes the legs of an old table Debbie found at a yard sale, laying in a heap, which she obtained free of charge. Throughout the garden, there are buildings and decorative structures built by this talented craftsman.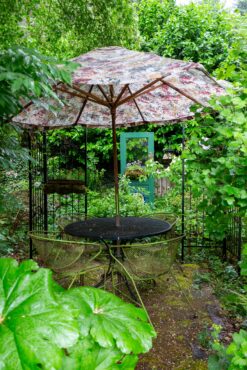 Debbie is the consummate thrifter, visiting her favorite thrift store haunts on such a regular basis, staff members know her by name.
"The only things in the garden that were purchased new are the gazebo and the bench inside it," she says. "Everything else you see has come from a thrift store or yard sale or was built by us."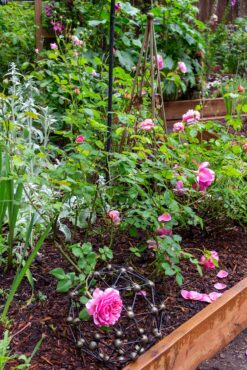 Her smile belies her pride in knowing she has a great eye and a talent for knowing how and where to place her treasures for maximum effect. She is also exceedingly proud of her husband, who turns his hand to build anything she asks for, enjoying their creative partnership. On one exterior wall of the house is a newly created shelf that looks like it's straight out of a Victorian publication. It's painted white and constructed out of numerous parts of antique wooden pieces Debbie had accumulated out of rubble piles at sales.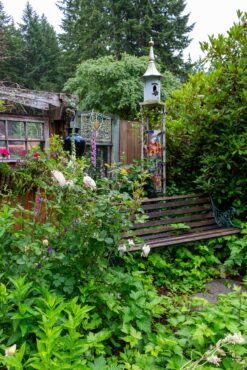 Eventually, the perimeter borders grew, with rhododendron, hydrangeas and roses serving as anchors to flowering perennials such as lady's mantle, hostas, nepeta, forget-me-nots, rose campion and ferns of every variety.
"I have lots of repeat plants and I love things that reseed freely because I can just move them to a new spot if they become too crowded," Debbie says.
She loves big, blousy plants that give the garden a big "bang for the buck" and doesn't mind if something starts to overgrow its bounds. She just trims it back or moves it to a place it can grow as large as it wants to.
Trees such as birch, redbud and various fruits provide an understory to the towering Doug firs that occur naturally around the property. The apple tree is an homage to a grandmother who had one.
"That apple tree grew from a core grandma thew in a hole when she was a little girl, so I just had to have one, too," she says.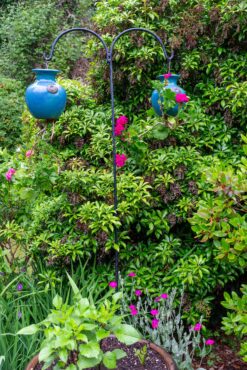 The rose campion, which reseeds readily, is from a plant given to one of her grandmothers from the other one at the time of Debbie's birth. A descendant of that plant was given to Debbie and grows happily all over her garden now.
As the children grew and left to establish homes of their own and as the garden became more mature, the raised bed that used to hold vegetables, berries and grapes gave way to hostas, spirea, daisies and a sculpture or two here and there.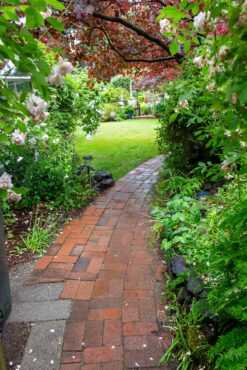 Wandering under the rose arbor around the side of the house reveals a meandering pathway, part grass, part brick. The path continues with mossy stepping stones in the shadiest part of the garden around the far side of the house. Benches and chairs are placed artfully throughout the entire garden for resting, watching the birds, contemplating or simply viewing the garden from a different vantage point.
Surrounding the house are multiple porches and entrances. There are additional places to sit, each artfully appointed with vintage furniture, colorful cushions, tables to rest a cup of tea and accessories that range from vintage china to birdhouses and cages, to potted plants and sweet figurines Debbie could not resist on one of her treasure hunting forays.
A Consummate Collector
The tool shed is a nod to Debbie's love of all things Mary Engelbreit. Along with hunting for statuary and bird houses and furniture for her garden, Debbie has become a collector of the iconic pottery, paintings, dolls and other licensed crafts of this renowned designer and illustrator.
Those who are familiar with the artist's designs will recognize the creatively designed and built tool shed in a side garden of the property. Debbie showed Rod a photo and, once again, he rose to the occasion and copied it perfectly. They were offered a chance to market the design, but declined, as Rod likes to build by eye and doesn't necessarily draw out detailed plans.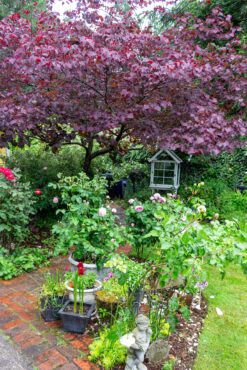 A few Engelbreit pieces are found around the garden and in the "she-shed," but almost all of the massive collection is inside the house in two rooms dedicated to displaying it. The collection is organized in a way that would rival the most carefully curated museum showing and those who are able to view it are in absolute awe.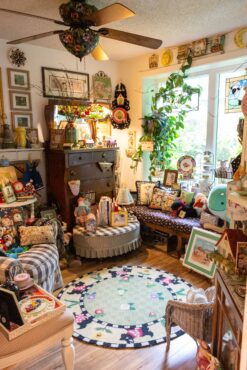 Debbie explains she finds pieces almost everywhere she looks, the result of a practiced eye to seek out items she would like to have to complete her collection. She also buys duplicates of pieces she already owns so she can trade them for pieces she would like. There are Mary Engelbreit collectors organizations where members exchange information and buy, sell and trade their pieces.
Debbie is exceedingly generous with her collection, giving meaningful pieces to friends on special occasions or to brighten someone's day. And how on earth does she keep all these pieces so sparkling clean? "The secret is a Swiffer Duster," she says. "It gets into all the little nooks and crannies without disturbing or knocking over anything."
This very sweet, shy, unassuming woman kindly allowed a view into her secret garden and amazing collections so others can learn about them. What an inspiration she is to us all.