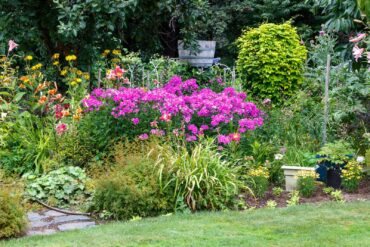 Sitting serenely at the top of a hill with a peek-a-boo view of Sinclair Inlet is the home and business of Lisa and Dave Connelly. Towering trees border the open spaces of the 8-acre property that showcases the picture-book home, orchard, garden, flower beds, greenhouses, trout pond and chicken coop. A journey up the winding narrow road to Lisa's Leaves at the top of the hill rewards the visitor with arrival at an enchanting space where the world stops spinning and one is enfolded in the arms of nature at its finest.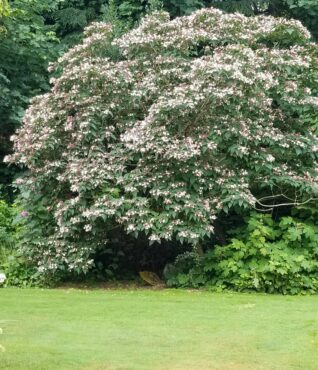 Lisa Connelly arrived at this little piece of paradise as a young woman. It was the home of her husband-to-be, and she fell in love with the space, as well as the young man. She vowed to never leave — and has stayed for 38 years. A gardener and lover of nature as a young child, Connelly began her horticultural career in the seventh grade, working with her grandparents, who owned the Port Orchard Nursery. She learned the nursery trade from the ground up and delights in all things plant related, particularly propagation. Connelly is a Washington state Certified Professional Horticulturist who is largely self-taught. She has learned her skills beginning in the nursery with her grandparents, then by working in other nursery settings and through her own experience.
Over the years, the property has evolved as the family grew and Connelly has had time to dedicate her energies into developing her business, which is now 22 years old. Three large greenhouses are used for propagation, sheltering tender plants in winter and serving as workspaces for custom wreaths, baskets, centerpieces and large container arrangements.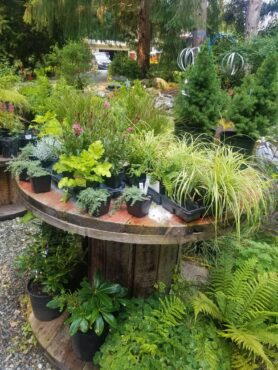 "I love propagating new plants and about half of what I sell is grown here," Connelly said.
She also offers floral services for weddings when her 100-plant dahlia bed and the cutting garden are in bloom and when other floral and foliage plants are available. A little, rustic log cabin surrounded by plants and garden art serves as nursery office and play space for the Connelly grandchildren. Dave built the cabin for Lisa from timber they cleared from the property, but it looks like it has been there for eons.
Outside the greenhouses, tables and structures for hanging arrangements overflow with interesting, healthy, robust and unusual plants, as well as with old-fashioned favorites. One such example is a cluster of hellebores, a winter-blooming plant that Connelly picked up at her wholesaler recently.
"There are dozens of new varieties being developed every year, but I like the old-fashioned white ones," she said. "There are beautiful, deep burgundies and reds, but with the dark foliage and dark winter days, the white ones really show up and give a bit of life to the garden."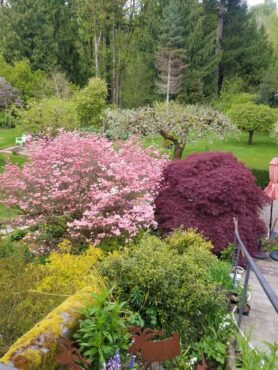 Over the years, Connelly has developed a following of customers who share the treasure of her business with their friends, who bring their friends along in return. She is always ready to help with any gardening problem she can and will try to find answers for those she can't.
There is a little bucket in the greenhouse with a box of 3-by-5-inch cards and a pen next to it. When customers are looking for a specific plant or want to fill an area of their garden, Connelly asks them to write down their name and phone number on a card, along with the name of plant or type they would like to have, and drop the card in the bucket. Every week on Tuesday or Wednesday, she visits her wholesale suppliers and looks for the plants the clients have requested. She is well known in the community for this kind-hearted service.
Other services Connelly provides are landscape design, winter home decor and custom-planted containers and hanging baskets. She also designs and casts a large variety of concrete garden art items, with several always available to choose from, including leaves and fish, concrete benches and small tables.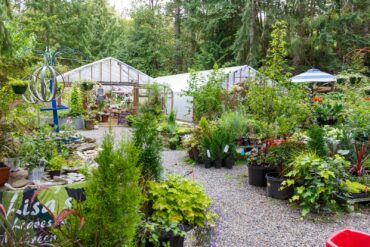 In addition to running a first-class, small nursery business, this talented entrepreneur teaches all sorts of garden-related craft classes. Concrete leaves are a favorite, but stepping stones, hypertufa planters and wacky bowls also are very popular. Wintertime brings wreathmaking of mixed greens, magnolia leaves or cedar. Culinary bay leaf wreaths are a favorite. Ready-made wreaths are available for sale in November and December and wreathmaking workshops can be scheduled for groups.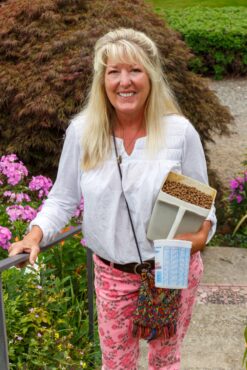 "When someone has an idea for a garden-related craft they would like to learn, we will do our best to make that happen," Connelly said.
Adjacent to the nursery area is a quaint and picturesque chicken coop where the egg-laying ladies are safely enclosed in a cozy pen. Tall, welded wire walls and a tin roof keep the hens in and predators out. The back part of the coop is enclosed with wood and provides a sheltered, enclosed room for roosting and egg laying. The coop is bordered by a cut flower garden and the vegetable garden. A brick-paved seating area also includes the garden shed and provides plenty of space to sit and enjoy the surrounding garden areas and take a rest from the continuous chores.
The seating area near the garden shed affords a view of the orchard, which sports plums, pears, apples and other fruits the family harvests and eats. Connelly also loves canning and preserves whatever she can for eating later on. Looking from the house toward Sinclair Inlet is a massive, well-manicured lawn surrounded by an impressive border of colorful shrubs, low-growing trees and perennials. During the pandemic, when wedding venues were difficult to find, the Connellys opened their lovely grassy lawn for use as a place for wedding ceremonies. This beautiful setting continues to be available by reservation and Connelly offers floral designs and a decorated arbor with the space. The bridal party needs to furnish chairs, tenting, etc.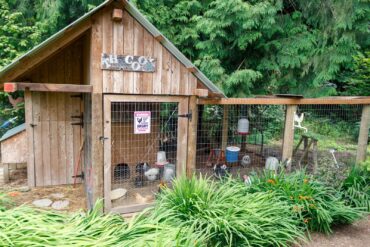 A pathway between the house and the nursery and garden shop leads down into a little canyon where there is a trout pond, which is big enough for a kayak and is a favorite spot for kids and friends to fish on a summer afternoon. Strict rules about life jackets and safety are imposed in this area, but what a delightfully surprising space for those who are invited to play here.
One marvels at how Lisa Connelly can manage the business and maintenance of such a large property, but, she says, "This is my life. It is what I love to do and what brings me joy. I would always rather be outside than indoors. I am outside from the time I wake up in the morning, just enjoying all that nature has to offer."
She even sleeps outside six months of the year and this year is planning to install a yurt for sleeping outside in style.