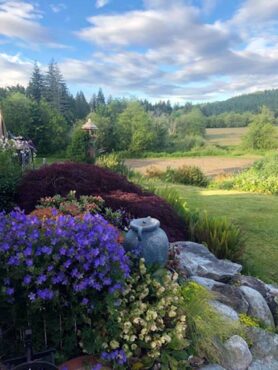 The view from the farmhouse porch instills a sense of peace and tranquility, as the ever-changing light signals the progression of seasons — and only the voices of birds flitting in and out of gardens and over the flood plain below break the silence. The calm and quiet of this place has nurtured generations of farmers since the late 1800s and brought forth the family of Jay and Susan Allen, whose love for the land, each other, neighbors, community and their God is an enduring example and legacy to all who cross their path.
The Allen family's relationship with the present farmland began in 1911, when Effie DeForest Boyer answered an ad placed by one Fred Knowlton for a housekeeper. Boyer had suffered some "troubles," as she referred to getting a divorce while living in Chicago, and was ready to start a new life. She had seen a photo of Mount Rainier and decided she needed to head to the Northwest to see that mountain for herself.
Boyer traveled by train, steamer and finally Mosquito Fleet to reach her new destination. The Knowlton Farm was located on the banks of the Tahuya River at the end of a reach of Puget Sound, about 2 miles from the center of the small town of Tahuya. There were no roads in the area at that time and the farm could only be reached at high tide by rowboat.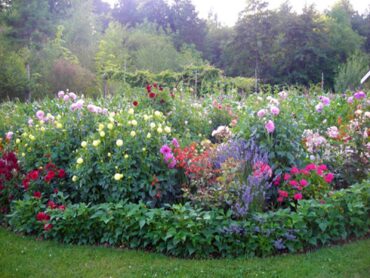 Fred Knowlton raised chickens and sold eggs but when Boyer married his son, Verne, the farm enterprise was energetically expanded. She was very social and had an inherent sense of business acumen. By the 1920s, the Knowltons were growing 20 acres of pole-beans and bringing employees from Seattle to help pick and process in cans, which eventually found their way onto grocery store shelves and into cruise ship kitchens. In 1922, a structure that now serves as a greenhouse and potting shed was built and served as a milking shed, complete with cement cooling troughs for the milk.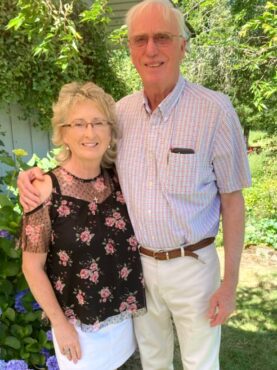 In 1959, Effie's daughter Frances and son-in-law sold the farm and all its acreage to Jay Allen's parents, Harold and Pearl Allen. Here is where the present Allen family farm saga begins. When the senior Allens took over the farm, they were cattle ranchers, raising beef on the native grasses of the floodplain. The "farm" became "the ranch," as it's still known today.
The Allens also logged some of the acreage, selling Christmas trees in season, and this enterprise became known as Allen's Tree Farm. From the seventh grade onward, Jay Allen roamed the land, fished, hunted and learned to love and respect all that nature provided. Helping his father with logging and tree production, young Jay became a forester before he even realized it could be a profession, and this led to his obtaining a degree in forest management. Working for Boise Cascade and later the Port Gamble Sawmill, Allen understood the nuances of raising trees for retail distribution and wholesale for the timber industry.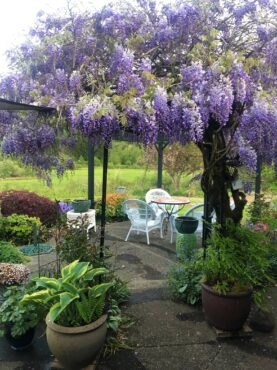 Jay and Susan, whose families were good friends, were married in 1973 in Belfair. Susan Allen recounts two sweet stories about her and Jay before they fell in love and began their life together.
"Jay was 26 years old and his mother asked him why he had not yet found a girl to marry. He told her he was looking for a special country girl," she said with a laugh. "I guess I'm that country girl."
When Jay asked Susan out on their first date, she told her father she was going out with Jay Allen. Her father and Harold Allen were close friends, and Susan's dad said, "Well, just be nice." She still wonders what he meant by that because, she says, she is always nice.
Long before the family settled into real ranch life, Jay Allen had taken over the raising of noble fir trees for the Christmas tree market, running several tree lots around the Seattle area. His wife developed a Christmas wreath business, selling wreaths at the tree lots and taking custom orders. The couple were known for their beautiful, "hand-crafted" Christmas trees, as Allen kept them trimmed during the growing cycle to maintain their picturesque shape. Meanwhile, the Allens were raising two young daughters and were very involved in their community.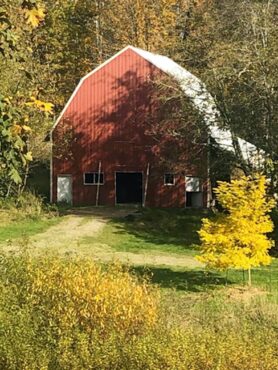 As the pair were each raised in homes with similar family values, they had strong examples set for them in how to raise their own children and be involved in the community. They lived in a rental property in Belfair until moving to the ranch in 1993. The old farm house had been rented out since 1980, when Pearl Allen moved to Belfair, so everything was totally overgrown. There was no existing vegetable garden, and native trees had grown up to obstruct the view of the valley below. Over the years, the Allens made the ranch their own, embracing the history of the property and honoring the land. The original house was torn down and a new one was built to serve the family's needs, while the old milking shed became a greenhouse. The hundred-year-old revered barn was maintained and used the way it had always been.
Originally, hay was just stored loose in the barn, but Allen found it far more efficient to store bales. He invested in a baler and the whole family gathers around during June and July to help with haying, hauling and loading the hay bales onto the elevator. The massive barn has a loft up on the top that stores nearly 2,000 bales of hay while farm machinery is stored below. Susan Allen has carved out a corner of the barn for storage of items the church ladies collect during the year for their annual "haggle sale."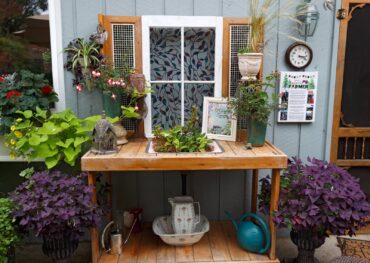 Susan is very involved in her church, St. Nicholas Episcopal, which, along with the Tahuya Community Club, serves as a center and anchor for the local community.
"There is something so very special and spiritual inside that church," she said. "When the old pipe organ is played, a sense of peace and calm is so present, everyone feels it."
The annual church sale sponsored by the church nets around $15,000 each year. Nothing is priced, as buyers are expected to make an offer. If the volunteers managing the sale feel the offer is too low, they haggle for a better one. The sale is hosted the first Saturday in July and attracts hundreds of visitors, as it coincides with Tahuya Days. Proceeds are distributed to local organizations such as the Boys and Girls Club, North Mason Resources, BackPacks for Kids, etc.
A Family Affair
For the Allen family, life is ordered by the change in season. November brings the harvesting of trees for Christmas sales and the beginning of the wreath-making production. Their daughter, Elizabeth Allen Blevins, first started helping with wreath making when she was 9 years old, and now runs the wreath-making business with help from her mother. Blevins, owner of Precious Gems Dahlia Farm in Seabeck, also grows dahlias at her own location, as well as cultivating a large area on the Allen ranch. She sets up a Santa shop at her Seabeck location and employs a few others to help make wreaths for bulk and for custom sales. Wreaths and arrangements can be purchased on site and may also be shipped anywhere in the United States.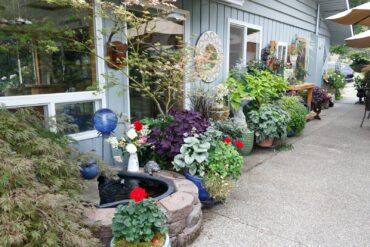 Jaydon, Blevins' 9-year-old daughter, has begun making wreaths just as her mother did at that age. In addition to wreaths, Blevins designs custom floral arrangements for weddings, celebrations of life and other special occasions year round. She maintains a 24-hour flower stand in a gazebo at Seabeck during the dahlia season.
Dahlias are lifted from the ground after the first frost in the late fall and the tubers are stored and then placed out for sale in March. Tubers are sold at the Seabeck location as well as on the internet. Weather permitting, the tubers are replanted in May to produce flowers for the coming summer season. Blevins and her husband also sell Christmas trees from mid-November until Christmas at another location.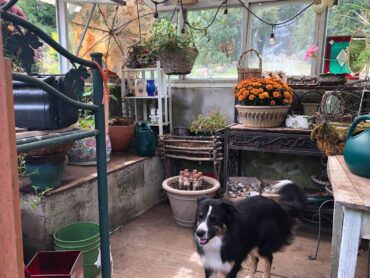 Andrea Allen Litle, the Allens' youngest daughter, has also been involved in the family business and social endeavors since she was very young. She is a freelance graphic designer who earned her design degree from the Art Institute of Seattle and has established her own business through marketing her imaginative designs that reflect her keen interest in the natural world.
Litle has designed signs and flyers for the family tree farm, labels for Blevins' home-grown honey and the logo for Precious Gems Dahlias. When Susan Allen holds benefit functions at the farm such as her well known Garden Teas, it's Litle who designs the promotional materials, tickets and other pieces. Her art work is informed by her growing up on the farm, helping with tree sales, working in the garden and watching her mother combine beautiful combinations of flowers in containers and table arrangements. "Mom's gardens were very motivational for me growing up and still influence my design work today," she said.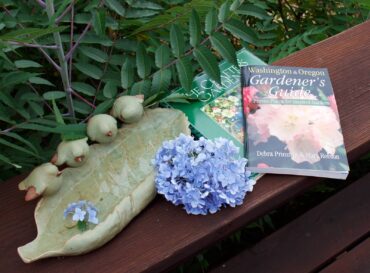 Litle loved watching the bees, hummingbirds and frogs in the garden as she went about her chores. Her mother allowed her to cut up her gardening magazines and create collages from the photos. Today, Litle creates her collages using Photoshop and has developed an extensive line of greeting cards and wall art using images of flowers, plants, birds and bees. She is fascinated by typography and enjoys putting together various fonts to create sayings for her greeting cards and other graphics, which include artist trading cards, birth and marriage certificates, journal graphics and collage prints. In addition to running her own business, Litle helps with bough cutting and wreath making as well as tree sales during the holiday season.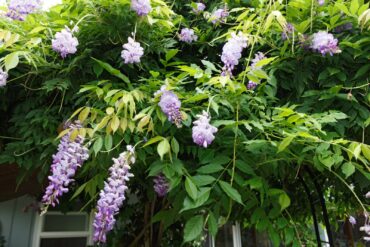 As hard working as the whole family is, Susie (as she is known to family and friends) insists summer is all about family and community. They spend as much time as possible together for family meals, celebrating each other in between gardening, haying, canning and running their own businesses.
In a true farm tradition, neighbors come and help Susie Allen with canning fruit and green beans. Schedules are juggled to accommodate extended family members who travel from far-flung places to enjoy a little summer farm fun.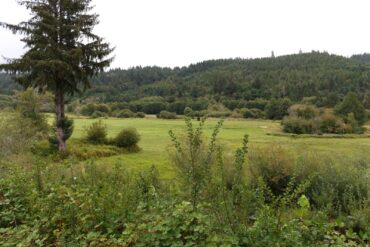 As pillars of their community, the Allens help run the Tahuya Days festival and do their best to ensure the wellbeing of their tiny town. In addition to myriad other duties, Allen makes dozens of raspberry scones that are always a highlight and sell out every year. "I tried to retire last year, but it seems I'm busier than ever," she says with a laugh.
Jay Allen is slowly converting the wholesale noble fir tree acreage into growing Douglas fir for timber production. The couple tries to take a vacation sometime in January or February — after the holiday rush and before the responsibilities of spring call them back. Just like the land they so lovingly nurture is at rest, they, too, rest, rejuvenate and plan for what the coming months will bring. Whatever the season, it's assured the Allen family will continue to inspire others with their love, their close-knit bonds with family and community and their continuing stewardship of the land presently known as the Allen Family Ranch.