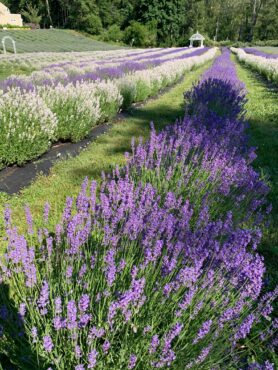 Crossing the wooden bridge at 11501 Crescent Valley Drive NW, just outside of Gig Harbor and midway between Soundview and 144th, the sight up the hill to your right will leave you breathless. About 2,000 lavender mounds in varying colors of greens, pinks, deep purple and blue quicken the pulse and delight the eye.
Park on the grassy strip next to the field, get out of the car and breathe in the heady fragrance of lavender in full bloom. Notice how the plants are abuzz with pollinating bees and butterflies. And while the season for visiting Crescent Valley Lavender Farm is only about six weeks long, it's oh, so rewarding for those who make this little farm their destination on a summer's day.
As most gardeners are aware, many plants native to the Mediterranean region are well suited to the Northwest climate. Thriving in temperate, rainy winters and warm, dry summers, the woody herbs of southern Europe flourish here in a sunny, well drained location. The Liebner family purchased the 9-acre property in 2015 with the intention of growing lavender, thanks to the perfect location and exposure they found here.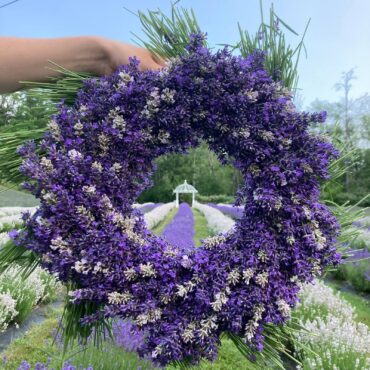 Glenn Liebner worked as a landscaper while in college and always has loved gardening. Planning ahead to his retirement, he felt he would like to develop a hobby that would sustain him as he grows older. Growing lavender appealed to him, providing an opportunity to spend a great deal of time outdoors.
Liebner wanted to spend his energy on something that would be good for the community and the environment, and he thought it could also turn into a profitable endeavor. Liebner and his wife, Diana, sought family-oriented destinations for family activities while raising their daughters. So, he thought a lavender farm would be a nice destination for families to visit, learn about plants and pollinators and just enjoy being in the outdoors together.
In 2015, the Liebners sold their Gig Harbor home and bought the Crescent Valley property. The bottom 2.5 acres were "solid scotch broom," he said. It took him the entire first year just to clear the broom and brambles before he could start to cultivate the land.
Next came making rows for planting, installing weed-barrier fabric and laying irrigation lines. Soil tests from several spots around the prospective planting area revealed that lime was needed to balance the acids in the soil. Lavender grows best at 6.5-7.5 pH.
Toward the bottom of the hill where the soil stayed a little too damp, Liebner raised the rows onto a berm for better drainage. The soil texture turned out to be a sandy loam, which is the ideal growing medium for lavender. He consulted with Victor Gonzalez of Victor's Lavender Farm in Sequim on the technical details such as soil amendments, and row and plant spacing. When the time came to plant, Liebner purchased his 2,000 lavender plugs from Victor's, drilled through the previously laid weed barrier and put his new plants into the ground.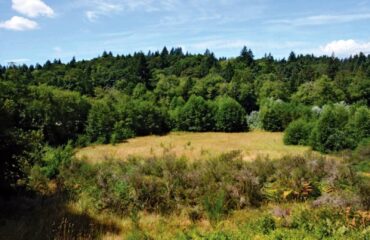 "The type of lavender and varieties you choose to grow are determined by what your intention for your crop is," he explained.
Crescent Valley Lavender Farm grows seven varieties of lavender for different characteristics and properties. Some plants have milder camphor content and are best suited for culinary use, while others are desirable for cutting and drying for long-lasting arrangements. Some varieties have a high oil content and are best for distilling essential oils.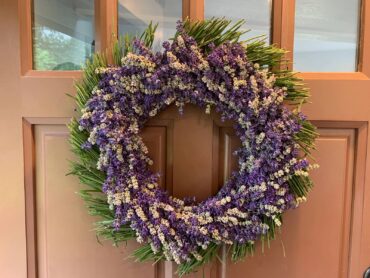 The English lavenders are the first to set blooms and are usually showing off their beautiful colors when the farm opens on June 15. Folgate English lavender is fragrant, with purple blooms abounding on a compact evergreen plant with narrow foliage. The sweetly aromatic Folgate's flower is good for culinary use, cut flowers, dried flowers and wreaths.
Royal Velvet English lavender is a small to medium-sized plant with highly aromatic, deep-purple flowers and foliage. It's covered with long-stemmed, dark navy blue and lavender flower spikes. This variety also has culinary use and makes a nice cut or dried flower.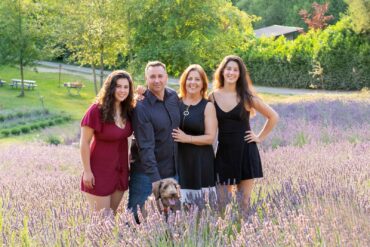 Melissa is a wonderful variety of English lavender on a compact, fragrant plant with broad silvery green foliage and stunning, large flowers on compact pink and white flower spikes. A favorite for culinary use, it also mixes well with purple bundles of other lavender varieties. The Liebners use Melissa mixed with Grosso or Folgate in wreaths.
Pacific Blue is a medium-size, English variety. It has small, gray leaves, and beautiful, violet-blue, fragrant flowers from spring to autumn. It, too, has uses as a culinary herb, cut flower and wreath element.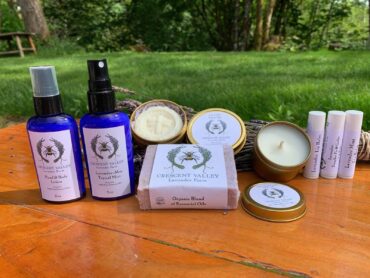 Grosso, Grosso White and Edelweiss (a white-flowering lavender) bloom late in the season. As Grosso is a very large plant that blooms heavily, it provides an ample harvest of flowers for lavender wands, sachets, wreaths, cut flowers and essential oil. Grosso Lavandula x intermedia is a classic French hybrid grown for its fragrant, dark blue flower spikes and vigorous growing habit sporting wide, gray-green foliage and long stems. The Grosso White is nice for weddings and the flowers add a nice contrast to the deeper purples and blues of the other lavenders.
Edelweiss Lavender Lavandula x intermedia is the second white-flowering lavender grown at the farm. Flower buds appear light pink before opening to reveal a pure white flower. It looks great blooming against other purple lavender plants. Edelweiss is another wonderful cut flower.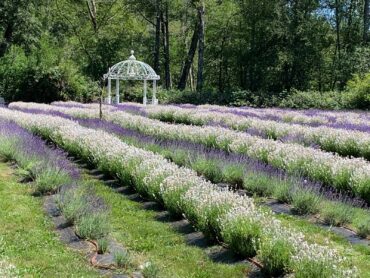 "When all the flowers bloom, I think they look like mini cotton balls," Liebner said.
Although the farm is only open to the public for a short six-week period every summer, customers will find bundles of blooms, wreaths and a plethora of other lavender products for sale at the Gig Harbor Waterfront Farmers Market. Boxed selections of lavender essential oils; gift sets containing shaving products; or soaps, lotions and perfumes are some of the delightful choices. Teas, scone and shortbread mixes are among the culinary products available.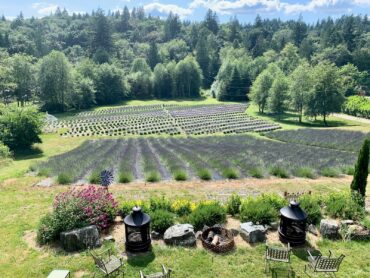 Crescent Valley Lavender Farm harvests and distills essential oils from several of the varieties it grows. Harvesting lavender for essential oil distillation must wait until 100 percent of the buds have bloomed in August. Harvesting for culinary use or for dried buds to use in potpourri and sachets must be done earlier, when only 15 to 50 percent of the buds are blooming.
Starting a lavender farm is about a three-year operation, from planting the plugs to the plants reaching a sufficient size for visitors to enjoy. Along the way, Liebner has learned he may have planted his rows a little too close together. As the plants have matured, they have gotten so large, he has to mow the grassy strips between the rows by hand instead of using his riding mower.
Tending an operation of this size takes many hours of work, and as the Liebners have full-time jobs and their daughters are full-time students, they see little downtime during the growing season.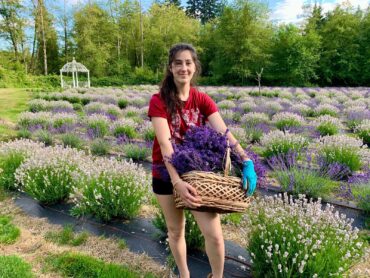 This truly is a family operation, with daughters Annina and Eliza playing a central role in harvesting, assisting customers, making wreaths and running the gift shop and the farmers market booth.
"They are an integral part of our business and our customers recognize them around Gig Harbor," Liebner said with a great deal of pride. "They also help greatly with social media and reaching out via social media platforms." He adds, "My wife is my counterbalance. We work together on the farm layout, strategizing our business endeavors and producing product."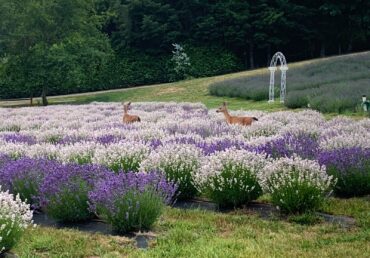 Farm visits require a time reservation and a $5 parking fee. Crescent Valley Lavender maintains a "u-pick" operation in summer and visitors are guided to the plants they are most interested in. They're also educated about the different types of lavender on the farm and the proper cutting of lavender bundles. The experience of cutting the lavender is transcending and many customers comment that they feel connected to the farm and nature when doing this. There is also a victory garden to explore and a 5-acre-loop woodland walking trail on the hill above the lavender fields.
The Liebners are hammering out the details of scheduling a wreathmaking class, and they also accept orders for custom-made lavender wreaths. Making wreaths is labor- and time-intensive, and as they usually sell out early, this year they are working to increase their production.