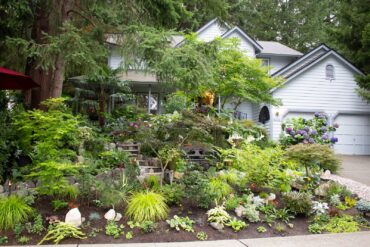 The mystical, magical garden created by Arlene and Bill West inspires awe and an explosion of ideas in the minds of all who visit. Solutions for gardening in "next-to-impossible" places, intermingled with expressive, original and imaginative garden art could fill a book. Here is their story.
When Arlene married Bill about 20 years ago, the front yard was typical for the Silverdale neighborhood where it's located. The backyard, however, was only accessible about 10 feet back from the house, consisting of an overgrown tangle of blackberries and an impenetrable thicket of other native woodland plants.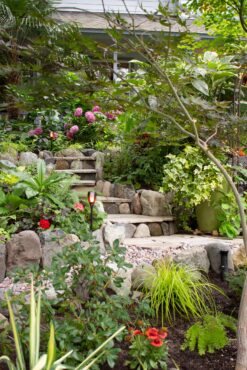 One evening, relaxing with a glass of wine after a week of work, she asked her husband, "How far back does the property go?"
"That was my last weekend off," Bill West recalls with a laugh.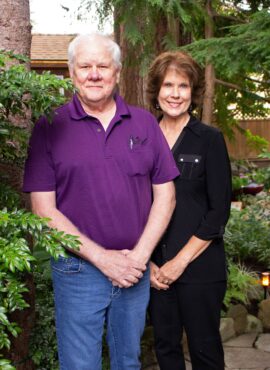 Working together, they cut a swath through the brambles and discovered the property had no boundary fence where it backed up to the green belt. Arlene West has always been interested in gardening as she grew up on a farm in Mount Vernon. Understanding that the task ahead of them was going to be monumental, they started removing berry brambles and the tangles of undergrowth, hauling away endless pickup loads. Eventually, they hired dumpsters to take the overflow and dropped between 30 and 40 trees to clear enough space to landscape. "When we finally got down to the dirt, we discovered it was all hard clay," she says.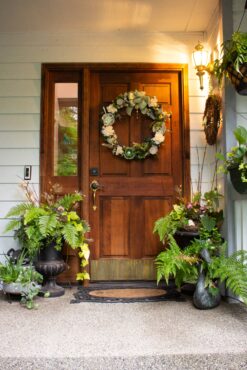 Because gardening on a forested lot is much different than farm gardening, West joined the Kitsap Master Gardeners program and began her journey of learning to garden under, in and around tree roots and in a mostly shaded environment.
"I apply all the principles and techniques I learned in those classes to help me continue to grow as a gardener today," she says.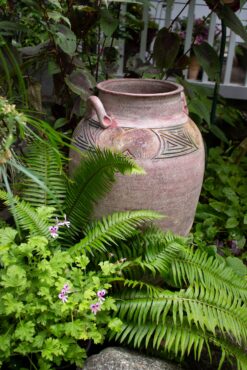 In the meantime, while West was concentrating on plans for beds and learning what kinds of plants she could cultivate in these special conditions, her husband used his engineering background to lay in water lines for potential sprinkler systems and power for lighting, water pumps, etc.
"It's much easier to lay in the infrastructure before plantings and hardscape go in than after," he explains. "And I always lay in more lines than I think I need so I can tap into it at a future date if necessary."
At present, there are about a dozen active hose bibs around the property, and all pathways and the water feature are lighted electrically. Additionally, there are Wi-Fi-enabled, multiple zone-sprinkling systems that can be controlled with a cell phone. When the Wests are traveling, they can watch the weather report and turn their watering systems on if necessary.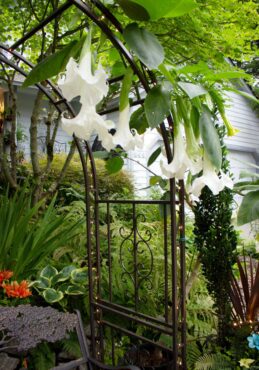 While clearing the backyard section of the property, removing dozens of trees and undergrowth, the Wests left a few strategically placed Douglas firs and western red cedar trees, along with several salal and native huckleberry plants. These, along with some wild harvested sword fern, form the bones of the garden. In one particularly striking vignette, the majestic, soaring trunk of a cedar tree gives pause to one wandering the path around it.
The front yard showcases the Wests' most recent major project. Arlene West asked for a utility path that would allow her to traverse the sloped area from the street up to the house.
"Whenever Arlene says, 'I've been thinking,' I know I am in trouble," Bill West says.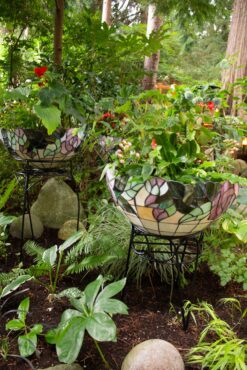 The simple access pathway she had in mind soon became two pathways with stone steps traversing the entire street-facing slope from the driveway to the property line. Bringing in boulders and fill dirt to build landscaped terraces allowed for additional planting areas.
Arlene installed some large shrubs to anchor the site and ground covers to fill in around the steps and crevices in the boulders. She adds smaller shrubs and perennials, planted mostly in nursery pots or decorative containers, to enhance the area for color or seasonal interest.
The focal point of the street-side landscape is a newly found garden bench. Initially shopping for a very large pot for the space, the couple found themselves doing an about-face when they saw the bench at a garden center. The tree-of-life motif on the bench reminds them of their travels in Turkey and they felt it was totally appropriate for their garden.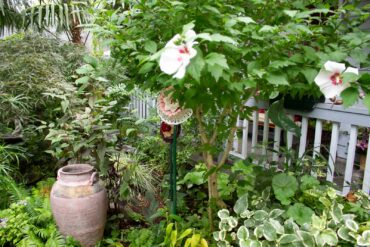 The bench needed an arbor, and the arbor led Arlene to place two of her very large prize brugmanzias flanking the arbor on each side. "When designing a garden, you have to remain flexible, and if something unusual catches your attention, be willing to change your mind and go for it," she says.
As garden hobbyists, Arlene and Bill West spend their recreational time going on garden tours, visiting nurseries and the Northwest Flower and Garden Show. They attend seminars and other learning opportunities when possible. Arlene is a member of the Northwest Perennial Alliance and her local chapter offers an annual three-day bus trip visiting private gardens and unusual plant nurseries. The couple garners ideas for hardscaping, interesting plant combinations and new gardening techniques wherever they are and her artistic eye puts those ideas into action in their garden.
Perhaps the most striking aspect of the West garden is the design and placement of dozens of garden vignettes that feature interesting plants and innovative garden art.
Most of the elements are "found" items scavenged from yard sales or thrift shops, and even abandoned items picked up along the sides of the road. Seating areas are located at every turn along the pathways, some accommodating just one person and others inviting two or more to sit, rest and enjoy the garden from every viewpoint.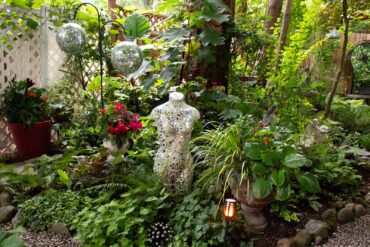 The large bench near the street invites passersby to sit under a bower of hanging angel's trumpet blooms in summer. A bistro table is set for two on the east-facing front porch for enjoying morning coffee on a nice day. Another table, nestled on a wooden platform at the top of a front yard pathway, suggests sitting for a leisurely glass of afternoon wine while a surprised seal pokes its head up out of a hole in the deck.
A meandering path around the south side of the house reveals an understory of colorful umbrellas, hung upside down in summer. Arlene West has amassed enough different umbrella designs to change her display seasonally.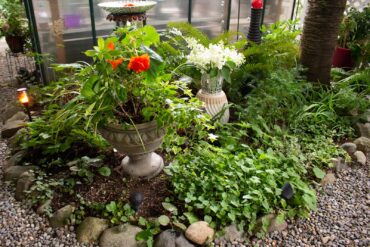 Surrounding the house are immaculately maintained plants and artistic displays for enjoyment from the inside of the house, as well as from the garden. A sparkling vignette of a mirrored woman's torso and multiple disco balls throws dancing light along the path and into the house. Mirrors are strategically placed throughout the garden to reflect the light, showcase a view from behind or give the illusion of looking into another vista.
Stone and concrete statuary are tastefully placed throughout the property as focal images at the end of a path or to showcase and unify a bed of plants. Lattice and bamboo screens create backdrops for plants and direct the eye away from neighboring property and the work area adjoining the green belt.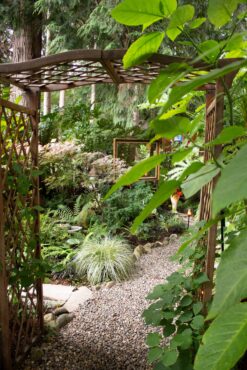 Arlene West repurposes myriad vessels as planters and pedestals to give her garden color and interest. Her eye for design and color keeps the garden from becoming cluttered.
"When you see an item you like, think of how it can be repurposed or upcycled into a new use," she advises as she points out a grouping of Tiffany-style lampshades she turned into bowl planters. Another example is a glass handcrafted garden flower that mimics the natural rose of Sharon growing near the front porch.
The lush feel of the entire property is anchored by the babbling water feature that ties the back of the lot to the house. Pathways meander alongside the waterway, while a little stairway hides the mechanics of pump and wiring.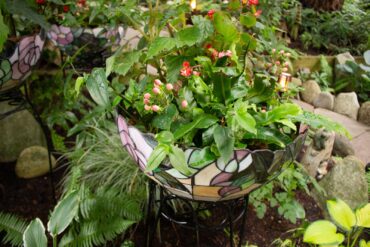 The repeated use of dozens of ferns, hostas and ground covers, intermingled with huckleberry and salal, create the sense of wandering in a forest wonderland. Color comes from potted shade-loving plants such as begonias and impatiens where there is little sun, and geraniums and lilies in places where there is enough sunlight for those plants to bloom. Many of the plants in containers are overwintered in the greenhouse to protect them from frost and enable earlier spring bloom.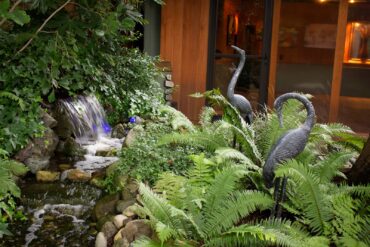 Arlene's imagination, interests and creativity are so broad, her garden decor flows from whimsy to high design and finally, on the quiet and shady north-side garden, a nod to the Asian garden aesthetic that she loves. An Asian-style gate, built by Bill, serves as an entrance from the street and driveway. A stone Japanese lantern lights the path, and the Buddha sculpture is backed by a mirror, reflecting the detail on the backside of the statue.
The backyard also sports an enclosed area where Arlene West, owner of Floral & Foliage, teaches classes on container design and curb appeal. She offers a wreath and centerpiece class prior to the holidays in winter and also is available for home consultation. Find Floral & Foliage on Facebook here.