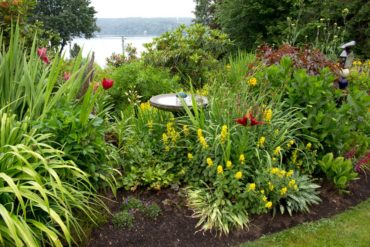 Perched at the rise of a hill, near a dead-end road in Olalla, a small home is surrounded by artfully designed floral and shrub borders. Birds swoop downward into the small canyon on the far side of the property, then return to the hanging feeders and birdbaths scattered throughout the garden.
"I see my garden as a tapestry — a weaving together of color, texture, repetition, shape and change, which pleases my eye and nourishes my soul," explains Laurie Dahl Isacson as she wanders along a lushly decorative stretch of her back garden.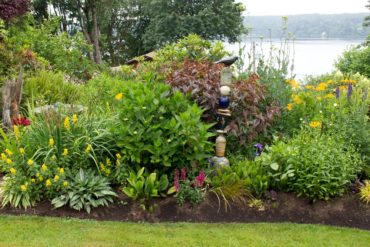 Isacson and her late husband, Norm, purchased the property in 1989, when the garden was nearly nonexistent. Bordered by a road on one side and a deep canyon on the other, the 1-acre property opens from the back of the house toward a view of Colvos Passage.
"We started with a nearly blank slate when we moved in, and since Norm loved rhododendrons, we decided to make them the foundation of the garden," Isacson says.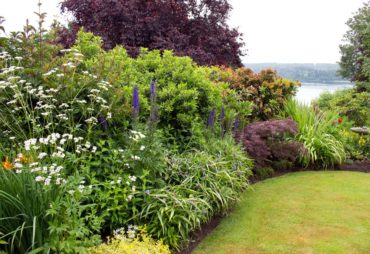 Norm Isacson started collecting, carefully choosing many "5/5/5" varieties, a designation given to the plants in a book he considered the "rhodie bible": Harold Greer's "Greer's Guidebook to Available Rhododendrons." The book refers to quality rating of a plant, from 1 to 5, with 5 being the best rating; 5/5/5 stands for outstanding flower, outstanding plant and outstanding performance.
The couple removed trees growing along the road and replaced them with a large variety of rhododendrons to form a barrier, which later "became a fortress," Isacson says with a laugh. There was one orange azalea growing on the edge of the property that the Isacsons left in place and still exists today. The rhododendrons planted by Norm Isacson were all acquired from Roy Anderson in 1- and 2-gallon pots, and over the years have matured to 10-foot-tall specimens.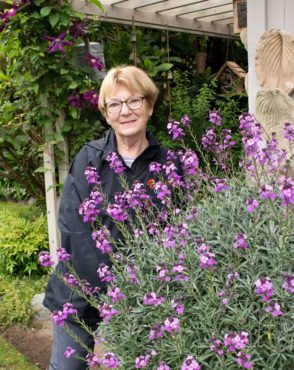 Once the large shrubs took hold, Isacson began building the borders forward into the lawn area, planting mostly flowering perennials. As an artist, she was constantly mindful of form line, color and contrast — layering heights and blending textures of her plants.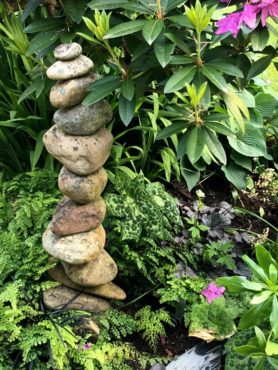 The garden became a place of healing for Isacson while she cared for her ailing mother, and a few years later, when her husband was very ill. She found that when she cared for each of her loved ones, her garden became her sanctuary, a place of solitude and respite.
Her husband loved fruit trees and some of the ones he planted didn't produce particularly well. In the 12 years since his death, those trees have been removed. An extremely experienced gardener, Isacson is not afraid to move plants to achieve a particular vision or idea and by removing the fruit trees, she opened up space for other things.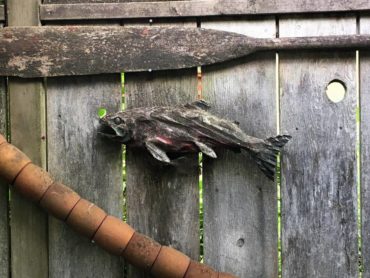 In Norm's honor, there is a memorial garden that contains artifacts from his fishing boat and days as a commercial fisherman. A weathered porthole, pulleys and other tools are artistically placed amid plants and a birdbath. Floats also hang on the potting-shed wall, and other reminders of their fishing careers have found decorative use around the outdoor spaces of the home.
Another section of the border honors Isacson's mother, whose garden supplied many of those plants. Isacson received more than plants from her mother. She feels that the love of gardening is in her genes, inherited from both her mother and her grandmother, who were also perennial gardeners.
A yellow Alstromeria that her mother loved comes up unexpectedly in various places. Even though Isacson has tried to remove it, she has given up, and just pulls it out if it appears in a place where she doesn't want it. She laughs, saying it is a "constant reminder of mom."
The house is surrounded by the lush border of shrubs and perennials, frequently accented by various forms of garden accessories and artifacts. Each item is thoughtfully and artistically placed, intended to draw the eye to a particular plant, texture or color.
Colored glass sculptures catch the light and multiple concrete and metal basins attract birds needing water and bathing space. Clay leaves and birds adorn walls and perch on stakes between plants, while a few fish sculptures and wooden paddles tie the garden to the water.
Tastefully arranged container plantings and garden furniture adorn the multilevel deck, which runs along the entire length of the back of the house. A myriad bird feeders swing from a sturdy pole attached to the deck railing.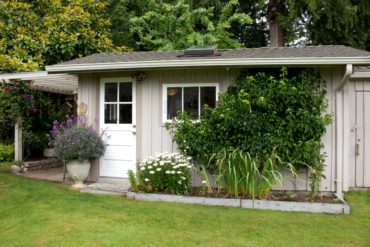 A delightful potting shed sits near the front drive, offering both an outside potting bench area and an inside workspace. Isacson recently covered the outside workspace with a transparent roofing material, affording shelter from the elements as well as natural light in which to work.
Isacson is a fascinating, multifaceted person. She was the first female commercial fisher in Gig Harbor, stepping into that part of her life by a series of serendipitous events. After a summer adventure working in a cannery with a girlfriend following high school graduation, fishing got into her blood. Eventually she worked her way onto a busy boat as cook and crew member.
Potting shed offers an outside potting shed and an inside workspace
While she fished in Alaska during the summer, she pursued a fine arts education during the school year, eventually teaching art at Bellarmine Preparatory School, a profession she dearly loved.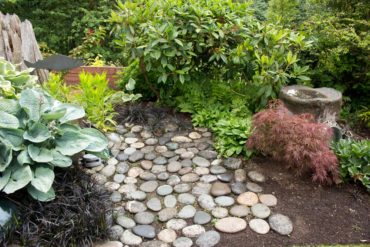 Isacson has been a member of the Tacoma Weavers Guild since the '70s, and she pursues her art in the wintertime when the garden is sleeping. Particularly fond of Native American Northwest coastal art, she is presently working on a group of tapestries of crows. The "Smart Trickster" series incorporates vestiges of button blankets and basketry.
Learning the timeless art of mending nets as a young fisher in Alaska gave Isacson the experience of working with fibers, and she has experimented off and on for years with that art form. Using the skill of net making as a basis, she has produced numerous wall sculptures incorporating a full range of colors and textures. One of her very large works hangs in the Gig Harbor branch of the Pierce County Library System, commissioned for the opening of that branch in 1990.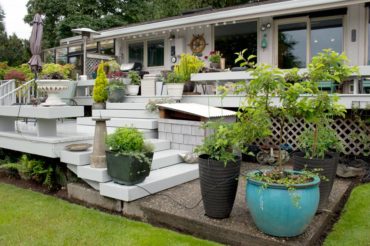 Isacson's studio is as beautiful as her garden, with yarns, threads and other textural materials arranged as a three-dimensional art piece into which one can walk, sit and contemplate. The colorful materials mimic the tints and hues of the garden, sea and sky, all readily available for use when the urge to create strikes.
"I am a summer gardener and a winter artist," Isacson says.
A founding member of the Gig Harbor Dragons, the PenMet Parks dragon boat team, Isacson meets her teammates for practice several times each week. Team cooperation — working as a team all for one — is one aspect that draws her to dragon boating. In 2016, the team took the first-place prize at the Seattle Dragon Boat Festival in the novice division, which basically means new to paddling.
When she isn't gardening or dragon boating, Isacson volunteers with the Mary Bridge Brigade at the thrift shop on Kimball Street.
"I have been so blessed with all of the experiences I have had over the years, and the friends I have made," Isacson says with a smile. "Life is good."