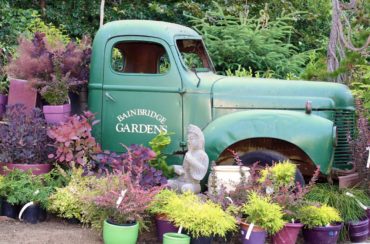 In 1908, Zenhichi Harui came to Bainbridge Island from Japan and started growing plants and flowers, selling them at a small farm stand. The business grew to include a general store, gas station and gardens that attracted visitors from far and wide.
The gardens fell to ruin during World War II, when the Haruis and other Japanese Americans were forced to leave the West Coast. But the family returned to the island and continued growing the property. Harui was known for his passion for bonsai, which led him to graft a D'anjou pear that still thrives in a memorial garden in the current garden center.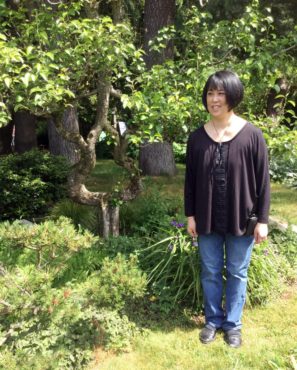 Junkoh Harui, the fourth of five children, had his own nursery and florist business on Bainbridge Island and continued the family tradition on the original land. In 1958, the year they were married, Junkoh and Chris Harui started the business that they called Town and Country Florist.
In 1989, Junkoh decided to redevelop Bainbridge Gardens. Although they're no longer with us, the business the couple began 60 years ago is being carried on by the third generation family, Donna Harui and her two brothers.
Being the third generation to live and raise children on Bainbridge, the family is committed to the local community. Every fall, they host the annual Pumpkin Walk, a family-friendly, Halloween-oriented event that benefits the Boys & Girls Club.
Horticulture classes are offered on a seasonal basis, with January and February focusing on the home orchard. One of the most popular classes, Northwest Newcomers, is very helpful for those new to gardening or to the Pacific Northwest.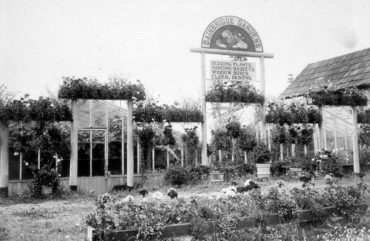 Professional Services Available
Bainbridge Gardens has several certified professional horticulturists (CPH) on staff who are available to come to your home to help identify your plants, offer suggestions and troubleshoot garden issues. Sometimes that's the best way to get started planning your garden.
Trends indicate that houseplants will be popular in 2018. Larger tropical plants, like the fiddle leaf fig, all the way down to succulents and air plants planted in jars and bowls will be available for indoor enjoyment.
The houseplant area of the garden center is expanding. One unique feature will be the "terrarium bar," where you can plant up a dish garden right on site. Soil will be sold by the scoop so you can choose tiny succulent or tropical plants and a container, and plant them right in the store.