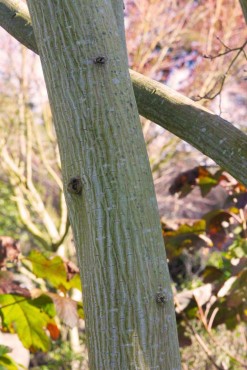 Now that winter is in high gear and the barren deciduous trees lost their leaves months ago, what's left is their proverbial bones reaching to the sky. When deciduous trees are barren, single specimens can have a stark, architectural look to them. Yet that is not all they give us in the winter months.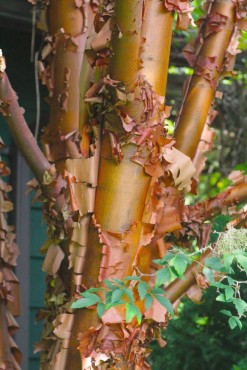 Take the time to take a close look at the trunks of trees. Not the young trees in your new landscape — most haven't had time to develop an interesting, craggy layer of skin. Trees that reveal a textural, mature beauty in their bark are those that have been around the sun many times. The outer layers (rhytiderm) protect the inner, living layers of the trunk, which is called the cambium. Without bark, insects, fungi and other creatures would be feasting on the sugar-rich inner bark.
Trees wear some cool clothes on their trunks — and they do it with a lot of style and grace.
Bark can be richly patterned with a layer of lichen, making the trees even more interesting. Some trees look stunning in designer-look textures.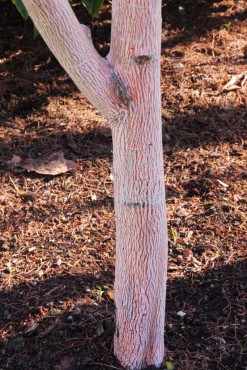 The Shedders
Many eucalyptus trees dress for warmer climates, stepping outdoors in a flamboyant, Liberace-like style. Peeling off the layers as the season progresses, the tree reveals subtle variations of green and rust hues. This hardy spinning gum (Eucalyptus perriniana) looks equally at home down under in the Southern Hemisphere as it is in the Northwest.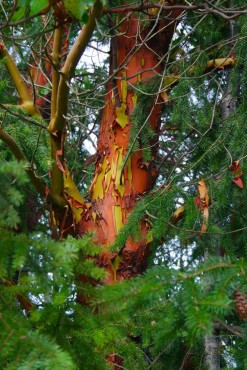 Similarly stunning in full bark before shedding it, spinning gum reveals a smoother bark underneath its older garments. Floral designers especially love the young trees' round leaves for fresh or dried arrangements. Garden designers appreciate the art of a full, well-grown gum tree.
Growing to 10-12 feet, it has evergreen leaves and requires full sun.
Another gum tree (Eucalyptus pauciflora ssp debeuzevillei) is an Australian native wearing a more conservative gray-to-green suit. Intriguing bark peels in large blotches, making the trunk look like it's missing some jigsaw puzzle pieces, with a two-tone textural effect on the trunk and major branches.
This look is as appropriate in the more laid-back style of the Kitsap Peninsula as it is amidst the hustle of the big city of Seattle across the water. One was seen looking equally at home and sophisticated in the Washington Arboretum near Lake Washington.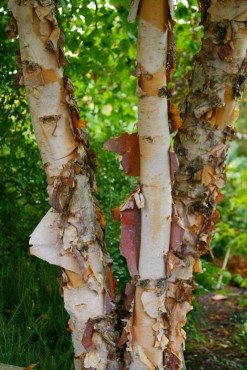 Commonly known as Jounama snow gum, this tree grows to 20-30 feet in full sun and has evergreen leaves.
The Peelers
This river birch (Betula nigra 'Cully') is handsomely dressed in layers of cinnamon, salmon and brown bark, which peels back to reveal a creamy-white and tan bark underneath the layers. Note the contrast when the darker bark peels back, mimicking a standup collar against the creamy-white bark.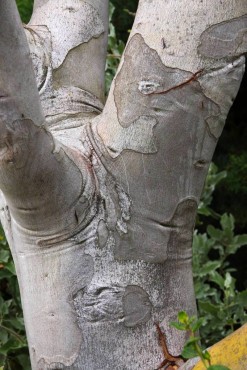 The tree, whose leaves turn yellow in the fall, is certainly an eye catcher in the landscape. River birch is said to have the ability to photosynthesize without its leaves when it sheds the older bark. It grows to 15 feet and needs partial to full sun.
Right behind river birch is London plane (Platanus x hispanica), which sports a bark that peels in chunks, giving several color pieces to the outer layers. The puzzle-piece look is a popular choice among homeowners and garden designers who want to add a large, quick-growing shade tree to a landscape.
Lichen growing on the bark adds another dimension to the whole ensemble. Rumor has it this tall, lanky one struts its stuff at the Bremerton Olympic College campus.
River birch grows to 40-80 feet, needs full to partial shade, and has brown-yellow foliage in the fall.
Another popular peeler, paper bark maple (Acer griseum), is a favorite for many. It carries itself well in almost any setting on the Kitsap Peninsula. Its fall fashion colors range from orange to red leaves, and green the rest of the growing season.
This maple will give inspiration to the landscape through the four seasons. Catch it at a local nursery if you can! The tree can grow to 25 feet in sun to part-shade.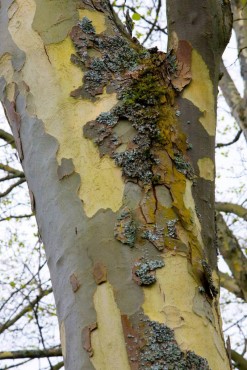 The Stripers
There's always a hot number in the striped bark maples. Striping and striations give some Acers a more sophisticated, night-on-the-town look but they are equally at home in a country setting. Two stunningly beautiful stripers are a hit with gardeners.
For an interesting winter appeal, the species snake bark maple (Acer davidii) has attractive green bark with white stripes. This upright, slightly spreading native to central China takes the winter garden up a notch with its olive-green bark, which is streaked with green and white.
Particularly adapted to the Northwest climate, snake bark maple grows with ease and can reach 30 feet. It requires full sun or partial shade. The fall colors are yellow, orange and red.
A cultivar that's guaranteed to sunny up a drizzly winter day is coral striped maple (Acer pennsylvanicum 'Erythrocladum'), which takes bark to a new level. From the native striped bark maple (Acer pennsylvanicum) comes this startling coral-to-red striped bark.
Imagine the visual sensation this will make in the garden. It may be a hard tree to find but the hunt is well worth it for this colorful presence year-round.
In the fall, coral striped maple has yellow, orange and red leaves. It grows to 15-20 feet and needs sun or partial shade.