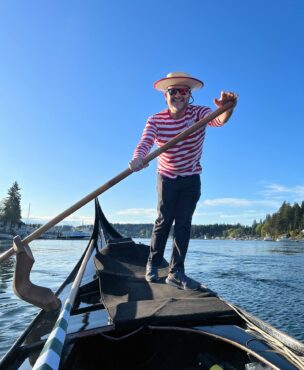 The shiny, sleek black boats being piloted around Gig Harbor are authentic vessels imported from Venice, Italy. Gondoliers John "Cinque" Synco and business partner Greg Garite even order their "uniform" striped shirts and straw hats from Venice. The pair wish to pay homage to the traditions of the Venetian gondola industry and also support the businesses of Italy as much as they're able, so they can offer as authentic a gondola experience as possible.
"Gig Harbor is the only place in the Pacific Northwest where you can board an authentic Venetian gondola and enjoy a ride with friends or family around a beautiful and historic waterfront," Synco explains.
Gig Harbor has no boardwalk along the water, so riding a slow-moving gondola while listening to a narrative of the history and interesting facts about Gig Harbor gives a glimpse of the waterfront from the water side. The gondoliers explain what their passengers are seeing all along the way, from historic net sheds to unique homes, while incorporating real stories shared from longtime residents into their narratives.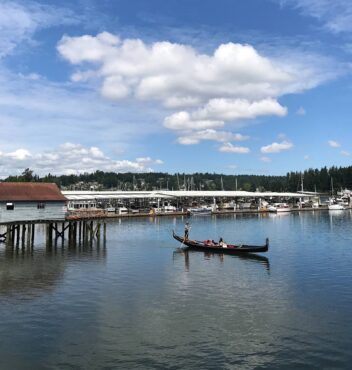 Synco was in his early 20s and looking for a job when a friend told him The Gondola Getaway, which operated Venetian gondola tours through the canals of Naples Island in California, was looking for gondoliers. As a lover of nature, the outdoors and especially the water, he jumped at the chance to learn a challenging new skill.
As he became proficient in rowing a gondola, Synco met people from all over the world, learned about Venice and the history of gondoliers, enjoyed being a tour guide and fell in love with the entire vocation. A journalist by profession, Synco was intensely interested in the history of the Venetian gondolas, the men who row them and the stories the passengers shared while riding. During his first trip to Venice in 2004, he managed to visit with several gondoliers and came home with over two hours of video footage, helping him to understand the nuance of expertly rowing these historic watercrafts.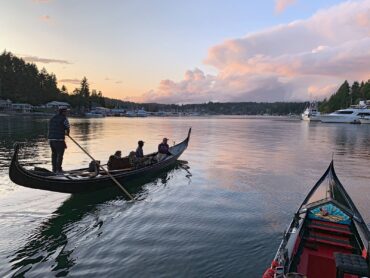 As a young man accompanying his father on a long-haul trip in a big rig, Synco had discovered the Pacific Northwest and knew at some point he would want to return. In 2011, he and his wife, who has family in the area, relocated to Edmonds to start a family. She pursued her career in nursing and he worked in a newsroom, as well as serving as a stay-at-home dad.
Eventually, the idea of starting their own business — which not only allowed them to work around their family's needs, but fulfill the love of being outdoors and particularly on the water — grew and blossomed. In 2015, the family moved to Gig Harbor, and Synco was able to buy "Nelly" from a friend in Long Beach — and a new business was born. Each gondola is given a name, which stays with it throughout its life. "Nelly," which was built in the mid-'80s in Venice, is named after the mother of the first gondolier who owned her.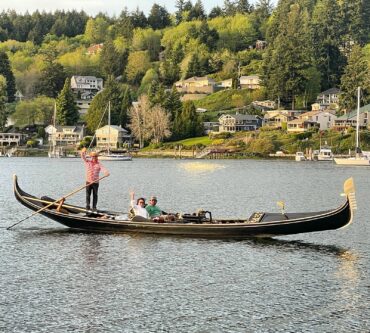 When Synco started his business, most of the patrons were locals who saw his gondola and were curious. As word spread, the novelty of an authentic Venetian gondola in Gig Harbor attracted the attention of the news media and the business was featured in the Tacoma Tribune, KING-5 TV and Evening Magazine. Within four years, Synco had more business than he could handle, and an old gondolier friend from California, Greg "Gregorio" Garite, joined as a partner. Garite brought a second boat, "Tomasso Sebastiano," which they had shipped from Venice. "Tomasso Sebastiano" is named after the two sons of the original gondolier who owned her.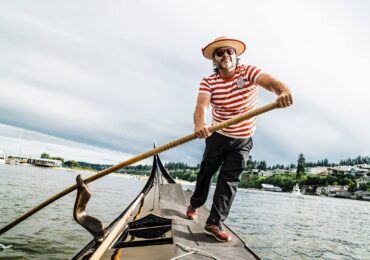 Garite is a substitute teacher, which allows him a flexible schedule to work around the bookings for rides. Today, the pair are enjoying a thriving year-round business, although the chilly, wet winters don't bring much demand.
"We encourage winter riders to bring warming beverages and dress warmly," Synco says with a smile. "One group last winter were visiting from out of town, and just brought along a bottle of whiskey from Heritage Brewing."
Both partners have traveled to Italy on numerous occasions and have the spirit of the canals of Venice in their blood. They strive to bring an understanding and respect to the gondolier industry and the people of Venice.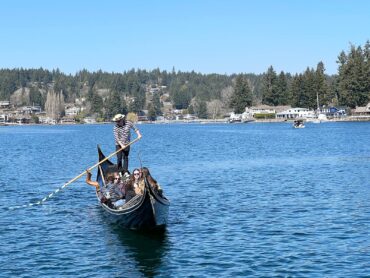 Gig Harbor Gondola is a micro business that doesn't maintain an office. Bookings can be made online or by phone. The calendar is maintained on the website and passengers are met at the Red Trolley at the Gig Harbor Marina and Boatyard. Passengers are encouraged to bring their own picnic snacks and beverages on board and prepare for an interesting, romantic cruise around the peaceful waters of Gig Harbor. Hours extend into the midevening in the summer as the daylight lengthens; the last reservations are available for 8:30 p.m. in midsummer. While reservations for daytime rides on weekdays are relatively easy to get, weekend time slots fill quickly in the summer and are usually booked as long as three weeks out.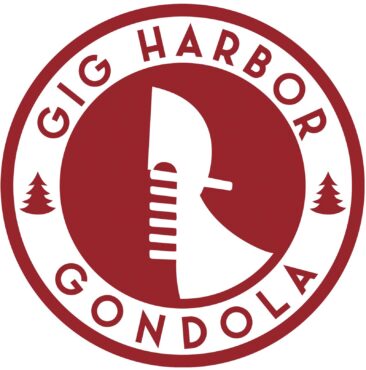 Passengers are limited to six, including infants. Rides are available for one hour or 90 minutes. Boarding and disembarking the gondolas is as easy as stepping down one step. As flat-bottomed boats, they are totally stable and comfortable to ride in. When asked if he had ever fallen into the water, Synco laughed and said, "There is an old saying that there are two kinds of gondoliers, those who have fallen into the water and those who have not — yet."
Whether to celebrate a romantic special occasion such as a proposal or anniversary, or to entertain out-of-town guests, the Gig Harbor Gondola ride is not to be missed.