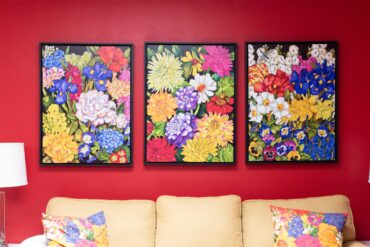 Kate Larsson became a professional artist just two years after retiring from her career as a marketing executive for Xerox Corp. Supporting herself as an artist for the past 24 years, she has a lot to say about being successful in the art world.
"It takes discipline, endurance and the willingness to think outside the box," Larsson says.
Always fascinated by the visual arts, Larsson was interested in interior design and dabbled in quilting and other media, looking for a creative outlet while still working on a daily basis. She even spent a good deal of money on stained glass but didn't feel a connection to it. And then one day, Larsson took a watercolor class — and never looked back. She went to the library, checked out books on watercolor, set up a studio in her front room and faithfully painted three to four hours a day, developing her shills and teaching herself to handle the materials in a way that pleased her.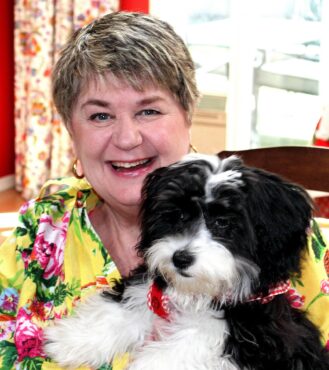 "Watercolor is semitransparent. The white of the paper gives a natural luminosity to the washes of color. White areas of the image often are merely left unpainted to expose the paper due to the materials used," according to the world-renowned Tate Museum. Larsson has found a way to make her watercolor images bright and bold with saturated deep colors, while retaining the luminosity of the paper beneath, which has resulted in her work becoming readily recognizable among collectors.
Always interested in the art of the Fauvist period, Larsson was influenced particularly by works by André Derain and Henri Matisse. She was attracted to the bright colors, bold brush strokes and the way the colors flowed into one another.
Matisse used outlining in many of his paintings to define the boundaries of figures and objects, and Larsson has adopted a similar technique in her work. She works a section at a time on an original painting, and since watercolor is transparent, she layers color onto color to gain the effect she is looking for. The colors bleed into one another, lending a cohesiveness to the whole painting.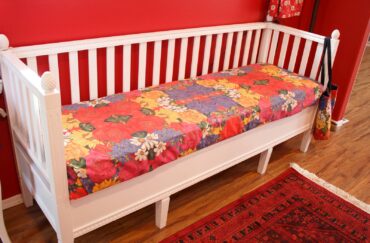 Her work emphasizes color, pattern and movement, as she works from her own photographs of the natural world around her for inspiration. Living the life of a true artist, Larsson has home that's a gallery in itself. Many of her paintings hang on the wall and the bright, bold colors she uses on her paintings abound in the decorative accessories of each room.
How does one earn a living as an artist? "There are many legs to the stool," Larsson says. The self-discipline to work is first and foremost, and it's important to feel passionate about what you are doing.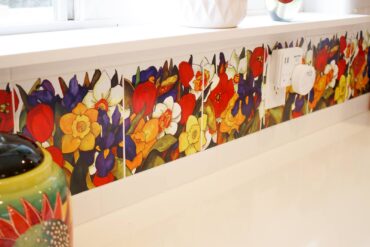 When Larsson started out 24 years ago, she was invited to place some work in the old Freight House Gallery. Gaining confidence in showing and selling her work there, she joined the Gig Harbor Open Studio Tour, which has now been in existence for about 24 years. Finding her way through the world of galleries and art shows, she participated in several dozen shows a year, traveling to find the best ones and eliminating those that weren't as successful. The past several years, Larsson could be found in her booth at the Northwest Flower and Garden Show, the summertime Gig Harbor Arts Festival and the Gig Harbor Garden Tour, as well as many others. She is a principal member of Gallery Row on the waterfront in Gig Harbor, and her work is available in galleries throughout the western states.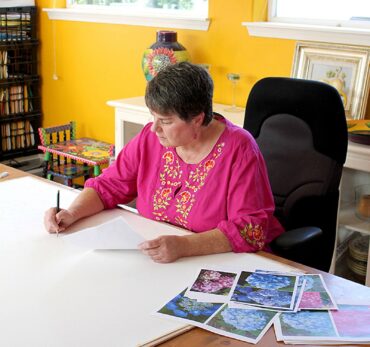 Showing original art in as many places as possible is the first step, according to Larsson, but marketing is really the key. She understood this concept thanks to her career as a marketing executive and applies it to her own work, as well as teaching and encouraging others artists to find creative ways in which to market theirs.
"Not everyone can afford an original painting or has room for a large wall piece, but many would love to have a piece of my art," she says.
To solve this problem early on, Larsson found a company that transferred her art onto coasters and art tiles. As demand grew, it made sense to move that production in-house, and eventually she set up a full-scale dye sublimation process workshop to reproduce all of her own art pieces into useful items for her customers.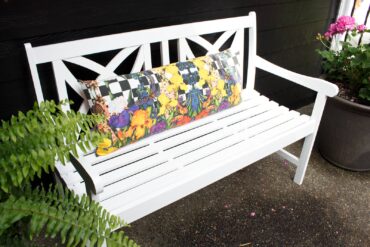 Dye sublimation is a process whereby a solid is turned into a gas without becoming a liquid first. This process uses a photographic image adjusted on a computer for size and color accuracy. The image is then produced on a special printer that uses dye sublimation inks, and then heat pressed onto suitable surfaces.
As other artists inquired about the process, Larsson saw an opportunity to offer the service to them, and she now produces products for 18 artists in addition to her own work. Currently she also does her own giclee fine art prints in studio. Ready-to-frame prints are available in sizes from 5-by-7 to 12-by-17 inches, printed on high-quality watercolor paper and matted.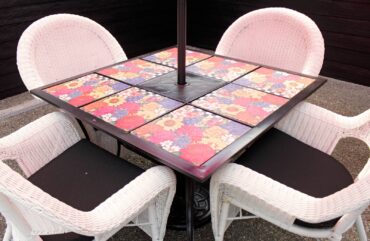 Licensing is another avenue of marketing Larsson has employed. She works closely with several companies that reproduce her work into various products and pay her a royalty each time one of her images is used. Wholesaler Toland Home Garden manufactures garden flags, house flags, doormats and face masks, which can be ordered on Larsson's website. Online marketer Spoonflower produces all sorts of fabric yardage, tabletop items and wallpaper that can be ordered directly from the company and for which Larsson gets a commission.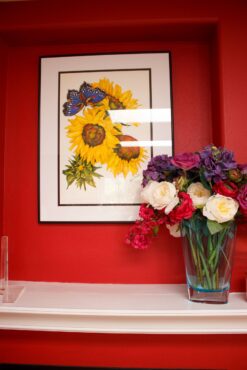 Working on pieces specifically for reproduction takes some rethinking, as this is a right brain-left brain process. Some of Larsson's licensed work is available in different color keys, as she is able to digitally manipulate the backgrounds and alter the foreground colors. Although her main objective is painting and making new designs, these days she finds herself working about 80 percent on computerization and marketing and about 20 percent actually getting paint to paper.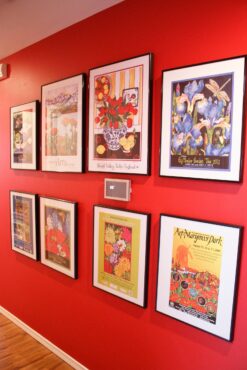 Larsson has about 10 paintings in process at the same time, as she finds her creativity is generated by working on several ideas at once. Although many artists spend several months trying to produce a masterpiece, she understands that the excitement comes in about the last 20 percent of the creation. Larsson prefers to work on several pieces at one time, and when that spurt of joy and excitement comes, she is able to put the finishing touches on a piece quickly and move forward.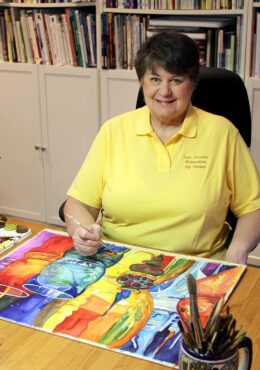 As time moves forward, Larsson isn't physically participating in as many art shows as in the past, but she has, through years of hard work and determination, built up a following of loyal customers.
"The world is rapidly changing technologically and as artists, we need to change with it," she says.
Licensing and digital marketing is one way she meets the changing marketplace, but she also enjoys the face-to-face encounters with art aficionados. Larsson especially enjoys the Gig Harbor Open Studio Tour, which will take place this year on Sept. 16-18. The many aspects of the tour she appreciates are that it's a free family affair and children can learn the different ways in which art is produced. The studio tour is run by artists and everyone contributes their efforts to make it a success. While a few new artists are added each year, the base stays the same and it's a great opportunity for the community to support the artists.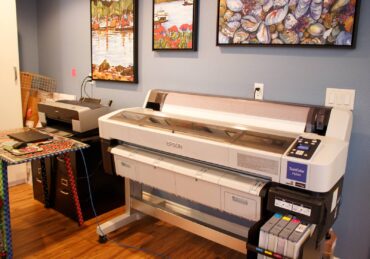 Larsson is a moving force in the Gig Harbor area community of artists. She promotes artists and their work everywhere she goes by encouraging and teaching others how to best present and sell their work.
"Art adds so much to a community, as life is so much more livable when surrounded by beauty," she says. "You can make a good living as an artist if you are willing to figure out how to make it work for you. If you do art, you are an artist, and if you are driven, you can be a successful artist."