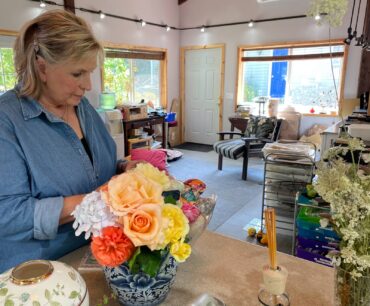 Every visit to Heidi Jack's studio in Kingston uncovers new facets to this woman's many talents. Jack has a garden-maintenance business in Kingston (one of the beautiful gardens she and her crew maintain on Hidden Cove, Bainbridge Island, was featured in the Jan/Feb 2021 issue of WestSound magazine).
Jack has a special affinity with the beauty of the plants beyond the landscape aspect. Though she knows her way around soil, pruning, fertilizing and watering, she is much more interested in the texture, color, shape and form of plants. She can wax poetic about a tiny rosette growing between the cracks in a stone path or marvel at the striations in a particular hosta leaf.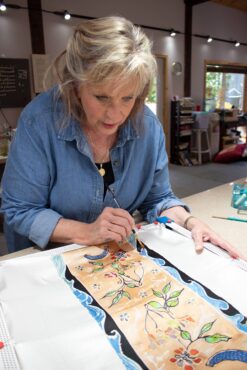 The landscape business is how Jack supports her many other interests. She makes fantastic pottery with intricate botanical designs. She creates jewelry with tiny bits of floral and leaf pieces under glass for delicate earrings and necklaces. She also makes heavy, chunky jewelry of silver and bronze.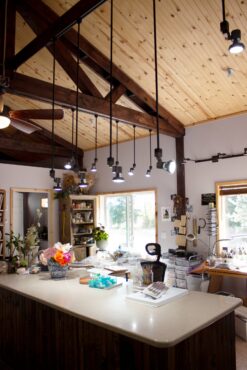 Jack loves to draw and paint, and uses her skills on delicate charmeuse silk to create amazing scarves and framed silk pieces that she sometime enhances with tiny embroidery stitches and beads. She experimented with vintage silk neckties to get a batik effect on huge goose eggs.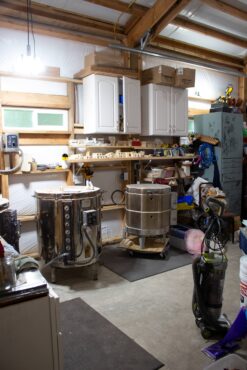 But her most extraordinary work is in the amazing pottery and ceramic pieces she creates to echo and imitate the shapes, textures, colors and forms she admires in nature. Plant and sea life are recurrent themes in all of her art. Dried or skeletonized leaves and flowers, perfect rose buds, sea creatures and seaweed find their way into many of her two- and three-dimensional pieces.
A vase might be encrusted with what looks like tiny sea anemones or shells. A silk scarf flows with designs like waves or the ripples in sand at the edge of the water.
Jack's signature pieces are her "Primordial Sea Bouquets," a series that originated when she snorkeled in Hawaii and Tahiti. In her own words, "I am fascinated by the forms, movement, texture, color and mystery of what lives in the water … such an amazing assortment and diversity of living things." She also was inspired by the exquisite grace and beauty of jellyfish in the Monterey Aquarium.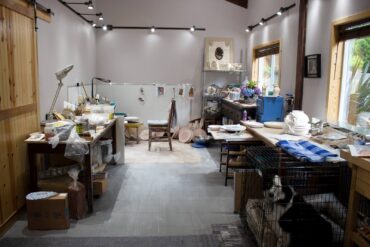 Her inspiration in the botanical world comes from observing beauty in things most eyes would overlook. Everyone sees the beauty in a perfect rose bud, the striations in a colorful leaf. But it takes the eye of an artist like Jack to note the beauty in a tiny, skeletonized hydrangea blossom, a mossy twig or a partially open seed pod.
Her studio in Kingston is delightful. The space has a clean, light and airy openness about it. High ceilings, walls of windows and wonderful background music create an ideal situation for the creative and artistic mind.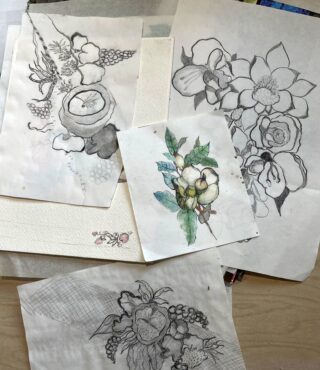 Different areas of the studio are relegated to the various needs for Jack's work. There are wide counters for working on jewelry and scarves, a corner for the pottery wheel and kiln, shelves, drawers and cupboards for storing materials. Jack calls it her "paradise" — and it is, indeed, a heavenly place for an artist to work.
Materials and Techniques
For her pottery, Jack uses two kinds of clay, white and terra cotta, depending on what she is making. She gets the clay from Seattle Pottery Supply in 25-pound blocks and throws the basic forms on the pottery wheel.
She makes some of the embellishments, such as flowers, leaves, buds, branches, kelp, pods and seaweed, on the wheel and others by hand. She adds them to the form using slip, which is clay diluted to the consistency of cream. Jack does most of this with her hands, and also might add texture with materials and found objects. She sometimes uses a needle-like tool or a small extruder to make tendrils.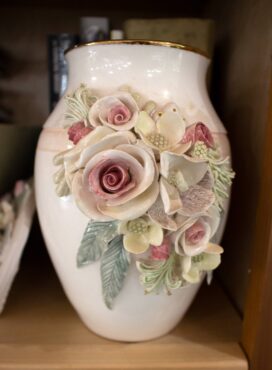 The pieces can involve up to six firings in the kiln. There is a separate enamel kiln for the enamel pieces. Some of these have gold or luster trim, which Jack adds for a final firing at a lower temperature.
The beautiful solid-white embellished pieces (cakes, baskets and other containers) are often commissioned for use at wedding receptions on tables and as vases for flower arrangements.
Jack makes her large jewelry from precious metal clay (PMC), a relatively new product. It's similar to pottery clay except it's silver or bronze. She forms these pieces by hand and sometimes uses carved material to make impressions in the clay. Natural stones that can stand up to the temperatures needed for firing are added. Jack has a separate kiln for this process.
For her delicate, silver and glass necklaces and earrings, Jack uses minute specks of bright petals and leaves to create a pattern. Dried petals create the background for the miniature botanical pictures, which are made up of tiny florets and pieces of leaves or ferns pressed under glass. With her Swiss background, it's not surprising that she uses the Edelweiss blossom logo on her jewelry.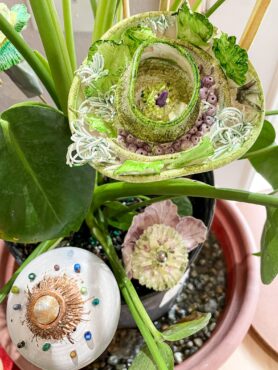 To make the framed silk pieces, Jack uses silk charmeuse, which is heavier and denser than the silk used for the hand-painted scarves. The silk is stretched on frames and painted using a resist technique for the negative spaces.
She paints with silk dyes using brushes and other techniques to achieve specific results, such as adding salt to the wet silk dye to get a speckled effect. She then further embellishes the framed pieces with beads sewn on by hand. Designs include lush calla lilies, leaves, butterflies, rhododendrons and other native flowers.
Jack also experimented with some large goose eggs from a client's home on the island to make beautiful, batik-like designs. She blew out the eggs and wrapped them in pieces of wonderful, old silk neckties. They were then boiled in a mixture of vinegar and water. The designs are exquisite.
Her mosaic mirrors are made on a wooden frame base that Jack embellishes with her own hand-drawn and fired mosaic tiles. She then embellishes them with other three-dimensional pieces. The mirrors are very popular commissioned works.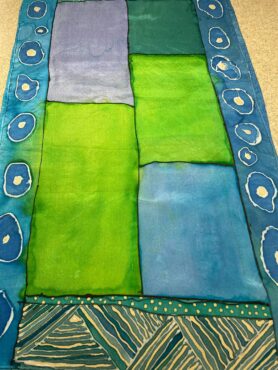 Smaller items that Jack creates include tiny, whimsical "tree people" and winged angel- and fairy-like folk, hanging pendants of flowers pressed in glass, wall plaques and fanciful floral-like objects on sticks to enhance container plants.
Jack says she actually "fell in love with clay" when she was 19 years old. She took a class in raku, where she learned how to hand build, throw pottery on a wheel and glaze. She combined those skills with her talent in drawing and began drawing on clay. That eventually developed into forming the clay into three-dimensional forms.
She went on to earn a master's degree in fine arts from the University of Idaho. She studied the old masters of Japanese and Chinese cultures and learned their methods of throwing, firing and decorating.
Jack taught at the University of Idaho for a while before moving to Seattle 35 years ago. For 10 years, she worked many different jobs including in a photography studio, an Entomology lab and an accounting firm while always pursuing her art. She finally saved up enough to finance a loan for her house in Kingston and built her studio — and the rest is history.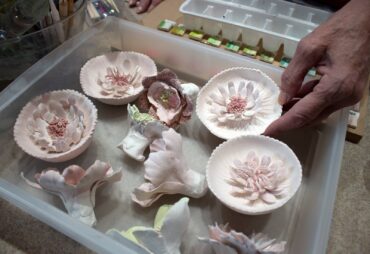 Though she still has her successful landscape business, Jack keeps her crew of landscapers busy so she can spend more time in her studio.
"My goal is to make something that invites quiet introspection into all the glorious details of what surrounds us," Jack says.
Right now, most of her work is by special commission and on Etsy but some of her jewelry is available at Savage Nursery in Kingston.