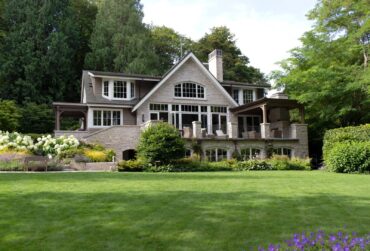 Sometimes a garden that has been "installed" while a house is being built has an impersonal, landscaped look. Not so with this beautiful property on the banks of Bainbridge Island's Hidden Cove. This garden reflects the aesthetics of the original owners, as they were able to live on the property while the house and garden were coming to life.
Thirteen years ago, the lot consisted of a little cottage that had been built a hundred years ago and a very upscale woodworking shop. There was the semblance of a garden but it was haphazard and debris-laden.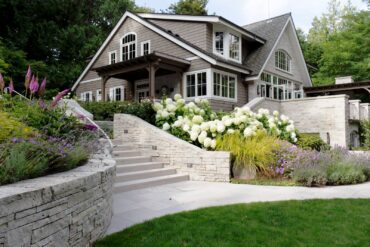 The new owners remodeled the cottage and hired Heidi Jack of Heidi's Gardens to help design an English-style cottage garden. Over the next few years, they formulated what they wanted to do with the property. They eventually hired Robert Moloney to design the house and Kenneth Philp to design a hardscape to frame and define a large garden encompassing the entire lot down to the shore of Hidden Cove. The project took two years.
The house is faced with Wisconsin Fond du Lac stone and blends beautifully with the Canadian limestone used in the walkways. Steps made of huge rocks create a sense of time and tradition found in the old Cotswolds villages of England. Adding to the overall effect, the driveway and entrance areas are made of antique sidewalk pavers from Europe.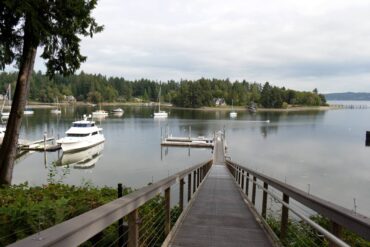 Many touches made the new home unique. Elements from the original woodworking shop, such as the rustic wooden archway above the front entrance, were incorporated into the final design. Copper downspouts and gutters enhance the composition tile roof.
The cottage is now a guesthouse designed to echo the style of the main house. It has its own parking area and a gate leading to the garden.
A stone wall extends across the front property line; a gated driveway leads to a garage on the side. A formal courtyard entry is broken up into symmetrical parterred beds enclosed in low boxwood hedges. At the doorway, stone containers hold small, topiary trees and ivy.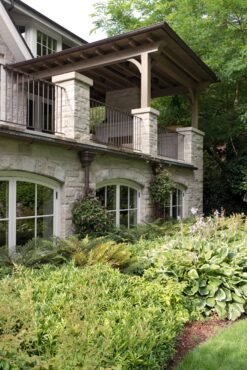 Visiting this garden, one can't help but be reminded of the understated beauty of a well-maintained English estate. There isn't the overabundance of a country or cottage garden. This is a garden of well-placed plants, subdued colors and a sense of symmetry and rest.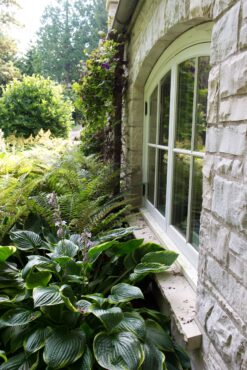 The parterred beds are planted with white Astilbe. The color palette here is green and white, with interest coming from leaf texture and shape. There are two exceptions: Japanese maples were chosen for their brilliant fall color, and hardy blue geranium 'Rosanne' with clumps of lavender fill the side beds. No English garden would be complete without lavender.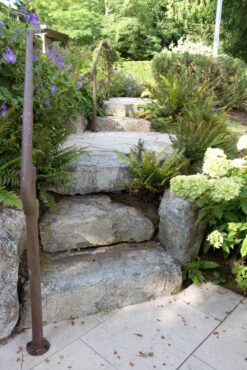 Heidi's Gardens has been caring for this property since 2008. A woman of many talents, Heidi Jack has a background in the arts, including a master's of fine arts from the University of Idaho, Moscow.
She specializes in pottery, jewelry, collage and painting on silk. Jack acknowledges the impeccable style of the original owner.
"I never had to give any advice on plants," she says. "The garden was completely in her taste. She liked symmetry and a limited pastel palette to complement the architectural style of the house."
Native salal and groundcover Vancouveria thrive along the walk between the guesthouse and the main house. Sarcococca, the low-growing variety, also grows in this bed, where its sweet scent pervades when the tiny, white blossoms open.
Raised beds edge the steps to the back garden, bringing hydrangeas, roses, Astilbe and hardy geraniums up to waist level for viewing. The pastel palette of pink, blue and purple continues.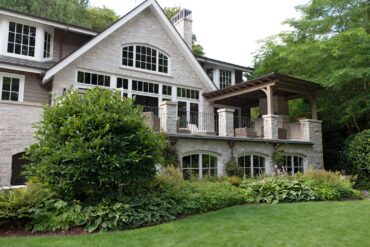 The land behind the house slopes down from a first-floor deck with a view of boats moored in Hidden Cove. Under the deck, windows afford a view through a deep bed of hostas, ferns and Astilbe. In panels between the windows, purple-and-white passion vine interplanted with sweet autumn clematis are trained on tall trellises, giving two seasons of bloom. These beds are enclosed by a low, stone retaining wall, just the right height for sitting.
A meticulously cared-for lawn leads the eye to a vista framed by a grove of magnificent, old cedar trees. A tall laurel hedge and an ivy-covered fence provide privacy screening. The ivy is pruned to keep it from spreading and going to seed.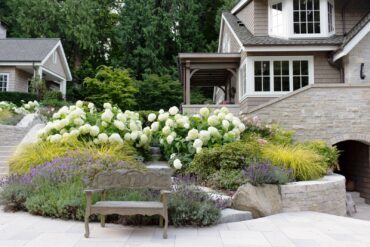 Two large, variegated dogwoods form a focal point in one corner. Other shrubs in varying shades of green form a backdrop for low-growing Parahebe and azaleas. Snowberry, Viburnum and hardy evergreen tassel ferns edge the steps to the dock with a terraced seating area halfway down. White-flowering sweet autumn clematis softens the railing. Hardy ferns peek out between the crevices of the steps.
There are benches and comfortable places to sit throughout the garden. Patina-enhanced copper sculptures of herons and a huge fish head add a bit of whimsy.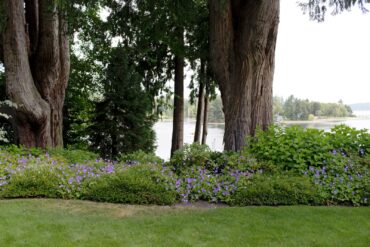 Jack and her crew maintain the entire garden. She started her company 20 years ago with the same crew. They care for the lawns, replace overgrown plants, transplant and keep the garden looking its best in all seasons. If larger trees need trimming, they use WAAG Family Tree Service in Poulsbo.
"They are committed to revealing the view by limbing up rather than removing trees," Jack says.
Though rhododendrons are not a favorite plant in this garden, the ones that are allowed are limbed up (the lower branches are taken off to provide planting space beneath.) This creates a cleaner, more formal look to blend with the style of this garden.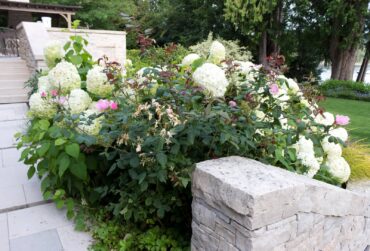 Treating rhodys in this manner puts blossoms at eye level and keeps lower branches off the ground, where they would be susceptible to weevil damage.
Jack recommends OP Plants of Port Hadlock for smaller rhododendrons that she prefers for this garden. It's a family-owned business and has a good selection of smaller rhodys and azaleas. Other nurseries she uses are Sundquist Nursery in Port Townsend and Valley Nursery in Poulsbo.
Some of Jack's favorite plants include white hydrangeas. They are all Pee Gee Paniculatas except for a few white oak leaf varieties. She loves the big, variegated hostas with purple bell flowers.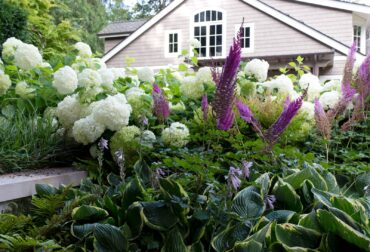 "Hostas usually have a problem with slugs, so we use Sluggo," she says. "It's the only slug control I know that it isn't harmful to animals or birds."
The beds in this garden have good soil, specially geared for the types of plants grown. The soil is usually amended only when new plants go in. Jack uses her "magic mixture" for the roses: a combination of rabbit pellets, alfalfa, rock phosphate and mushroom compost. The other beds are mulched periodically with a fine prep mixture from Indigo Top Soil in Poulsbo.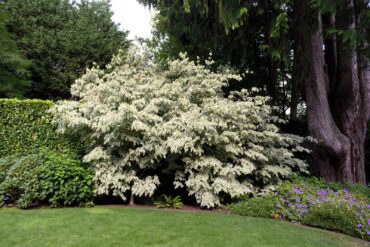 The garden hasn't needed a lot of transplanting and dividing except for the 'Rosanne' hardy geraniums that tend to spread around. Jack has divided some of those to share with other gardeners.
A transition is coming up for this garden. After the death of her husband, the owner decided that the house and garden are too large for one person. It will be passed on to new residents and, as all gardens do, will probably evolve over the years. It will be interesting to revisit in the future.
Here are the words of the owner as she passes her lovely garden and house on: "I must say that our 13 years at this home were magical, as was the transformation and development of the property into what it is today. The years of working with Heidi of Heidi's Gardens and her crew have been instrumental in the integrity of the garden and have brought years of wonder and joy to us."