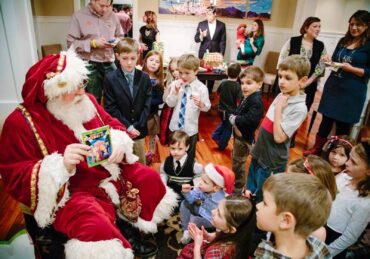 Yes, there is a Santa Claus. He lives on the Key Peninsula when he is not at the North Pole tending his reindeer or supervising the elves in the toy shop. His "Ho! Ho! Ho!" is most convincing, and he has a bag of magic tricks that confound even the most skeptic onlooker. This Santa can even make snow — really!
Longbranch resident Jerry Nebel has brought joy, love and laughter into the lives of children and their families for nearly 40 years. He is a gentle man with rosy cheeks, a mischievous smile and twinkling eyes — the embodiment of Santa Claus himself.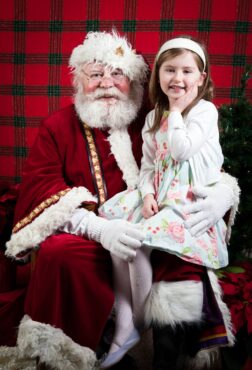 What began by chance in the 1980s as a visit to cheer up hospitalized children in Valdez, Alaska, has become a lifelong passion. The furnished suit and fake beard worn during that first experience did not diminish the joy and excitement exhibited by the children, and during that first Christmas season, Nebel made a few more appearances around town. He went about his life for the next several years, not thinking much about his Santa experience until, in 2008, the company where he worked asked him to appear as Santa at a Christmas party.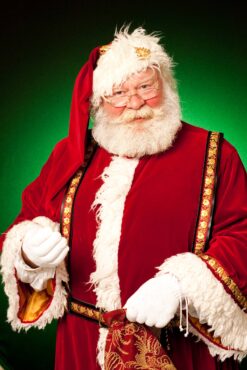 This time around, Nebel grew his own beard, and his wife, Patti, made him an authentic Santa suit. She's an artist in her own right, excelling in not only tailoring, but also sculpture and pottery, and occasionally appearing as Mrs. Santa.
In addition to that first suit, Patti Nebel has designed an authentic, Victorian-style Santa suit sporting a three-quarter-length red coat with a fur collar and hat to match. Underneath, Jerry Nebel wears a blousy white shirt and leather vest and, of course, black, fur-trimmed boots.
Another suit, designed and stitched more recently, sports green trousers for a woodland Santa theme. A checkered vest with leather laces and fur trim, jacket with reindeer antler buttons, hat trimmed with holly and berries, and brown leather boots complete the look.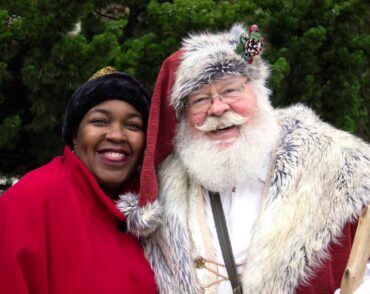 The Nebels lived in Ballard for a few years after returning to Washington from Alaska, and being Santa became a craft and hobby for Nebel. He made appearances for home visits here and there, took a few corporate Christmas party gigs and accepted community invitations. After retiring in 2016 and moving to the Key Peninsula in 2017, he decided his passion for seeing the smiles on children's faces was something he wanted to do on a full-time basis.
As a seasonal performer, Nebel found an agent and for the past three years or so has been booked nearly full time from mid-November until early January.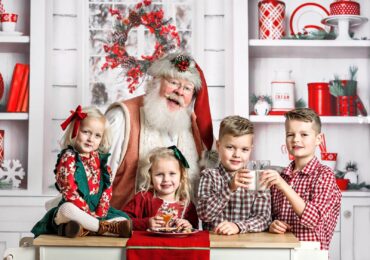 "Some families have to wait until a little while after Christmas to gather for their celebrations" he explained.
Under normal circumstances, Santa Jerry is booked six months in advance, and his performance schedule can be exhausting. Depending on his schedule, he frequently is required to stay overnight in the Seattle area, which is where many of his bookings are.
Nebel earned a degree from Santa University, where he learned techniques to add to his natural joviality and love of children. He is a member of NorPac Santas, a professional Santa association that is open to "all jolly gents and ladies committed to spreading Christmas cheer and the magic of Santa Claus throughout the Great Pacific Northwest."
NorPac hosts an annual conference and learning opportunity at the Great Wolf Lodge, where workshop content ranges from Santa character to marketing, to history and children safety. There are also workshops for Mrs. Claus, and the Nebels are regular attendees. This year's convention will take place virtually as a three-day webinar, with multiple sessions for all skill levels and interests. Nebel is also a member of the International Brotherhood of Real Bearded Santas, of which NorPac Santas is an organizational chapter.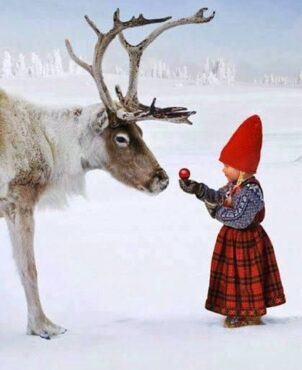 Always improving his craft and rising to the highest level of professionalism he can reach is a paramount goal for Santa Jerry. He has joined the local chapter of Toastmasters International to help him respond quickly when faced with impulsive questions or reactions by children. He is naturally compassionate and treats every child and family member with the utmost respect.
Nebel is a master at dodging questions from children who might be a little cynical or suspicious of his authenticity. He recounts a situation where a 10-year-old elbowed a younger child who asked, "Are you real?" And the 10-year-old responded by saying, "Of course he is!"
As Santa, Nebel also has had some very memorable moments with sick children, an opportunity to present an engagement ring and even an adult party where the female guest of honor asked him if he was a stripper.
Always prepared in advance for a visit, Nebel learns as much as possible about his audience. If he will be visiting a family, he has a coloring page that he sends digitally to get information about the children's ages and their wish list, also asking whether they have been naughty or nice. On occasion, families will equip him with gifts to distribute to everyone in the room, or sometimes he just entertains everyone with his vast number of imaginative magic tricks.
When asked where are his sleigh and reindeer, he always says they are in the barn down the road, and the farmer lent him the car to drive up. When questioned about how he gets around where there is no snow, he just demonstrates how he makes the snow.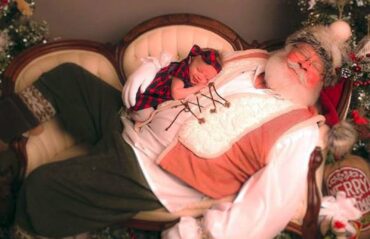 And if personal visits are not possible, as many may not be this year due to the COVID-19 pandemic, Santa Jerry has a remedy. He has a green screen set up in his office, with multiple backdrops including the barn with the reindeer and sleigh, the toy workshop, the elves kitchen, etc. He will be able, using the magical technology of videoconferencing, to take children and their families on a tour of the North Pole. His virtual visit can be recorded and kept for posterity, just like a photo during a physical visit.
When asked how he gets into a house where there is no chimney, Santa's response is this: "Santa doesn't come down a chimney — he comes through your heart."