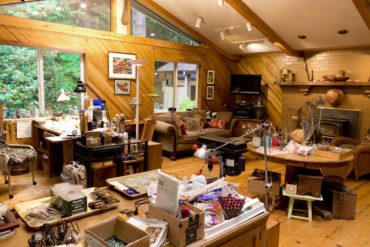 Paulette Hoflin is a sculptor known for the uncommon material she chooses. This material can be less than an eighth of an inch in size, but when gathered en masse by multiple stitches of fine thread, the beads can take on the three-dimensional quality of any shape she chooses.
Roughly 45 years ago, Hoflin delighted in rummaging through her grandmother's jewelry box. Grandmother allowed the young girl to deconstruct the beads and other pieces and to create anything she liked with the colorful components.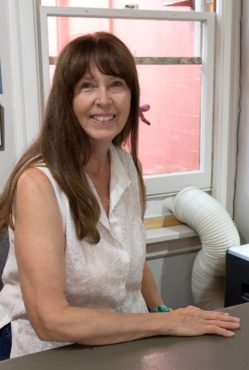 "Beads just fascinate you with the infinite variety of sizes, shapes, colors and textures of the medium," Hoflin said.
Over the years, she honed her skill making sculpted bead necklaces and earrings, selling at art fairs and galleries. Utilizing commercially available beads combined with antique trade beads, raw minerals and other found items, her jewelry is exciting and noticeable, and makes an immediate fashion statement.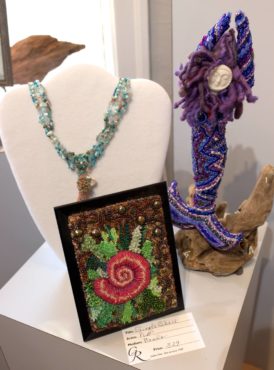 Blending visual art with wearable art, Hoflin often displays her pieces in a frame suitable for a painting, lending the impression that, indeed, the creation is a work of art.
As Hoflin's experience and skill grew, her creations began to range from imaginative strung necklaces and earrings to necklaces with exquisite focal pendants and artistic, cuff-style bracelets.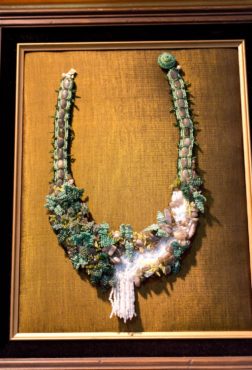 An avid traveler and scuba diver, Hoflin gathers treasures and found objects from around the world to incorporate into her work. Bits of sea glass, spines from sea urchins, the calcified crescents of tube worms, raw chunks of minerals, shells and semiprecious stones all find a place in her vast inventory of available materials. Her studio shelves are lined with decorative jars brimming with the marvels of the natural world. Also on display is her collection of African art, particularly that of the Yoruba tribe in Nigeria, known for elaborate bead work.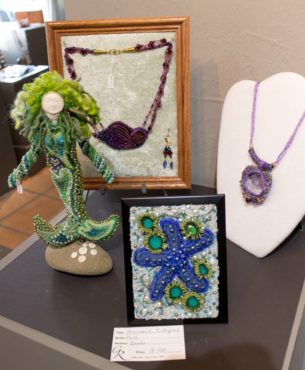 Hoflin has been traveling to far-flung corners of the globe and diving about twice a year since 1974. Her favorite dive spot is Bali, and she has been to Dubai, along with many other popular dive spots around the world.
As a child, Hoflin's favorite TV show was "Sea Hunt," and she dreamed of someday diving in the world's oceans. She mostly travels solo, enjoying the flexibility of spending her time the way she chooses.
She loves meeting interesting people from other cultures,finding shops and markets and street-side sellers of beads and artifacts — and, of course, beach combing to her heart's desire.
Much of what Hoflin has observed, both culturally and in the natural world, influences her work. She is awed by the infinite colors, shapes and arrangement of design of the coral reefs, and always inspired by native beadwork and needlework of the cultures she visits.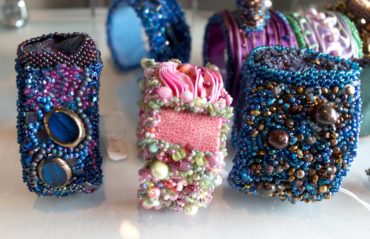 Hoflin has a degree in social work, and retired about three years ago from the State of Washington, where she served as an incapacity specialist. Her ability to work on her beading designs at home in the evening gave her respite from the emotionally exhausting work she did during the day.
In addition to working full time all of her adult life, she also raised two daughters as a single mother, and now takes great pleasure and pride in her six grandchildren and three great-grandchildren.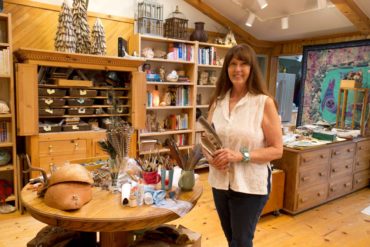 Her high energy, compassion, innate curiosity and appreciation for the natural and cultural world around her have served her well in becoming an artist of notice. Retirement has afforded her the opportunity to now work as a full-time artist.
The basis for all of Hoflin's work is her skill with a needle and thread. Many of her necklaces as well as sculptures are shaped with a technique called a peyote stitch. Used throughout history from the ancient Egyptians through early American Indian work and to the present, the method is popular because it can produce flat as well as three-dimensional items. Also called "gourd stitch," the method is used to embellish dried gourds with decorative beading.
"When I decide to use a specific found item, such as a piece of old glass or an abalone shell or raw crystal, I let the item lead me to how it would like to be presented," Hoflin said. "I start to gather the colors of thread I intend to use, sort and assemble the beads, and begin to work."
As the beads are carefully stitched together, they are then worked around the focal piece to hold it in place. She explains this is an ancient method of manufacturing wearable embellishments, but Hoflin has developed her own techniques and each design becomes more exquisite than the one before it.
Although the artist does not have a preferred type of item for a focal point, she is particularly fond of purple glass. Old glass frequently contains manganese, which, when exposed to sunlight for an extended period of time, will begin to tint purple. When Hoflin finds a piece of slightly tinted lavender glass on the beach, she purposely exposes it to intense sunlight to increase the purple color.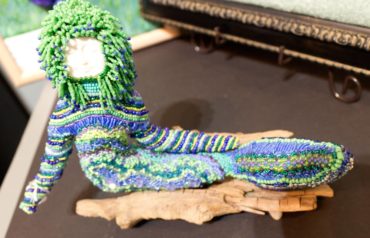 Working with natural materials such as sea shells or crystals also brings her great joy.
"I guess my favorite piece is the one I'm working on at the moment," she said.
A conservator of all things of value, Hoflin delights in recycling and upcycling. A recent find of an old piece of copper roofing mostly buried on the beach has become — when cut into small pieces and cleaned — multiple pairs of natural, organic earrings.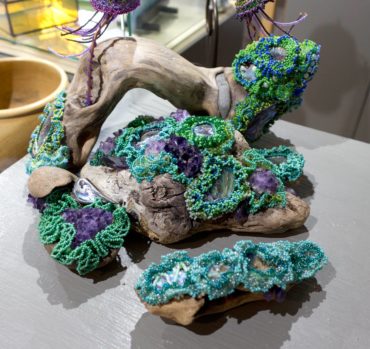 As Hoflin's jewelry designs have become more three-dimensional, she has been drawn to create freestanding beaded sculptures, which mostly at the moment are creative caricatures of mermaids.
"About four years ago, I got the idea of making a mermaid, people liked them, and the idea just caught on," she said. "As I have watched the degradation of the coral reefs over the decades I have been scuba diving, my thoughts have turned toward trying to raise awareness of the problem. The mermaids give me a talking point to start a conversation."
Hoflin believes that most artists carry a certain open-mindedness and spirituality to their work, and that in turn speaks to others.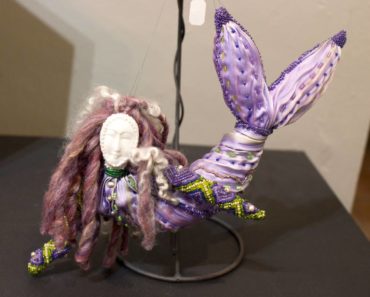 Her home is also a reflection of her love of nature and her uncanny ability to put unusual items together and make them work as a group. Combined with her choices of color and texture as well as her vast collections of old and new, traditional and modern, and globally ethnic and patently familiar, those items give visitors the feeling of being in a museum of sorts.
She is also an avid gardener, with cultivated beds and water features sculpted out of the area surrounding her cozy home. Large windows bring the outside in, and outdoor living spaces offer the opportunity to relax among the trees, flowers and birdsong abundant on her acre-sized property.
Hoflin's elaborate, bead-sculpted mermaids, along with a wide variety of necklaces, cuffs and earrings, can be seen at Gallery Row in Gig Harbor. As a member artist, Hoflin is frequently working her shift in the gallery, but is also available to meet prospective clients there to discuss her work and take commissions.
She also shows her work annually at the Gig Harbor Art Festival in July and her studio is open to the public every September during the Greater Gig Harbor Open Studio Tour.