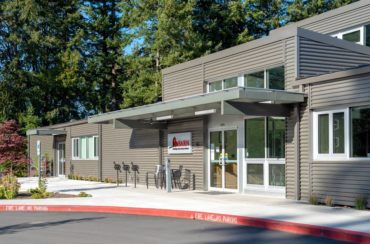 Nobel prize winning author Thomas Mann once said, "Art is to the community what dream is to the individual." For Bainbridge Island's BARN (Bainbridge Artisan Resource Network), it was the shared dreams of the area's artists and makers that built a uniquely Bainbridge artisan space and outlet for collaborative learning, teaching and creating.
The vision began with the area's woodworkers. Hobbyists and professionals, they'd been informally sharing equipment and tools while imagining a common workshop space to learn and work together. It turned out the island's fiber artists and jewelry makers did as well. So did its writers, cooking enthusiasts, metal fabricators, printmakers, media artists and glass fusers.
The groups joined forces in 2012 to launch the nonprofit Bainbridge Artisan Resource Network (BARN), renting 2,500 square feet in Rolling Bay to create communal studio and classroom space. There, they tested out classes and studio operating procedures while considering expansion, even taking road trips to visit other community-based art studios.
On one such road trip, the BARN founders realized that retrofitting an existing building would never do. They needed to build a space that honored the unique needs of each discipline while encouraging collaboration across their growing community of artists and makers.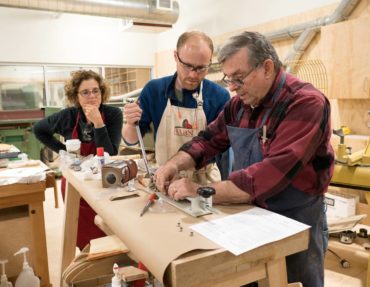 One of BARN's early operating principles acknowledged the area's established art groups and studios.
"As we thought about what we wanted, we were really conscious about existing programs," said Carolyn Goodwin, BARN marketing director. "There's an active pottery and glassblowing program on the island and several area painting and drawing programs. We didn't want to compete with them in our efforts."
BARN purchased 2 acres near Highway 305, raised $8.5 million and secured the donated services of Bainbridge architect Johnpaul Jones to design artisan-specific workshop and communal spaces. Jones' approach to the building design honored the community philosophy of BARN's artisan founders.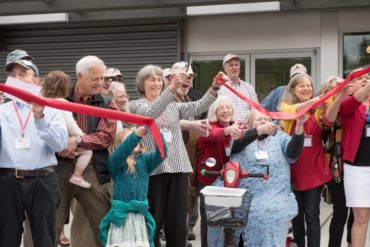 "He spent an incredible amount of time talking to studio groups about what they needed for their studio space to function. It's reflected in the design," Goodwin said. "The jewelry studio wanted lots of natural light. Noisy studios like wood and metal needed to be located away from the neighboring residential communities."
Woodshop asked for exterior bay doors for its planned canoe and kayak projects. Fiber arts hoped for a garden space grow plants for making natural dyes.
The new, 25,000-square-foot BARN facility opened in June 2017 with 12 studio spaces, a commercial kitchen, a large meeting room and commons area. While commercial contractors did most of the construction, the woodworking group built 90 percent of all the cabinets and tables in the building's interior, according to Michael Gunderson, the lead for the woodworking studio.
The building's planning included environmental considerations. The facility runs on geothermal heat, with energy-saving waste-removal and air-filtration systems. Future plans include the installation of photovoltaic cells.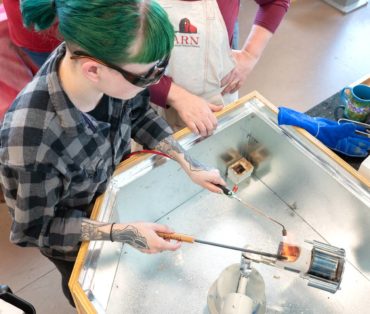 Once the funding was raised and the building was built, the harder work began. Operationalizing the vision of communal studio spaces, sustainable funding and community usage takes people and no matter who you talk to at BARN, everyone credits its volunteers.
"The most amazing thing about BARN is the amount of volunteerism there is to make it work," said Executive Director Denise Dumouchel. "It's a confederacy of studios, each run by volunteer steering committees and studio leads."
Each studio develops its own program of classes, operating procedures and budget for equipment and supplies. Dumouchel and four staff, along with the BARN board, coordinate the programming, fundraising, marketing and strategic plan.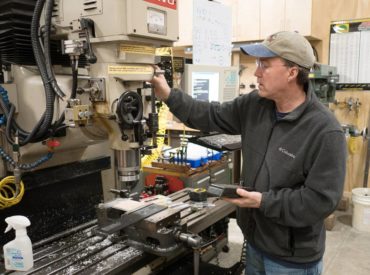 Sarah Jones is the lead and an instructor for the jewelry and fine metal arts studio. Like most of the volunteers, she's watched BARN evolve as it discovered what drew community inside its doors.
"We used to have mostly retirees taking classes," she explained. "Now we have families and teenagers who are interested."
Her studio offers "Girls Night," a class on making wine-glass tags accompanied by music, wine and cheese. It also offers teen nights, classes for students during the school district's early release Mondays and summer camps. The studio's efforts include a philanthropic initiative, the Women's Project, to repair and repurpose donated jewelry for local women's shelters. And future offerings include a lapidary class, now possible with its newly purchased equipment.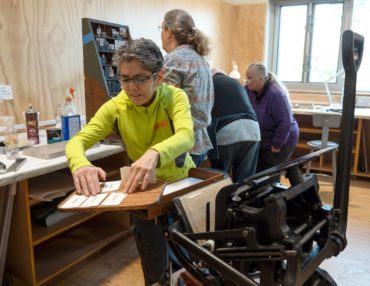 Multimedia and written art also have dedicated spaces at BARN. The media arts 2019 studio calendar includes a class on preproduction for a one-minute film. Its BCB podcast studio has produced over 600 shows and offers ongoing how-to workshops about podcasting.
The writers studio has a full menu of classes taught by award-winning writers and teachers. Participants learn specific skills; creating a setting and developing characters were two recent courses, as were genre-writing workshops on historical fiction and autobiographical writing. For authors ready to market their work, there are upcoming courses on self-publishing and social media.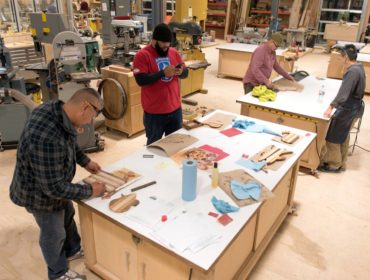 In addition to classes, each studio schedules open studio time for BARN members to work on their projects. The studio's program committee establishes criteria and a required orientation schedule to issue members a key fob for access to part of the building and the studio. The jewelry studio requires members to demonstrate they know how to use the tools.
"Woodworking and metal fabrication with specialized and computerized equipment have more training protocols than others," Goodwin said.
The BARN founders' original vision of pooling donated and purchased specialized equipment and resources has given members and students taking courses access to tools, machinery, supplies and expertise that artists and hobbyists could never afford in their own home studios and workshops. As the BARN studios scale up to meet demand, they're investing in new equipment for new classes and collaborating with the community on new projects.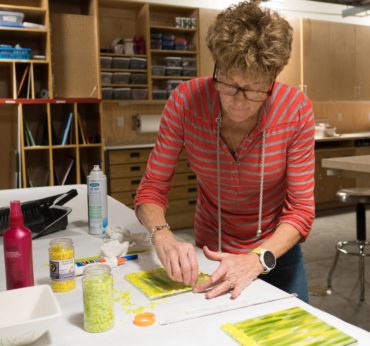 This spring, BARN offered a monthly Teen Night with food, drinks and games; inviting high school students to learn how to cut plasma in the welding studio, make copper bracelets in the jewelry studio and learn how to do string press painting. There are plans to offer more youth programming during summer and school vacations.
Over the past year, BARN volunteers worked with Bainbridge's Battle Point Astronomical Association to upgrade the observatory at Battle Point Park. While volunteers in the metal fabrication studio manufactured and installed new drive and control systems for the telescope, volunteers in the woodworking studio built and outfitted the planetarium with new storage cabinets.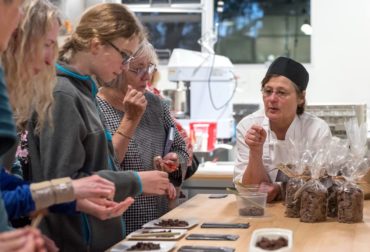 In February, Dumouchel announced the organization's newest venture. The Washington State Workforce Training and Education Coordinating Board recently licensed BARN to offer postsecondary certificate programs.
"There are construction companies who want to hire skilled woodworkers and jewelry artists who want to sell their creations," she said. "Offering a certificate here at BARN turns an interest into a career path and becomes another way we can offer options to our surrounding community."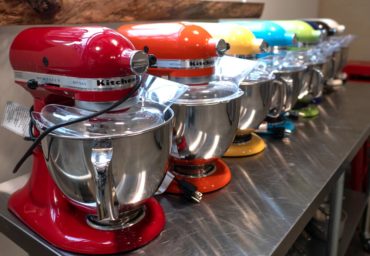 BARN's surrounding community goes beyond its island location. As its reputation grows, so does its geographic draw. On any given day, you can find members and students taking classes from Gig Harbor, Sequim, Bremerton and Seattle, working and learning in its studios.
"The biggest reason people come is to work around other people to bounce ideas and share their passion," Goodwin said.
Echoed Dumouchel, "BARN has become a place of comfort and community for people."