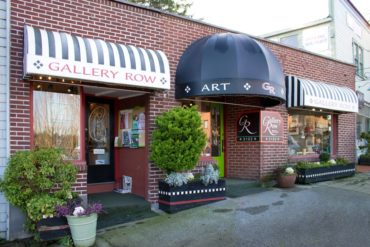 In 1988, a small handful of artists got together and rented a space in the old Shoreline building where Marketplace Grille is located today in downtown Gig Harbor. Gretchen Wilbert (a former mayor of Gig Harbor) was their landlord, and very supportive of the little gallery. The artists supported the gallery by sharing the rent and taking turns tending the store during open hours. They painted on site, sold their work, encouraged each other, and slowly expanded their numbers to eight. By 2001, they had outgrown the space, and through a serendipitous series of events found the storefront at their present location, inviting seven more artists and craftsmen to join them.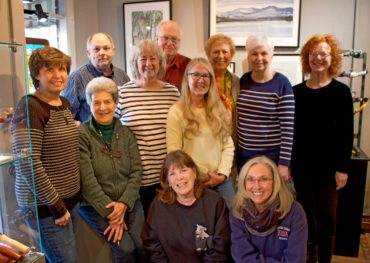 Today, Gallery Row has become an icon of art representation on the Gig Harbor waterfront. Its colorful entrance, well-tended window boxes and lighted windows invite the passersby into the world of high-quality fine art and handcrafted items. Seventeen member artists keep the gallery well stocked with new work, and the entire space is cleaned and reset once a month.
In a true cooperative in every sense of the word, each artist is an equal member, managed by an executive committee consisting of President Donna Moen, Vice President Arvid Anderson, Secretary Nancy Corey and Treasurer Karen Geiger. Moen also serves as the gallery manager, although all decisions are made by consensus. All artists are called to a meeting once a month, on the day the gallery is to be rearranged. A financial report is given, and any decisions that need to be made are taken into account.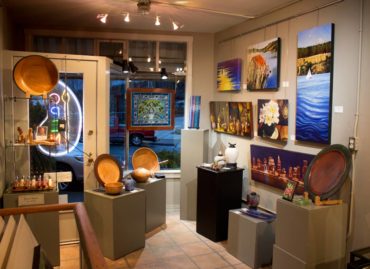 The artists share in the expenses of the gallery and staff it by working two days each month. They keep a running "chores list" of things that need to be done and can be tended to between customers. Each month there is a featured artist — or sometimes two — whose work is on display in the most prominent areas of the gallery. In addition, there are frequent special events involving just the work of the gallery artists, and occasionally inviting artists from the outside to exhibit their work.
An important event that takes place each spring is called March Madness. One whole side of the gallery is dedicated to this special sale during the month of March. Gallery artists bring in older work and everything is marked down at least 40 percent off the regular price.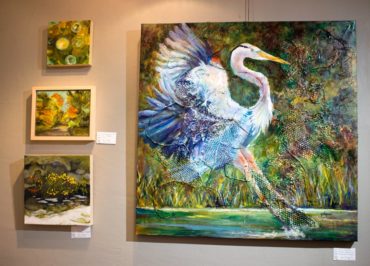 A popular show that involves a call to outside artists from the general area is The Itty Bitty Art Show. This juried show is made up of two- and three-dimensional works that must fit into a space no larger than 6 by 6 by 6 inches. Cash prizes and ribbons are awarded to the works the juror deems most worthy. The awards ceremony and artist reception is a well attended gala event, usually around the first of May.
The artists of Gallery Row attribute the long-time success of the gallery to the collegial relationships of those who show their work.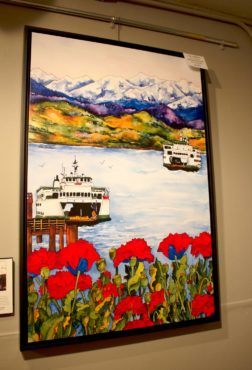 "We have each other's back," explained Josi Callan. "When one of us needs help, there are 16 others to step up."
The majority of the artists have been members of the cooperative for decades, and Sandy Newhouse has been a member since the very beginning. They have forged lifetime friendships based on their love of art and crafting a common goal of sharing their art with their community.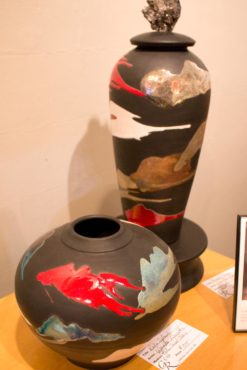 "We all come from such diverse backgrounds," Newhouse said. "Some of us have been painting our whole lives; others have become professional artists in various mediums when they have ended other careers."
Many return customers bring out-of-town visitors into the gallery when showing them the sights of Gig Harbor. Gallery Row offers packing and shipping services for work that cannot be hand carried.
"We believe the success of Gallery Row is that we feature really cool art, and we have been told it is the best in the area," Newhouse said. "We have a group of highly professional artists who take their art very seriously and work to keep up the high-quality work our gallery offers our patrons."
Artists at Gallery Row
Wood turner Brad Stave has been working in wood since he received his first toolbox at age 5. He turned that passion into a woodworking teaching career, and has been producing wood-turned art pieces for nearly 30 years.
Arvid Anderson practiced law for 35 years, but retired to printmaking and other multimedia creations. He concentrates on design and balance enhanced by color.
Christine Thompson, an untutored acrylic artist, has been continuously writing and painting her whole life. She loves the play of light and shadow on color.
Donna Moen has painted in watercolor since 1980 and receives frequent commissions for portraits, pets and special places.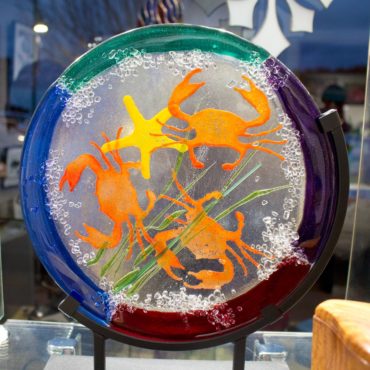 Josi Callan has devoted her life to the enhancement of the arts. Her previous career as an executive director of several nonprofit arts organizations led her to understand the art world from many perspectives. Her oil paintings reflect her love of nature and the outdoors.
Ceramic artist Karen Miner sculpts the animals of the Pacific Northwest. They are high fired and can withstand winter weather outdoors.
Karen and Norm Geiger retired from careers in the business world and turned their rock-hounding hobby into lapidary and eventually jewelry making. They create wearable treasures from silver, gold and precious gems.
Kate Larsson was born in Tacoma and lived in Sweden for nine years. A business and economics major, she was a marketing executive for Xerox, where she began to explore the world of the arts, took a watercolor class at a local community college, studied and painted tirelessly. Within 10 years, she was able to retire and become a full-time artist. Her brilliantly colored graphic designs are well known in the Northwest.
Marjorie Mankin creates mixed-media art that reflects landscapes and images of life in the Northwest. She hails from a long history as an art teacher in many local schools, and currently teaches private classes to children and adults in drawing, acrylics, oils, watercolors and art appreciation.
Marty Bobrowski is a glass artist who finds inspiration in nature, architecture, history and the abstract. In 2016, Bobrowski moved to Washington from California, where she previously participated in numerous art fairs and festivals showing her work throughout the state.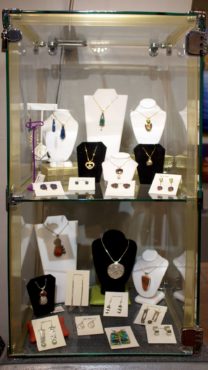 Nancy Corey retired from her full-time job in 2005, which gave her the time she needed to pursue her fused-glass art. Working in both decorative and functional forms, she uses transparent and iridescent glass with an Asian flair.
Sumi-e and collage artist Patrice Bruzas has won multiple awards for her work. She is a charter member of Puget Sound Sumi Artists and regularly teaches classes at Gallery Row.
Paulette Hoflin specializes in jewelry and beaded sculpture. She says, "Beads, beads and more beads are a girl's best friend."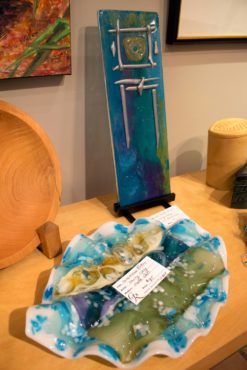 Sandy Newhouse uses vibrant, eye-dazzling color as a trademark for her works in multimedia. She is inspired by images of what she sees around her.
Sharon Carr loves big canvasses, vibrant color and luscious texture. Her personal imperative is to be attentive to beauty, and painting brings her great joy.
Ceramic artist Wanda Garrity uses a variety of firing techniques to accomplish her decorative ceramic sculpture as well as her functional stoneware work. Her attention to detail and fine finishes transcend her ceramics from craft to fine sculpture.
Additional information about each artist as well as personal contact information can be found on the Gallery Row website.