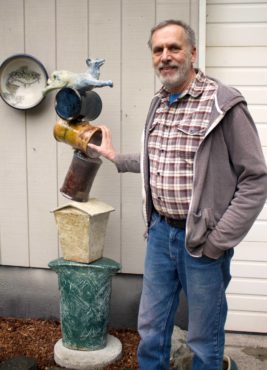 Entering a clay artist's workspace can be an experience in sensory overload, with so much to see, absorb and understand. There are bags and buckets of clay, buckets and pots of glaze, bowls of slip and stains, work tables, large pieces of mechanical equipment and assortments of hand tools. Shelves of work in various stages of completion fill in the backdrop of the studio, while at the center is usually a potter's wheel, and tucked into the corners or under alcoves outside the entrances sit the kilns.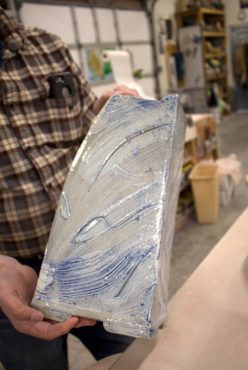 The Dan Barnett Pottery Studio is no exception. The large shop building is tucked away in the woods at the end of a narrow, tree-lined lane in Gig Harbor. It houses potter's wheels, a pug mill, a slab roller, wedging table and towering shelves of work waiting for the next stage of glazing, firing, assembling or shipping.
Barnett's pottery studio is his second home and his sanctuary. He finds contentment, solace and peace while working with his hands in the clay, creating his vast array of functional pottery for everyday use, as well as elaborate decorative pieces for the garden. Most weekdays find Barnett keeping fairly regular hours at his studio, with breaks now and then for travel with his wife, Miriam, family activities and holidays as well as summer teaching stints at the University of Puget Sound.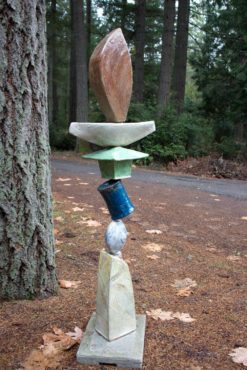 He generally works alone, but from time to time rents space to other working potters who share in the use of the equipment and help with firings. The kiln shed is an adjacent outdoor area that houses two massive brick kilns. The studio specializes in high-temperature stoneware work, some items fired in a gas kiln and others in a gas-fueled salt kiln, each designed to produce a particular type of outcome.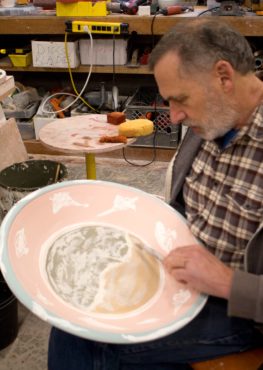 Barnett's functional work is usually fired in the salt kiln, which results in a traditional, semi matte surface over slip-trailed designs in white, soft blues and browns. Slip trailing is a technique often employed by clay artists to add a raised texture to a piece. It is accomplished by thinning the clay body to the texture of mayonnaise and painting over the surface of a piece with a brush, palette knife or sometimes fingers. Barnett skillfully uses this technique to bring a lively, three-dimensional texture to his birds and fish, clouds and currents of water.
Salt kilns have been used for centuries and probably originated in the Rhine region of Germany. Red clay sewer pipes and gray early-American pickling crocks with blue decoration are examples of salt glazing used industrially. For the artist potter, although the process is accomplished on a smaller scale, the method is more or less the same.
The kiln is heated to a temperature hot enough to drive off the organic elements and harden the clay body, a sodium water mixture is introduced into the firing chamber, and when the kiln becomes hot enough, the sodium and water vaporizes. These vapors interact with the silica in the clay and leave a slightly glossy, "orange peel" effect glaze on the surface. Other mineral components present, such as iron and magnesium, will flash on the clay body, creating a warm, toasted look to the clay.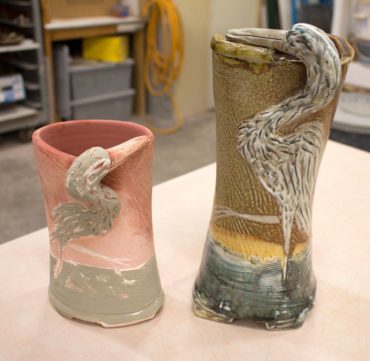 The benefit of a salt glaze is that every exposed surface of the pot is now sealed with the hard finish. This work is also fired hot enough that the extremely durable stoneware clay is highly vitrified and impervious to moisture absorption.
Barnett was introduced to this method of firing while studying in graduate school, and it remains his favorite surface treatment. The salt glaze enhances the textural design he paints onto his work with a heavy slip.
In addition to the salt-glazing technique usually used on his functional ware, Barnett produces a large line of decorative garden accessories, such as birdbaths, bells, feeders and totems. While some of the pieces of these assemblages are salt-glazed, many are fired in a traditional gas kiln in a "reduction" atmosphere. This process refers to the reduction of oxygen in the firing chamber, which is controlled by adjusting the airflow at the burner ports.
When the airflow is restricted, various aesthetic changes take place in the clay body and glazes. Many metallic oxides used as colorants will revert to the base metal — such as copper oxide, which will fire green in an electric kiln oxidation atmosphere but become bright red in reduction. Clay bodies will change color also, particularly those containing iron oxide.
Barnett's work speaks of the place in which he lives. His slip-worked surfaces depict salmon swimming and jumping on watery plates and platters. There are feathery heron stretching their necks to the tops of vases or ewers, and an occasional crow enhancing a mug or a bowl.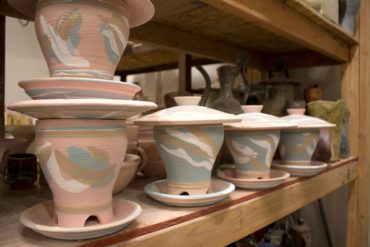 Mountains and clouds and watery streaks enhance the surface of nearly every piece, reflecting the light, topography and images of rivers and currents of Puget Sound. He is a man who takes great joy in his work and contentment in his life, always looking toward the next idea in which to express himself in his artistic approach to clay.
Barnett is a quiet, masterful teacher, willing to share the vast amount of knowledge and experience he has gained while practicing his craft over the past five decades. He believes people gain great pleasure in living with and using well made, handcrafted items in their daily lives, and he dedicates his work to producing items of beauty and durability.
Barnett grew up in Chicago and as a young man, felt the desire to leave the big city. He didn't have his sights set on any place in particular, but while visiting the Northwest, he found a place to pursue his education at Evergreen State College in Olympia. The liberal arts curriculum at Evergreen suited Barnett well, and even though he was pursuing writing and filmmaking, he found time and opportunity to experiment with clay.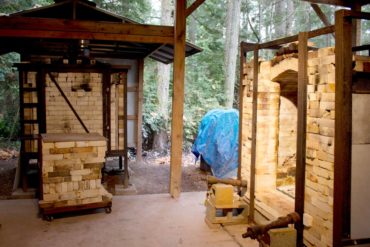 From the moment he had his hands in this soft, malleable medium, Barnett knew he would somehow have to include it in his life's work.
Nationally known ceramic artist and sculptor Ben Sams filled an artist-in-residency slot at Evergreen one semester, and Barnett was inspired and influenced by Sams' approach to clay. A figurative sculpture artist, Sams used his medium to espouse his political views, but he focused on mastery of the medium, which impressed young Barnett, who graduated with an arts degree in 1976.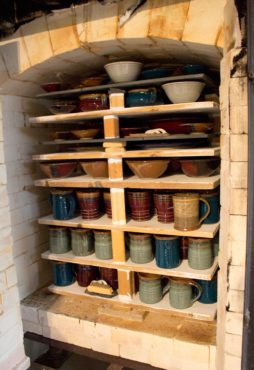 Finding work at Pottery Northwest in Seattle, Barnett continued to hone his craft and began selling his work at Pike Street Market.
"In the '70s, Pottery Northwest was a wonderful place for potters of all ages and stages to study and work," Barnett said.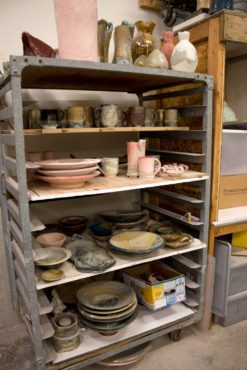 Potters had 24/7 access to the studio area and 300 pounds of clay for about $50 per month. Novices worked side by side with highly experienced clay artists, which provided an unbelievable learning environment.
Barnett met his future wife, Miriam, while they were students at Evergreen, and the two worked together at market stalls and craft fairs to peddle their wares for the next four and a half years. The couple married in 1980 and moved to Madison, Wisconsin, where Barnett entered grad school. He obtained a master's of fine arts in ceramics after studying under prestigious names in the ceramics world such as Don Reitz, Bruce Breckenridge and George Cramer.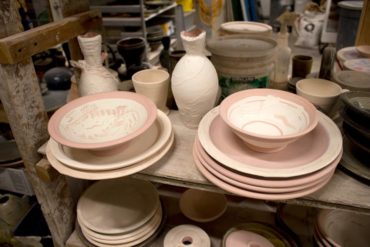 While Barnett delved deeper into clay, baby Miya joined the family and the threesome headed back to Washington. Miriam established her career in the nonprofit sector working for Allied Arts of Whatcom County.
The young family flourished as Barnett worked in Artists in Schools programs and sold his pottery through galleries and at various art fairs. He built and maintained an active pottery studio and eventually son Blake arrived and made them a family of four.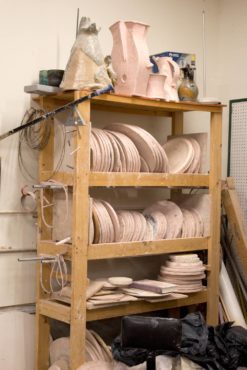 By 2002, Miriam was working for the Broadway Center and Dan established his present pottery studio in Gig Harbor. Time passed and the children grew up, went to college and left home while Barnett continued his pursuits as a professional potter and his wife followed her passion in the nonprofit sector. At present, she serves as the CEO of the Tacoma YWCA. Miriam Barnett is an artist in her own right, using her jewelry making as a respite from the pressures of her professional life. The couple frequently show their work together at the Gig Harbor Open Studio Tour and other benefit shows through-out the year.
Barnett thoughtfully praises his wife for being so supportive of his art over the years.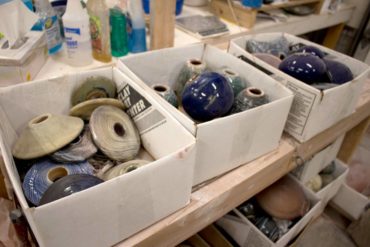 "In order to work as a full-time artist, you have to have a partner who encourages you and helps you realize your goals," he says. "I could not have worked as a full-time potter all these years without Miriam."
The Dan Barnett Pottery Studio does not keep regular open business hours for retail sales, but is always open by appointment. Barnett's work can be seen on his website, danbarnettpottery.net, where he lists his contact information and address. His work is published widely on Pinterest, and there is a link on the Gig Harbor Open Studio Tour website at gigharboropenstudiotour.org.