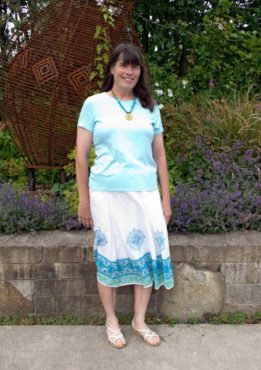 Diane Landry has been leading the Bainbridge Island Zero Waste initiative since 2010. A substitute K-12 teacher, Landry volunteers much of her time outside of work for environmental education, outreach and various projects that help reduce landfill waste.
An all-volunteer group, Zero Waste is part of Sustainable Bainbridge, a nonprofit whose initiatives also include the Sustainable Business Network, Green Drinks and the Watershed Council, among others. Some of the efforts of Zero Waste include:
Discard stations (recycling and compost bins) at many community events that divert 75-90 percent of discards from the landfill
A tableware lending library
Special recycling collections, e.g., for Styrofoam
Education outreach such as a "Where to Recycle Stuff" web page and the annual Trashion Show
Consultation with nonprofits on waste management strategies
Zero Waste evolved from a 2009 Sustainable First Monday presentation on waste. After an initial meeting of interested individuals from that event, Landry was asked to head up the new initiative. The official launch was in January 2010 — and she's been leading it ever since.
Asked what makes her involvement worth it, Landry says, "Sharing others' enthusiasm for making less landfill waste and helping with that goal. Forming friendships with fellow volunteers and learning new skill sets from them."
In addition to volunteering for Bainbridge Island Zero Waste, Landry has served on the Bainbridge Island Watershed Council for eight years, organizing a couple of Bike Your Watershed events and helping with a salmon-recovery program. She helped run Matinees That Matter, a yearlong program that brought awareness-raising documentaries to the local theater. She's also on the Green Team for the Rotary Auction and is training to be a beach naturalist.
In 2015, Landry was named Citizen of the Year by the Bainbridge Island Chamber of Commerce and received the Outstanding Citizen Award from Kitsap Community Foundation. Kitsap County Solid Waste also recognized BI Zero Waste in 2016 with the Earth Day Award for Excellence in Waste Reduction and Recycling.
For more information about Sustainable Bainbridge and Zero Waste, go to sustainablebainbridge.org.
Why Start This Work
I had been involved with recycling education for 18 years back in Virginia and wanted to continue doing so here. When I was asked to head up BI Zero Waste, I was excited, but also unsure of my leadership capabilities. Deciding to get a master's degree in community and environment from Antioch University boosted my confidence and gave me invaluable training for this position.
On Importance of This Work
We are a consumptive society. Single-use plastics (for example, straws) are a huge problem because they will never disintegrate; they are hard to recycle, except for bottles and jugs; and, as litter, they break into tiny pieces, attracting toxins and ending up in the marine food chain. BI Zero Waste is doing its part to counter all this by promoting the "re" words: rethink, refuse, reduce, reuse and recycle.
Best Part of the 'Job'
Working with an incredible and tremendously dedicated group of individuals. Making landfill waste disappear. There is such satisfaction taking a big garbage bag full of supposed "trash" and in two minutes' time sorting out the recyclables and compostables so that there really is just a handful of true trash going to the landfill.
Biggest Challenge
Recycling and composting rules differ from place to place as well as over time. As a result, continued education outreach and people's willingness to change their behavior are the biggest challenges.
Best Compliment 'On the Job'
"I wish we had this in our community."
Things I Can't Live Without
People's goodwill and generosity, chocolate.
Best Way to Relax
Having chocolate chip cookies and milk while watching a good TV series or late-night comedian.
Hobbies Outside of 'Work'
Power walking while reading crime thrillers.