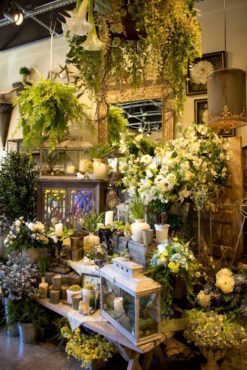 Brightly colored Adirondack chairs placed on the sidewalk outside raise the curiosity and beckon passersby to step inside The Garden Room, a seasonal home-décor shop nestled in Gig Harbor's "Uptown" shopping village. Window displays and inside vignettes offer breathtaking possibilities for dressing one's home in the latest florals, accessories and trinkets.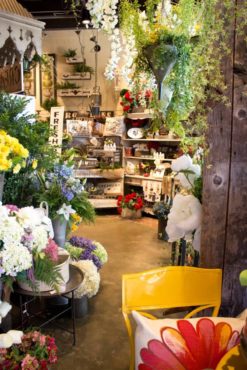 Displays are constantly in a state of flux in order to bring the colors and themes of the season to shoppers. No season or special occasion is missed, and displays are always up to the minute and over the top.
The Garden Room is the brainchild of Christine Wickstrom, a longtime Gig Harbor area resident who served for 11 years as the buyer and gift store manager at the now-closed Peninsula Gardens Nursery. With a background in design and retail, Wickstrom felt there was a void left in the community when Peninsula Gardens closed. By popular demand from friends and former customers, she was inspired to open The Garden Room at Uptown.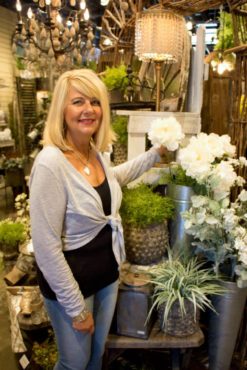 Wickstrom opened the first Christmas- and winter-themed store in 2010. She felt so encouraged by the response from her customers that she launched her shop into a year-round mecca of seasonal decor.
As the business grew in popularity and inventory, it was soon necessary to move into a larger storefront. The present location afforded The Garden Room space to expand the retail floor, plus storage and office space. Currently, the establishment is expanding again, adding 500 additional square feet to the shop.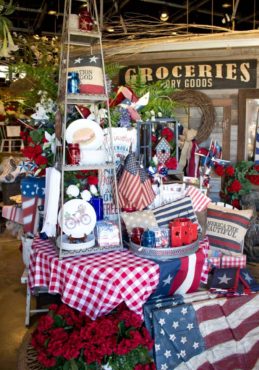 "In addition to adding floor space, we are also placing an emphasis on using vertical space by hanging merchandise above our heads," says Wickstrom. "We are constantly on the lookout for new ideas to expand the imaginative nature of working with our product lines — looking for that 'wow' factor. We love it when we hear a customer exclaim, 'Oh! I just looked up and am so amazed!'"
Wickstrom has a clear vision of how to serve her customer base. She listens carefully to what customers say, watches how they respond to the product lines she brings in and scours the globe for new products, as well as keeping the tried-and-true products her customers have come to depend on finding in the store.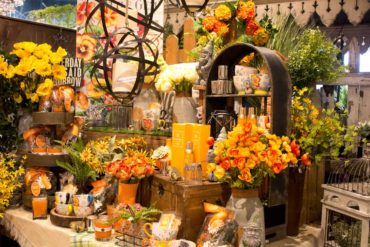 She travels to wholesale markets several times each year looking for new products and keeping her finger on the pulse of new trends. She frequently takes an employee with her for consultation as she flies from Dallas to Atlanta to Las Vegas and to various venues in Europe, always with the wants and needs of her customers in mind.
Recently, Wickstrom joined a consortium of retailers that allows her to lump her purchases with others in order to obtain bulk pricing.
"Affordability is an important part of our focus," she says. "We want to always offer those items which are a cut above the norm but at a price attractive to our customers."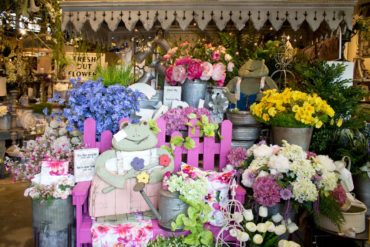 Many of the product lines are the same as were offered at Peninsula Gardens, such as the indestructible Adirondack chairs on display from spring into fall. They're coupled with new products, so there is always a fresh look.
The entire staff is involved in changing out seasonal displays, and major changes take place at night when the store is closed. The Garden Room is known for its over-the-top displays, especially at Christmastime. A great deal of time goes into planning, assembling materials and making the magical transformation take place.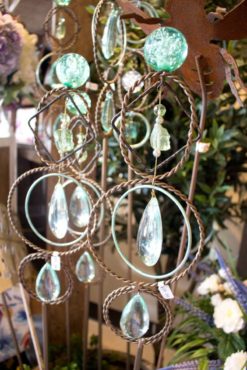 "When we are finished, we step back and have a look, always looking for that 'wow' factor. If we don't feel it, we take it down and begin again,"
Wickstrom adds, "We want to bring our customers the very best we have, so it is important for us to feel wowed as well."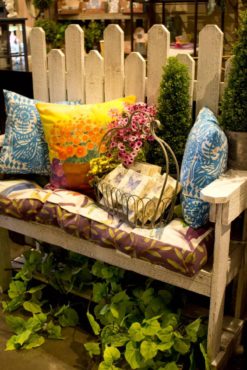 The Garden Room now offers full interior-design services and a "design your own" furniture line. Choosing styles and fabrics from a catalog, customers are able to "build" one-of-a-kind furnishings that suit their personal decor.
There is full-time floral designer on staff, providing fresh designs as well as faux floral arrangements. Customers may arrange for seasonal decorating help, from design consultation to full-on service.
"We have many customers who have depended on us to decorate their Christmas trees for years," Wickstrom says.
Getting to know her customers, who eventually become her friends, is the most rewarding part of her business, she says. Wickstrom is overwhelmed at the positive response she has had from the Gig Harbor community and beyond. Frequently, visitors from other places find her shop and make purchases that need to be shipped, even as far as London, England.
A series of events in response to customer demand are seasonal open evenings, created to reveal new decor items, provide a venue for class sign-ups and show customer appreciation. The summer event "Hot August Night," the annual holiday open house and various "ladies' nights" spaced throughout the year are posted on the Garden Room website. "Create and Sip" floral design classes are scheduled monthly.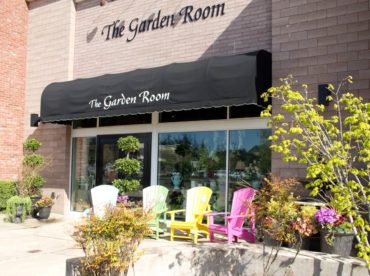 Customers can keep abreast of all store events on The Garden Room Facebook page. Also posted there are weekly designer tips, new product introductions and sale notifications.
The store offers an email sign-up list as well as a customer request book, which the staff consults before going to markets to try and find those special items customers may be looking for.
A heartfelt statement from Wickstrom sums up her feelings about her role as a businesswoman.
"I couldn't ask for a better way to make a living," she says. "The community of Gig Harbor makes The Garden Room thrive and I feel so blessed to be a part of it."