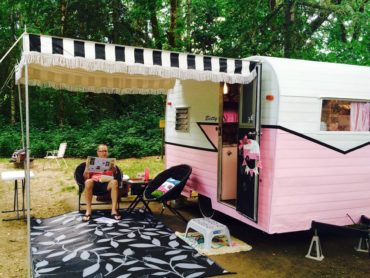 Route 66. The Mother Road. The Will Rogers Highway. The Main Street of America.
No matter how you refer to it, one of the original highways in the United States is both iconic and unrecognizable at the same time. And driving it from Chicago to Los Angeles is an adventure still today.
"If you ever plan to motor west."
Opened on Nov. 11, 1926, Route 66 was a beacon for Americans — giving thousands the confidence to head west and start anew. Route 66 has been the topic of fiction, movies, TV, music and more. Immortalized in the Nat King Cole song "Get Your Kicks" (written by Bobby Troup) in 1946, it has kept the interest alive for decades.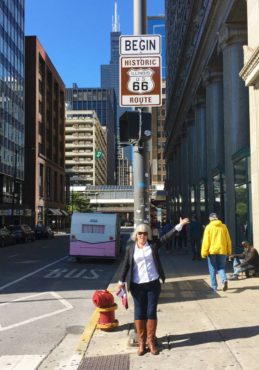 A resurgence of nostalgic intrigue in all things Americana has breathed new life into much of the Route. And my personal love of vintage America is what brought me to the road — to experience the history, to capture the nostalgic feeling, to photograph both the relics as well as the restoration. To travel through time and honor all of those who have come before.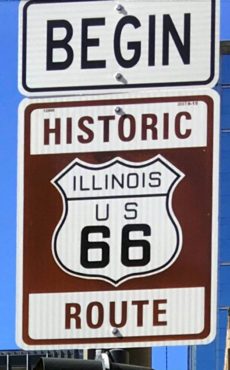 Wistful, you say? Unashamedly so. In fact, our two-week trek could be described with many sentimental adjectives, from lonesome to cornball. Because not only can driving Route 66 make you feel like a kid in your parents' station wagon again, it also will cause you to reflect on the building of America from migrant workers to technology innovations and the role the westward expansion and Route 66 played.
It's a monument to American ingenuity, from tip to tail. And so we set off to discover the Mother Road.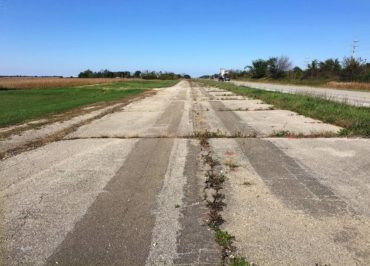 "Travel my way, take the highway that's the best."
And what better way to do it than with our vintage 1961 Aloha-pink trailer, "Betty"?
When Betty was "born" in 1961, Route 66 was at the end of its heyday. Today, you cannot drive the entire 2,448 miles uninterrupted. But thanks to nostalgic interest, the highway is open in as many places as possible.
We began our adventure with Betty in tow and few preconceived expectations on a sunny, fall day in downtown Chicago, the spot where Route 66 commences.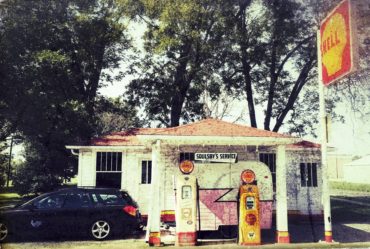 "Well it winds from Chicago to L.A."
We were armed with the book "Route 66" by Tom Snyder as well as a set of maps, created for each state by road historian Jerry McClanahan and avid Route 66 enthusiast Jim Ross. Using the maps, we were able to stop frequently throughout the weeks to explore and photograph hundreds of iconic sites, from tchotchke to breathtaking — each a monument in itself to the bygone era.
In today's throwaway society, following the discarded road and its lost-in-time relics made me truly sorry to think how today's youth will rarely experience a cross-country road trip with the family — eating peanut butter and jelly sandwiches at a roadside tourist trap. Today, it's nine-hour flights to Europe — flying over what once was the American family vacation. It may be old school, but visiting America by car still has value.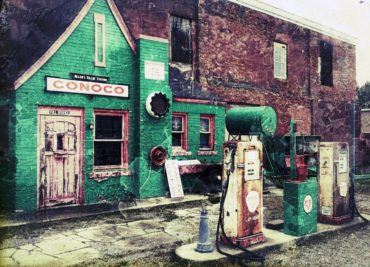 Our vintage pink trailer can be described as an old lady with too much makeup on. And Route 66 was once exactly that — with neon and unexpected (sometimes trashy) roadside attractions, the highway was a siren, luring travelers all along the Route.
"More than 2,000 miles all the way"
A Tulsa businessman named Cyrus Avery is credited for getting the Route paved and for promoting it as a tourist destination. He coined the phrase "Main Street of America," and much of the kitschy, iconic fodder of the road sprang up thanks to his efforts.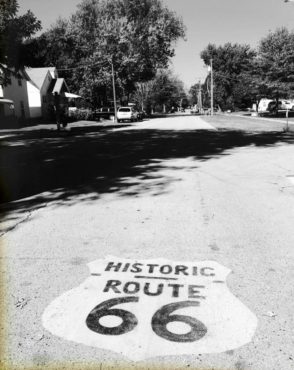 If you drive the road, you should do so with an open imagination and an appreciation for the tawdry and sometimes ostentatious roadside relics from the '40s, '50s and '60s. The majority of these attractions, hotels, diners, gas stations and signage are either gone or in rubble.
Some, however, have been lovingly restored and live on. Both ruins and restorations are worth a stop and a photo, and a bit of reverence for the role they played in the zenith years of the road and the westward expansion.
Also due reverence is the astonishing variety of landscape you will encounter between Chicago and L.A. Daily, I found myself thinking how remarkable it is that all of this amazing scenery, geographic anomalies, vast deserts, farmland, mountains, rivers and oceans can be in one country. Our country. Here at our fingertips.
"Won't you get hip to this kindly tip?"
Pink Betty, garish in her own right, attracted attention along the way, often seeming to fit in as part of the vintage scene. The heyday of Route 66, before the new interstates were built, would have found families pulling trailers like Betty behind the station wagon, or perhaps a young couple in a corvette, traveling — top down — and enjoying the sun and fun Route 66 was famous for. Stopping to see things like the giant Blue Whale (a former children's swimming area) in Oklahoma or live mountain lions in Arizona or an Indian trading post in New Mexico.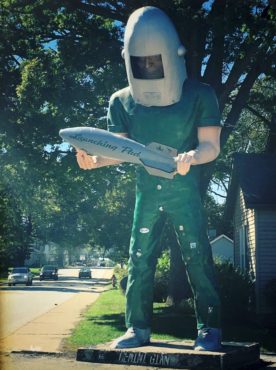 As you drive through sections of the road, you can find entire ghost towns where motels, campgrounds, diners and gas stations lay in ruins — abandoned to the interstate speeding by within sight. The town of Glenara, Kansas; Two Guns, Oklahoma; Depew, Oklahoma; and Texola on the Texas-Oklahoma border are abandoned or nearly so, sad and solemnly left in the past.
"And go take that California trip"
And yet many citizens groups have stepped up to save and preserve some of these structures and their emblematic architecture. Some of the best examples were found in Mount Olive, Odell and Dwight, Illinois, where three 1920s gas stations have been preserved and are in excellent condition, one serving as a visitor center.
Another beautiful example was in Shamrock, Texas, where the neoclassical Tower Station building has been lovingly restored, down to the vinyl on the cushions, into the U-Drop Inn Cafe. The Blue Swallow Motel found in Tucumcari, New Mexico, as well as both Wigwam Motels (Holbrook, Arizona; and Rialto, California) and the El Rancho Hotel in Gallup, New Mexico (and many others) are once again serving guests in their comfortable and fully restored rooms, with all the glory of the old days.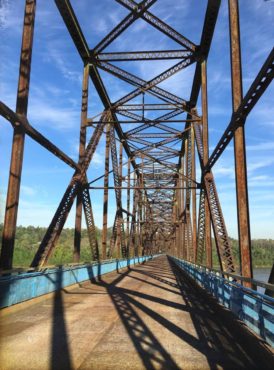 Parts of the original highway are now "alignments" while other parts are completely abandoned but accessible to the adventurous. Often with weeds growing in the cracks or even gravel, the old lady proudly waits for visitors to rediscover her.
Only a few original bridges remain, like the beautiful Marsh Rainbow Arch bridge in Riverton, Kansas, that was thankfully saved and is open to traffic, and the massive Chain of Rocks bridge outside of St. Louis, now only open to pedestrians and cyclists.
The final stretch of Route 66 takes you over a winding pass through Cool Springs into Oatman, Arizona, before dropping down and crossing into Needles, California. It's a metaphorical path — leaving behind a very rural and old way of life and opening up into endless businesses and residential areas in the last 100-mile stretch from Victorville to Pasadena to Santa Monica.
Clearly, this California section of the road has little left of the old days — and yet that first sight of the Pacific Ocean shortly after passing through Beverly Hills takes your breath away, the same today as in decades past. Because the dream remains — California, where anything is possible.
"Get your kicks on Route 66"