Not heaven, not quite — the Pacific Northwest is a bevy of sparkling amenities, things to do and see that capture the soul.
One of those things is my "Yoga Salmon Trail" morning adventure in Belfair.
It started at the new, multimillion-dollar Faith in Action building, known as the HUB. Faith in Action is a nonprofit organization that assists seniors and the disabled. Executive Director Patti Kleist oversees Faith in Action and Operations Manager Beth Gizzi handles HUB business and activities.
There are lots activities available, one being yoga — a yoga class is offered every Wednesday. This is where I met yoga instructors Michelle Pugh and Janice Bankson, who provides mats for beginners like me. Their patience is delightfully comforting, as senior ladies like myself sometimes may require less aggressive moves and positions.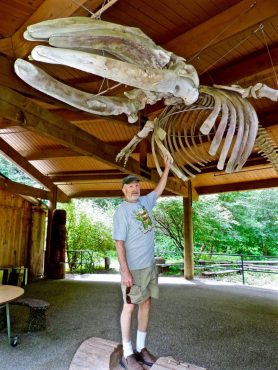 A few of my good friends also became Wednesday yoga regulars, and we met new friends.
The yoga class lasts an hour but seems only minutes. Afterward, we chat a while, then some of us visit another part of the building — a large thrift shop. It is, in fact, one of the largest nonprofit thrift shops in Mason and Kitsap counties. All proceeds stay with Faith in Action.
On one particular day, while perusing the thrift shop goodies, we were awestruck by a huge, ornately carved eight-leg table with six equally ornate chairs. Folks were gathered around the humongous table set, examining and pulling the table to expose the built-in leafs. We were surprised it was still there the next week. And the next. And the next.
The clunky creature did show its age, but considering, it was in good shape. But it was just too big, heavy and ornate for most homes, particularly in this day of downsizing and minimalist trends. We, gals, examined it again and agreed it would look great in a big log home like mine. The next week on a half price day, it was still there, sitting like a lonely, homeless puppy. I bought it.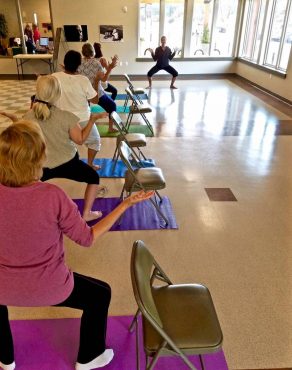 After yoga and a thrift shop visit, we often continue our adventure. We call it the Yoga Salmon Trail. From Faith in Action, we drive a short distance to the Theler Center, which is located across the road from Belfair Elementary School. We park and walk past the Theler building to a fairy-tale gate that leads to wetland trails, which change with each season.
The winding entry trail is lush and wooded, as tall trees arch to obstruct light and form a walking forest tunnel that leads to an open space. An education building tucked away in this space is often utilized by the North Mason School District. In the middle of the covered open area hangs the impressive skeleton of a huge gray whale.
From here, there are several trails to follow. On this day, my husband, Earl Sande, joined us, and we walked everywhere. One of the trails led us to mud flats and a small wooden bridge where we could stand and watch active baby goslings scrambling to chase mother goose.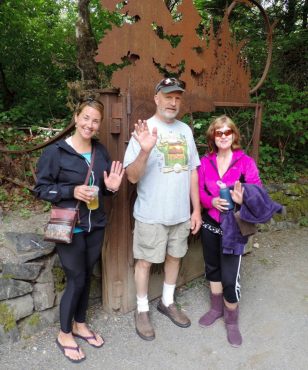 Other directions led us to the very tall, green grass lining each side of long, wooden walkways. Hard dirt trails meandered through low-tide mudflats. Other walkers greeted us throughout.
Today there are no bear sightings or signs, but rumor has it that a few local folks have encountered the elusive critters in the wetlands area.
As we walked the final trail, The Salmon Center could be seen in the distance, and that was our next Yoga Salmon Trail destination.
We could see the barns and covered sheds, as young students were shearing lama and a big yellow school bus dropped off more students.
The Salmon Center Director Mendy Harlow greeted us and showed us around the impressive main building. It houses offices, meeting rooms, conference areas, a commercial kitchen and related displays. Outside, to the south, we discovered the U-pick garden that was overloaded with tasty, sweet strawberries. We picked, our bags were weighed and donations were made accordingly. Next to the gardens are rolling grass lawns that also accommodate weekly yoga sessions.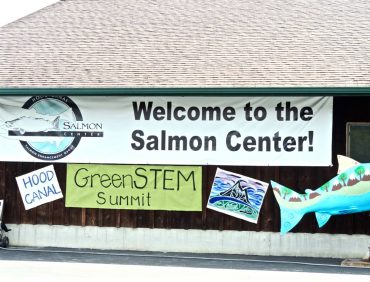 Earl and I have been Salmon Center volunteers for many years. For a while, he was president of the Salmon Enhancement Group and he was also nominated for the Wild Salmon Hall of Fame.
I had recently repainted the center's 8-foot fiberglass salmon, so it was fun to show gal pals that art project, along with other art pieces created by Northwest artists.
Soon the Yoga Salmon Trail adventure was over. We said our goodbyes and I was home by 1 p.m.
How fortunate we are to live in such a beautiful, diverse area with wonderful day trips at hand. And we are as equally fortunate with community projects and support that provide facilities such as the HUB. As I look over the month's activity calendar, I think I want to sign up for Senior Zumba.