The scene at Titlow Park in Tacoma attracts a few curious glances. Eleven women are spread out across the lawn, fly rods in hand, practicing their roll casts, false casts and presentation casts. The instruction this day is provided by Judy Graham, an energetic, patient tutor and expert casting instructor, who periodically calls the group together for a relaxed huddle and demonstration. Occasionally a pesky breeze blows through, carrying the hook-less lines in unexpected directions, and at least one participant (that would be me) ends up with her line caught in a tree, which Graham expertly retrieves, no harm done.
The casting clinic is a small fundraiser for Casting for Recovery, for which Graham is the Washington program coordinator. On this day, the women of the Reel Fly Girls will raise $500 to further CFR's mission of supporting breast cancer patients and survivors through the therapeutic sport of fly fishing. Since its beginning in 1996 in Vermont, CFR has expanded nationwide and last year offered 44 no-cost retreats in 32 states to breast cancer survivors that combined instruction in the sport of fly fishing with breast cancer education and peer support. Among the members of the Reel Fly Girls, a women's fly fishing group with origins in Gig Harbor, are several breast cancer survivors, including me.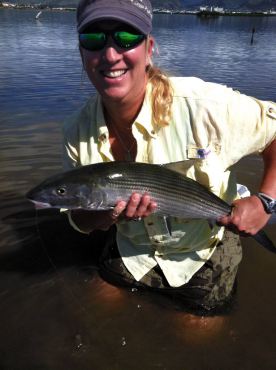 My introduction to the Reel Fly Girls came about unexpectedly two years ago during a fact-finding mission for another article. I stopped to interview Blake Merwin, owner of the Gig Harbor Fly Shop, who told me I should check out the new women's fly fishing group and its de facto leader, Robbi Krumm. Krumm is a retired Henderson Bay High School math and science teacher who first started fishing when she was old enough to hold a rod and whose father used to fish Wollechet Bay for salmon to feed the family. As an adult, she fished with her husband until, she recounts with a laugh, she out-fished him on a Montana trip — and that was the last time they fished together (though she is quick to point out that he continues to support her fishing). After that, she started fishing the local beaches on her own, gradually discovering a community of fly fishers, both men and women, whom she describes as uniformly wonderful people.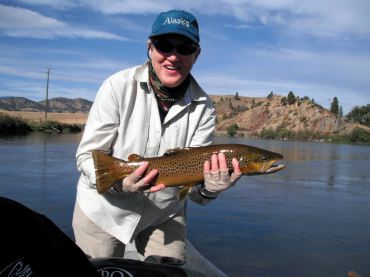 "They are very giving. They share. They teach and they enjoy being outdoors. Most of them aren't out to impress people," she says. "They just love to fish. We all tell fish stories but that's just part of it. It's fun and once it starts, it snowballs."
When I originally called Krumm, I confessed to her that my only prior fishing experience was when I was a young girl and tried to fish with my dad, a lifelong fisherman, and got a hook caught in my earlobe. After that, the sport didn't hold much allure for me.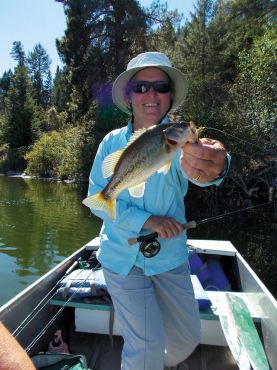 But Krumm encouraged me to join her for an afternoon of fishing on nearby Crescent Lake in Gig Harbor, promising she'd talk me through it. She showed up trailing an impressive amount of gear including two types of row boats, multiple float tubes, several rods, waders and assorted other fishing paraphernalia. I watched as the women who joined us donned waders, wading boots, fins and fishing vests, which left me feeling woefully underdressed in my jeans, layered fleece and hiking boots. Krumm tied a fly to my line and gave me some basic instruction about how to cast and operate the reel. Before I knew it, I was alone in a rowboat on the lake — my line trailing behind me as I drifted and the boat gently rocked — wondering what exactly I would do if a fish actually struck.
And then it began to rain. Not a torrent, but that steady, soaking drizzle that our Northwest climate is famous for. The voices of the other women floated across the water, providing companionship without really interrupting my solitude. A pair of ospreys circled overhead. With my jacket hood up, I watched the unbroken green wall of the distant shore flow past me, trance-like. And I was hooked.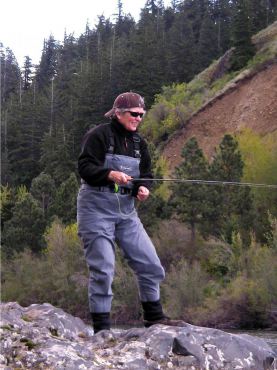 For one thing, I suddenly thought I understood why my dad fished. It couldn't have been only about catching fish. Because if that's all you're in it for, if the only reward is a fish on the end of your line, you're bound to be disappointed more than satisfied.
I recently asked my dad about this. "Catching is just a small part of it," he said. "It gets you out into the outdoors in mostly pretty places. It's very relaxing and it's very solitary. It's just you and the fish."
It wasn't so different for me that day on the lake. Close on the heels of a stressful year, the hours drifting on the water worked on me like a soothing balm. It didn't matter that I didn't catch a fish or that I was eventually soaked through all my layers of fleece and denim. What mattered was that I, a lifelong tomboy, was back out in the natural world that I so loved while the memories of the previous year gently blurred and lost their sharp edges.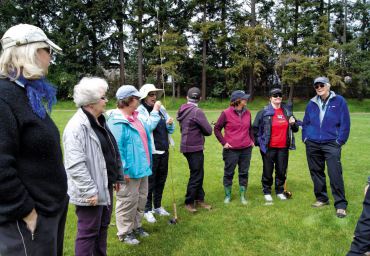 Reel Fly Girls
Since that day on the lake, I've come to know the women of the Reel Fly Girls, and our ranks have grown. When Krumm called the first official meeting two years ago, 16 women showed up. This year, there are 50 members and counting.
The monthly meetings, or "gatherings" as they are called, often take place in various members' homes, either in Gig Harbor or Tacoma. Women come from as far away as north of Seattle to attend, schedules permitting. There is always plenty to eat and drink. Sometimes the gatherings turn into fly-tying sessions. Stories are told — where were the fish biting last week, what flies worked the best for the resident silvers or the cutthroat trout coming up through the Narrows, and so on. Permanently on the agenda is some discussion of upcoming outings and trips.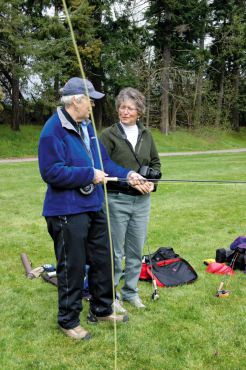 It's easy to imagine that Krumm didn't know exactly what she was getting herself into two years ago when she agreed to lead the group. For one thing, the few times I've fished with Krumm, she spent a good portion of her time helping other RFGs tie knots and figure out the best flies to use, and providing casting tips. And she always does these things with apparently inexhaustible patience and good humor. For another, besides the monthly gatherings, there are now several outings and trips scheduled each year and they all require planning. This summer, for instance, various members are signed up to fish as close to home as Cady Lake (North Mason) and as far away as Alberta, Canada. Last year, they traveled to Eastern Washington and all the way to Montana to fish the Madison River.
Which is how I found myself, two summers ago, just about as happy as I could be as I scrambled over boulders and fallen trees while wading Skate Creek near Packwood in search of a good trout hole. RFG member Barb Przasnyski had offered the group accommodations on her property near Packwood, nestled between the Cowlitz River and Skate Creek. Women came and went as schedules allowed over the long weekend; all brought food and drink. There was a bonfire one night late into the night and the conversation inevitably drifted away from fishing and onto other topics, which is a frequent occurrence whenever RFGs gather.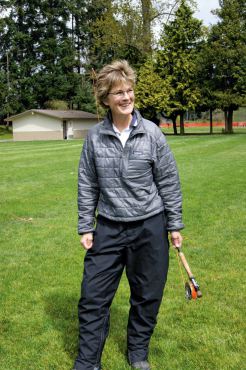 A word about our hostess: Przasnyski once broke her fibula while wading and fishing with a friend in Skate Creek. But what makes this story truly remarkable is what she did next: She kept on fishing. She told her friend, a registered nurse, that she'd merely twisted her ankle and would be OK as long as she kept her leg in the ice-cold water of the creek. The two women continued to fish for the next three hours until they'd both caught their limit. Only then did Przasnyski confess to her friend what had really happened and allow her to go for help. How's that for a fishing story?
Przasnyski considers herself a lifelong learner and says that the Reel Fly Girls lets her learn "with no fear of ridicule."
"No question is ever deemed a stupid one," she says. "The après-fishing conversations about clothes, recipes, men and yes, even fishing, are great fun. I enjoy the wisdom of the older women and the carefree attitude — and liquor capacity — of the younger ones."
The social interaction and support offered by the group are certainly two of its main attractions, according to other RFGs. Fishing with other women is just different.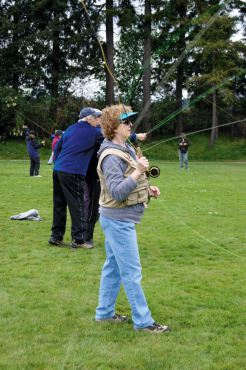 "It's about friendship, a shared experience," says Gena Kelley, who began fishing with her grandfather while she was in grade school. "Being around women who share a passion for fly fishing is very encouraging. With men, it can get too competitive."
It's a sentiment echoed by Lynda Filson, a founding member of the RFGs. "There is no competition," she says. "It's about the experienced helping the inexperienced. It's about the younger members giving a hand to the older members as they wade in the river. It's about sharing the stories of our successes and failures, both in fishing and in life."
Take it from a beginner. From the first time I fished with them, I've felt welcomed by everyone in the group, even if I'm asking them for the umpteenth time how to tie an improved clinch knot. And I've never felt excluded because I only occasionally make it to the outings — this isn't an adult version of high school. So to any potential female fly fishers out there who might feel intimidated about trying the sport, I say: Don't be. There will always be plenty of support and helpful advice from other RFGs, willingly shared.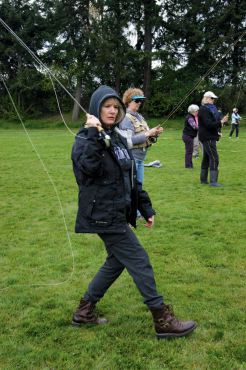 "Just jump in," says Mary Lynn Cabbage. "Watch people who fish and ask questions. Take classes and read. Be patient. Fly fishing is a lifetime sport. Ignore the macho stuff."
"Go for it," says Claudia Berguson. "Join the group, take lessons, explore. Others warned me fly fishing is an addiction. It is, and a very healthy one."
Reel Girls reveal what they love about fly fishing
"Though I am not a religious person, I often think of the forest and stream as an open-air cathedral. I feel closer to God wading that trout stream than I ever felt inside a traditional church." ~ Barb Przasnyski
"Fly fishing is about connecting to nature, and it is about putting a puzzle together — which fly, which line, where to cast? When the puzzle is put together perfectly, you catch a fish. What a joy!" ~ Lynda Filson
"There is nothing like being in the river and feeling the water moving against my legs as I cast." ~ Mary Anderson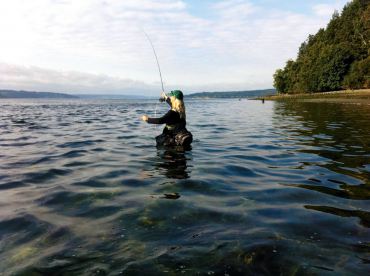 "Last summer, when our group went to the Madison River in Montana, I went on my first-ever guided boat trip. As he anchored the boat, the guide said to me, 'Now it's time to get out of the boat.' I panicked. How could I possibly get out into this raging river? I did. And while standing there, I relaxed and saw the beauty of the river and the quiet of the surrounding mountains, and I realized why I love to fish." ~ Karen Adams
"Being in the outdoors is like being in God's green cathedral and is calming to my soul. It brings back wonderful memories of my grandfather and brother." ~ Gena Kelley
"With fly fishing, there is always something to learn. And what fun learning!" ~ Carol Rae Smith
Resources

If you're interested in checking out the Reel Fly Girls, contact Robbi Krumm by calling 253.677-0694.

Visit Casting for Recovery at www.castingforrecovery.org for retreat information, to apply for a retreat, to make a donation or to find out about volunteering.

The Gig Harbor Fly Shop regularly offers Introduction to Fly Fishing classes; sign up early to reserve your spot, as classes fill up (classes are typically made up of at least 30 percent women participants). The shop also carries fishing and outdoor apparel for women. Visit it at www.gigharborflyshop.com.