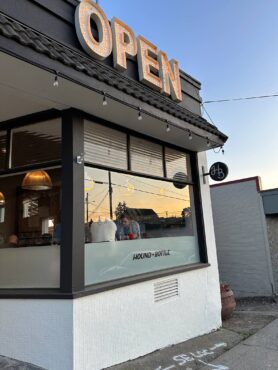 The avid entrepreneurial restaurateur team of Jody and Alan Davis have been the proud proprietors of the trendy Hound + Bottle restaurant in Manette for the past six years. Rock 'n' roll music, an eclectic decór and small but elegant menu greet neighborhood groupies and visitors who come for crafted cocktails and cuisine Wednesday through Saturday evenings.
Alan Davis has a long and illustrious history in the restaurant business, cutting his teeth for 20 years in the Seattle restaurant scene. Jody Davis is a Bremerton native and they are both pleased to call the Bremerton area home. When Alan was ready to work for himself, he recognized there were few restaurants offering raw oysters in the Bremerton area and pondered as to whether there was no demand or simply no one specialized in the cuisine.
"Aquaculture is all around us in Puget Sound and Hood Canal, and I thought we should be enjoying this amazing fresh seafood right on our doorstep," Davis says. Especially proud of his ouster program, he sources them locally from the best producers who can deliver the freshest shellfish possible.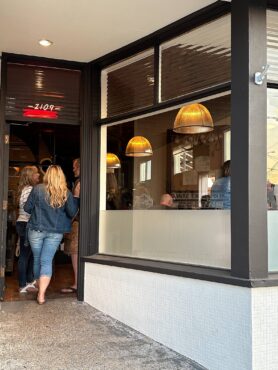 About 17 years ago, the Honor Bar was born near the Evergreen Park when the owners put the building that contained the Scout cafe up for sale. The Davises built a thriving business with a coffee shop downstairs and a restaurant upstairs. As the restaurant began to thrive, the coffee shop was closed, and the couple operated the venue for several years before closing and moving their restaurant to Manette.
Prior to opening the Honor Bar, they offered specialty dinners featuring the best of seasonal produce at the Scout Hall, which the Davises own. Those dinners continue today, being offered every four to six weeks as "Sunday Suppers."
"Sunday Suppers are a way for the community to come together in an informal atmosphere to enjoy great food, drink and camaraderie," Jodi Davis says. When the new date for an upcoming supper is advertised, they sell out within hours, which denotes their popularity in the community.
Six years ago, the pair moved their operation from Bremerton to the charming neighborhood of Manette and renamed their restaurant to Hound + Bottle.
"I wanted to keep the HB logo, but change it up a bit, and fiddled around with names starting with H and B," Alan Davis says. "Jodi is a real dog lover and the name 'hound' came to mind, along with my interest in craft cocktails, or 'bottle'. And the name clicked." Indeed, Hound + Bottle is known for its delicious, imaginative craft cocktails, which demonstrate the artistry of chef and bartender Alan Davis.
Alan had worked as a chef at a couple of high-end restaurants in Seattle for years when the resurgence of interest in cocktails began to happen in the late 1980s. He began to take an interest in bartending and thinking about cocktails, not just for their drinkability, but also as a complement to food. He spent six months learning the art of crafting innovative cocktails from renowned mixologist Jim German. German had established a reputation in Seattle, but later moved to the Walla Walla area, where he brought the idea of organic, relaxed drink bars to the burgeoning wine community.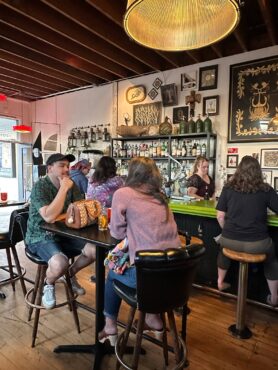 Walking through the door into Hound + Bottle evokes a flurry of sensations. A neighborhood British pub, a drinks bistro in France or a neighborhood café in nearly any country on Earth, but with the excitement and expectation of something very special to come. The square manila menus — one for drinks and one for food — are uncomplicated and easy to read. Pre-COVID, H+B offered more menu choices, but when the pandemic forced eateries to package food to go, they rethought the menu and pared it down to the basics. Now the standard menu features just over a dozen choices, and servers describe nightly or chef's specials depending on seasonal availabilities.
Jodi Davis, who is a professional interior designer working for a large design firm in Seattle, is responsible for the interior decor of Hound + Bottle. There are subtle nuances — the wide-open windows facing the street, the polished bare tables with glass candle-holders, the old brass bell evoking thoughts of a bell in a British pub or perhaps reclaimed from a Bremerton naval ship. And the glass cabinet that holds vintage stemware for serving beautiful cocktails. "We love pretty," she says.
And speaking of pretty, the drinks menu offers an exciting array of classics as well as H+B originals. A popular seasonal favorite for spring is "Rhubarb Hi-Hat," a beautiful, rose-colored cocktail served in a champagne flute with a skewer of crystallized rhubarb on top. Other interesting drinks combining various spirits, syrups, wines and fruits stir the taste-buds and spark the imagination. For the trendy crowd, dining with wine is a little old hat, and pairing drinkable cocktails with food is in.
Creative cocktails aside, however, Hound + Bottle does sport a small, but enticing wine list of carefully curated wines, a few local beers and a seasonal mocktail. When Alan Davis isn't in the kitchen working with his staff of two, he is holding court behind the bar, which is his favorite place to be.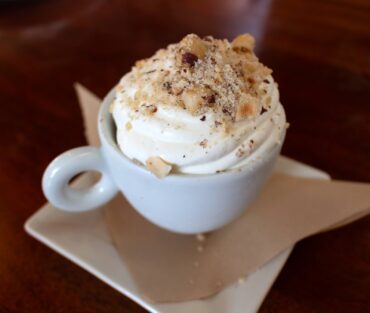 "I can survey the entire dining room and keep my finger on the pulse of our customers, always knowing when someone has a question or needs something special," he says. Sometimes, when patrons are particularly curious about a specific drink, Davis will bring all the ingredients to the table and mix it there. "It adds a little spark and showmanship to the vibe," he explains.
While Hound + Bottle is loyally supported by neighborhood regulars, it has also been discovered by visitors from farther afield. Frequent visitors from Seattle and out of state find their way via the fast ferry or as tourists to the Kitsap Peninsula seeking other local attractions.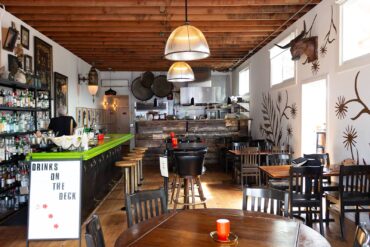 "We are so thankful for our neighborhood crowd," Jodi says. "We have even had them come on foot during a snowstorm when the roads were impassable."
Hound + Bottle is a place of great food and drink, where everyone who comes in is immediately comfortable. The relatively small space seats only 36 diners, including outdoor deck seating. There are no white tablecloths, the gleaming wooden tabletops simply anchored with colored glass votive holders.
"We want our customers to know they are welcome to stop in for a beer and a burger, or for our multi-course special event dinner evenings," Jodi Davis says.