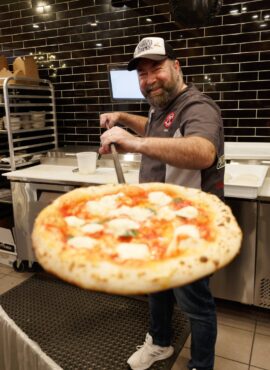 Seldom does one have the opportunity to be invited into the spotlessly clean dining room of a master pizzaiolo champion, but Kitsap residents are the lucky ones. Sitting next to the Kingston Ferry toll booth is Sourdough Willy's pizza house par excellence. Owner Will Grant has travelled the world and honed his culinary skills since he was 8 years old and now has brought sourdough pizza dough to the West Sound. And pizza is not the only scrumptious item on theme, which also includes generous side servings of authentic Italian meatballs and amazing roasted Brussels sprouts, along with a full array of tempting salads.
When he was just a little kid, Grants' family opened That's A Some Pizza in 1984. A few years later, the entire family spent two months in Italy studying Italian recipes in order to open their new business, That's A Some Italian in Poulsbo. From an early age, Grant loved travel and being around the restaurant business.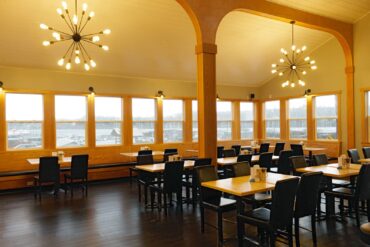 He sought out opportunities to apprentice in kitchens from Washington to New York, but his real love is pizza and he has dedicated his life to the world of pizza mastery. Grant has received international accolades and awards for his tasty, authentic pizzas and his amazing and uncommon sourdough crusts. Great pizza is about flavor and, of course, the crust, he says. For him, both of those things begin with a 127-year-old sourdough starter.
Sourdough Willy's starter dates back to the Klondike gold rush, when miners were required to bring a year's supply of food with them to participate. Bread is the stuff of life, and there were no commercial yeasts available then, but with a pocketful of starter, a pound or two of flour and a little water and salt, a nutritious filling loaf could be produced over a campfire in a Dutch oven. Sourdough starters are living organisms and through the alchemy of starter mixed with fresh flour, water and a bit of time, it can grow and multiply and serve as leavening for bread, pancakes and, of course, in Grant's hands as crust for pizza.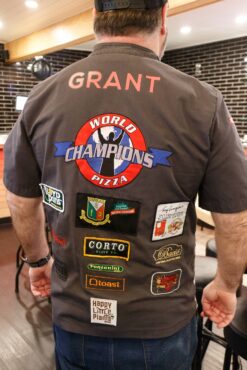 A portion of Grant's sourdough starter has been stored and maintained at the Quest for Sourdough Library in Belgium and is thought to be the oldest registered sourdough in the world. It is only one of two starters in the library that are used exclusively for pizza.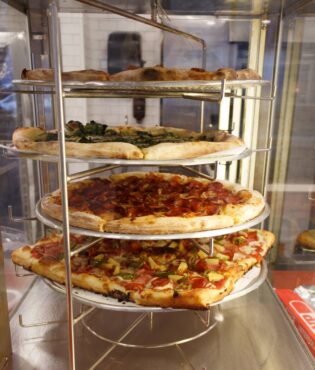 At the restaurant, he maintains his sourdough in four 5-gallon tubs, two in the kitchen at Sourdough Willy's and two at another of his restaurants, That's A Some Pizza on Bainbridge. As he removes the lid from the tub, the active bubbling glutinous mass emits a warm, slightly sour fragrance with mild notes of alcohol wafting above. This is because the natural yeasts and bacteria in the starter produce carbon dioxide, which is what forms the beautiful bubbles in a sourdough crust.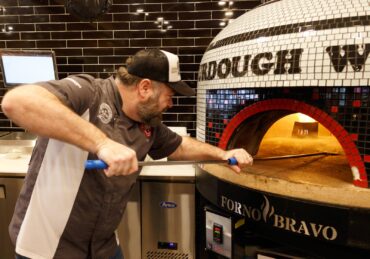 Science aside, the deliciousness that results from a well-maintained starter at the hands of an internationally acclaimed master pizzaiolo is well worth the trip to visit Sourdough Willy's. The restaurant opened at its present location in 2020 as a slice house seating about 20 people. A year and a half later, the remodel on the back of the house was complete, offering patrons a bar and dining area seating about 60 people.
The focal point of the restaurant — assuming you can direct your gaze from the beautiful waterfront — is the large, round, tiled oven that sits in the corner of the room. This is the Forno Brava oven where the traditional Neapolitan pizzas are baked in 90 seconds and where the large, rectangular "in pala" breads are baked.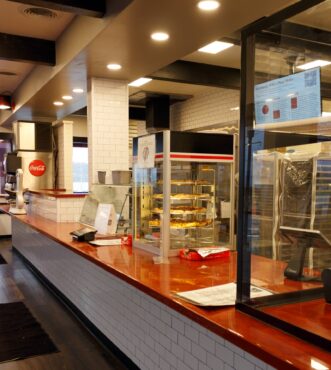 Neapoletana is the original style of pizza created in Naples, Italy. Naples is where the pizza industry as we know it began and was brought to the United States by military troops returning home after World War II. The "leoparding" or black spots on the sides of the crust and the "char" on the bottom crust are the signs of an authentic Neapoletana pizza. The dough is patted into a perfect 8-inch circle on which San Marzano tomato sauce is spread and then dressed with fresh basil leaves and crumbled creamy mozzarella cheese.
The pie is then lifted onto a long handled "peel" and stretched into a 12-inch-diameter circle. The pizza is slid off the peel onto the floor of the 900-degree oven, where the crust begins to bubble and brown and the cheese takes on a satiny, melted sheen. In 90 seconds or so, the Neapoletana is lifted from the oven and is ready to serve.
Sourdough Willy's is known for five styles of pizza and another very popular type is the Roman "in pala." In pala translates to "on the shovel." Found on nearly every corner in Rome, this large, rectangular, classic pizza is similar to a large focaccia with a topping. Willy's uses giant pizza paddles or "shovels" to place this pizza on the oven hearth floor. The crust is deliciously fluffy, with large, open air bubbles reminiscent of the best sourdough bread ever. It is airy, with the outside a tender crispy and crunchy surface.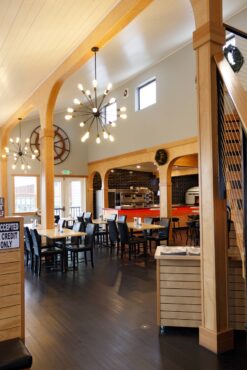 Customers may choose from seven different toppings on these two styles of pizza. One gratifyingly tasty topping is "Hestia," which begins with a gorgonzola cream and is topped with crumbled bacon, red onions and feta cheese.
The New York pizza is a traditional, hand-tossed round pie with a thin bottom crust and thicker edges and is cut into triangles. The Sicilian pizza that originated in Sicily is a pan style pizza risen for two days and baked twice before serving. A thick pizza, it is not dense but very light, fluffy, airy and crispy. Baked in a 16-inch square pan with all the toppings, mozzarella cheese and sauce, the New York pizza is perfect for sharing with friends or family.
The fifth type of pizza on the menu is one that originated in Detroit. Made in a 14-by-10-inch pan, it's truly a slow-baked pizza, which rises for two days and is baked twice. Every slice gets a chunk of delectable crust, which makes the Detroit an amazing creation. A blend of aged sharp cheddar cheese, Wisconsin brick cheese and mozzarella cheese is spread over the crust for a second bake, making a delectable, one-of-a-kind caramelized cheddar cheese crust. The final bake results in a "crown" of cheese, sometimes called bark or cheese bacon.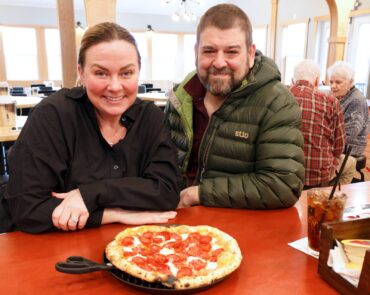 There are 10 toppings available to patrons who choose the New York, Sicilian or Detroit pizzas. When the pies come out of the oven, all are placed on a specialized, heat-resistant tray designed to allow the steam to escape, which keeps the bottom crust crisp. Scissors are supplied with the Neapoletana pizza, allowing diners to cut their own desired size slices.
Grant has won myriad awards and accolades for his pizzas since he started competing in national and international competitions at the encouragement of his mentor and pizzaiolo idol Tony Gemignani. Grant wanted to lift his pizza making to the next level after taking over ownership of That's A Some Pizza from his mother. His wish to take instruction from the best of the best was fulfilled when he was accepted to Gemignani's prestigious International School of Pizza in San Francisco.
Passing the certification process of the school with flying colors, he then embarked on entering a series of competitions. He received accolades such as the 2017 Caputo Cup Nontraditional Champion, 2018 Best Pizza in the North West Region; ranked No. 19 Classic Pizza in the World in 2018 and No. 8 pizza in Europe in 2019. Recently, as a member the World Pizza Champions Team, Grant competed in the world's largest pizza party competition in Tulsa, Oklahoma. The team raised over $40,000 to benefit the Oklahoma Make-A-Wish Foundation and landed a listing in the Guinness Book of World records.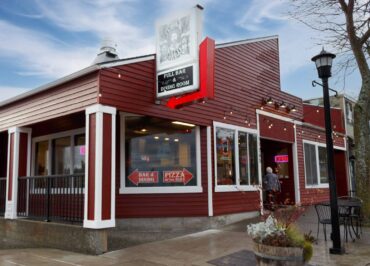 Grant's restaurants focus on friendly and efficient customer service and the best pizza dough possible, regardless of the patrons' choice of topping. Toppings are produced from the freshest ingredients and each pizza is made to order. Whether you pop in off the sidewalk to grab a slice on the way to or from the ferry or choose a sit-down experience in the dining room, Sourdough Willy's is sure to please.
Those who would like to take their pizza experience to the next level can do so by enrolling in one of Grant's pizza classes. A fun recreational activity designed to share with friends and family is available once a month on select Saturdays. An intensive eight-hour Professional Pizzaiolo Certification course is also available. Check the website for details.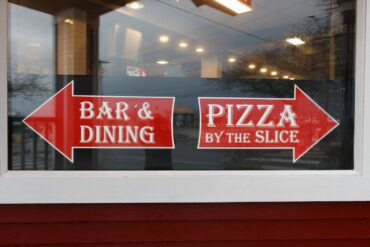 Master pizzaiolo Will Grant will be competing again this spring at the International Pizza Expo in Las Vegas and will travel to Italy in April as a member of the U.S. team to compete in the World Pizza Championships. In the future, he hopes to expand his school by building a larger classroom facility and offering courses on the art of sourdough pizza making to a wide variety of would-be pizza masters. His love of his craft emanates from his big smile and enthusiastic chatter about all things pizza. A visit to Sourdough Willy's in Kingston is guaranteed to be a memorable experience.