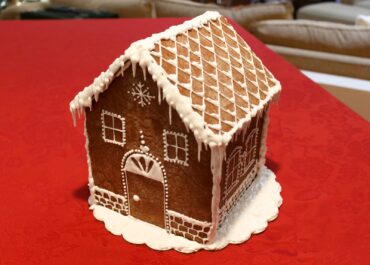 Everyone knows the story of Hansel and Gretel, the German fairytale by the Brothers Grimm. Abandoned in the forest, the children came upon a house made of gingerbread and other sweet delights, but owned by a wicked cannibalistic witch. The witch intended to fatten up Hansel and eat him, but Gretel pushed the witch into her own oven — and everyone lived happily ever after.
It's uncertain whether the rise of baking the popular gingerbread houses came before the fairytale was published or if the fairytale was based on a storyteller's imaginative use of the sweet confection. What's known, however, is that the tradition of baking gingerbread houses at Christmas developed in Germany in the early 1800s and eventually spread throughout Scandinavia. These historic houses are a far cry from what is typically marketed in the USA at holiday time, as the embellishments were mostly made of icing and a little colored sugar.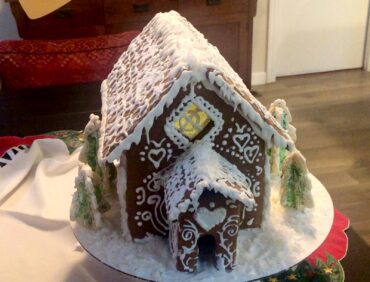 Anyone who has tasted a gingerbread house made from a purchased kit understands these houses are really just manufactured for entertainment and display, rather than the enjoyment of eating. The gingerbread house recipe that follows is intended to bring family fun and entertainment to holiday baking — but also the pleasure of eating it. A broken piece of this house dunked in coffee or hot chocolate will stimulate the taste buds with warm spice and the sweetness of sugar and molasses.
If decorating your house with just icing as illustrated is a bit too tame, feel free to use your imagination with peppermints, gumdrops and other candy and confections. Part of the fun of making a gingerbread house is in designing the decoration and shopping for the embellishments.
It's a good idea to draw out your design on a traced template prior to piping so you have an overall plan to follow. But whatever method you use, enjoy the process and perhaps this will become part of your holiday tradition, too.
---
Gingerbread House
Ingredients:
5 cups all-purpose flour, plus a little extra for rolling if necessary
2 teaspoons baking soda
2 teaspoons cinnamon
2 teaspoons ground ginger
1/2 teaspoon ground nutmeg
1/2 teaspoon ground cloves
1 teaspoon salt
1 cup molasses
1/2 cup vegetable shortening
1/4 cup butter
1/2 cup granulated sugar
1/2 cup brown sugar
1/2 cup very hot water
Instructions:
Assemble all ingredients.
Whisk together 5 cups flour, soda, spices and salt in large bowl.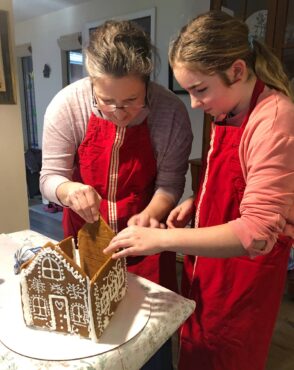 Melt shortening and butter together on medium heat in microwave oven. Put sugars, molasses, melted shortening and butter in large bowl of a stand mixer. Mix to combine, add hot water and beat until thick and creamy.
Gradually add dry ingredients to creamed mixture and mix on low speed until dough comes together into a cohesive mass. If dough is very sticky, add a little more flour, 1 tablespoon at a time, to make it easier to handle.
Turn dough out onto plastic wrap, flatten into a round, wrap tightly and refrigerate for at least 1 hour.
Preheat oven to 325 F. Line two baking sheets with parchment paper.
Divide dough into two equal portions. Roll each portion onto a parchment sheet the size of the baking sheet to 1/4-3/8 inches thickness and cut into shapes according to the templates. Carefully remove scraps between pieces. (If desired, cut windows and doors into dough at this stage).
Slide parchment onto baking sheet, taking care not to distort the shapes of the house. Bake 30 minutes, rotating baking sheets halfway through.
Turn off oven, open door a crack and allow pans to sit in the oven another 15 minutes to harden. (If house pieces seem very brown, skip this step).
Remove from oven and cool on pans about 10 minutes before removing parchment to wire cooling racks. Allow to cool completely or even overnight before assembling.
Reroll scraps and use cookie cutters to make gingerbread people, trees, etc. to embellish the house.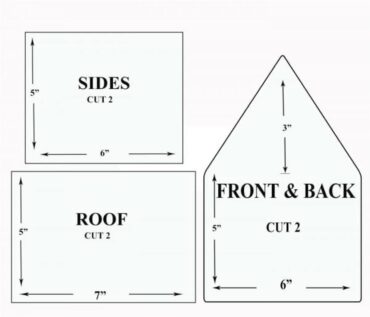 Icing
Ingredients:
1 pound confectioners (powdered) sugar
1 tablespoon meringue powder
1/4 cup hot water
Instructions:
Sift sugar and meringue powder together in mixing bowl. Add hot water and beat until totally smooth. Add a little hot water, 1 teaspoon at a time, if necessary to reach desired consistency.
Assembly:
Find a stiff piece of cardboard or a large plate on which to assemble the house. It will be about 6 by 6 inches when finished, but it's nice to have space around it for "snow," people and trees, etc.
Fill piping bag or bottle with a No.2 tip with icing.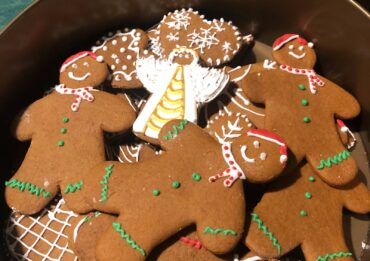 It's easiest to decorate the front, back and sides of the house before assembling. Allow the design to dry and harden before assembly.
Pipe icing along the inside edge of the front piece of the house and stick side A to it. Hold in place a couple of minutes to allow icing to harden. Pipe icing along the other inside edge of the front piece and stick side B to it. Hold in place a couple of minutes to allow icing to harden.
Pipe icing along both inside edges of the back of the house and stick to the sides.
Pipe icing along both side edges of a roof piece and stick in place. Repeat with the second roof piece.
Use a spatula to spread icing on cardboard or place base for a snow effect. Set house on icing to secure in place.
Decorate trees and ginger bread people and set in place around the house using icing for glue.
Note: These instructions are for a very basic "beginner" gingerbread house. Imaginative designs might include cutting out windows or doors, building a chimney, etc. You can also glue yellow tissue paper on the inside of windows and place a little battery-operated light string inside for a lighted effect.