Thad Lyman and Katie Doherty continue to amaze and delight Gig Harbor diners with their innovative, fresh and seasonal Northwest cuisine at Brix 25°. The menu is updated as frequently as when new food products are available, or when standbys are in short supply.
Lyman — the creative chef — and his staff juggle their interesting menu offerings whenever supply and demand require them to do so.
"Creativity in the kitchen is paramount these days," he says. "We have to be flexible but it keeps us on our toes and makes us better for it."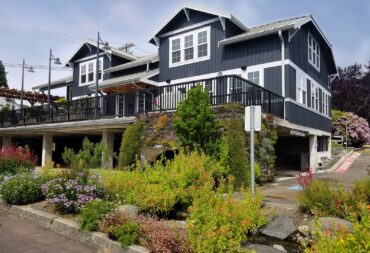 The restaurant, which has been a Gig Harbor institution since 2004, is named after a measurement of soluble solids in grape juice made up mostly of sucrose. One brix is one degree of sugar per 100 grams of grape juice. Vintners use this measurement to determine when to harvest, and most grapes for table wines are harvested between 19° and 25° brix. Aptly named Brix 25° this restaurant is known for its fine selection of wine, particularly those crafted by highly skilled Northwestern vintners.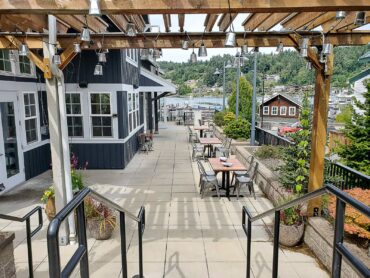 Lyman and Doherty purchased the eatery in 2008, when it was still in its original location on Pioneer Way. They moved Brix 25° to its present waterfront location on Harborview in 2018 and have continued to build an increasingly large following of patrons — visitors, locals and those who trek from Seattle and beyond to enjoy the imaginative offerings from the kitchen.
Their reputation for authentic, seasonal Northwest cuisine that's always made from scratch is well known among gourmands in the area. Many consider Brix to be their local "hometown" restaurant and are frequent diners, while the majority consider it to be their "go-to" destination for very special occasions such as birthdays and anniversaries. But no matter the occasion, due to the small size of the space, the intimate atmosphere and attentive staff, patrons always leave feeling well cared for and satisfied with their fine-dining experience.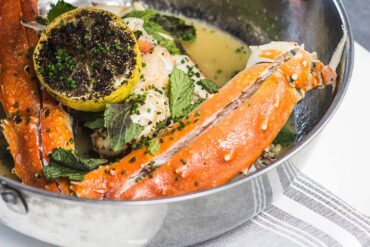 Serving their local community for the past 14 years, the couple have gotten to know many of their regular customers very well. "And in fact, many of their kids have grown up and have worked for us in various capacities," Doherty says with a smile.
As more normalcy returns to daily life and the pace of dining out increases, Lyman and Doherty look forward to the coming holiday season with enthusiasm. They plan menus and wine lists months ahead for holiday specials, always remaining flexible to adjust to the vagaries of supply and demand for certain ingredients.
"Thanksgiving is always a very special and very busy day for us," Lyman explains. "It is the only day of the year we open our doors at noon to welcome those who prefer their Thanksgiving meal earlier in the day."
Bookings for Thanksgiving start in summer, and tables are frequently sold out in early autumn. The Thanksgiving menu usually includes turkey and frequently another type of fowl such as duck or pheasant. Additionally, there are generally four to five other special entree selections, always a delicious sauce as a nod to gravy and, of course, cranberries or another delicious house made chutney.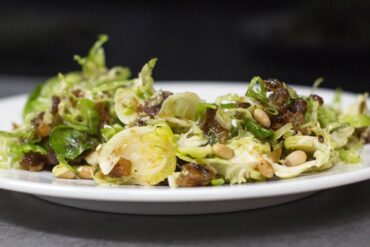 "We don't use the word traditional in our menu offerings," Doherty says, "because traditional has a different meaning to different people."
But the chef and the staff always carefully prepare foods for that special day, which is recognized and appreciated by those who enjoy dining out.
"Who doesn't love to be pampered, have someone else do the cooking and the cleaning up?" Lyman asks.
"The staff clamors for Thanksgiving shifts because everyone is in such a happy, relaxed mood," Doherty adds. They also are all willing to work on Thanksgiving Day because the restaurant closes for Christmas, giving everyone a nice break and time to spend with their families.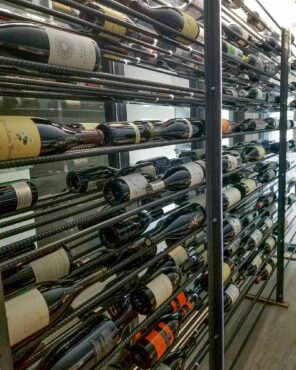 The restaurant is dressed with winter holiday décor immediately after Thanksgiving, sparkling with evergreens and white lights. A little glitter is added here and there to ignite the holiday spirit, invoking a warm, festive and convivial atmosphere. The upstairs banquet room, which seats about 20 persons, is decked in soft lights and greenery. It's available for family gatherings and holiday parties, and the reservations for this popular space are usually booked months in advance.
The couple agree the approach to holiday décor throughout is to preserve the authenticity of the restaurant — honest, food-forward, slow dining, the joie de vivre of companionship and fine food. However, as the holidays gain momentum, the kitchen and bar create increasingly innovative holiday offerings. Seasonal cocktails include winter fruits such as cranberries or warming spirits like Buffalo Trace Whiskey and Apple Brandy. On New Year's Eve, there may even be glitter in a festive libation.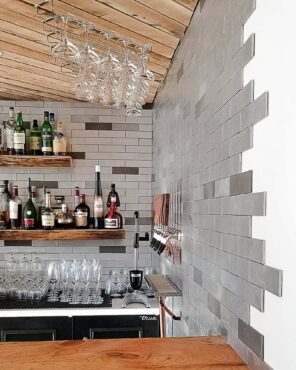 Menus are published on the website, which is monitored and maintained as closely as possible, although Lyman and Doherty hope diners will be flexible with menu expectations.
"We serve only freshly prepared dishes," Lyman explains, "and we sometimes have to change our menu almost instantaneously due to the unavailability of an item we expected to receive."
Waitstaff always explain the evening's selections at the table, and unexpected surprises might be available that were not posted online.
Although Lyman is the owner and head chef, he gives a great deal of credit to his kitchen staff for imaginative ideas and new approaches to fine cuisine. When he finds real talent in his kitchen, he is willing to experiment with a change in a menu item. He never wants his plates to become stagnant or his menu to feel old.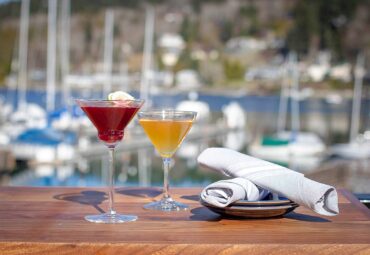 Both Lyman and Doherty try to train and help young staff in their careers, grateful that so many others have helped to train and inspire them. As owners of two other Gig Harbor restaurants (Netshed No. 9 and Brimstone), and the newest addition, Iscremery ice cream shop (located in the back of Brimstone), they train several staff members to work at all of them. This adds to the flexibility the duo desires in their management style, moving staff from one kitchen to another based on demand and staffing availability.
Brix 25° opens at 4 p.m. Thursday-Sunday for dinner service. Reservations are always recommended to avoid disappointment, and walk-in diners are seated when space is available. For dining during December, Doherty advises patrons to make a reservation as early as possible because time slots fill quickly during this popular month.