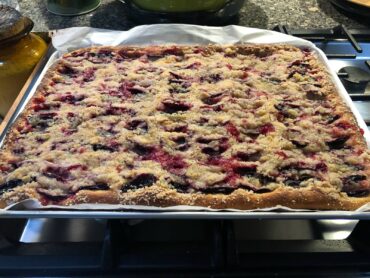 Just in time for Oktoberfest, the little purplish blue Italian prune plums ripen — and all over Germany, slices of sweet, succulent "zwetschgenkuchen" fill the cases of pastry and coffee shops. This cake is also a popular dessert at Oktoberfests and all German cooks have their own generations-old recipe for it. But why is Oktoberfest celebrated in September?
Originally, the celebration took place on Oct. 12, 1810, to honor the wedding of Bavarian Crown Prince Ludwig to Princess Therese von Sachsen-Hildburghausen. That event lasted five days and included much drinking, song and horse racing. As the idea of an annual remembrance spread throughout Bavaria, the dates fluctuated and extended into longer periods of time. In order to take advantage of longer days and warmer temperatures, Oktoberfest started to migrate into September. Today, it always starts in September but ends in October.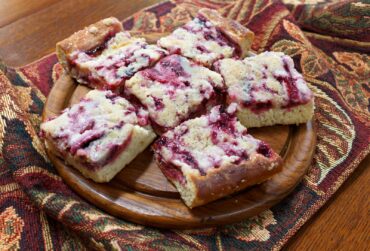 In Munich, the capital of Oktoberfest merrymaking, the 2022 festival begins on Sept. 17 and ends on Oct. 3. Numerous other beer festivals are scheduled from early September through the end of October across the country. Each festival has its own flavor, according to the region in which it takes place and the available venue. Some are simply a tent with music and lots of beer, while others offer a carnival atmosphere complete with carousels and Ferris wheels.
Prunus domestica is native to the Mediterranean region of Italy, but the fruit is not popular there. Much different from the round, juicy black or purple plums found in most markets, the prune plum has a tougher skin and firmer fruit. It's a small, oval, firm fruit with a bluish-black skin.
When very ripe, it's enjoyed raw, but is much better suited to baking, drying or brandy making. This is the variety from which dried prunes are made, as well as the famous slivovitz, a plum brandy found all over Europe. The German name for this little fruit is zwetschgen, and the name for cake is kuchen — therefore zwetschgenkuchen is the recipe offered below.
This writer begs all the prune plums she can find during September harvest and bakes several full-sized sheet pans of this delectable dessert. The Italian plum is not popular in large grocery stores, but frequently can be found at farmers markets and specialty shops. Many Northwest gardens have a tree in their yards and the trees tend to be prolific bearers. The cook who perseveres to find this illusive autumn fruit will be well rewarded by the effort.
---
Zwetschgenkuchen-German Plum Cake
Ingredients:
Cake:
• 3/4 to 1 cup warm milk; start with 3/4 and add extra to the dough as needed
• 1 1/2 tablespoons dry active yeast
• 4 cups all-purpose flour
• 3/4 cup sugar (150 g)
• 1/2 teaspoon salt
• 1 stick butter (120 g), melted but not hot
• 2 eggs
• 1 teaspoon quality, pure vanilla extract
• 3-plus pounds Italian plums, cut into quarters, pits removed
Streusel topping:
• 1 cup all-purpose flour
• 1 cup sugar
• 1 teaspoon ground cinnamon
• 1/2 cup butter, room temperature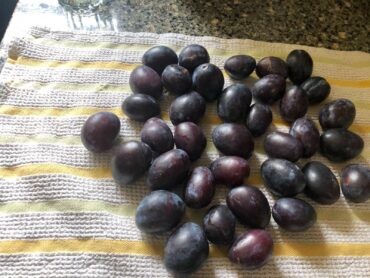 Instructions:
Dissolve the yeast into the 3/4 cup warm milk and let is sit for 5-10 minutes until frothy.
Place the flour, sugar and salt in the bowl of a stand mixer and pour in the yeast mixture, melted warm (not hot) butter, eggs and vanilla extract. Give it an initial stir to combine the ingredients and then attach a dough hook and knead it on the bread setting ("2") for 4-5 minutes, adding the remaining 1/4 cup milk as necessary. (The dough will be sticky but should hold together fairly well. It will not be firm enough to knead into a ball; think of it more as a thick batter.)
Cover dough loosely with plastic wrap and set it in a warm, draft-free place to rise for an hour or until about doubled in size. Gently turn out dough onto a floured board and pat it into a rectangle, about 6 by 8 inches.
Generously butter a large jelly roll pan (at least 18 inches in length with 1-inch sides). Use your hands to spread the dough out across the full length of the pan, pressing it up against the sides. (It's yeast dough so it will resist, but keep pushing it back into position the best you can. Once you put the plums on it, those will help keep it in place.)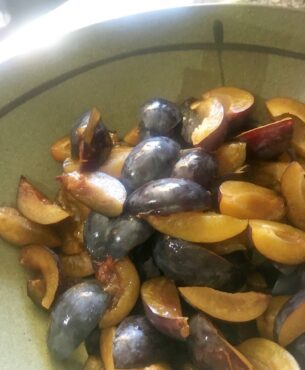 Lay the plums close together in rows over the whole length of the dough on the sheet pan. Set the pan in a warm place and let it rise for up to another hour.
While the dough is rising, make the streusel: Place all the ingredients in a medium-sized bowl and use your fingers to bring it all together. Work with the mixture until it's thoroughly combined and forms a rough sand and clumpy texture. Sprinkle the streusel over the top of the cake.
Bake the cake on the middle rack of the oven preheated to 350 F for 30-35 minutes or until the top is golden.
Let the cake sit for at least 30 minutes before slicing to let some of the liquid set. Slice the cake into squares and serve.
Notes:
This cake holds up well for a day or two and is even more flavorful once the juices have been absorbed into the dough.
Cut into serving-sized slices and wrap well. It will keep in the freezer for six months. Defrost at room temperature and warm slightly before serving if desired. It's delicious with a dollop of whipped cream or a little scoop of ice cream.