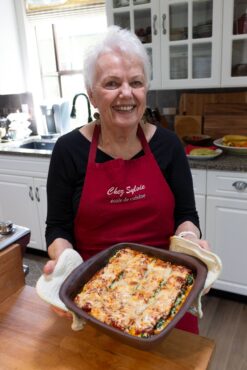 Although this column generally deals with something baked or sweet, this month — in acknowledgment that nearly everyone already has a favorite zucchini bread recipe — it includes a couple of savory dishes that can be served for a summery brunch, lunch or dinner.
The ubiquitous zucchini is tasty, nutritious, versatile and prolific. Did you know Aug. 8 is National Sneak Some Zucchini Onto Your Neighbors' Porch Day? There is an urban legend that a New Jersey law makes it illegal to place zucchini in other people's cars or leave it on a neighbor's porch. The humor in this illustrates just how prolific this commonly grown vegetable plant can be, and how difficult it can be to dispose of excess produce. Home gardeners often only grow one plant, because when growing conditions are right, one plant can produce enough to fill a family's needs for the entire season.
Zucchini, or Cucurbita pepo as it is known by its botanical name, is widely cultivated throughout the world and valued for its high yield and rapid growth. Archaeologists have traced the squash back to Mexico and South America, where it was an integral part of the diet as early as 5500 B.C. Once the Europeans colonized the Americas, only about 50 years passed before it became a popular addition to the Italian table, where it may have been called zucchini for the first time. The green, straight variety are also called "courgette" in France and Great Britain.
Low-calorie, versatile and nutritious, zucchini and its close cousins are a favorite staple of the summer table. Closely related to yellow crookneck and patti-pan squash, there are dozens of varieties of summer squash available. Many farmers grow them just for their lovely colors and interesting shapes.
When young, summer squash is tender and the seeds are small, lending the vegetable to recipes for steaming, grilling or slicing raw in salads. They're fast growing and gardeners are amazed to suddenly find a gargantuan specimen of 12 to 18 inches or more. When a zucchini reaches this size, it's referred to in England as a "marrow" and is used with apples and spices for chutney.
Zucchini is so versatile, it can be used in sweet as well as savory dishes. As more home cooks lean toward plant-based menus, there are dozens of ways to use zucchini for lunch, brunch and dinner all summer long.
The recipes featured here can be made ahead and stored for later use. The zucchini lasagna rollups swap out the carb-laden pasta for a satisfying, cheesy vegetable meal and may be frozen before or after baking. The tortillas use gluten-free flour and tend to be higher in protein and lower in carbs than traditional tortillas. Tortillas must be cooked before refrigerating or freezing.
Zucchini stores well after shredding, so when the garden is overflowing with this shiny green and irresistible vegetable, shred, pack into 2-cup packages and freeze up to six months. Frozen shredded zucchini can be used in breads, cakes, fritters and the tortilla recipe featured here.
Bon appétit!
---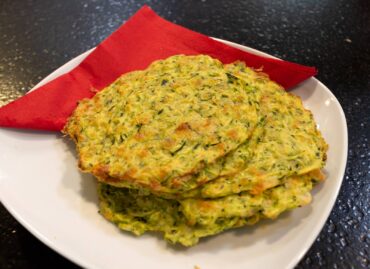 Zucchini Tortillas (Adapted from Eating Well)
Yield: 8 6-inch tortillas
Active time: 30 minutes
Total time: 55 minutes
Ingredients:
1 pound zucchini, shredded (3 1/2 cups)
1 teaspoon salt
2 eggs, beaten
1/2 cup gluten-free all-purpose flour or almond flour
1/2 cup pepper Jack cheese, shredded
2 scallions, finely chopped
1/2 teaspoon ground cumin
Instructions:
Preheat oven to 375 degrees F. Line two baking sheets with parchment paper.
Place zucchini in a colander. Sprinkle with salt and toss to combine. Let stand for at least 10 minutes, then squeeze the zucchini with your hands to remove as much liquid as possible.
Transfer to a medium bowl and add eggs, flour, cheese, scallions and cumin. Stir until well combined.
Make four 1/4-cup mounds of the zucchini mixture on each baking sheet. Using your fingers or a fork, flatten each mound into a 5- to 6-inch circle.
Bake, switching positions of the baking sheets halfway through, until browned in spots and around the edges, 16 to 20 minutes. Let cool for a few minutes before transferring to a rack to cool further.
---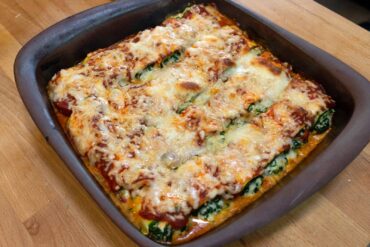 Zucchini Lasagna Rollups
Yield: 4 servings
Active time: 30 minutes
Total time: 1 hour
Ingredients:
2 large zucchini, trimmed
1 tablespoon extra-virgin olive oil
1/2 teaspoon ground pepper, divided
1/2 teaspoon salt, divided
3/4 cup shredded mozzarella cheese, divided
6 tablespoons grated Parmesan cheese, divided
1 large egg, lightly beaten
1 carton ricotta cheese (15 ounces)
10-ounce package frozen spinach, thawed and squeezed dry
1 clove garlic, minced
1 cup jarred marinara sauce, divided
2 tablespoons fresh basil, chopped
Instructions:
Preheat oven to 425 degrees F. Coat two rimmed baking sheets with cooking spray.
Slice zucchini lengthwise to get 24 total strips, about 1/8 inch thick each. (A vegetable peeler or mandolin works well for this.) Toss the zucchini, oil, 1/4 teaspoon pepper and 1/2 teaspoon salt in a large bowl. Arrange the zucchini in single layers on the prepared pans.
Bake the zucchini, turning once, until tender, about 10 minutes total.
Meanwhile, combine 1/4 cup mozzarella and 3 tablespoons Parmesan in a small bowl and set aside.
Mix egg, ricotta, spinach, garlic and the remaining 6 tablespoons mozzarella, 2 tablespoons Parmesan, 1/4 teaspoon pepper and 1/4 teaspoon salt in a medium bowl.
Spread 1/4 cup marinara in an 8-inch-square baking dish. Place 1 tablespoon of the ricotta mixture near the bottom of a strip of zucchini. Roll it up and place, seam-side down, in the baking dish. Repeat with the remaining zucchini and filling. Top the rolls with the remaining 3/4 cup marinara sauce and sprinkle with the reserved cheese mixture.
Bake the zucchini rolls until bubbly and lightly browned on top, about 20 minutes. Let stand for 5 minutes. Sprinkle with basil before serving.