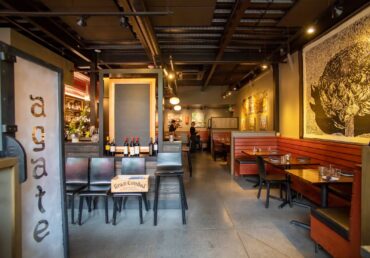 At 3:45 p.m. on a weekday afternoon, Agate Restaurant is abuzz with staff preparing for the doors to open at 4:30 p.m. Napkins and silver are freshly rolled and carefully placed on each gleaming table, along with water glasses and candles. As the bartender readies his space, the tinkling of bottles and glasses mixes with the lighthearted prattle of the dining room staff as they scurry about making sure everything is perfect. The hostess fills out the blackboard with the evening chef's specials, while Jesi of Flowerfolk Design puts the finishing touches on an elegant floral arrangement. She also doubles as a longtime server in Agate when her floral design business isn't calling her away.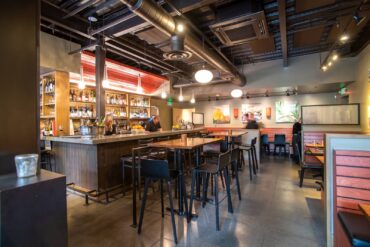 Meanwhile, in the kitchen, an energetic ballet is in progress as chefs and assistants make final preparations for the evening service. At precisely 4:25, the background music is set, the lighting is adjusted and the door opens. The artful production of ambiance, service and dining begins.
As soon as the door is opened, two groups of diners enter, eager to have an early dinner before the rush begins a little later. They're greeted by owner and executive chef Susanna Turner. The couples, who are among Agate's most regular customers, ooze enthusiasm for the restaurant and the kitchen.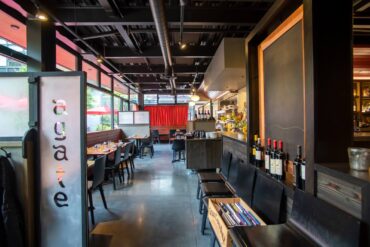 "This is the finest restaurant we have ever known," one of these diners says. "The only place we ate during the pandemic because we could eat outside, and it has all the components in the perfect combination — atmosphere, fabulous food and great service."
Turner's story as a restauranteur and chef began at an early age in Big Bear, California. Her uncles owned several restaurants and cafes during her growing-up years, and "all the kids in the family worked for them in varying capacities," she says with a laugh.
"We were paid in ice cream or other treats, but no money changed hands," she says.
Later on, when Turner was a young woman, her uncles dabbled in fine dining and taught her the complexities of running restaurant kitchens and the nuances of the hospitality industry, which she always enjoyed.
Turner enjoyed cooking and while raising her three daughters, she spent time experimenting with recipes and developing techniques. She knew she had a skill she wanted to further develop, so when the opportunity presented itself, Turner enrolled at Le Cordon Bleu Seattle and earned her chef's credentials.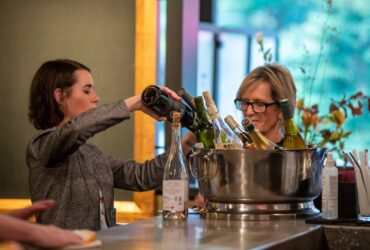 "I was so excited to learn how restaurant chefs give a dish that extra lift that we don't know how to do in our home kitchens," she says.
Turner had made friends with Martha Bracken, owner of Agate Pass Café near the Suquamish Clearwater Casino. When Turner was ready to cook professionally, she arranged an externship at the café and worked for eight months honing her skills. Eventually, she felt she was ready to launch a restaurant of her own, and Bracken sold the establishment to her in 2014.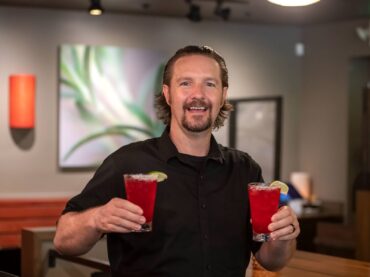 Unfortunately, in 2015, the Suquamish Tribe terminated the leases on external properties in preparation for the expansion of the Clearwater Casino and Resort. Undaunted, Turner went in search for a new location to continue her successful endeavor and found the space adjoining the Bainbridge Island Museum of Art.
After a grueling 18-month build, the new restaurant, Agate, opened its doors to an anxious public in 2018. Turner was overjoyed to see much of her old clientele from the café follow her to her new location.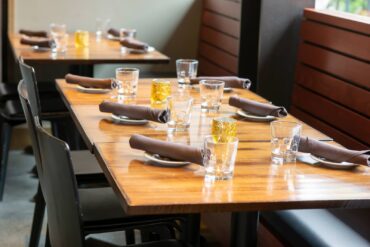 "This spot could not be more perfect," she explains. "We love being next to the museum, we are walking distance from the ferry terminal and we have plenty of parking and space for outdoor dining."
There's a basement downstairs with a walk-in refrigerator and freezer, and space upstairs from the main restaurant that can be pressed into service for special events. The main focus of the restaurant, however, is to take exceptional care of the evening guests, whether they are regulars or just discovering the establishment for the first time.
"Special events take extra staffing and put pressure on the kitchen, but one day, we may try and find an on-call team who will handle those events exclusively," Turner says.
The well-rounded menu is seasonal and fish-forward, featuring four or five seafood dishes nightly. Fresh fish and seafood are obtained from local purveyors, with whom the restaurant is in regular contact, and the menu changes according to availability. The focus is on local and sustainable seafood sources, as well as locally grown meats and produce.
Although geographically placed in a spot that can excel in seafood offerings, Turner says, "I really do love a beautifully seared grilled steak." And, indeed, steak is always on the menu, in addition to several offerings for those diners who prefer a vegan, vegetarian or gluten-free choice.
Owning and operating a restaurant can be challenging under the best circumstances, and Turner gives high praise to her staff.
"Female chefs are not always respected in this industry," she says, "but my team is so exemplary, I cannot say enough nice things about them all."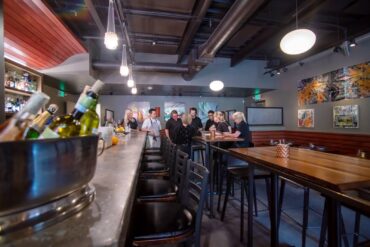 Her general manager and friend, Yolanda Ferrer, also serves as the wine director, and they enjoy wine-buying trips together. Chef de cuisine Paul Mancebo is fun to work with, in addition to being exceedingly patient and kind. Kitchen manager Meghan Parker has over 25 years of experience on the island as a prep chef, and the bar runs smoothly thanks to the efforts of bar manager Angela Payne.
There are about 25 employees overall, which include five full-time servers in the dining room, two bartenders, one expediter, three hostesses and four bussers. The kitchen employs 10 people, including those mentioned above.
Total restaurant seating includes 80 seats inside and 60 outside, although Agate doesn't seat all 140 at one time because the emphasis is on excellent service. Reservations are always recommended as Turner and Ferrer want to make sure each guest receives the best attention. Agate is known for its comfortable and aesthetically pleasing environment coupled with fresh, innovative delicious food.
Agate was voted "Best Restaurant of Bainbridge" by readers of the 2020 and 2021 Bainbridge Island Review and "Most Romantic" and "Best Steak" in 2020. Turner and Ferrer are eager to claim those spots again in 2022.