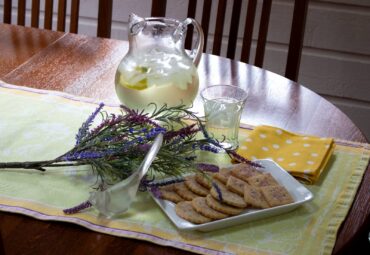 Nothing says summer like a leisurely glass of lemonade in the backyard and a light, melt-in-your-mouth cookie to accompany it. Lavender shortbread, an unusual, easy-to-make cookie, is sure to get high praise from friends and family.
Herbs of all sorts have been used in food stuffs for centuries but really came into their own in Medieval times. People thought herbs could cure all sorts of ills and maladies, from bad breath to ingrown toenails. In fact, many of those natural cures persist today and some are recognized as valid remedies. However, when seeking an herb for culinary use or to make essential oils, it's best to find the highest quality, organically grown plant possible. Certainly, if you're going to add an herb to a recipe, it should be pesticide- and pest-free.
The most common herbs added to baked goods are lavender, rosemary, thyme, poppy seed and angelica. Rosemary and thyme tend to be used more with savory baked goods while poppy seed and lavender are more popular in sweetened cakes, breads and cookies. Angelica is widely known in Europe but seldom used in the USA. Lavender farms are popping up all over the West Sound area, and as lavender is such a lovely additive to baked goods, it seemed to be a timely subject for the recipe featured here.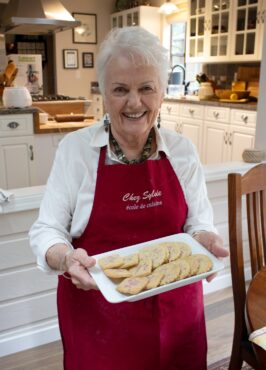 There are nearly 50 different species of lavender, with close to 500 different varieties classified at this time, and surely more to be identified. When choosing lavender for kitchen use, it's best to use a culinary lavender. Due to a milder camphor content, culinary varieties tend to have a milder flavor than floral ones or those grown for the fragrance oil industries.
There are three main types of lavender. True lavender, or English, is called Lavandula agustifolia. The second type is broad-leafed lavender, or Lavandula latifolia; and the third is Lavandin, which is a cross between L. agustifolia and L. latifolia. L. latifolia, known as Portuguese or Spanish lavender, grows wild in the southern Mediterranean and thrives in sunny, dry gardens. Lavandin is known for its sturdy, long stems and heady fragrance; it's best for oils because of its high camphor content. L. intermedia is another name for Lavandin.
In its search for the best flavored plants for culinary use, the lavender industry has designated certain varieties for certain uses. The variety best used for meats and savories is "Provence," a cross between L. agustifolia and lavandin. Due to the stronger flavor of lavandin, Provence holds up nicely on grilled meats and fish. "Grosso" is an extremely popular variety of this group.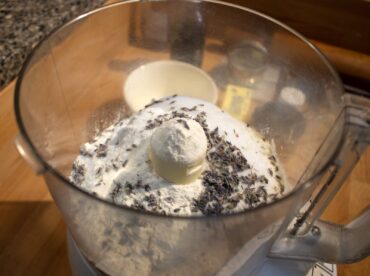 "Royal Velvet" (L. augustifolia) sports a deep purple bud and good flavor, and is appropriate for cakes and breads. "Betty's Blue," another agustifolia, has a mild flavor and is good in puddings and creamy beverages. And finally, a very popular variety for culinary use is "Melissa," which sports a mild, slightly pungent, distinctive lavender fragrance and taste that adds an herbal tang to teas and baked goods such as shortbread.
"For the Love of Spice" in Gig Harbor carries culinary French lavender buds as well as herbes d'Provence and lavender sugar made in house. Tea mixes with lavender are also available. In addition, many lavender farms around the West Sound area sell fresh lavender, dried lavender buds and gourmet food items containing lavender. (See related article in this issue, "A Visit to Crescent Valley Farm").

---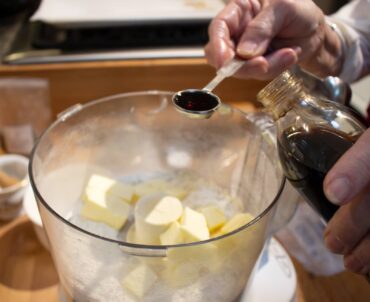 Lavender Shortbread Recipe
Yields about 18 2-inch cookies
Ingredients:
1 cup flour
4 ounces butter, salted or unsalted*, room temperature, cut into 1/2-inch cubes
1/4 cup granulated sugar
2 teaspoons lavender buds, lightly crushed
1/2 teaspoon vanilla
Coarse or lavender-colored sugar for decorating, optional (see note below)
*If you use unsalted butter, add 1/4 teaspoon salt.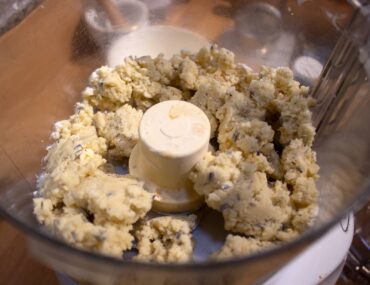 Instructions:
Place flour, sugar, lavender and salt (if adding) in bowl of food processor. Pulse three times to blend. Add cubed butter and vanilla. Pulse 30-40 times until all ingredients come together and form "clods" that can be pinched together easily. Some lavender will be totally incorporated, other bits may be in bud form. Do not overwork.
Remove contents from bowl, press together into a cohesive mass and form into a 4- to 5-inch flattened round. Place in an airtight container and chill for 30 minutes.
Preheat oven to 350 F.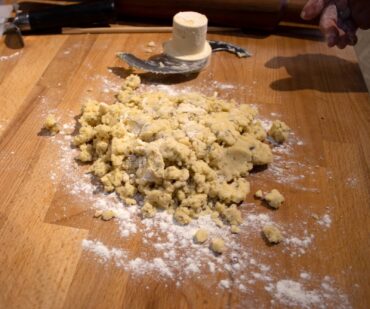 Roll dough on lightly floured board to 1/4-inch thickness. Cut into desired shapes with cookie cutters or into squares or bars with a knife or pizza cutter. For an authentic shortbread look, dock each cookie by pricking with the end of a chopstick, in a square pattern. Docking also helps with more even baking.
Place on ungreased cookie sheet, sprinkle with sugar (if using) and bake 12-16 minutes until very lightly browned. Remove from oven, cool on baking sheet 5 minutes or so and remove to wire rack.
Serve when completely cool. Shortbread will keep well in an airtight container five days. Or freeze up to two months.
Note: To make lavender colored sugar, place 1/4 cup granulated or coarse sugar granules in a jar with a tight fitting lid. Add 2 drops of lavender food coloring to sugar. Fasten lid and shake until color is distributed evenly in the sugar.