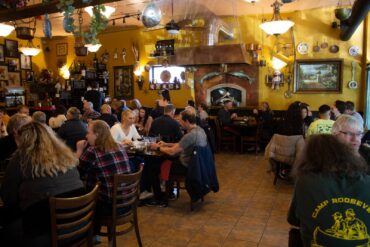 Mental health experts say that socializing with friends is one of the most important activities you can experience for emotional wellbeing. And what can be a more pleasurable activity than enjoying good food and drink in an aesthetically pleasing, jovial environment? Eating in a restaurant — where someone else plans the menu, cooks the food and washes the dishes — brings you joy and relaxation, and not only satisfies your palate but is also time well spent.
Dining out is privilege many of us take for granted, not having to think about the efforts spent by those who provide this common service to the rest of us. Restaurants are among the most difficult businesses to manage and maintain. Financially complex, they face rent and overhead, bills for products to prepare and serve, and a plethora of issues with staffing.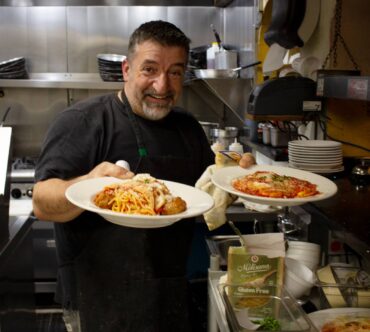 Restauranteurs must be administrators, health advisers, personnel managers, bookkeepers and psychological counselors when dealing with patrons. Chefs and kitchen managers walk a tightrope between budgeting, procurement, dietary trends, portion control and getting the food to the table at the perfect temperature and at the perfect time. And as if this isn't all difficult enough, along come societal challenges such as economic downturns, road construction and worldwide pandemics.
The West Sound area is home to hundreds of restaurants ranging from fast food chains to single-shop "mom and pops" and fine-dining establishments. All have faced challenges in the past couple of years, and through creativity, hard work and steely resolve, many have not only survived, but thrived.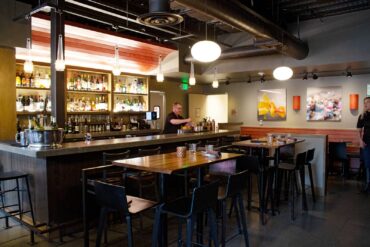 Il Lucano
Michela Simone of Il Lucano in Gig Harbor was determined to stay open for business no matter the situation.
"My life work is to make good food for my customers," he said in a charming, heavily accented Italian voice. "I will always keep my doors open as long as I am physically able."
In early 2020, as restaurants faced the uncertainty of closures and mask restrictions, Il Lucano took on the challenges day by day. For months, the Simones served their customers with takeout only, but were able to maintain the same menu. Eventually, they built a covered outdoor dining shelter on the walkway at the front of the restaurant and accepted reservations for dining to avoid overcrowding.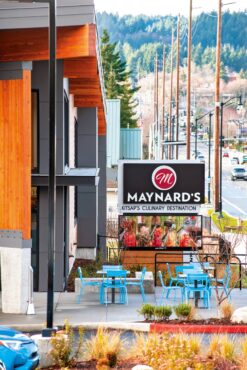 "We are so very grateful for the government loan we received," Simone said, referring to the funding provided by the U.S. government for small businesses affected by the pandemic. "It kept us going and we managed to keep most of our staff."
When indoor dining was finally allowed on a 50 percent basis, the normally warm, cozy Italian establishment lost a little of the atmosphere of conviviality, but the food and service prevailed. Il Lucano customers had their temperatures taken upon entering, were required to use a hand sanitizer and had to view the menu on their smart phones via a QR code.
"Our customers just kept coming, and we are so grateful to our community for helping us through the difficult time," Simone said.
Today, the hours of operation are back to normal, reservations are no longer accepted and service is on a first come, first served basis, except for large groups.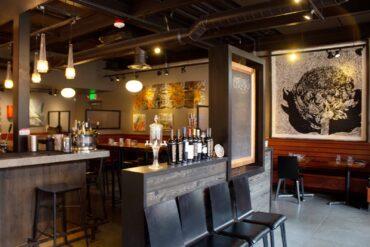 Agate Restaurant
The owner and chef of Agate Restaurant on Bainbridge Island, Susanna Turner, says, "I pinch myself every day at our good fortune of having come through the pandemic and for the amazing support of our community."
Agate is a fine-dining restaurant adjacent to the Bainbridge Art Museum on Winslow Way. Turner established the restaurant about three and a half years ago as an experienced restauranteur from the Seattle area. She gives credit to her loyal staff standing by her restaurant throughout the rigors of closures and partial openings and establishing a takeout menu.
"Everyone shared shifts, helped out wherever they were able and contributed to whatever ideas we had to try and make things work," Turner said.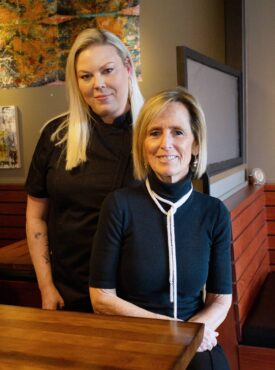 When the first mandates came, requiring the closing down of all indoor dining, she thought it would only last a couple of weeks and then things would return to normal. When it became obvious the closures would last much longer than anyone thought, staff took off all the tablecloths and started preparing for the long haul. Turner and her manager, Yolanda Ferrer, used the downtime to tap into their imaginations and find creative solutions to the problem.
"We had one customer who must have seen the handwriting on the wall, and even though we were not a 'takeout' restaurant, this person started ordering menus to-go before the closures came," Ferrer said.
This idea caught on and when the restaurant could not open for in-house dining, it was able to shift its emphasis and produce a menu suitable for takeout. Another customer familiar with the wine list approached the team and asked about purchasing inventories from the restaurant to fill a personal cellar.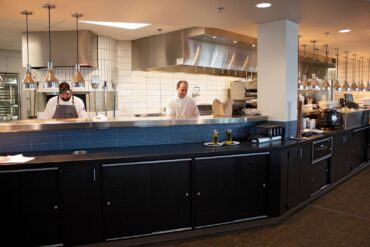 Eventually, outside dining was approved, the patio was pressed into service with heaters and the menu combined "to-go" and "to-stay." Patrons even brought their own blankets to stay warm and the restaurant continued to thrive. When it became possible to reopen indoors on a limited basis, the staff moved the tables apart and built partitions to separate them.
These stories are among the many that Turner and Ferrer relate to show how their clientele and members of the community and loyal staff banded together to keep them afloat. Also grateful for the economic help from the Restaurant Revitalization Fund — and seeing brighter days ahead — the two are now reenergized and looking to the future of serving many more happy guests.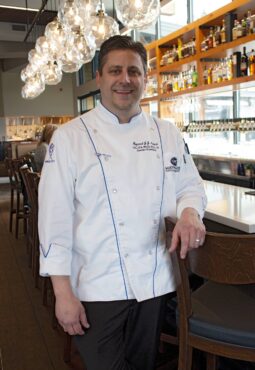 Dining is available on the heated patio, as well as in the dining room. Reservations are always recommended as Turner and Ferrer want to make sure each guest receives the best attention.
Agate is known for its comfortable and aesthetically pleasing environment coupled with fresh, innovative, delicious food. It was voted "Best Restaurant of Bainbridge" by readers of the 2020 Bainbridge Island Review, and Turner and Ferrer are eager to claim that spot again in 2022. They have come through the worst-case scenario, business and senses of humor intact. Now being faced with skyrocketing food prices, minimum wage laws and staff shortages, they are stronger and ready to face whatever comes.
Maynard's
One of the largest restaurants in Kitsap County, Maynard's in Silverdale is up and running at full capacity and happy patrons are showing their appreciation daily.
"The hardest part was completely closing down twice during the course of the pandemic," owner and chef Maynard "JJ" Meland said.
The first mandated closure came just six months after the restaurant's 2019 opening. By maintaining open lines of communication with his entire crew, Meland was able to keep them all up to date on the latest mandates and the actions the restaurant would take.
"We kept a positive attitude and used our downtime to focus on positive changes we could make to our operation," he said.
Rather than taking partial openings and cutting staff hours, he chose to close down the restaurant twice for a total of about six months, putting his staff on standby. This allowed workers to apply for "standby" unemployment compensation and Meland was able to call them back when it was possible to reopen. His goal was to keep as many employees as possible.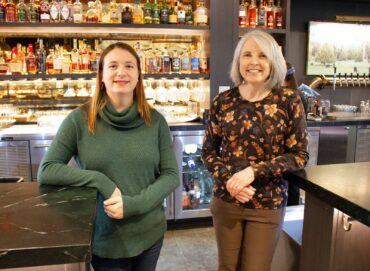 Just before the first shutdown, Meland ordered large, leather menu binders, which were shelved during the requirement to use paper menus or QR codes. A positive outcome of the pandemic was to redefine the menu. Previously there were entries for lunch, dinner and weekend brunch. Now, there is an "all-day" menu plus weekend brunch.
Maynard's has kept the daily happy hour with deep discounts on select dishes, and the bar is often filled with convivial patrons. Special events such as Singles Night and Comedy Night have returned to packed houses, and soon cooking classes will resume.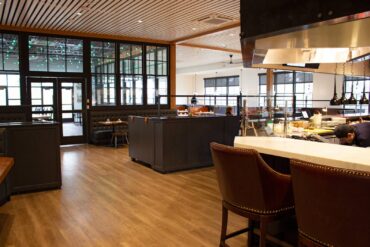 Crabtree Kitchen and ChocMo
Colleen Crabtree, chief operating officer of Crabtree, the family-owned group of businesses in Poulsbo, is positive their diversity, flexibility and creativity allowed them to continue through the dark days of the pandemic.
"We had a local liquor distribution business in place already, and when Crabtree Kitchen and ChocMo were closed, we expanded our operation north as far as Sequim and south to Gig Harbor," Crabtree said.
As baking ingredients became scarce on grocery store shelves, the business also became a purveyor of items such as eggs, flour and yeast. This led to eventually setting up a little grocery store in the main lobby and then to developing meal kits. The kits, which consisted of ready-made meals customers could finish in their own kitchens, were available for delivery and takeout.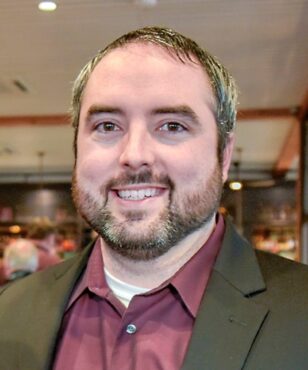 The Crabtree Kitchen was just one year old when the pandemic hit, and the enterprise looked forward to reopening and to new beginnings. The family has had time to reevaluate what has worked and what hasn't and will continue to expand on services their customers have come to enjoy, such as the meal kit delivery service.
Crabtree says they are grateful every day for the amazing, supportive community. As supporters of their hometown, they are eager to get back to participating in community events such as the Poulsbo Easter Egg Hunt, where neighbors can once again gather together and enjoy a communal activity.
Dining in a restaurant is embedded in the West Sound lifestyle, where many residents enjoy the privilege for sustenance, recreation, social enjoyment and business functions. The pleasure of being waited upon, tasting the food prepared in an innovative and well-run kitchen and the camaraderie of friends and family members are the joys of eating out. From Port Townsend to Gig Harbor, the selection of style choices is nearly endless. Bon appétit!