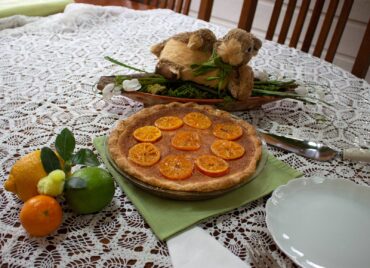 Citrus fruits ripen in late winter but reach their juiciest best in early spring — before the temperatures get too warm and the trees set their next season of buds.
Lemons are known in kitchens around the world for their ability to lighten and brighten a recipe, and nearly everyone enjoys a tart-sweet, lemony dessert. Oranges, on the other hand, produce a staple breakfast juice and are a favored lunch-box treat. Combined, they create a mouthwateringly delicious dessert that's just the right finish to a traditional Easter dinner.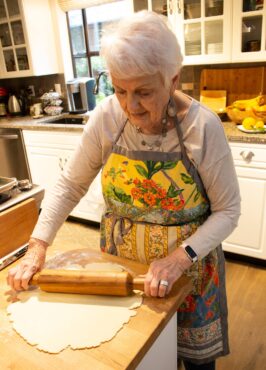 The origin of sponge pies is lost in obscurity but no doubt they evolved from chess pies that have been baked in France for eons. The filling in a chess pie is a decadent mixture of butter, sugar and eggs with various additives.
In the southern United States, cornmeal is usually added to give the filling a little crunch and texture. Vinegar is a common ingredient and, in fact, there are recipes for vinegar pies that only contain eggs, sugar, milk and vinegar.
Pecan pie is a variation of a chess pie recipe. But a citrus pie probably has its origins someplace between the French "tarte au citron" and the Amish or Pennsylvania Dutch lemon sponge and buttermilk pie recipes.
Citrus fruits, only growing in the warmer regions of the world, surely must have been a rare luxury in the northern United States when the Amish arrived in the 1700s. Nonetheless, you'll find many recipes for lemon sponge pie in old Amish and Pennsylvania Dutch cookbooks.
I was raised in Arizona, where citrus is so abundant, our family not only enjoyed it ourselves all winter but also sent boxes full of citrus to relatives in Ohio at Christmas. We always had plenty of grapefruit and oranges on our table and we juiced and froze what we could not eat.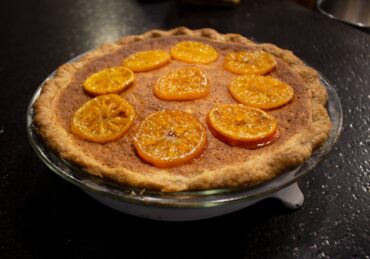 In Arizona, there is a bitter orange grown as an ornamental fruit to grace the roadsides of the cities and countryside. In Spain, this fruit is known as a Seville orange, the same fruit the British have capitalized on to make their famous orange marmalade. As these fruits were free for the gathering, our family juiced them and made sour orange "lemonade" and used the juice for most recipes calling for lemon juice.
The recipe I have developed here is a throwback to the delicious sour orange meringue pie we used to make at home, but with a lemon sponge pie twist — a recipe of which my mother-in-law was very fond.
This is a simple, easy-to-make recipe that results in an almost magical, creamy layer at the bottom of the pie and a "crust" of baked sponge cake at the top. The magic comes from folding the beaten egg whites into the egg yolk mixture before baking. The recipe uses sweet orange juice and lemon juice, a nice combination that's not too tart and not too sweet.
Many cooks are intimidated by making piecrust or think it's too messy. A food processor makes it so easy, anyone can make a beautiful, flaky and tasty crust. The recipe below is adaptable as a sweet crust by adding sugar or a savory one that can be made by just adding two teaspoons of dried herbs.
---
Citrus Sponge Pie
A fresh, light dessert for spring
Ingredients:
1 9-inch pie shell, unbaked (recipe follows)
3 tablespoons butter, softened
1 1/4 cups granulated sugar
4 eggs, separated
3 tablespoons all-purpose flour
1/4 teaspoon salt
3/4 cup whole milk
1/4 cup lemon juice
1/2 cup orange juice
2 tablespoons lemon zest
1 tablespoon orange zest
Instructions:
Preheat oven to 425 F.
Line a 9-inch pie plate with crust.
Beat egg whites until soft peaks form.
In another bowl, beat soft butter and sugar until smooth. Add egg yolks, flour and salt. Beat until smooth. Add lemon and orange juice, milk and zests (mixture will look a little curdled). Fold egg whites into egg yolk mixture.
Carefully pour filling into pie crust shell. Bake 15 minutes. Reset oven to 300 degrees and bake 45 minutes more, until pie top is golden brown.
Cool at least 2 hours before serving. Garnish with candied lemon or orange slices before serving if desired (recipe follows).
Store pie, covered, in refrigerator for up to 3 days.
Barb's Almost-Instant Flaky Pie Crust
Ingredients:
10 tablespoons salted butter, cold
1 1/4 cup flour
2 to 4 tablespoons water
1 tablespoon sugar
Instructions:
Place flour and sugar in bowl of food processor. Add butter, cut into chunks. Pulse until "beans" form.
Add 2 tablespoons water and pulse, adding more as needed. Stop processor when "clods" form.
Turn out onto lightly floured board and form into a disc. Wrap in plastic wrap and let rest in the refrigerator an hour or longer. If too hard to roll, let warm a few minutes before rolling.
Candied Citrus Slices
Ingredients:
12 thin citrus slices (lemon, orange, tangerine or lime)
1/2 cup water
1/2 cup sugar
Instructions:
Mix water and sugar together in a medium skillet. Bring to a boil over medium heat.
Remove seeds from fruit and place slices in a single layer, if possible, in syrup. Cook over medium-low heat until slices are translucent and syrup is thick.
Remove slices to a piece of parchment to cool. Arrange on cooled pie.